Seitan is so versatile and your perfect companion if you're planning to make something extraordinary and pompous, like this brisket style chunk of wheaty goodness. By cooking it for a really long time, and using some acidity in the cooking liquid, the seitan changes texture wise on a molecular level, which makes it way easier to digest, and more delish too. Perfect dramatic centrepiece for Sunday brunches or dinner parties. Serve with a light, green salad.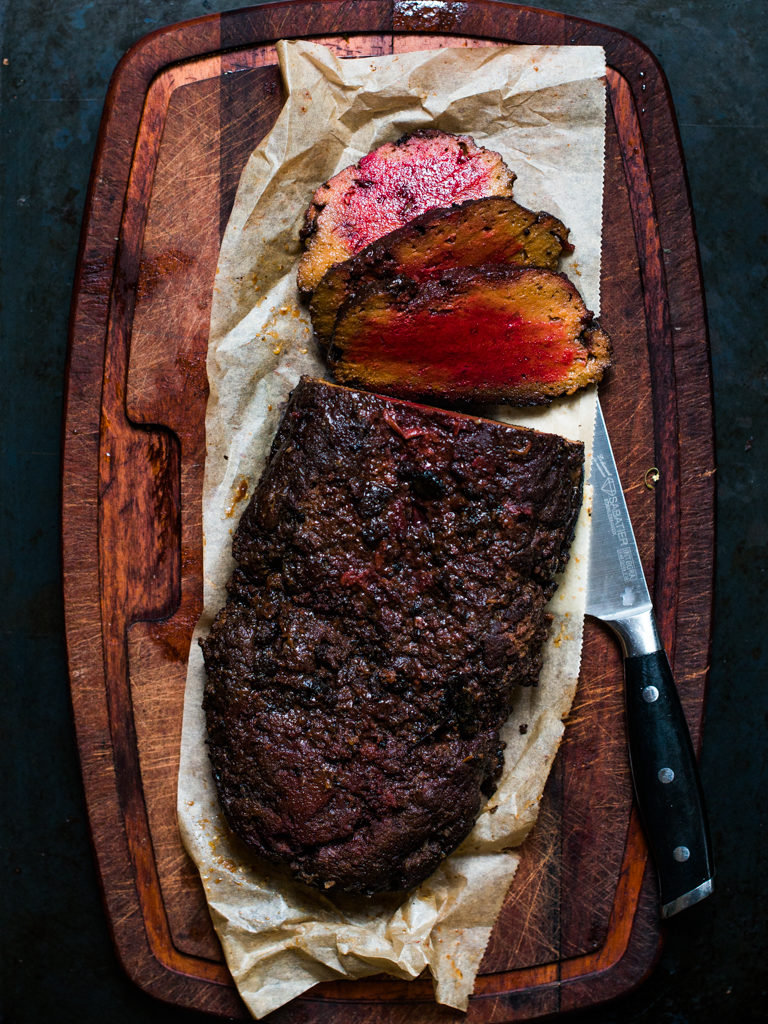 Serves +/- 6
INGREDIENTS
Seitan mixture
2 cups vital wheat gluten
2 tsp garlic powder
2 tsp onion powder
2 tsp sweet paprika powder
1/2 nutmeg, finely grated
1/3 cup chickpea flour
3 tbsp miso
2 tbsp soy sauce
3/4 cup beetroot juice
1/2 cup water
7 tbsp olive oil
1 tbsp vegan butter
Cooking liquid
2 garlic gloves, peeled and smashed
1 shallot, peeled and quartered
1/2 cup beetroot juice
1 cup red wine
1 cup vegetable broth
3 tbsp soy sauce
1 piece mace
3 bay leafs
1/2 stick Ceylon cinnamon
Salad

500 g green beans
2 heads little gem lettuce
2 avocado's, peeled, pit removed and sliced
juice and zest of 1 lemon
1 garlic glove, peeled and finely chopped
1 small red onion, peeled and really finely sliced
3 tbsp capers, drained
1/2 tsp mustard
3 tbsp olive oil
dash of course sea salt and cracked black pepper
INSTRUCTIONS
Brisket

Mix all dry ingredients for the seitan mixture in a large bowl. Mix miso, soy sauce, beetroot juice, water and 5 tbsp olive oil in a large jug. Add wet ingredients to the dry ones and bring together. Knead a bit until it forms a dough, but don't overwork it. Make a log shape out of the dough. Put a large casserole pan on the stove and heat until quite hot. Add the 2 remaining tbsp of olive oil and the vegan butter to the hot pan. Sear seitan log on both sides until nicely browned. Add smashed garlic and shallot and fry them along. Add all the ingredients for the cooking liquid and bring to the boil. Turn heat low, put lid on pan and let simmer for a few hours, (preferably 5 hours). If liquid is reducing too much (brisket should be at least half under most of the time), add some more water. When brisket is done, you can reduce the liquid a bit to make a nice gravy out of it. Add an extra splash of beetroot juice for a dramatic burgundy colour. Serve brisket in slices and drizzle over some of the gravy.
Salad

Cook beans in boiling salted water until just cooked (ca. 5-7 min.), drain and rinse immediately with cold water to keep them crunchy and green. Rinse lettuce and cut into big chunks. Toss all ingredients together (no need to make a dressing separately). Serve the salad with the slices of brisket.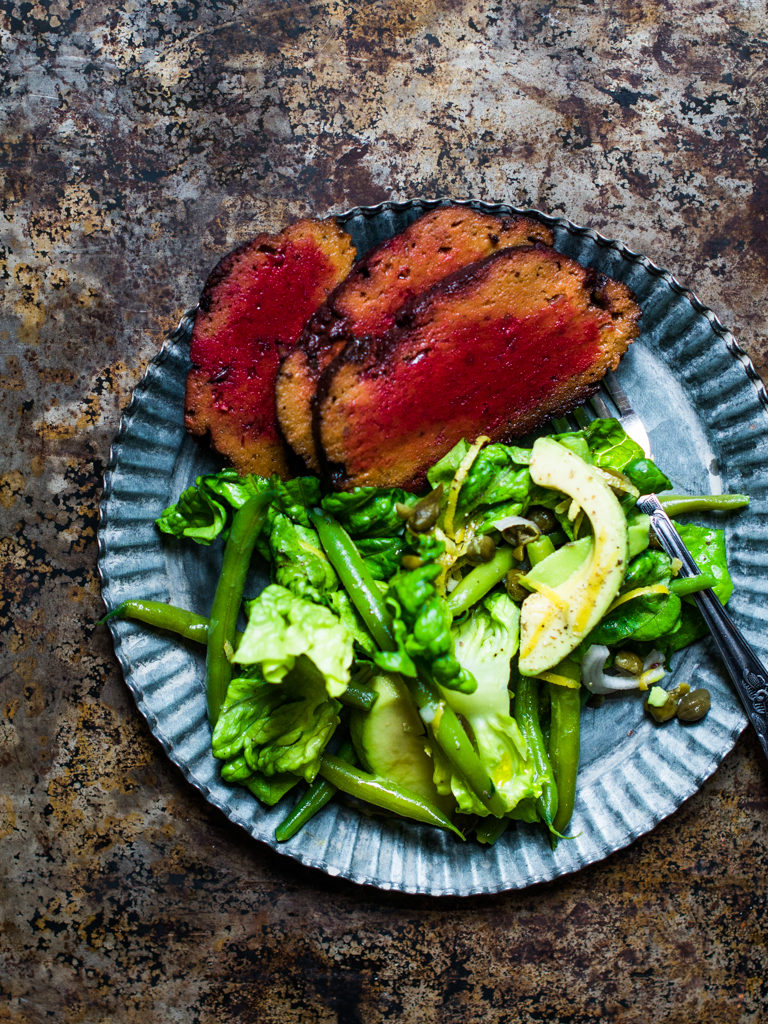 ---
EPISCHE SEITAN BRISKET
Seitan is zo veelzijdig en een perfecte compaan als je iets spectaculairs en groots wilt maken, zoals dit brisket-achtige braadstuk. Door het lange, langzame kookproces en door het toevoegen van aciditeit (wijn), verandert de moleculaire structuur van de glutenstrengen wat de textuur, smaak en verteerbaarheid ten goede komt. Deze krachtpatser is een perfect dramatisch middelpunt voor zondagse brunches of een feestelijk diner. Serveer met een frisse groene salade.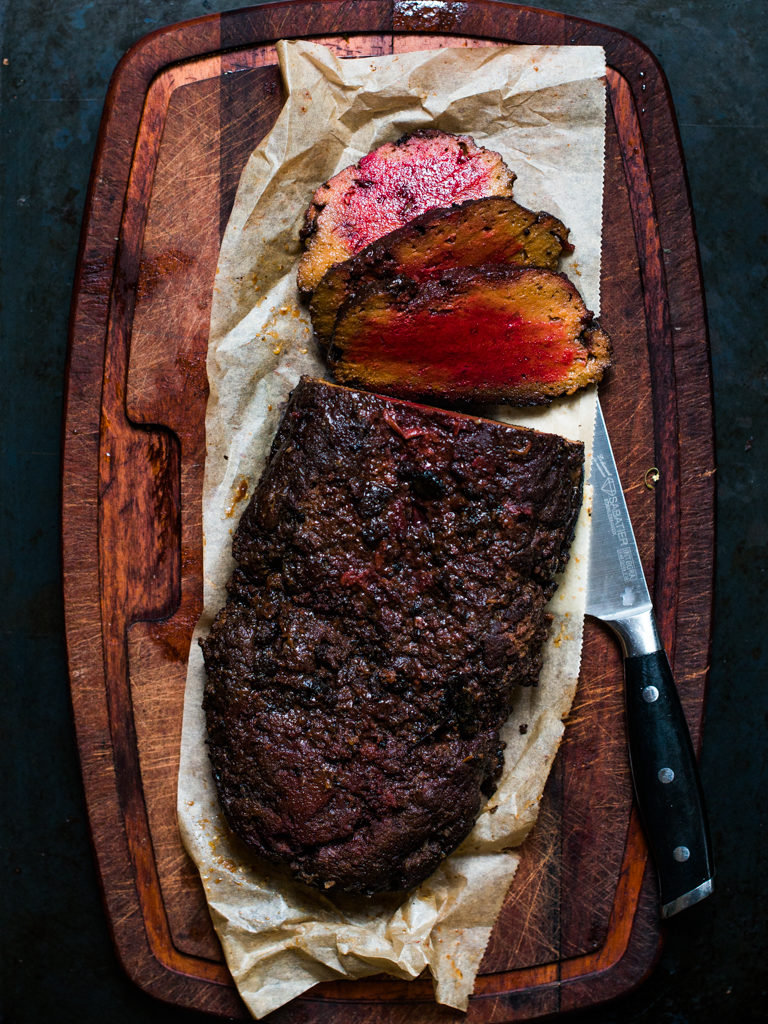 Voor +/- 6 personen
INGREDIËNTEN
Seitan mix

300 g glutenpoeder
2 tl knoflookpoeder
2 tl uienpoeder
2 tl paprika poeder
1/2 nootmuskaat, geraspt
30 g kikkererwtenmeel
3 el miso
2 el sojasaus
175 ml bietensap
125 ml water
7 el olijfolie
1 el vegan bakboter
Kookvocht
2 knoflooktenen, gepeld en geplet
1 sjalot, gepeld en in vieren
125 ml bietensap
250 ml rode wijn
250 ml groentebouillon
3 el sojasaus
1 stukje foelie
3 laurierbladeren
1/2 Ceylon kaneelstok
Salade
500 g sperziebonen
2 kroppen little gem
2 avocado's, geschild, ontpit en in plakjes
rasp en sap van 1 citroen
1 knoflookteen, gepeld en fijngehakt
1 kleine rode ui, gepeld en in heel fijne ringen
3 el kappers, uitgelekt
1/2 tl mosterd
3 el olijfolie
snuf grof zeezout en versgemalen zwarte peper
INSTRUCTIES
Brisket

Meng alle droge ingrediënten voor de seitan mix in een grote kom. Mix miso, sojasaus, bietensap, water en 5 el olijfolie in een grote maatbeker. Voeg de inhoud van de kan aan de droge ingrediënten toe en breng de ingrediënten samen. Kneed een klein beetje en vorm er een deeg van, maar overwerk het deeg niet. Maak een lange dikke worst van het deeg. Zet een grote braadpan op het vuur en voeg de 2 resterende el olijfolie en de vegan boter toe. Laat de pan goed heet worden en leg de seitan erin. Braad aan weerszijden goudbruin. Bak de geplette knoflook en sjalot even mee. Voeg vervolgens de ingrediënten voor het kookvocht toe en breng aan de kook. Zet het vuur laag en laat het gebraad vervolgens heel lang zachtjes sudderen (zeker 5 uur) om het gewenste resultaat te bereiken. Als er teveel vocht verdampt tijdens het kookproces (gebraad moet op zijn minst altijd half onder staan), voeg dan wat water toe. Als de brisket klaar is, kun je het vocht weer wat reduceren om zo een heerlijke jus te maken. Voeg dan op het laatste moment wat bietensap toe voor een dramatische bourgondische kleur. Serveer de brisket in plakken en druppel er wat jus over.
Salade

Kook de sperziebonen in gezouten kokend water beetgaar (ca. 5-7 min.), giet ze af en spoel meteen na met koud water om ze knapperig en groen te houden. Spoel de sla af en snijd de kroppen in grote chunks. Meng vervolgens alle ingrediënten door elkaar in een ruime slakom (niet nodig om apart een dressing te maken). Serveer de salade met de brisketplakken.