This delicious orzo dish with roasted vegetables takes little time to make and is bursting with flavour. The tuna-like flavour of Good Catch Fish Free Tuna goes well with savoury flavour bombs like olives and capers, and the creamy orzo provides an excellent stage for this goodness.
While we are up here we wanted to thank all of you who have been cooking from MAN.EAT.PLANT. We never expected this book to be such a hit, but it is. Three years in and the publisher is still re-printing and the other day MAN.EAT.PLANT. reached number 1 in the top 10 of Best Vegan Books. We are blown away by all the awesome compliments and seeing many of you enjoying the recipes. So again thank you so much!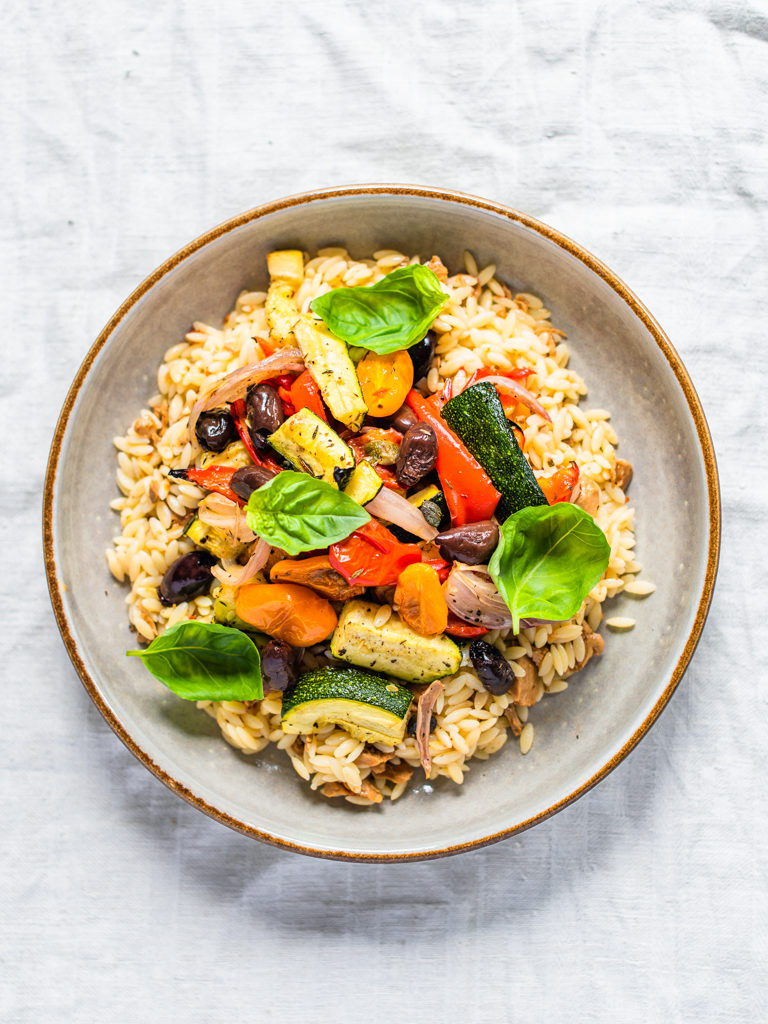 Serves +/- 4
INGREDIENTS
½ courgette, in strips or cubes
100 g grape tomatoes, halved
½ sweet pepper, deseeded and cut into strips
1 shallot, peeled and diced
2 cloves of garlic, peeled, 1 in very thin slices and 1 crushed
1 tbsp capers
10 kalamata olives, stoned
4 tbsp olive oil
black pepper and salt to taste
a pinch of oregano or thyme
200 g orzo
1 pack of Good Catch Fish Free Tuna Mediterranean
INSTRUCTIONS
Preheat oven to 225℃. Line a baking tray with baking paper. Mix the courgette, tomatoes, peppers, shallot, garlic slices, capers, olives with 3 tbsp olive oil. Sprinkle generously with salt and pepper, and some oregano or thyme. Place on the baking tray and roast for 20-25 minutes, or until they look nicely roasted. Give them a stir every now and then. Meanwhile, prepare the orzo according to the instructions on the package, but add the crushed clove of garlic and season the water with salt. Drain the orzo when it is cooked and mix in 1 tbsp olive oil. Heat the Good Catch Fish Free Tuna Mediterranean in a pan and spoon the orzo through it. Ladle up the orzo and divide the roasted vegetables over it.
---
VISVRIJE MEDITERRAANSE ORZO

Deze heerlijke orzo schotel met geroosterde groenten kost niet veel tijd om te maken en zit barstensvol smaak. De tonijnachtige smaak van Good Catch Fish Free Tuna gaat uitstekend samen met hartige smaakbommetjes als olijven en kappertjes, en de smeuïge orzo vormt een uitstekend podium hiervoor.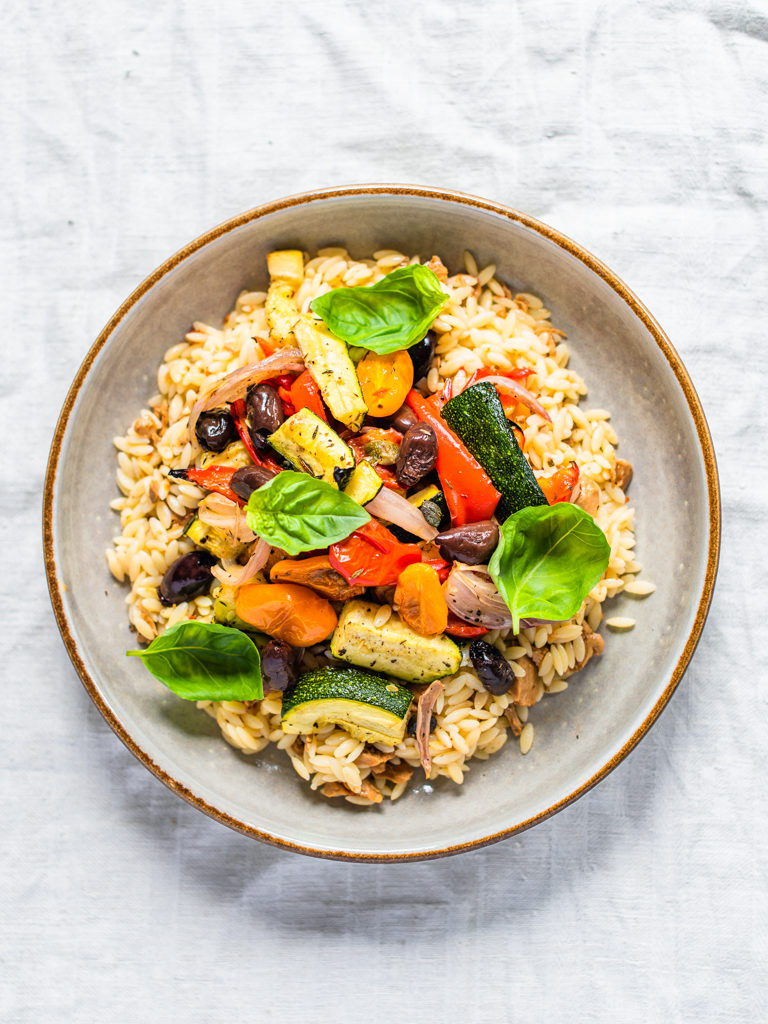 Voor 4 personen
INGREDIËNTEN
½ courgette, in reepjes of blokjes
100 g kleine oertomaatjes, gehalveerd
½ paprika, ontdaan van de zaadjes en in reepjes
1 sjalot, gepeld en in reepjes
2 tenen knoflook, gepeld en 1 in ragdunne plakjes en 1 geplet
1 el kappertjes
10 kalamata olijven, ontpit
4 el olijfolie
zwarte peper en zout naar smaak
een snuf oregano of tijm
200 g orzo
1 pak Good Catch Fish Free Tuna Mediterranean
INSTRUCTIES
Verwarm de oven voor op 225℃. Bekleed een bakplaat met bakpapier en meng hier de courgette, oertomaatjes, paprika, sjalot, knoflookplakjes, kappertjes, olijven en 3 el olijfolie op. Bestrooi royaal met peper en zout, en wat oregano of tijm. Rooster de groenten in 20-25 minuten, of tot ze er mooi geroosterd uitzien. Schep tussendoor even om. Bereid ondertussen de orzo volgens de aanwijzingen op de verpakking, maar kook het geplette teentje knoflook mee en breng het water op smaak met zout. Giet de orzo af als hij gaar is en meng er 1 el olijfolie door. Verwarm de Good Catch Fish Free Tuna Mediterranean in een pannetje en schep de orzo erdoor. Schep de orzo op en verdeel de geroosterde groenten erover.