In this day and age who needs eggs or chickens to enjoy a lovely eggy flavoured salad?! No one! Say hell to the yeah for plant based awesomeness like kala namak! Kala nama is black rock salt with a sulphurous, pungent-smell and flavour which many egg eaters really seem to love when added to a plant based dish. So now one can meets their eggy cravings, for instance with this brilliant eggless salad, while chickens can be happy and free and sing their wonderful cock-a-doodle-dee tunes.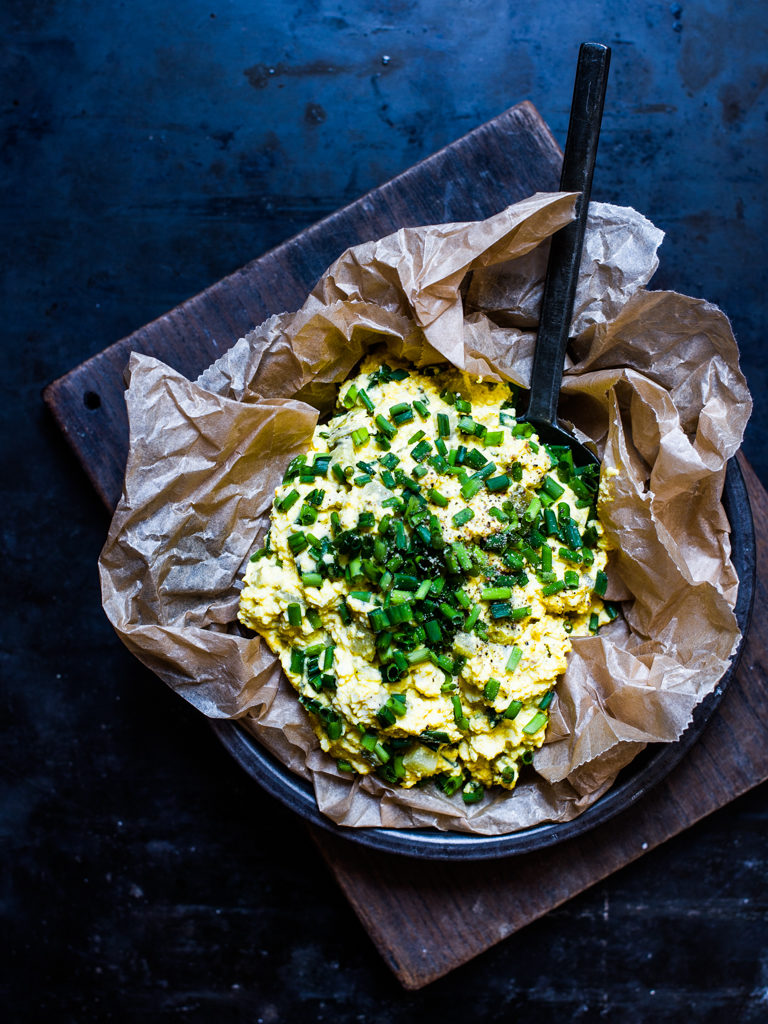 Serves 1 decent bowl
INGREDIENTS
1 block tofu (500 g), rinsed and drained
1/2 tsp kala namak
lot's of freshly ground black pepper
200 g natural hummus
1 tsp curry powder
2 tbsp vegan mayo
1 tsp mustard
1/2 bunch fresh chives, finely chopped
1/4 cup gherkins, drained and julienne chopped
optional: ca. 1/4 tsp freshly grated turmeric
INSTRUCTIONS
Crumble tofu into fine pieces in a large bowl. Add kala namak and lots of freshly ground pepper. Let sit for at least a few min., or even overnight in the fridge (this way the tofu absorbs the salt and gets really well seasoned). Next add hummus, curry powder, vegan mayo, mustard, chives and gherkins and mix well. If you can get your hand on a fresh piece of turmeric, it's super delicious (and healthy!) to add some of this super sunny freshly grated root!
Serve salad with some good quality sourdough bread, stuff into chicory or little gem lettuce leafs as a 'fancy canapé' or slab it on a sandwich and add some slices of cucumber and a handful of rocket leafs.
---
COCK-A-DOODLE-DOO SALADE
Wie heeft er in deze tijd nog ei of kip nodig om een lekker ei-achtige salade te maken? Precies, niemand. Pompoms omhoog voor plantaardige briljantie in de vorm van kala namak. Dankzij kala namak – zwart steenzout met zwavelachtige smaak – kun je je ei-verslaving tegemoet komen met bijvoorbeeld deze goddelijk eivrije salade terwijl de kip vrolijk en vrij ronddartelt en kan kakelen tot ze er zelf genoeg van krijgt.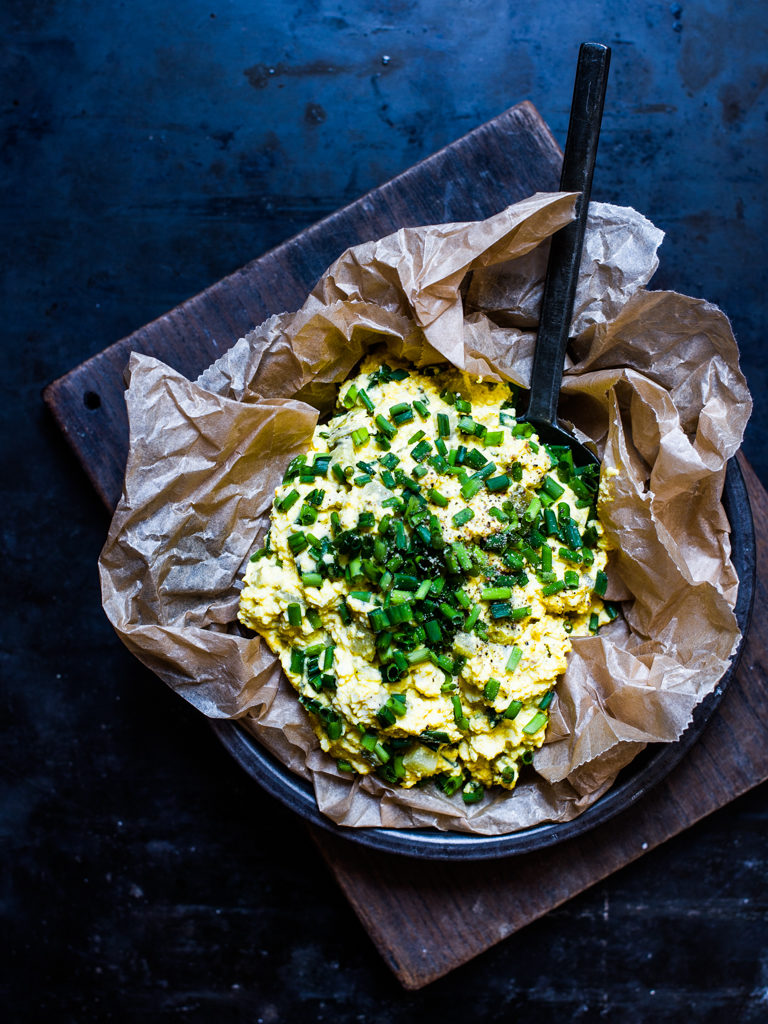 Voor 1 goed gevulde kom
INGREDIËNTEN
1 blok tofu tofu (500 g), afgespoeld en uitgelekt
1/2 tsp kala namak
lekker veel versgemalen zwarte peper
200 g humus naturel
1 tl kerriepoeder
2 el vegan mayo
1 tl mosterd
1/2 bosje bieslook, fijngeknipt of -gehakt
4 el augurkenblokjes, uitgelekt en julienne gesneden
optioneel: ca. 1/4 tl fijngeraspte verse kurkuma
INSTRUCTIES
Verkruimel tofu in kleine stukjes boven een ruime kom. Strooi er het kala namak over en veel versgemalen peper. Laat minstens een paar minuten staan, of zelfs overnacht in de koelkast als je de salade pas morgen gaat eten (zo trekt het zout lekker in de tofu). Voeg vervolgens hummus, kerriepoeder, mayo, mosterd, bieslook en augurk toe en meng goed door elkaar. Als je een stukje verse kurkuma kunt vinden is het super lekker (en gezond!) om wat verse rasp van deze zonnige wortel toe te voegen! Serveer de salade met goede kwaliteit desembrood, vul schuitjes witlof of little gem sla ermee als chique hapje, of smeer op een sandwich en voeg wat plakjes komkommer en rucola toe.