FAMILY.EAT.PLANT. holds a special place in our hearts. We wrote it for all kinds of families and we celebrated our own: those who enrich our lives, those who are no longer with us and those who would still come. Meanwhile, Maartje has given birth to a beautiful, healthy boy and Lisette celebrates the beautiful memories of Pooh that warm her heart every day.
And to celebrate that Maartje just became a mother, we wanted to share this delicious recipe from our book by our dear friend Anouk.
Anouk, the mother of 5, likes to make this festive pancake pie for her children and they love it! Of course, you can also use the basis of this recipe to make a regular stack of pancakes. The different flours make for a great batter.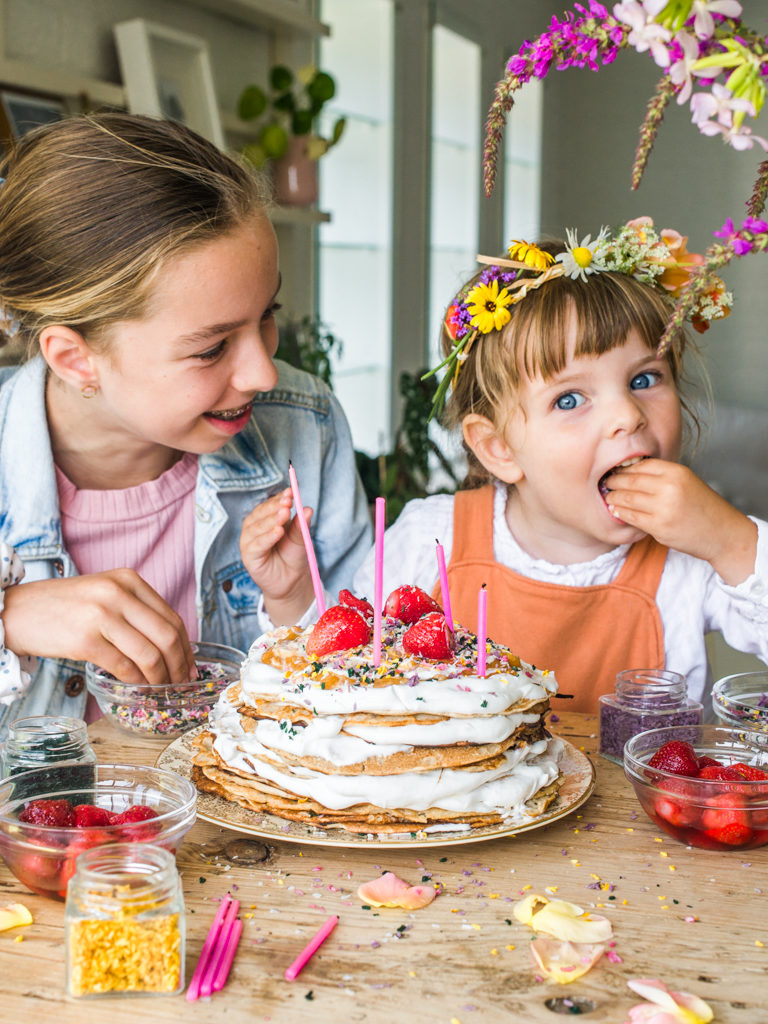 Serves +/- 4
INGREDIENTS
200 g flour
75 g buckwheat flour
50 g oat flour
50 g rice flour
1 tsp cream of tartar baking powder
½ tsp salt
450 ml oat or soy milk
TOPPINGS OF YOUR CHOICE
250 ml vegan whipped cream
1 tbsp sugar
a few drops of lemon juice
strawberries
vegan sprinkles
pure sprinkles
rice syrup
cake candles
INSTRUCTIONS
Mix all the flour with the cream of tartar and salt in a large bowl. Add the oat or soya milk and stir into a smooth batter. Heat a non-stick frying pan (for example a ceramic one, preferably not teflon). If you do not have one, grease the pan slightly for each pancake. Pour a heap of batter into the pan and move the pan around at an angle so that the whole bottom is covered. Make nice thin pancakes with the batter. Stack the pancakes, and add toppings of your choice. It looks very festive to decorate the cake with whipped cream, strawberries, sprinkles, and candles. Anouk made her own vegan sprinkles from coarsely grated coconut. She added turmeric, spirulina, and beetroot powder to get beautiful colours.
---
PANNENKOEKENTAART
FAMILY.EAT.PLANT. heeft een speciaal plekje in ons hart. We schreven het voor allerlei soorten families en we vierden onze eigen: zij die ons leven verrijken, zij niet meer bij ons zijn en zij die nog zouden komen. Inmiddels is Maartje bevallen van een prachtige, gezonde jongen en viert Lisette de mooie herinneringen aan Pooh die dagelijks haart hart verwarmen.
Om te vieren dat Maartje onlangs moeder is geworden, wilden we dit heerlijke recept uit ons boek van onze lieve vriendin Anouk met iedereen delen
Anouk, moeder van vijf, maakt voor haar kinderen graag deze feestelijke pannenkoekentaart en ze zijn er dol op! Je kunt de basis van dit recept natuurlijk ook prima gebruiken om een gewone stapel pannenkoeken mee te maken. Door de verschillende soorten meel krijg je een prachtig beslag.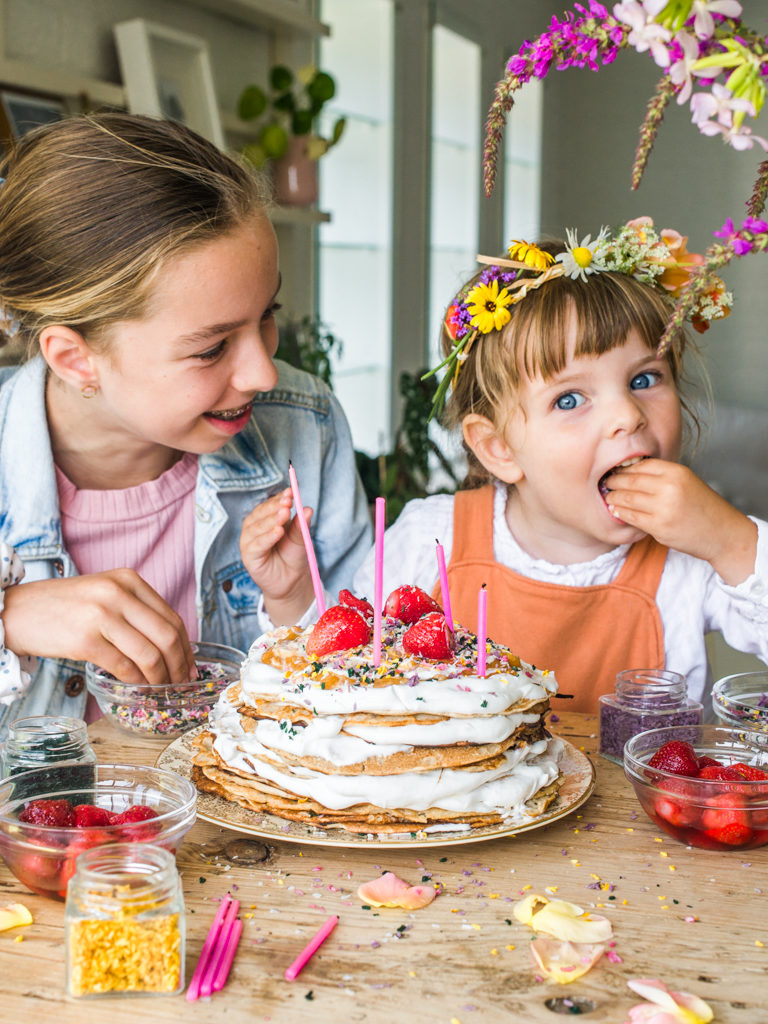 Voor 4 personen
INGREDIËNTEN
200 g bloem
75 g boekweitmeel
50 g havermeel
50 g rijstmeel
1 afgestreken tl wijnsteenbakpoeder
½ tl zout
450 ml haver- of sojamelk
TOPPINGS NAAR KEUZE
250 ml vegan slagroom (bijvoorbeeld Alpro opklopbaar)
1 el suiker
een paar druppels citroensap
aardbeien
vegan sprinkles
pure hagelslag
rijststroop
taartkaarsjes
INSTRUCTIES
Meng de bloem, het boekweitmeel, havermeel en rijstmeel met het wijnsteenbakpoeder en zout in een grote kom. Voeg de haver- of sojamelk toe en roer tot een glad beslag. Verhit een anti-aanbakkoekenpan (bijvoorbeeld een keramische, liever geen teflon). Heb je deze niet, vet de pan dan voor elke pannenkoek een beetje in. Giet een hoopje beslag in de pan en beweeg de pan schuin in het rond zodat de hele bodem bedekt wordt. Bak mooie dunne pannenkoeken van het beslag. Stapel de pannenkoeken op, en doe er eventueel toppings naar keuze tussen. Het ziet er heel feestelijk uit om de taart met slagroom, aardbeien, sprinkles en kaarsjes te versieren. Anouk maakte zelf vegan sprinkles van grofgeraspte kokos. Ze voegde hier kurkuma, spirulina en bietenpoeder aan toe om prachtige kleuren te krijgen.