Stamppot is a decent, no-fuss Dutch food. Mashed potatoes with any veggie of your choice. WE LOVE IT.
MAN.EAT.PLANT. has one brutal, but super simple version to share with you; classic mashed potatoes with endive. But wait, this one probably tastes nothing like you remember from the good old days or ever had before. This is a 2019 way of eating a classic dish transformed to the new era and that normally was eaten with something that we cannot seem to remember, but we replaced anyway with this crispy, savoury, smoky, bacon-style tofu.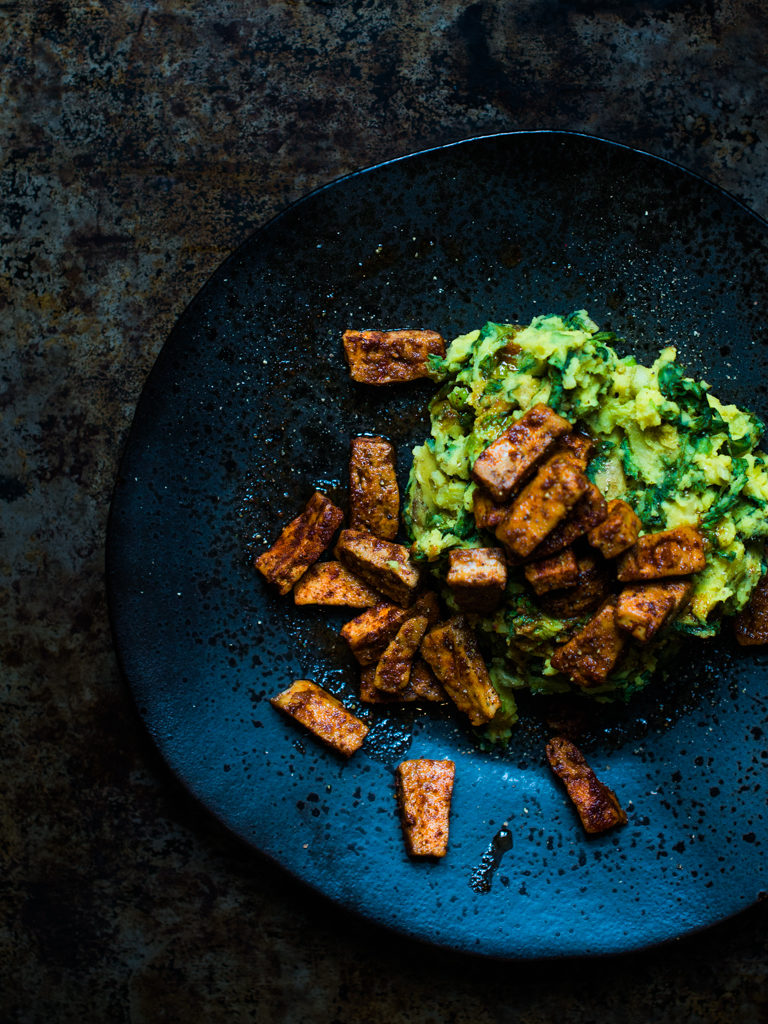 Serves 2-3
INGREDIENTS
Stamppot
750 g organic floury potatoes, cleaned (if potatoes are quite clean and young, you can leave the skin on) and cut into chunks
1 peeled and crushed garlic clove
1 tbsp vegan butter
1 tsp mustard
1/2 tsp curry powder
1/4 grated nutmeg seed
salt and black pepper to taste
1 really small red onion, peeled and finely chopped
400 g endive, washed, bottom removed and sliced as thin as possible
Tofu
2 tbsp frying oil (rice, olive)
500 g tofu, padded dry and cut into cubes
2 tbsp vegan butter
1 tsp smoked paprika powder
2 tbsp soy sauce
INSTRUCTIONS
Stamppot
Put potatoes in large pot and add half the volume in water. Add garlic and some salt (ca. 1/2 tsp). Cook potatoes until you can easily pierce them with a fork. When fully cooked, drain but keep 1/2 cup of cooking liquid. Mash potatoes. Add butter and stir. Then add the 1/2 cup cooking liquid, mustard, curry, nutmeg and salt and pepper to taste. Add onion and endive, and mix it all together. If it's too much to mix, put pot back on a low heat so endive can shrink a bit by the heat.
Tofu
Put frying pan on high heat and when hot add oil. Fry tofu cubes until nicely browned on all sides. Put heat low, and add butter, paprika powder and soy sauce. Mix it all up (be careful not to let it burn) and serve tofubacon plus leftover 'gravy' from pan with the stamppot.
---
ANDIJVIE STAMPPOT MET TOFU SPEKJES
Stamppot is gewoon fatsoenlijk, geen-gedoe Hollands eten. Aardappelpuree met elke groente naar keuze. WE LOVE IT. MAN.EAT.PLANT. heeft een brutale, maar super eenvoudige versie voor je; de klassieke aardappelpuree met andijvie. Kan het nog simpeler. Maar wacht even, deze smaakt waarschijnlijk niet zoals je je kunt herinneren uit de goede oude tijd of zoals je wellicht eens eerder hebt gegeten. Dit is namelijk de 2019 manier om een klassiek gerecht te verorberen getransformeerd naar de nieuwe tijd en dat normaal werd gegeten met iets dat we ons niet meer kunnen herinneren, maar we hoe dan ook hebben vervangen door knapperige, hartige, rokerige spekachtige tofu. Dat dus. Eet smakelijk.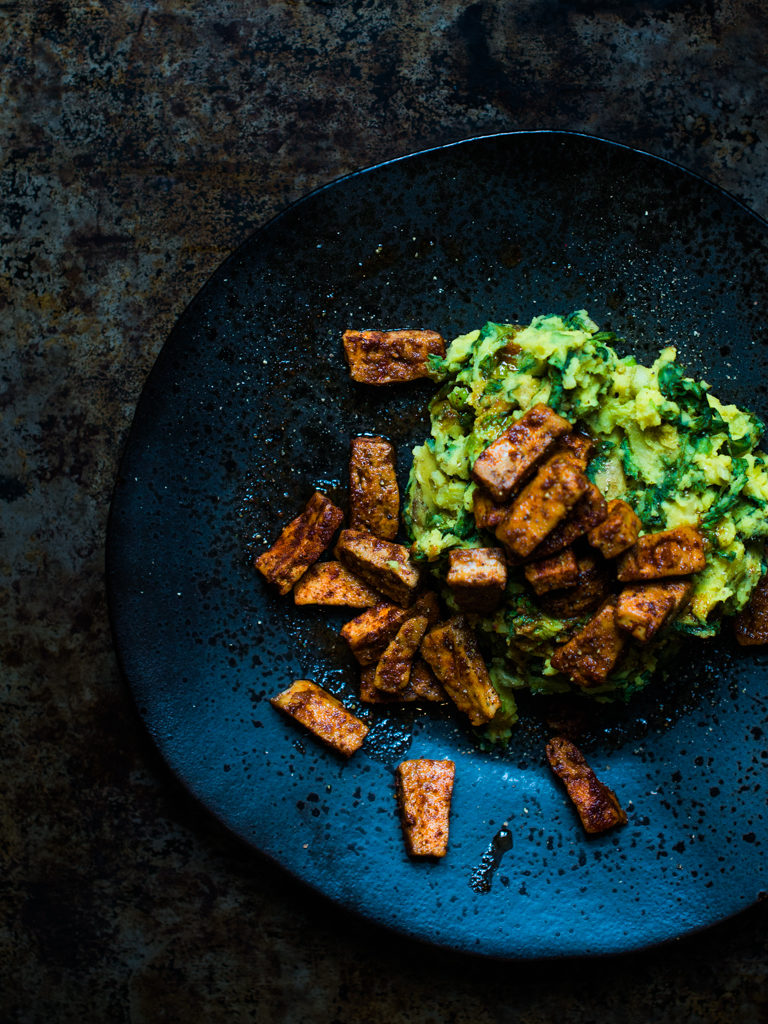 Voor 2-3 personen
INGREDIËNTEN
Stamppot
750 g kruimige of licht kruimige aardappels, schoon en in stukken (jonge ongehavende aardappelen hoef je niet te schillen, scheelt weer werk en levert extra vitamines en smaak op! Neem biologische aardappelen gezien dit gewas vrij heftig bespoten wordt)
1 teen knoflook, gepeld en geplet
1 el vegan boter
1 tl mosterd
1/2 tl kerriepoeder
1/4 bol geraspte nootmuskaat
zout en peper naar smaak
1 heel klein rood uitje, gepeld en fijngehakt
400 g andijvie, gewassen, onderkant verwijderd en zo fijn mogelijk gesneden
Tofu
2 el bakolie (rijst, olijf)
2 el vegan boter
500 g tofu, drooggedept en in kleine blokjes gesneden
1 tl gerookt paprika poeder
2 el sojasaus
INSTRUCTIES
Stamppot
Doe de aardappelen in een grote pan en zet ze half onder water. Voeg knoflook toe en wat zout (ca. 1/2 tl). Kook aardappelen helemaal gaar. Giet ze af, bewaar 1/2 cup (ca. 125 ml) kookvocht. Stamp aardappelen tot een puree en roer de boter erdoor. Voeg dan het achtergehouden kookvocht toe, evenals mosterd, kerrie, nootmuskaat en zout en peper naar smaak. Roer uitje en andijvie door de puree. Als dit erg lastig gaat, kun je de pan nog even op een laag vuur zetten, zodat de andijvie wat slinkt door de hitte.
Tofu
Zet een koekenpan op hoog vuur en voeg wanneer heet olie toe. Bak tofublokjes aan alle kanten goudbruin en knapperig. Zet het vuur laag en voeg boter, gerookt paprikapoeder en sojasaus toe. Meng alles goed, pas op dat het niet aanbrandt. Strooi de tofuspekjes en het beetje overgebleven 'jus' uit de pan over de stamppot.