No need to stuff a bird to celebrate TG. Nothing thankful about that. Stuff pumpkins instead! They are made to be stuffed, right? So man up and butcher that orange bastard (but while doing so, don't forget to indulge it with love and kindness). Serve with spiced up lentil sausages and a nice wintery salad.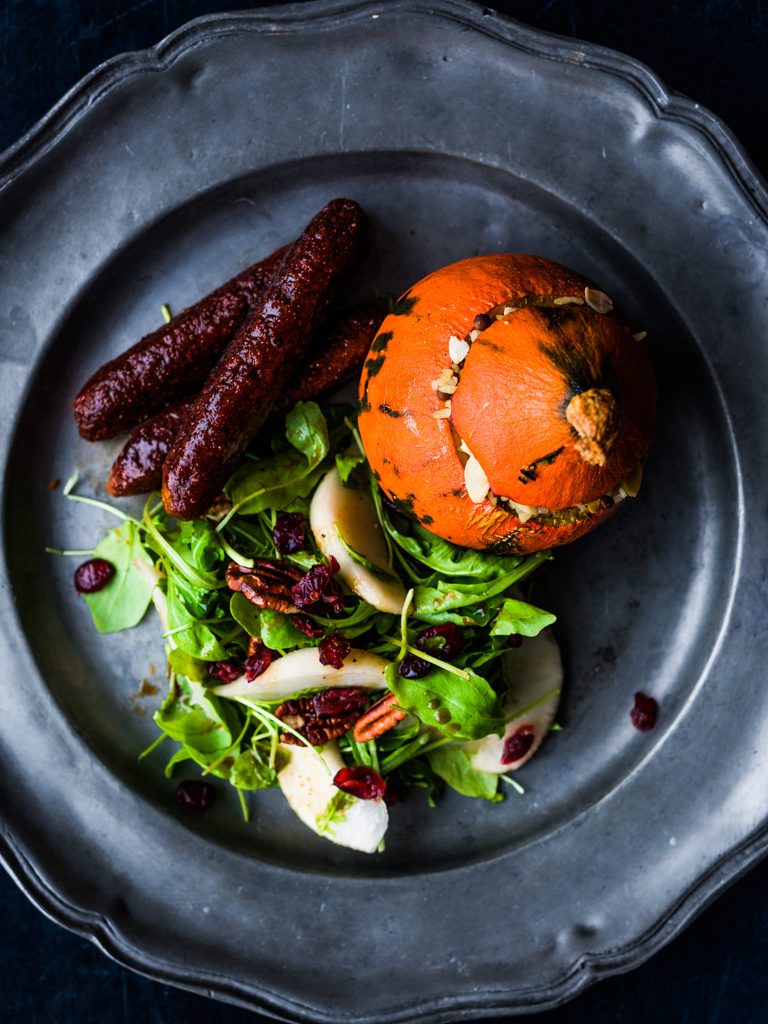 INGREDIENTS
Stuffed pumpkins
1 large or multiple small pumpkins, suitable for stuffing (like hokkaido of sweet dumpling)(we used 3 medium to small pumpkins)
2 garlic cloves, peeled and crushed
3 tsp 'chicken' seasoning (yup this actually is vegan, or at least it's supposed to be, so always check!)
salt and black pepper to taste
olive oil
1 onion, peeled and finely chopped
1 cinnamon stick
1/2 tsp cumin seeds
1 1/2 cup vegetable stock
200 g (1 cup) wholegrain rice
1 bay leaf
250 g (ca. 1 cup) canned lentils, rinsed and drained
100 g dried apricots, cut into strips
100 g slithered almonds, slightly toasted
Rockin' pear salad
125 g rocket
2 ripe pears, peeled and cut into fine slices
50 g dried cranberries
75 g pecans, toasted
2 tbsp olive oil
2 tbsp balsamic vinegar
2 tbsp dark treacle (a sticky form of dark molasses)
2 tsp mustard
1 garlic clove, peeled and crushed
salt and black pepper to taste
Sausages
100 g dried red lentils (soaked for a few hours – at least 2 – or overnight)
1 onion, peeled and chopped
1 garlic clove, peeled
50 g oatmeal
3 tbsp olive oil
3 tbsp soy sauce
2 tsp smoked paprika powder
black pepper to taste
flour to coat
1 tbsp maple syrup
INSTRUCTIONS
Stuffed pumpkins
Start by roasting the pumpkin(s). Preheat oven to 200 C/ 400 F. Cut upper parts ('hats') from pumpkins. Scrape out all seeds and seed lists. Rub pumpkin(s) inside and outside with crushed garlic clove. Season inside with 'chicken' seasoning, quite some salt and pepper and olive oil. Bake for 20 minutes or longer until pumpkin is soft but still holding shape.
In the meantime fry onion with cinnamon stick and cumin seeds in 1 tbsp olive oil in a large pan. Add stock, rice, bay leaf and bring to the boil. Lower heat and cook until all liquid has been absorbed. Remove cinnamon and bay leaf. Add 2 tbsp of olive oil, lentils, apricots and 3/4 part toasted almonds. Taste and adjust seasoning if needed. Stuff pumpkin with rice mixture, sprinkle with 1/4 part of leftover almonds and put 'hats' back on top. Put in the oven for another 10 minutes.
Rockin' pear salad
Mix rocket, pear, cranberries and pecans in salad bowl. Mix oil, vinegar, treacle, mustard, crushed garlic clove with a whisker or fork into a tasty dressing and season with salt and pepper. Get rid of garlic clove. Drizzle over salad.
Sausages
Drain the soaked lentils and puree with onion and garlic. Mix in oatmeal, olive oil, 2 tbsp soy sauce and 1 tsp paprika powder. Season to taste with freshly ground black pepper. Shape the dough into sausages – you can also make burgers or balls out of the 'dough', whatever you fancy! – with flour-dusted hands. Coat every sausage with flour. Heat frying oil in a frying pan and fry sausages on all sides until browned and completely cooked. Mix water with 1 tbsp soy sauce, 1 tsp smoked paprika powder and maple syrup. Add to sausages and cook for another moment on low heat until liquid has evaporated.
---
GEVULDE POMPOENEN MET ROCKENDE PEER SALADE EN KRUIDIGE LINZEN WORSTJES
Pompoenen lenen zich uitstekend om een epic 'stuffed' roast van te maken. Ze lijken er haast speciaal voor gemaakt met hun holle buiken! Dus zet je schrap en slacht die oranje knoert (met liefde uiteraard)! Serveer met heerlijk gekruide linzenworstjes en een winterse rucola salade.
INGREDIENTEN
Gevulde pompoenen
1 grote of meerde kleinere pompoenen (bijv. hokkaido of sweet dumpling) (wij gebruikten 3 medium kleine pompoenen)
2 tenen knoflook, gepeld en geplet
olijfolie
3 tl 'kip'kruiden
 (yes, dit zou vegan moeten zijn, maar check toch altijd de verpakking!)
zout en zwarte peper naar smaak
1 ui, gepeld en fijngesneden
1 kaneelpijpje
1/2 tl komijnzaad
200 g (1 cup) zilvervliesrijst
1 laurierblad
375 ml groentebouillon
250 g linzen uit blik, omgespoeld en uitgelekt
100 g gedroogde abrikozen, in reepjes gesneden
100 g amandelschaafsel, licht geroosterd
Rockende peer salade
125 g rucola
2 rijpe peren, geschild en in dunne plakjes
50 g gedroogde cranberries
75 g pecannoten, geroosterd
2 el olijfolie
2 el balsamico azijn
2 el keukenstroop
2 tl mosterd
1 teen knoflook, gepeld en geplet
zout en zwarte peper naar smaak
Kruidige worstjes
100 g gedroogde rode linzen
 (minstens twee uur tot overnacht geweekt)
1 ui, gepeld en grof gehakt
1 teen knoflook, gepeld
50 g havermout
3 el sojasaus
3 el olijfolie
2 tl gerookt paprikapoeder
zwarte 
peper naar smaak
bloem om te bestuiven
1 el ahornsiroop
BEREIDINGSWIJZE
Gevulde pompoenen
Begin met het roosteren van de pompoen(en). Verwarm de oven voor op 200 graden C. Snijd kapjes van de pompoen(en) en hol uit. Wrijf een geplette teen knoflook over de binnen- en buitenkant. Kruid de binnenkant met 'kip'kruiden, flink wat zout en peper en olijfolie. Rooster, met kapjes ernaast, ca. 20 minuten, tot zacht, maar stevig genoeg om vorm te behouden.
Bak ondertussen ui met kaneelpijpje en komijnzaadjes in 1 el olie in een ruime pan. Voeg wanneer ui begint te bruinen rijst, laurier en bouillon toe en breng aan de kook. Kook tot al het vocht geabsorbeerd is. Verwijder kaneel en laurier. Voeg 2 el olijfolie, linzen, abrikozen en 3/4 deel geroosterde amandelen toe. Vul pompoen(en) met het rijstmengsel, bestrooi met de rest van het amandelschaafsel en zet de kapjes er terug op. Rooster nog 10 minuten in de oven.
Rockende peer salade
Meng rucola, peer, cranberries en pecannoten in een kom. Maak een dressing door olie, balsamico, stroop, mosterd en geplette knoflook te kloppen met een garde of vork. Breng op smaak met zout en peper. Verwijder de knoflook en druppel over de salade.
Kruidige worstjes
Giet linzen na het weken af. Pureer ze met ui en knoflook. Meng havermout, 2 el sojasaus, olijfolie en 1 tl paprikapoeder erdoor. Breng op smaak met zwarte peper. Vorm er met bloem bepoederde handen worstjes van (burgers of ballen kan ook) en rol de worstjes door nog wat bloem. Verhit olie in de koekenpan en bak de worstjes aan alle kanten goudbruin en gaar. Meng water met 1 el sojasaus, 1 tl paprikapoeder en ahornsiroop. Voeg toe aan worstjes en bak nog even zacht mee tot al het vocht verdwenen is.