These are just perfect. Fatty, crusty on the outside, soft and spongy on the inside, lovely spices, so yeah really soul soothing and perfect for sharing.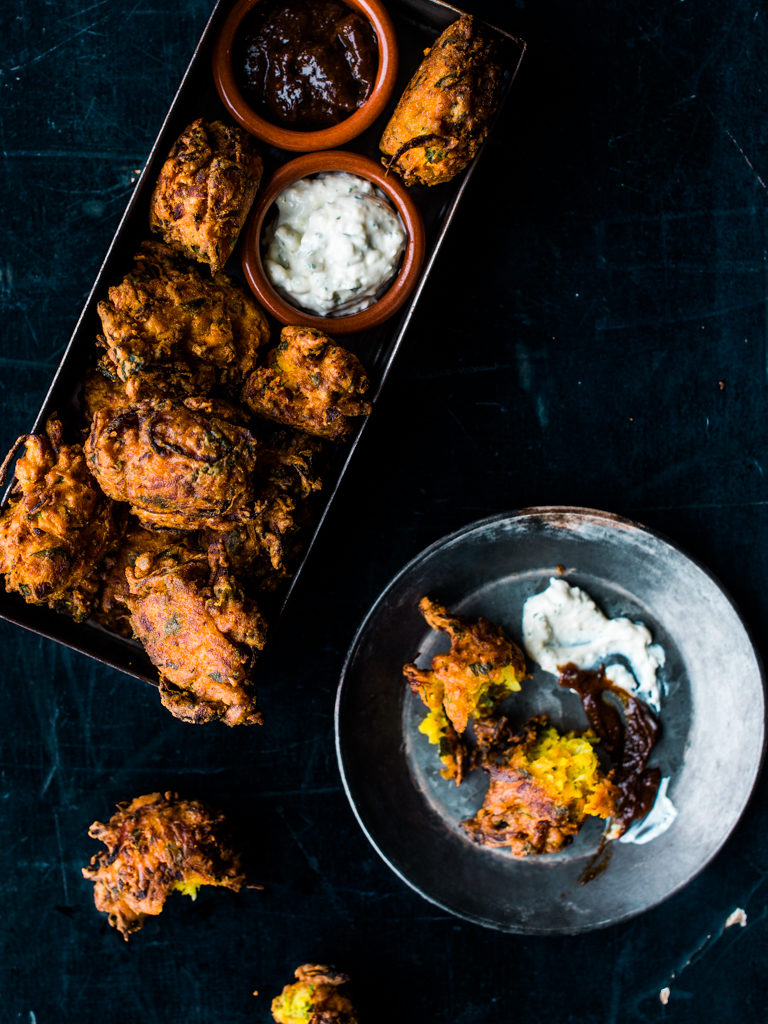 INGREDIENTS
Plum chutney
1 tbsp (olive) oil
1 onion, peeled and finely chopped
150 g dried prunes, pits removed
200 ml water
4 tbsp raw cane sugar
5 tbsp balsamic vinegar
1 star anise
1 tsp curry powder
salt
Herbed yogurt
200 g (thick) soy yogurt or quark
leaves of 1/4 bunch of fresh mint, finely chopped
1 piece of fresh ginger (about 2 cm), grated
1 small clove of garlic, peeled and finely chopped
salt and black pepper
Fritters
225 g pumpkin
1 large onion, peeled and thinly sliced
1/2 tsp curry powder
1/2 tsp salt
black pepper to taste
1/2 bunch of fresh parsley, chopped
150 g chickpea flour
1 tsp baking powder
100 ml water
oil for frying
INSTRUCTIONS
Plum chutney
Heat oil in saucepan. Add onion and fry until it starts to brown. Add plums, water, sugar, balsamic vinegar, star anise and curry powder. Cook on a low heat until plums are super soft (30-45 minutes). Puree mixture. It should resemble a nice smooth, dark, sweet & sour condiment with ketchup-ish texture. Transfer to a pot or container and let cool down completely. Keep in refrigerator.
Herbed yogurt
Mix soy yogurt with ginger, mint and garlic. Season to taste with a little pinch of salt and freshly ground pepper.
Fritters
Grate pumpkin with block grater or food processor into course strips. Add union to pumpkin. Season with salt, pepper and curry powder. Add parsley, chickpea flour, baking powder and water, and mix into a nice batter. Heat a thick layer of oil in a pan suitable for deep frying. Test temperature of oil by adding a drop of the batter. If it gets bubbly straight away the temperature is hot enough. Add 1-1,5 tbsp scoops of batter into the oil and deep fry on both sides until nicely golden browned. Open one fritter to check whether the inside is fully cooked. If not adjust frying time and temperature. Transfer fritters to kitchen towels to absorb excess oil. Serve while still hot with condiments.
---
POMPOEN FRITTERS MET PRUIMENCHUTNEY EN KRUIDIGE YOGHURT
Dit recept is zo lekker hartverwarmend, vettig, vol, knapperig van buiten en zacht en sponzig van binnen. Perfect voor koude dagen, en heerlijk met pruimenchutney en kruidenyoghurt.
INGREDIENTEN
Pruimenchutney
1 el (olijf)olie
1 ui
, gepeld en fijngesnipperd
150 g gedroogde pruimen, zonder pit
200 ml water
4 el ruwe rietsuiker
5 el balsamico azijn
1 steranijs
1 tl kerriepoeder
snuf zout
Kruidenyoghurt
200 g sojakwark
blaadjes van 1/4 bosje verse munt, fijngehakt
1 stukje verse gember (ca. 2 cm), geraspt
1 klein teentje knoflook, gepeld en fijngehakt
zout en zwarte peper
Pompoenbeignets
225 g pompoen
1 grote ui, gepeld en dun gesneden
1/2 tl zout
zwarte peper naar smaak
1/2 tl kerriepoeder
1/2 bosje peterselie, gehakt
150 g kikkererwtenmeel
1 tl bakpoeder
100 ml water
olie om in te frituren
BEREIDINGSWIJZE
Pruimenchutney
Verhit olie in een sauspan. Fruit ui tot hij begint te bruinen. Voeg pruimen, water, suiker, balsamico, steranijs en kerriepoeder toe. Kook heel zachtjes tot de pruimen super zacht zijn (ca. 30-45 minuten). Pureer het mengsel. Het zou een mooie gladde, donkere, zoetzure saus moeten zijn met ketchup-achtige consistentie. Doe over in een pot of bakje en laat helemaal afkoelen. Bewaar in de koelkast tot gebruik.
Kruidenyoghurt
Meng sojakwark met gember, munt en knoflook. Breng op smaak met een klein snufje zout en versgemalen zwarte peper.
Pompoenbeignets
Rasp pompoen op een blokrasp of met behulp van het rasp van een keukenmachine in grove slierten. Meng ui door pompoen. Voeg zout, peper en kerriepoeder toe. Voeg vervolgens peterselie, kikkererwtenmeel, bakpoeder en water toe, en mix tot een mooi beslag. Verhit een diepe laag olie in een hoge pan of frituurpan. Test de temperatuur door een klodder van het beslag in de olie te scheppen. Als het flink borrelt is de olie heet genoeg. Schep hoopjes beslag (ca. 1-1,5 el) in de pan en bak aan beide zijden goudbruin. Test bij een beignet of de binnenkant ook goed gaar is geworden. Pas zonodig de baktijd en temperatuur aan. Laat de beignets uitlekken op keukenpapier, en serveer warm met de condimenten.