What to do with all the chickpea leftover from that bad ass aquafaba pavlova recipe you've been making? Well, you can make these easy peasy spiced up, crunchy and roasted chickpeas! Perfect as snack, or as an addition to salads and soups.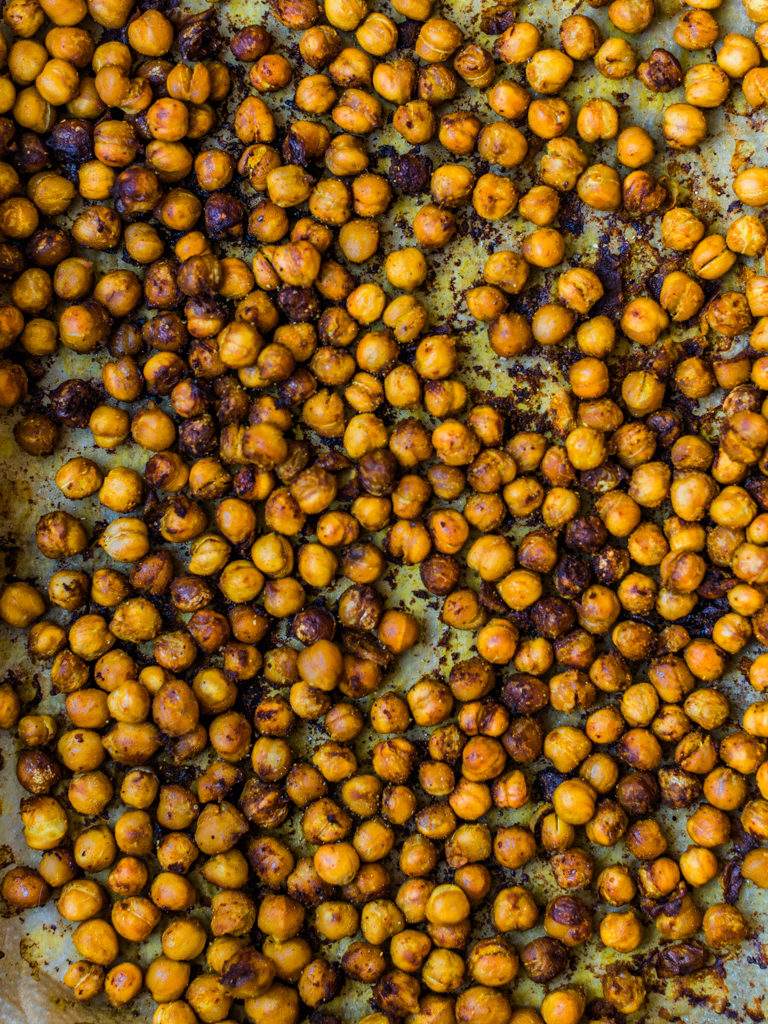 For 1 portion (2-4 people)
INGREDIENTS
1 x 400 g can chickpeas, drained and rinsed
2 tbsp oil (preferably rice or olive oil)
1 tsp of your favourite spice blend, like curry powder, garam masala or ras el hanout
1 tbsp light soy sauce (fe. Kikkoman)
INSTRUCTIONS
Preheat oven to 200 C/400 F.
Mix chickpeas with oil, spices and soy sauce. Divide on a baking tray lined with baking parchment and roast for 15-20 minutes or until crunchy and golden brown.
---
CRUNCHY ROASTED CHICKPEAS
Wat te doen met al die kikkererwten die je overhoudt na het maken van dat meesterlijke pavlova recept? Maak deze easy peasy, gekruide en knapperige kikkererwten-croutons! Perfect als snack (i.p.v. nootjes of chips bijvoorbeeld), of als croutons in salade of soep.
Voor 1 portie (2-4 personen)
INGREDIENTEN
1 blik kikkererwten van 400 g, afgespoeld en uitgelekt
2 el olie (olijf- of rijstolie)
1 tl van je favoriete specerijenmix, bijv. kerrie, garam masala of ras el hanout
1 el sojasaus (bijv. Kikkoman of shoyu)
BEREIDING
Verwarm de oven voor op 200 graden C.
Mix kikkererwten met olie, specerijen en sojasaus. Verdeel over een met bakpapier beklede bakplaat. Rooster ca. 15-20 min of tot goudbruin en knapperig.