Fall is almost kicking in, and so is this stew! Porcini equals umami. MUCH. The meaty texture of the dried shrooms works perfect in stews and soups, especially accompanied by all the funky fresh fungi out there. With just a few ingredients you can whip up the most convenient autumn comfort food meal. Serve with pasta, sourdough bread or mashed potatoes.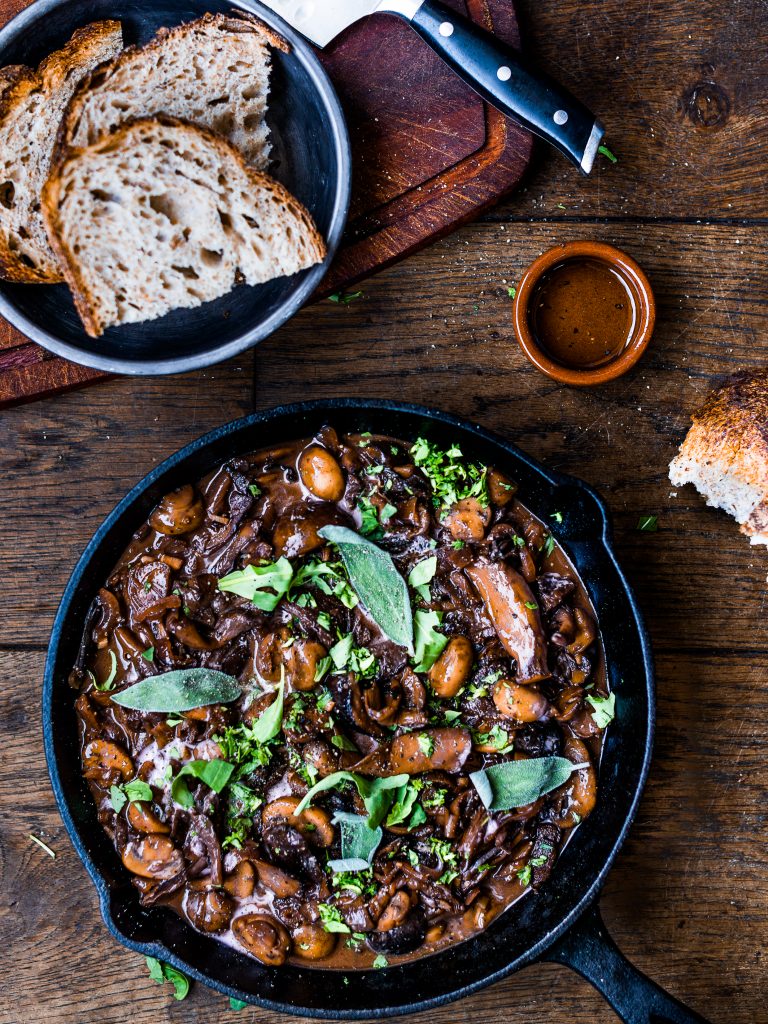 Serves 4
INGREDIENTS
0.7 oz dried porcini mushrooms
1 1/4 cup hot water
5 tbsp oil for frying
2 big red onions, sliced
3 garlic cloves, 1 peeled and crushed and 2 finely chopped
25 oz fresh mixed mushrooms, bigger ones halved, big chunks are nice! (e.g. button mushrooms, oyster mushrooms and shiitake)
2/3 cup red wine
some fresh sage leafs
black pepper and sea salt to taste
1 cup oat cream (preferably Oatly)
arugula for serving
INSTRUCTIONS
Soak porcini for about 30 minutes in hot water, until soft. Drain through a sieve over a bowl collecting the liquid. Drain liquid again through a mesh cloth over a bowl (so that bits of sand that might clung onto the porcini stay behind) and keep the liquid. Heat oil in a big skillet. Sauté onions until translucent. Add crushed garlic clove, fresh mushrooms and porcini. Fry on high heat so the mushrooms brown nicely (take them as far as you dare!). Add wine, soaking liquid, chopped garlic and sage leafs. Season to taste with pepper and salt. Let simmer on low heat for about half an hour. Remove sage and finish with cream. Heat briefly. Serve with sourdough bread and some arugula. A vegan red Vin Nature would go wonderful with this dish.
---
Rode wijn & porcini stoof
Kickstart het herfstseizoen met deze verrukkelijke porcini-rodewijn stoof! Porcini is umami. MEGA! De vlezige textuur van de gedroogde paddenstoelen werkt fantastisch in stoofpotten en soepen, en samen met verse paddenstoelen is dit een intense oerstoof. Met slechts en paar ingrediënten creëer je dit heerlijke comfortmaal. Serveer met pasta, desembrood of aardappelpuree.
Voor 4 personen
INGREDIENTEN
20 g gedroogde eekhoorntjesbrood (porcini)
300 ml heet water
5 el olie om in te bakken (olijf- of rijstolie)
2 grote rode uien, in halve ringen
3 tenen knoflook, waarvan 1 gepeld en geplet en 2 fijngehakt
700 g gemengde verse paddenstoelen, in grove stukken (bijv. champignons, oesterzwammen en shiitake)
200 ml rode wijn
wat blaadjes verse salie
zwarte peper en zeezout naar smaak
250 ml haverroom (bij voorkeur Oatly!)
rucola om te serveren
BEREIDING
Week het eekhoorntjesbrood ca. 30 minuten in het hete water, tot ze zacht zijn. Zeef de porcini door een vergiet en vang het vocht op. Zeef vervolgens het vocht nogmaals door een kaasdoek (zo blijft eventueel zand achter) en vang wederom het vocht op. Verhit de olie in een grote braadpan. Fruit de uien. Voeg geplette teen knoflook, uitgelekt eekhoorntjesbrood en verse paddenstoelen toe. Bak alles op hoog vuur flink aan, zodat de paddenstoelen mooi goudbruin worden. Doe het écht flink! Blus vervolgens af met rode wijn en weekvocht van het eekhoorntjesbrood, en voeg de salieblaadjes en overige knoflook toe. Breng op smaak met peper en zout en laat nog een half uur zachtjes doorkoken. Vis de salieblaadjes uit de stoof en maak af door haverroom toe te voegen. Warm nog even kort door. Serveer met zuurdesem brood en rucola. Een goed glas rode vegan Vin Nature zou niet misstaan!