In this recipe tempé is bombarded with the umami-rich ingredients tomato and soy sauce. The peanut sauce makes it irresistible for hungry stomachs. We created this recipe especially for Oxfam Novib.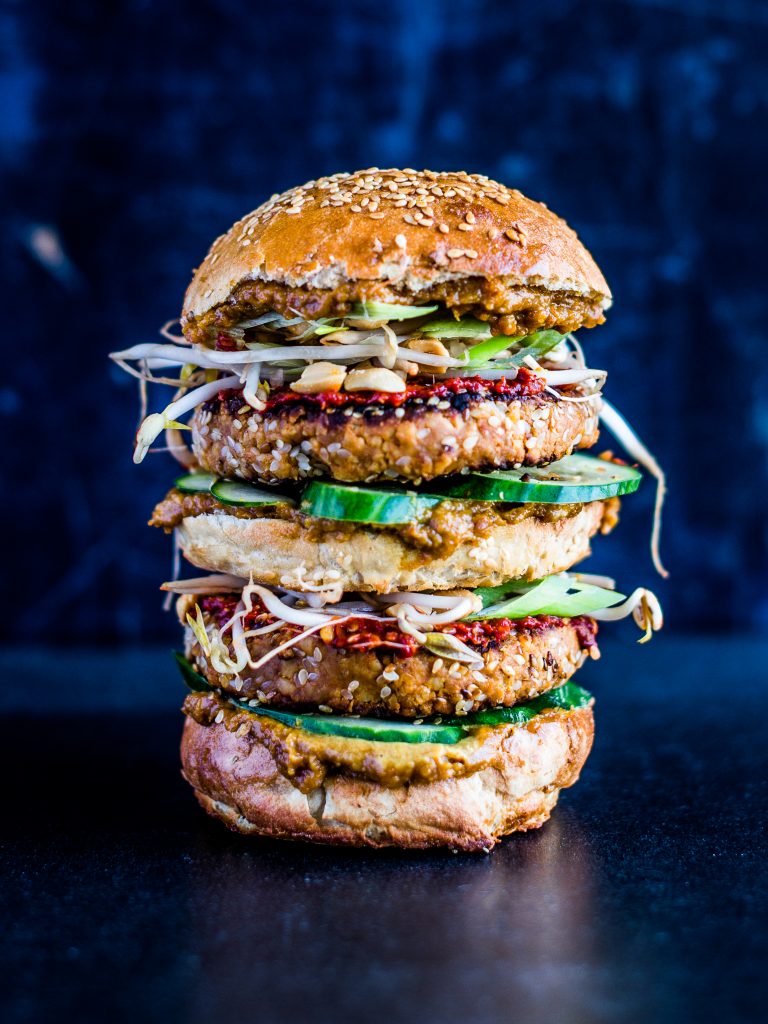 Serves 5-6
INGREDIENTS
Paddies
14 oz tempé
1.75 oz fine oatmeal
5 el sweet soy sauce (take a biological variant for more flavor!)
2 tbsp soy sauce or shoyu
1 can of tomato paste of 70 g
1 tbsp rice oil, plus extra for baking
1 onion, peeled and finely chopped
2 garlic cloves, peeled and finely grated
1 tsp sambal oelek
2 tsp finely ground coriander seeds
1/2 tsp finely ground cumin seeds
0,80 inch fresh ginger root, grated
4 tbsp sesame seed
Peanut Sauce
3 tbsp peanut butter
3 tbsp water
2 tsp Ketjap manis
1 tsp sambal oelek
1 tsp coconut blossom sugar
1/2 tsp garlic powder
1/2 tsp curry powder
For the sandwiches
5 to 6 vegan burger rolls
1 cucumber, thinly sliced
5 tsp sambal oelek
2 spring onions, sliced in thin rings
hand of peanuts, coarsely chopped
3,5 oz bean sprouts
INSTRUCTIONS
Paddies
Grate the tempé on a coarse grater over a bowl. Add all the other ingredients except the sesame seed. Mix everything together and knead briefly until a kind of minced meat is created. Form 5 to 6 burgers of the mixture. Heat a thin layer of oil in a frying pan. Fry the burgers in the oil on medium heat on both sides until golden brown, for at least 5 minutes per side so that the inside can also be cooked properly.
Peanut Sauce
Put all ingredients in a bowl and mix.
For the sandwiches
Cut the rolls in half. Spread some peanut sauce on each side. Cover the bottom with cucumber, then add the fried burgers and top with a little sambal and garnish with spring onions, bean sprouts and peanuts. Place the caps on the burgers and serve the sandwiches.
---
Umami Bombed Burger
In dit recept wordt tempé gebombardeerd met de umami-rijke ingrediënten tomaat en sojasaus. De pindasaus erbij maakt 'm onweerstaanbaar voor scheurende, hongerige magen. We creëerden dit recept speciaal voor Oxfam Novib!
Voor 5-6 personen
INGREDIENTEN
Paddies
400 g tempé
50 g fijne havermout
5 el ketjap manis (neem een biologische variant voor meer smaak!)
2 el sojasaus of shoyu
1 blikje tomatenpuree van 70 g
1 el rijstolie, plus extra om in te bakken
1 ui, gepeld en fijngehakt
2 tenen knoflook, gepeld en fijngeraspt
1 tl sambal oelek
2 tl fijngemalen korianderzaad
1/2 tl fijngemalen komijnzaad
2 cm verse gemberwortel, geraspt
4 el sesamzaad
Pindasaus
3 el pindakaas
3 el water
2 tl ketjap manis
1 tl sambal oelek
1 tl kokosbloesemsuiker
1/2 tl knoflookpoeder
1/2 tl kerriepoeder
Opmaak broodjes
5 à 6 vegan burgerbroodjes
1 komkommer, in dunne schijfjes
5 tl sambal oelek
2 bosuitjes, in dunne ringen
handje pinda's, grof gehakt
100 g taugé
BEREIDING
Paddies
Rasp de tempé op een grove rasp boven een kom. Voeg alle overige ingrediënten behalve het sesamzaad toe. Meng alles door elkaar en kneed kort door tot er een soort gehakt ontstaat. Vorm 5 à 6 burgers van het mengsel. Verhit een dun laagje olie in een koekenpan. Leg de burgers hier in en bak aan beide zijden goudbruin op middelhoog vuur. Bak de burgers minstens 5 minuten per zijde zodat de binnenkant ook goed gaar kan worden.
Pindasaus
Doe alle ingrediënten in een kom en meng door elkaar.
Opmaak broodjes
Snijd de broodjes doormidden. Smeer wat pindasaus op elke zijde. Beleg de onderzijde met komkommer, vervolgens de gebakken burgers, dan een beetje sambal en garneer met bosui, taugé en pinda's. Leg de kapjes op de burgers en serveer de broodjes uit.