Nordic ingredients go oriental in this hearty plant powered curry. Black cardamom bursts with warm and deep flavours and kicks this curry to a whole new level of umami richness. Serve with some flat bread and rice on the side, and dive in!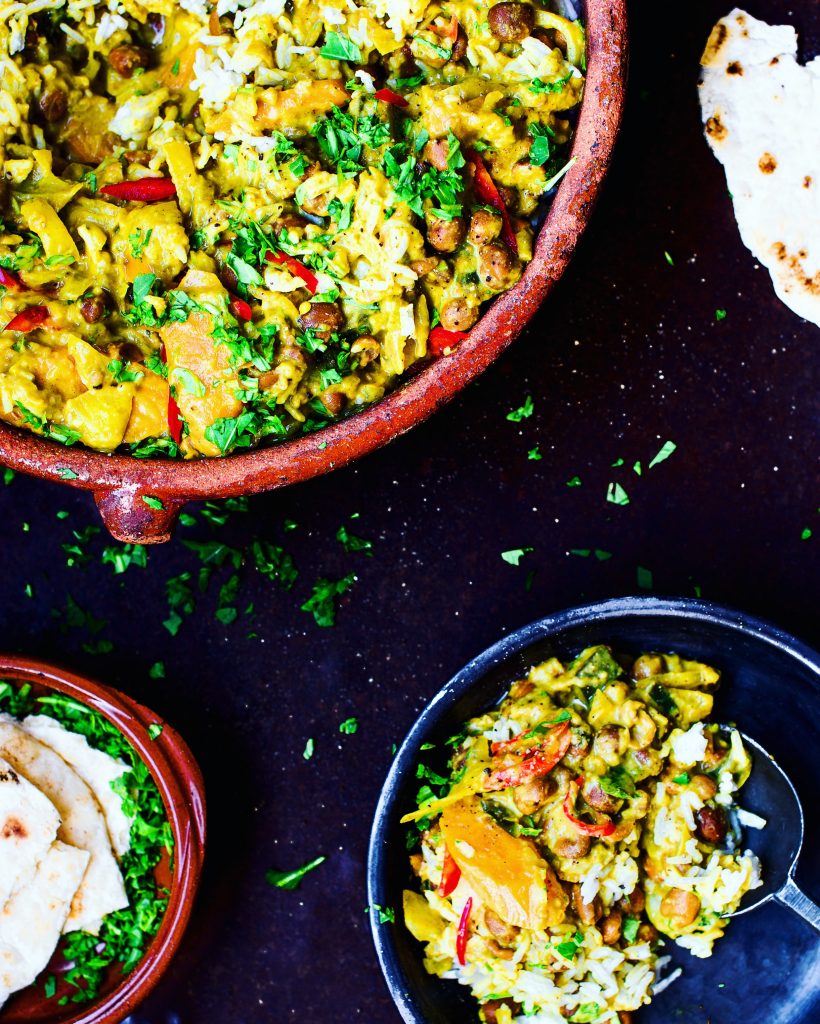 Serves 4
INGREDIENTS
3 tbsp rice bran oil
5 black cardamom pods (these are different than the green ones!)
1 onion, finely chopped
1/4 head of pointed cabbage, thinly sliced
1 eggplant, diced
400 g carrots, sliced
680 g canned field peas, rinsed and drained
3 cloves of garlic, finely chopped
1 chili pepper, seeds removed and thinly sliced
1 tsp curry powder
250 ml (1 cup) coconut milk
150 ml (2/3 cup) water
2 tbsp soy sauce
sea salt and black pepper to taste
INSTRUCTIONS
Heat oil in a large frying pan or skillet. Crush cardamom pods and fry in oil until the aroma's release. Add onion and fry until it starts to colour. Add eggplant and fry quite long, until it gets velvety. Add the rest of the veggies, field peas, garlic, chili and curry powder. Fry for a few minutes. Add coconut milk, water and soy sauce. Cook for 10-15 minutes until the veggies are cooked and the liquid has thickened. Season to taste with salt and pepper. Serve with naan bread and rice.
---
HEARTY BLACK CARDAMOM CURRY
Noordelijke ingrediënten rocken in deze curry. Kan gewoon! Door het strategisch inzetten van de kruidenguerilla zwarte kardemon krijgt het gerecht een diepe, rokerige smaak waar je eerste herfst rillingen meteen aan ten onder gaan.
Voor 4 personen
INGREDIENTEN
3 el rijstolie
5 zwarte kardamonpeulen (deze zijn anders dan de groene!)
1 ui, gesnipperd
1 aubergine, in blokjes
1/4 spitskool, in dunne reepjes
400 g winterpeen, in plakjes
1 680g blik kapucijners, afgespoeld en uitgelekt
3 tenen knoflook, fijngehakt
1 chilipeper, zaadjes verwijderd en in dunne ringetjes
1 tl curry powder
250 ml kokosmelk
150 ml water
2 el sojasaus
zeezout en zwarte peper naar smaak
BEREIDING
Verhit olie in een ruime koekenpan, hapjespan, wok of braadpan. Kneus kardamonpeulen en bak ze even mee, tot de aroma's vrijkomen. Voeg ui toe en bak tot hij begint te kleuren. Voeg vervolgens aubergine toe en bak vrij lang, tot deze fluwelig wordt. Voeg vervolgens spitskool, wortel, kapucijners, knoflook, chili en kerriepoeder toe, en bak nog even mee. Voeg kokosmelk, water en sojasaus toe. Laat 10-15 zachtjes doorkoken tot de groenten gaar zijn en de curry wat ingedikt is. Breng op smaak met zout en peper. Serveer met naanbrood en rijst.