This baby was one of the first recipes we posted on this blog. And one loved by many, so we felt it was time for a repost in case you have missed it. This raised veg pie is a classie English hot-water-dough fort loaded with a juicy filling of savory vegetables, shrooms and crispy tofu. Just perfect when served with mashed potato and/or a green salad. A good glass of dark beer would be nice too. We are really getting in the mood for savory and sweet pies at the moment 'cause this coming Monday we will start shooting for the best vegan baking book this world has ever seen ;-). Inspired and created by Maartje, photographed by Lisette. Hopefully on the market this summer!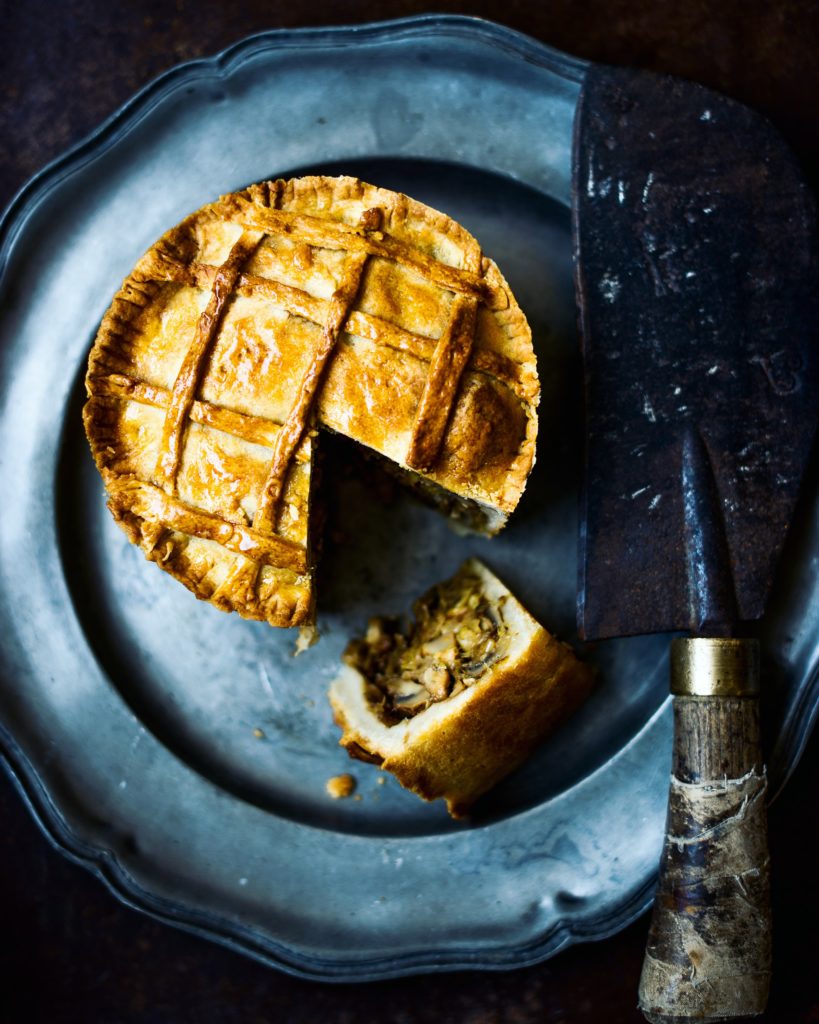 Serves 4-6
INGREDIENTS
300 g + 2 tbsp all purpose flour
150 ml (2/3 cup) hot water
90 g plant based butter
1 tsp salt
oil for frying
300 g tofu, padded dry and cubed
400 g button mushrooms, quartered
1 big leek
, finely chopped
2 tbsp flour
1 garlic clove
200 ml (1 cup) beer
3 tbsp shoyu or soy sauce
freshly grated nutmeg to taste
freshly ground black pepper and salt to taste
1 tsp dried thyme
splash of plant based milk
INSTRUCTIONS
Preheat the oven to 185 C/365 F. Pour hot water in a pan. Add butter and let melt. Add 300 g of flour and salt. Mix until it forms a dough. Knead with your hands (yes it is hot, be a bad ass) really short, just until the dough is even. Press the dough into a pie mould (you don't have to grease the mould). Safe a piece of dough for later to cover the pie with. Heat a generous splash of oil in a frying pan. Add the tofu cubes and fry until a little golden crust appears. Take them out of the pan. Add some more oil to the pan if needed, and fry the mushrooms on high heat until goldenbrown. Add leek and fry some more. Put the tofu back in the pan. Add 2 tbsp of flour and stir for a minute or so. Next add garlic, beer and shoyu/soy sauce and heat until the liquid is thickened. Add the seasonings. Transfer the veg-mix to the prepared pie mould. Roll out the saved piece of dough and cover the pie with it. Make it look good. To make it nice and shiny, brush a little bit of plant based milk on top. Bake for 45-55 min until fully baked and golden brown.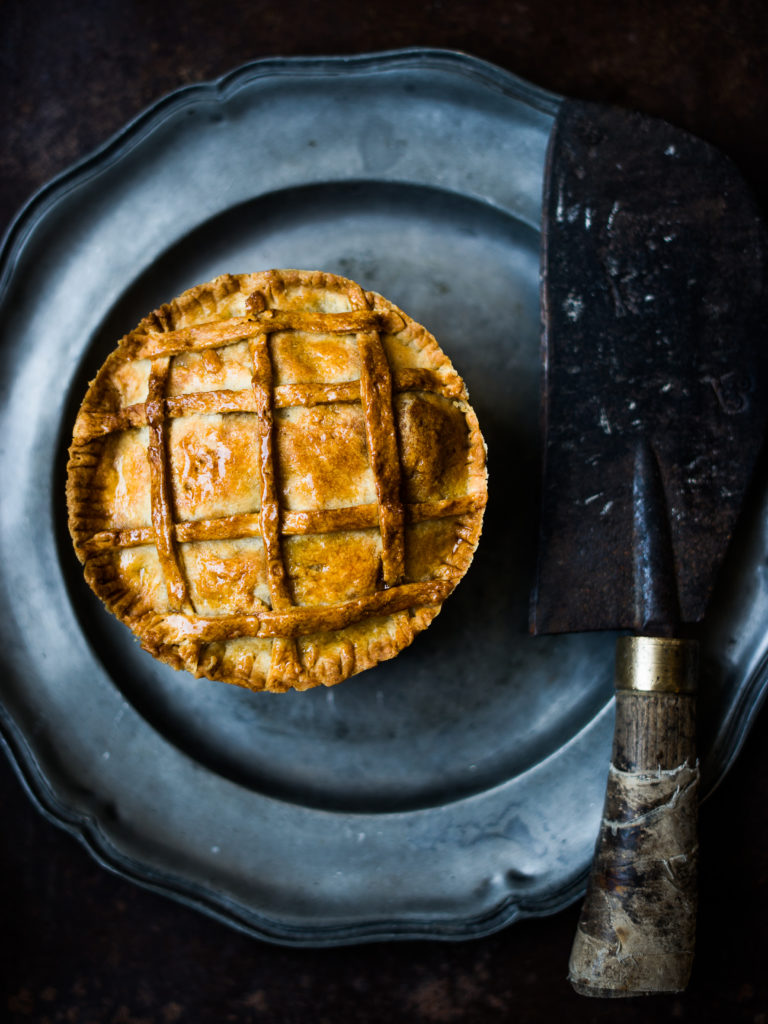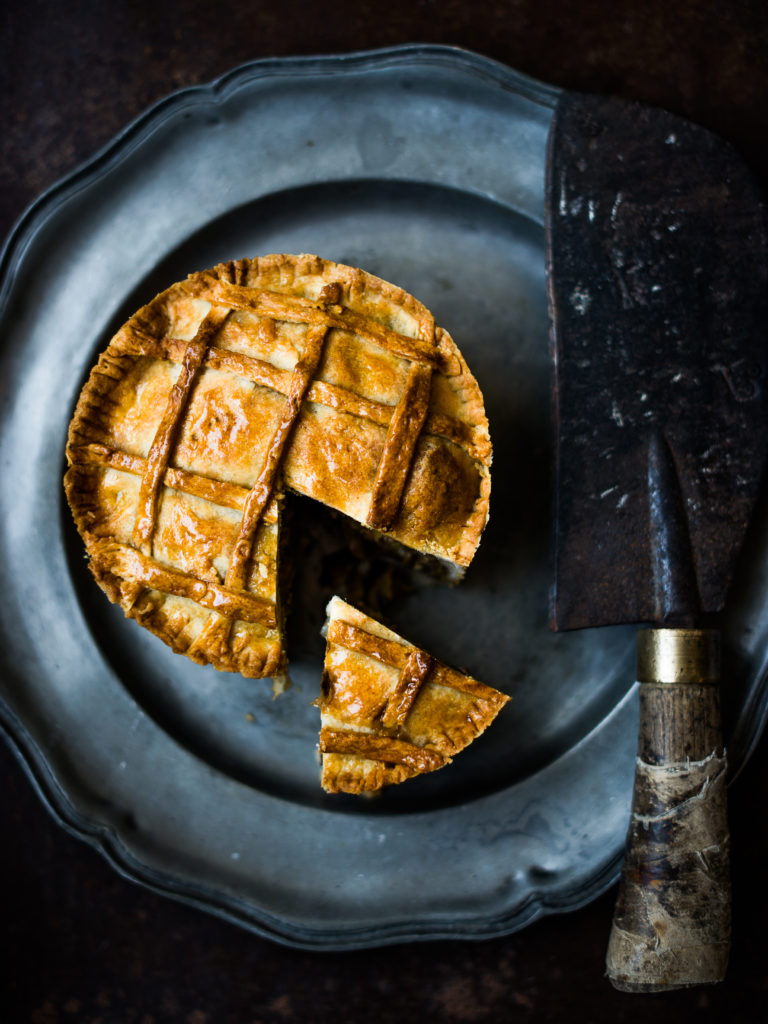 ---
RAISED VEG PIE
Zin in een echte Engelse Pie? Dit fort van heet-water-deeg zit tjokvol met een sappige vulling van hartige groenten, shrooms en krokante tofu. Serveer met aardappelpuree en/of groene salade. Een lekker bruinbiertje zou niet misstaan.
Voor 4-6 personen
INGREDIENTEN
300 g + 2 el bloem
150 ml heet water (net van de kook af)
90 g plantaardige bakboter
1 afgestreken tl zout
olie om in te bakken
1 blok tofu van 300 g, drooggedept en in blokjes
400 g champignons, in vieren
1 grote prei, fijngesneden
1 teen knoflook, grof gehakt
200 ml bier
3 el shoyu of sojasaus (géén ketjap)
versgeraspte nootmuskaat naar smaak
versgemalen zwarte peper en zout naar smaak
1 tl gedroogde tijm
scheutje plantaardige melk
BEREIDING
Verwarm de oven voor op 185 graden C. Doe het hete water in een pan en smelt daarin de boter. Voeg bloem en zout toe. Roer tot het samenkomt en kneed met je handen (yes, dit is heet, dus wees even stoer) heel kort tot er een mooi gelijkmatig deeg ontstaat. Bekleed een bakvorm met het deeg (je hoeft de bakvorm niet in te vetten). Houd wat van het deeg achter om de pie later mee af te dekken. Verhit vervolgens een flinke plens olie in een koekenpan op hoog vuur. Voeg de tofu toe en bak flink aan, tot deze een lichtbruin korstje krijgt. Haal de blokjes uit de pan, en voeg zonodig nog wat extra olie toe aan de pan. Bak nu de champignons ook flink aan. Ze moeten mooi goudbruin worden. Voeg vervolgens de prei toe en bak even mee. Doe de tofu terug in de pan. Voeg bloem toe en bak nog kort door. Voeg vervolgens knoflook, bier en shoyu toe. Laat even goed doorkoken zodat het vocht indikt. Breng op smaak met de kruiden. Doe het groentemengsel over in de deegkorst. Rol het achtergebleven stuk deeg uit en dek de pie ermee af. Maak er wat moois van! Bestrijk het deeg met wat plantaardige melk voor een lekker shiny effect en bak in ca. 45-55 minuten goudbruin en gaar.