If you've ever been to country's like Colombia, Venezuela and Mexico you probably know this comfy corn staple food. It's a cornflour patty (in between bread and pancake) and you can eat it with all kinds of toppings like avocado, vegan cheese and plant meat. We made this avo-carnitas variety which is utterly delicious! You can use our pulled mushroom or pulled jackfruit recipe, both are delicious!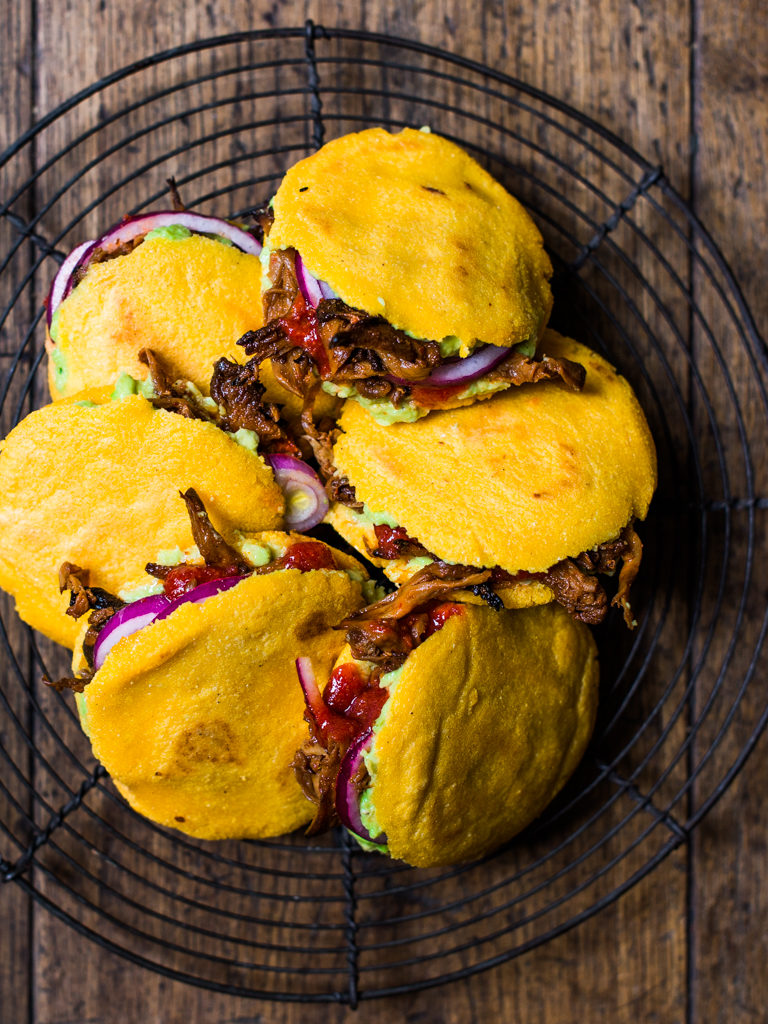 Serves 10 arepas
INGREDIENTS
pulled mushrooms or BBQ Jackfruit (quantity according to quantity in recipe)
Arepas
2 cups pre-cooked corn flour (for example the P.A.N. brand)
2 ½ cups water
1 tsp salt
Stuffing
2-3 avocado's, peeled and mashed
juice of 1 lemon
1 small garlic clove, peeled and finely chopped
salt and black pepper to taste
1 red onion, peeled and thinly sliced
2 tbsp applecider vinegar
sriracha (or your fave hot sauce) to taste
INSTRUCTIONS
Start with the making of the pulled shroom or BBQ Jackfruit.
Mix cornflour with water and salt to make the arepas. Knead for a few minutes until it forms a dough. Cover dough and let rest for at least 10 minutes. Make 10 patties out of the dough. Heat a large frying pan on medium to high heat. Put patties in the pan (without oil, ca. 4 at once). Leave them on one side for ca. 5 minutes. Flip over and bake the other side for 5 minutes as well. Let rest for a few minutes before opening them.
Mix for the stuffing mashed avocado with lemon juice, garlic clove and salt and pepper to taste. Put the sliced onion into a small bowl with the vinegar and let sit for at least a few minutes. Put some avocado spread into the arepas and stuff with the pulled mushrooms or bbq jackfruit. Top with the pickled onions and serve with some sriracha.
---
PULLED PLANT MEAT AREPAS
Als je ooit in landen als Colombia, Venezuela en Mexico bent geweest, dan ben je vast bekend met arepa's, een heerlijke combinatie tussen een broodje en pannenkoek, gemaakt van maismeel. Ze zijn vol maar wel neutraal van smaak en dus een perfecte drager voor een heerlijk kruidige vulling. Bijvoorbeeld onze pulled mushrooms of BBQ jackfruit.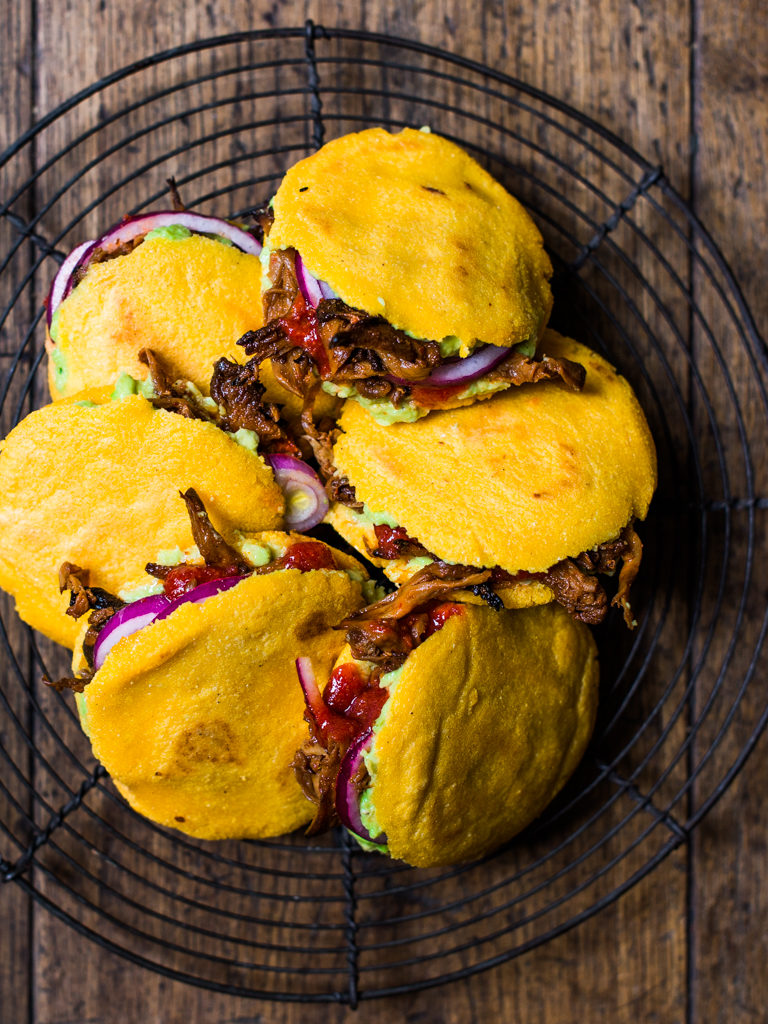 Voor 10 arepa's
INGREDIENTEN
pulled mushrooms of BBQ Jackfruit (hoeveelheid volgens de hoeveelheid in het recept)
Arepa's
150 g voorgegaard maismeel  (bijvoorbeeld het merk P.A.N.)
625 ml water
1 tl zout
Stuffing
2-3 avocado's, gepeld en geprakt
sap van 1 citroen
1 kleine knoflookteen, gepeld en gehakt
zout en zwate peper naar smaak
1 rode ui, gepeld en dun gesneden
2 el appelazijn
sriracha (of je favoriete hot sauce) naar smaak
BEREIDING
Bereid eerst de pulled shroom of BBQ Jackfruit.
Meng vervolgens voor de arepa's het maismeel met het water en zout. Kneed een paar minuten tot er een soepel deeg ontstaat. Dek af en laat minstens 10 minuten rusten. Maak vervolgens 10 platte burgerachtige porties van het deeg. Verhit een grote koekenpan op middelhoog tot hoog vuur en bak de arepa's (zonder olie) per 4 stuks, 5 minuten aan beide zijden. Ze laten makkelijk los als ze gaar zijn. Laat ze een paar minuten rusten alvorens ze te openen.
Meng voor de stuffing de geprakte avocado met citroensap, knoflook en peper en zout naar smaak. Meng de rode ui met appelazijn en laat even staan. Snijd de arepa's open en besmeer ze met de avocadospread, en vul met pulled mushrooms of bbq jackfruit. Maak af met de ingelegde rode ui en serveer met wat sriracha.