A simple dish maybe, but a delicious one as well and just as creamy and comforting as the original.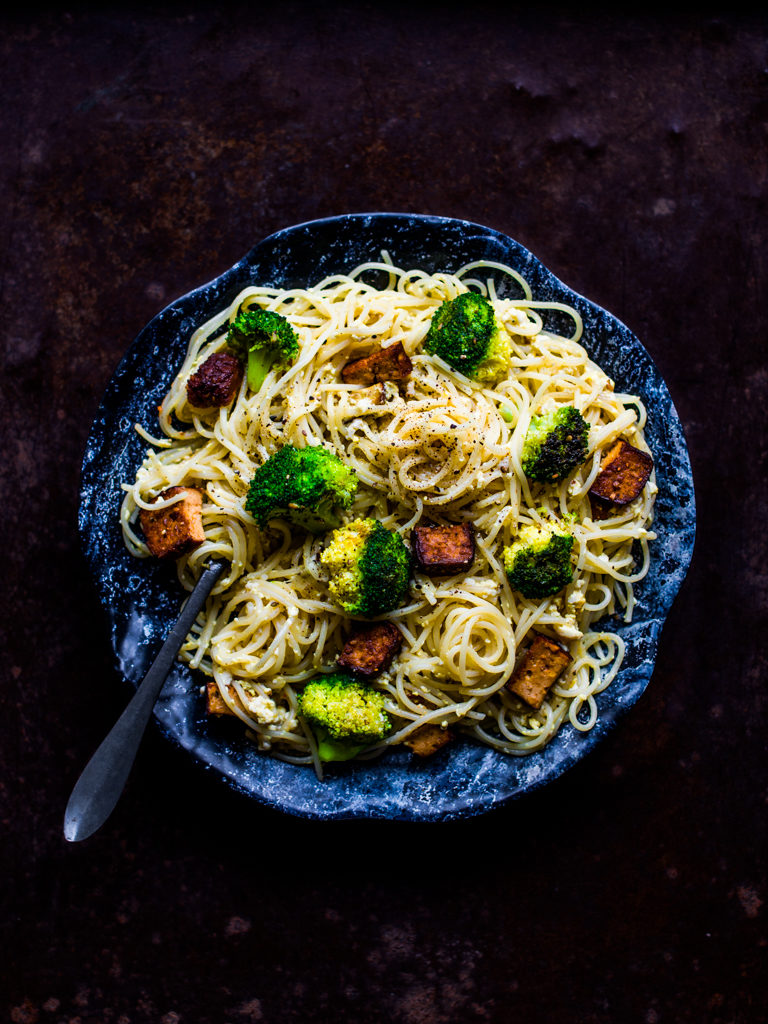 Serves 2
INGREDIENTS
200 g spaghetti
2 garlic cloves, peeled, 1 smashed, 1 finely chopped
(Celtic) sea salt
3 tbsp olive oil, plus extra for serving
200 g vegan bacon bits or 200 g smoky tofu (diced), dusted with a dash of smoked paprika powder
350 g silken tofu
½-1 tsp kala namak (depending on coarseness and your personal flavour)
freshly cracked black pepper
4 tbsp grated vegan parmesan or nutrional yeast flakes (cheese will improve silky texture!), plus extra for serving
pinch of turmeric
400 g broccoli
INSTRUCTIONS
Start with the spaghetti. Bring a pan with water to a boil. Add smashed garlic and lots of salt (it should be very salty. Italians say it should taste like the Mediterranean Sea.). Cook spaghetti according to instructions on the package.
In large fying pan, heat 2 tsbp olive oil and fry vegan bacon bits or tofu until golden. Move bits to the side of the pan to create space in the middle. Add silken tofu to the pan. Carefully 'cut' the block of tofu in the pan with a wooden spatula and fry for a while, whilst carefully flipping so the block transforms into curdly pieces, like scrambled egg. Dust with a tiny bit of turmeric for colour and some kala namak for comfy eggy flavour. Season with loads of freshly cracked black pepper. Mix in vegan cheese carefully. Drain spaghetti and save some of the cooking liquid. Add cooked spaghetti and a splash of the cooking water (up to ¼ cup). Carefully mix until just combined. Add some extra olive oil and grated cheese or nutritional yeast flakes on top.
Serve with our favorite go-to broccoli dish: heat frying pan until piping hot. Add 1 tbsp oil and fry broccoli quickly until it starts to brown and has a deep and bright green colour. Add ¼ cup of water plus some salt to taste and let evaporate. Just before the last drops of liquid are evaporating, add chopped garlic and switch off heat immediately.
---
VEGAN PASTA CARBONARA
Een eenvoudig gerecht misschien, maar ook een heerlijke en net zo romig en comfy als het origineel.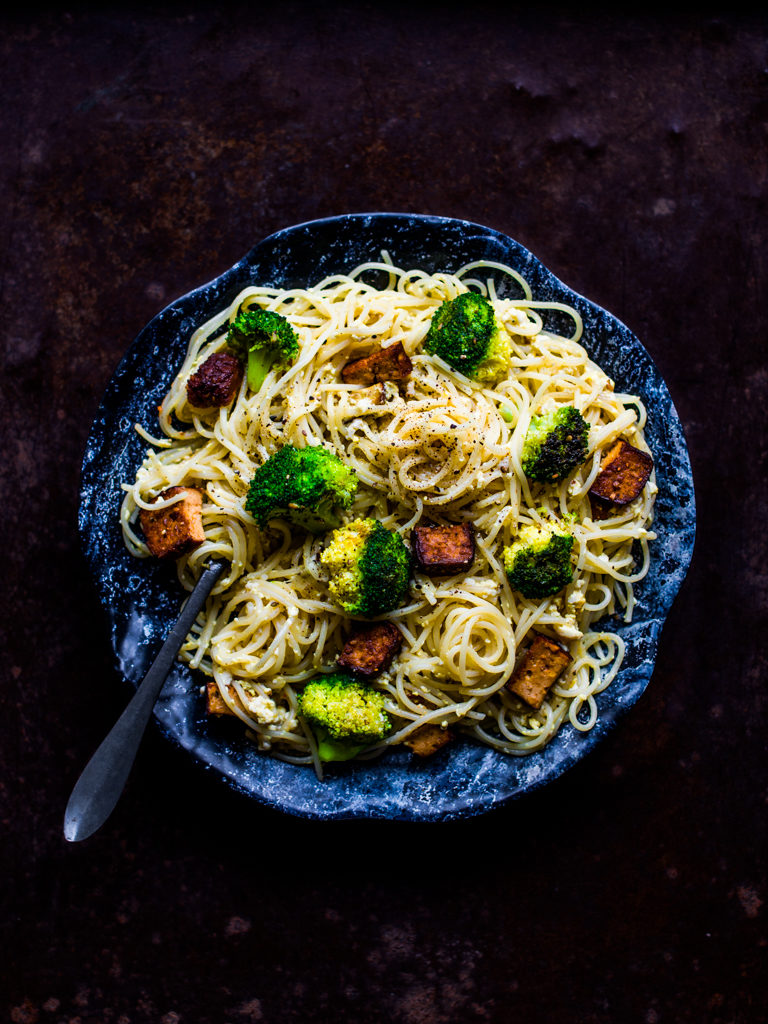 Voor 2 personen
INGREDIËNTEN
200 g spaghetti
2 knoflooktenen, gepeld, 1 geplet, 1 fijngehakt
(keltisch) zeezout
3 el olijfolie, plus extra voor het serveren
200 g vegan spekjes of 200 g gerookte tofu (in blokjes) bestrooid met wat gerookt paprikapoeder
350 g silken tofu
½-1 tsp kala namak (afhankelijk van malingsgraad en je eigen smaak)
versgemalen zwarte peper
4 el geraspte vegan parmezaan of gistvlokken, plus extra voor het serveren
400 g broccoli
INSTRUCTIES
Begin met de spaghetti. Vul een pan met water. Doe daarin geplette knoflook en flink wat zout (volgens Italianen moet pastakookwater zo zout smaken als de Middellandse Zee). Breng aan de kook. Kook de spaghetti gaar volgens aanwijzingen op verpakking.
Verhit 2 el olijfolie in grote koekenpan en bak de spekjes tot goudbruin en krokant. Schuif spekjes naar de zijkant van de pan en leg de silken tofu in het midden van de pan. Breek/snij het blok tofu met een houten spatel in stukken. Schep al bakkend voorzichtig om, tot het er uit ziet als grove roerei. Bestrooi met een klein beetje kurkuma voor de kleur en kala namak voor de smaak. Kruid royaal met veel vergemalen zwarte peper. Voeg 4 el geraspte vegan parmezaan toe en roer voorzichting door het tofumengsel. Giet de pasta af en voeg toe aan het tofumengsel, samen met een scheutje pastawater. Schep voorzichtig om. Druppel er wat olijfolie over en garneer met extra parmezaan of gistvlokken.
Serveer met ons favoriete en go-to broccoli recept: Verhit een koekenpan tot loeiheet. Voeg 1 el olijfolie toe en broccoli roosjes. Bak kort op hoog vuur tot broccoli begint te bruinen en diep heldergroen van kleur is. Voeg 50 ml water toe plus wat zout. Laat water bijna helemaal verdampen (nog steeds op hoog vuur). Als water bijna verdampt is, voeg gehakte teen knoflook toe en draai vuur meteen uit.