Easter is around the corner, so it's time to dive into the veganising of all things brunchy, eggy and bready. So this time we veganised the popular Japanese Hokkaido Milk Bread for you, which is quite similar to the French Brioche or Dutch Duivekater. Delicious with just a lick of vegan butter, a dollop of marmalade, or let's go crazy, chocolate sprinkles. Whatever floats your boat. The secret to the fluffy texture is making a tangzhong first, which is a water and flour based cooked paste. This is your egg-replacer, 'cause let's face it, eggs are just so out of season. With this paste you will create a pillowy, yeasty goodness. Perfect to stuff your face with.
By the way, if you're looking for vegan 'eggy' dishes to brighten up your Easter brunch, look at this gorgeous omelette or delicious eggless scramble.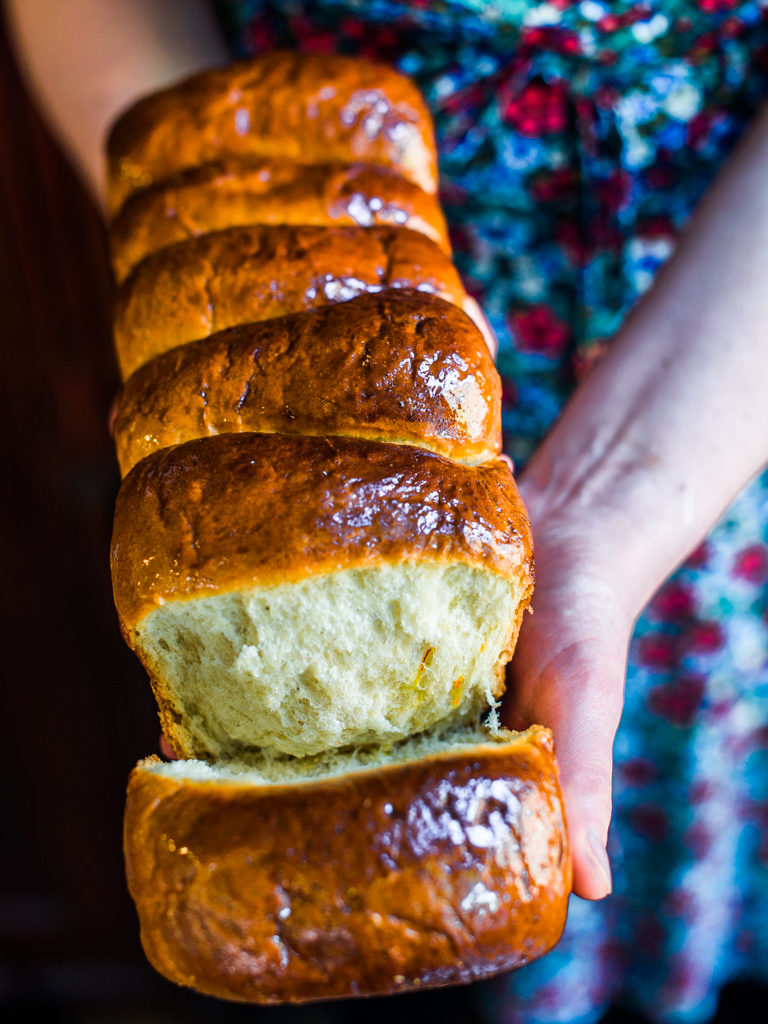 Makes 1 loaf
INGREDIENTS
Tangzhong
6 tbsp water
2 tbsp flour
Bread

1/3 + 1/4 cup oat or soy milk
1 pinch of saffron
1/4 cup sweet condensed coconut milk
7 g (1 sachet) instant yeast
350 g bread flour
1 tsp salt
seeds from 1 vanilla pod
3 tbsp good quality vegan butter (room temp.), rice bran oil or extra virgin coconut oil
1 tbsp water
1 tbsp treacle
INSTRUCTIONS
Tangzhong
Mix water with flour and put mixture into saucepan. Put on low heat whilst constantly whisking. Mixture will thicken into a thick roux-like texture. Let cool down a bit.
Bread
Slightly warm the 1/3 cup oat milk to just lukewarm, be sure not to let it become hot, otherwise you will kill the yeast and you will corrupt the recipe. Add the yeast and let sit until it gets foamy.
Heat the other 1/4 cup oat milk until hot. Put saffron in a glass or small bowl and pour the hot milk over. Let steep, until milk is cooled down to a lukewarm temperature.
Put flour in large bowl, mix with salt and vanilla. Make a hole in the middle and add at the tangzhong, yeast mixture, condensed milk, saffron milk and butter or oil to the hole. Mix and knead until your dough feels super nice and soft, and not too sticky anymore. It helps to handle the dough a bit rough. Slapping and throwing works wonders (also good anger management, although, not quite healthy for the dough!). After ca. 5-10 min. your dough should be perfect. Cover bowl with cling film and let rest and rise (choose a warm spot in your house) until dough is at least doubled in size.
When doubled in size 'push' dough back and divide into 6 segments. Flatten each segment a bit, and roll quite tight into a small log. Grease a medium sized cake or bread tin with vegan butter and put all 6 rolls in the tin tightly next to each other. Cover, and let rise again until doubled in size (ca. 1/2-1 hour).
Preheat oven to 200 C/390 F. When oven is hot, put well risen bread in the oven. After 10 min., lower heat to 165 C/330 F and bake for another 15 min. Mix water with treacle. Get bread out of the oven and brush immediately with treacle water for a brilliant shine. Let cool a bit before devouring!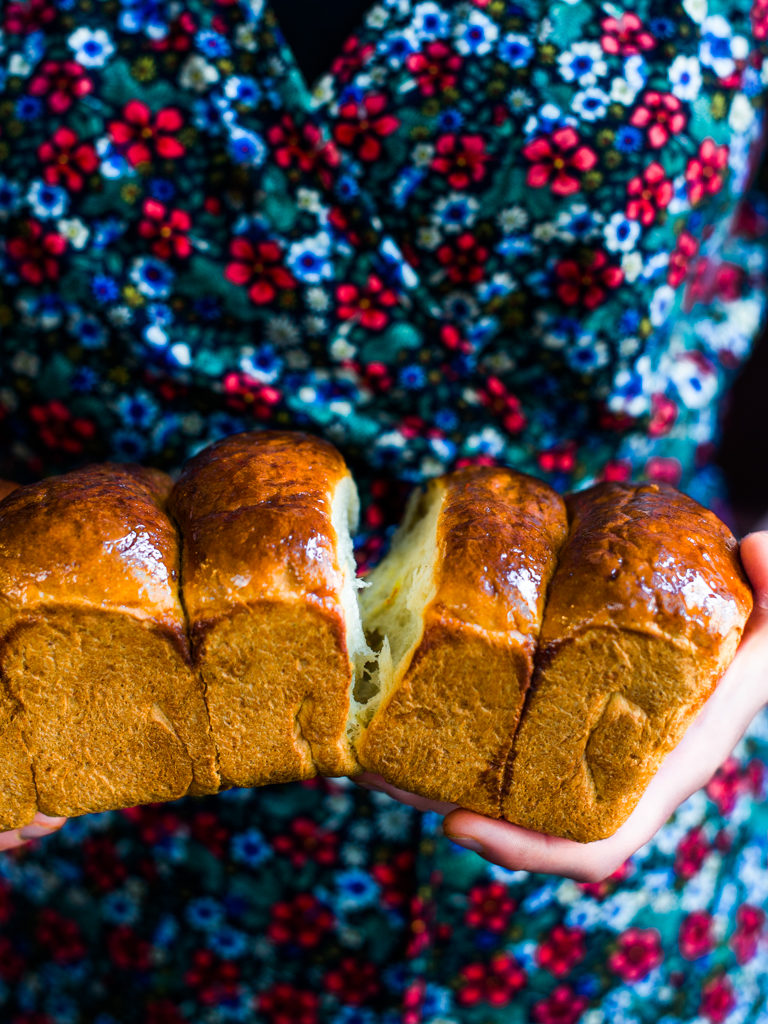 ---
VEGAN MELK BROOD

Het is bijna Pasen, dus tijd om van alles aan brunch-, ei- en broodachtige gerechten te veganizeren! Dit keer hebben we het populaire Japanse Hokkaido melkbrood bij de lurven gegrepen. Dit brood heeft veel weg van de Franse brioche of Nederlandse duivekater. Het is goddelijk met een lik vegan boter, of maak er een feest van met een dot jam of doe eens gek luxe pure hagelslag. Het geheim voor de wollige textuur zit hem in de tangzhong, een eenvoudig meelpapje die je in een handomdraai maakt. Perfect om je ei mee te vervangen ook, want laten we eerlijk wezen, ei is zo van vorig seizoen. Dit meelpapje is jouw ticket naar een briljante, fluffy heerlijkheid die zich goed leent om je gezicht mee te 'stuffen'.
Trouwens, als je nog op zoek bent naar vegan ei-achtige recepten voor de paasbrunch, kijk dan eens naar deze goddelijke omelet of heerlijke eggless scramble.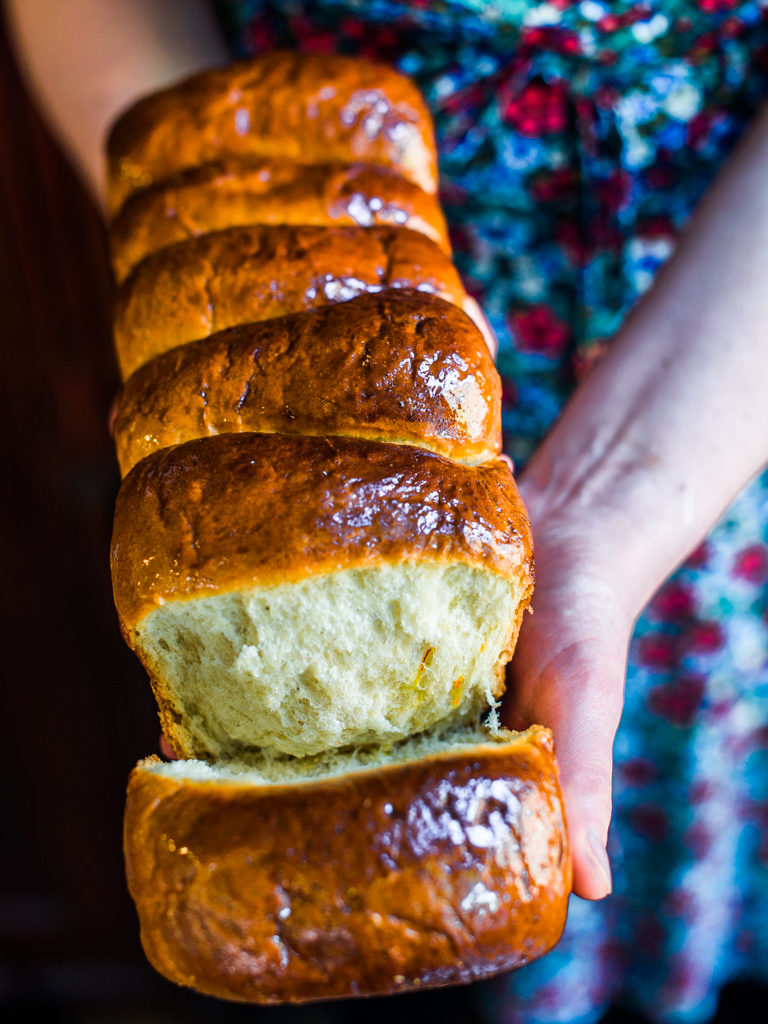 Voor 1 brood
INGREDIËNTEN
Tangzhong
6 el water
2 el bloem
Brood
75 ml + 60 ml havermelk (oatly)
1 pluk saffraan draadjes
60 ml zoete gecondenseerde kokosmelk (Nature's Charm)
7 g (1 sachet) instant gist
350 g bloem
1 tl zout
merg uit 1 vanille peul
3 el goede kwaliteit vegan boter (bv Cocovit op kamertemp.), rijstolie of e.v. kokosolie
1 el water
1 el keukenstroop
INSTRUCTIES
Tangzhong
Meng water en bloem in een steelpan. Zet op vuur onder constant roeren met een garde. Het mengsel zal binden tot een roux-achtig papje. Laat even kort doorkoken en wat afkoelen alvorens te gebruiken.
Brood
Verwarm de 75 ml havermelk zachtjes tot lauwwarm (absoluut niet hoger dan 40 graden, anders gaat je gist dood en zal je brood niet lukken!). Voeg de gist toe, roer even door en laat staan tot het schuimig wordt.
Verwarm de andere 60 ml havermelk tot heet. Doe saffraan in glas of kommetje en giet de hete melk erover. Laat trekken en wat afkoelen tot lauwwarm alvorens te gebruiken.
Doe bloem in een grote kom met zout en vanille. Maak een kuil in het midden. Voeg tangzhong, gistmengsel, saffraanmelk, gecondenseerde kokosmelk en boter of olie toe aan de kuil. Meng alles door elkaar vanuit het midden. Kneed goed door tot je een heerlijk zacht deeg hebt. Je kunt het deeg ruw behandelen, daar wordt hij alleen maar mooi van. Gooi er maar wat mee, knijp en plaag het, en sla ermee op je werkbank (gratis stress relieve therapie, alhoewel, niet al teveel op het deeg afreageren please). Na een minuut of 5 à 10 zal het deeg heerlijk aanvoelen en niet meer zo plakkerig zijn. Bedek de kom met huishoudfolie en laat op een warm plekje rijzen tot minstens verdubbeld in volume.
Nadat het in volume is verdubbeld, sla het deeg terug en verdeel in 6 stukken. Druk de stukken een beetje plat en rol strak op. Vet een cake- of broodvorm van medium formaat goed in en leg de 6 rolletjes strak naast elkaar de vorm. Bedek en laat wederom voor een tweede keer rijzen tot verdubbeld in volume.
Verwarm de oven voor op 200 graden C. Wacht tot de oven goed heet is en zet dan het brood er in. Verlaag na 10 minuten de temperatuur naar 165 C en bak nog 15 min. Meng ondertussen water met stroop. Bestrijk het brood hiermee zodra het uit de oven komt. Laat een klein beetje afkoelen alvorens aan te snijden en te verorberen.