We already gave you a solution for vegan omelette and pavlova. BUT! There are even more ways to veganise eggs. Used to love everything egg, but feel that in 2019 you just have to go eggless? Good move! We are proud of ya and here to give full support. This recipe is ready to compete with your classic scrambled eggs. By using silken tofu you'll end up with the same sort of creamy, silky texture. And by adding some kala namak people won't even tell you didn't use an egg at all! This aromatic black rock salt tastes – eggxaclty – like eggs. It bizarrely even has the same funky, sulphury smell. Sounds gross, but when combined with silken smooth tofu you end up with the best scrambled you can imagine.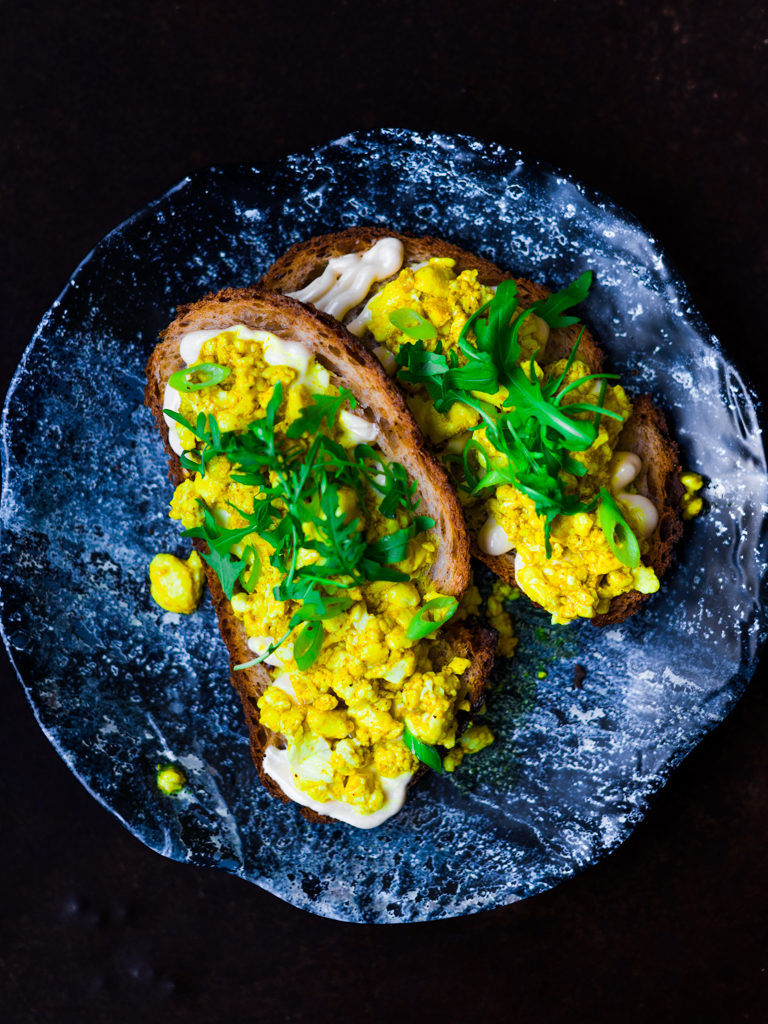 Serves 2
INGREDIENTS
1 small package silken tofu (usually 300-350 g)
2 tbsp good quality vegan butter (suitable for frying)
1/4 tsp turmeric powder
1/2 tsp kala namak, plus some extra to taste
lots of freshly ground black pepper
good quality sourdough bread (2 large or 4 smaller slices)
3 tbsp vegan mayo
chives or spring onions to garnish, chopped
a handful of leafy salad greens, like rocket
INSTRUCTIONS
Get tofu out of the package and drain liquid carefully (silken tofu is quite fragile). Heat butter on medium heat in a non-stick frying pan. This time we're not going to heat the pan to screaming hot levels ;-). Add block of tofu. With a wooden or gummy spatula, 'cut' tofu into smaller pieces whilst gently frying. Add turmeric powder, kala namak and black pepper. Mix gently with tofu cubes. The heat and gentle mixing will transform tofu cubes into small egg-ish pieces. Don't overwork the cubes and don't fry for too long. This will destroy the silky texture. Spread mayo on the sourdough bread and add the silky scramble on top. Garnish with some extra kala namak, black pepper, spring onions and leafy greens.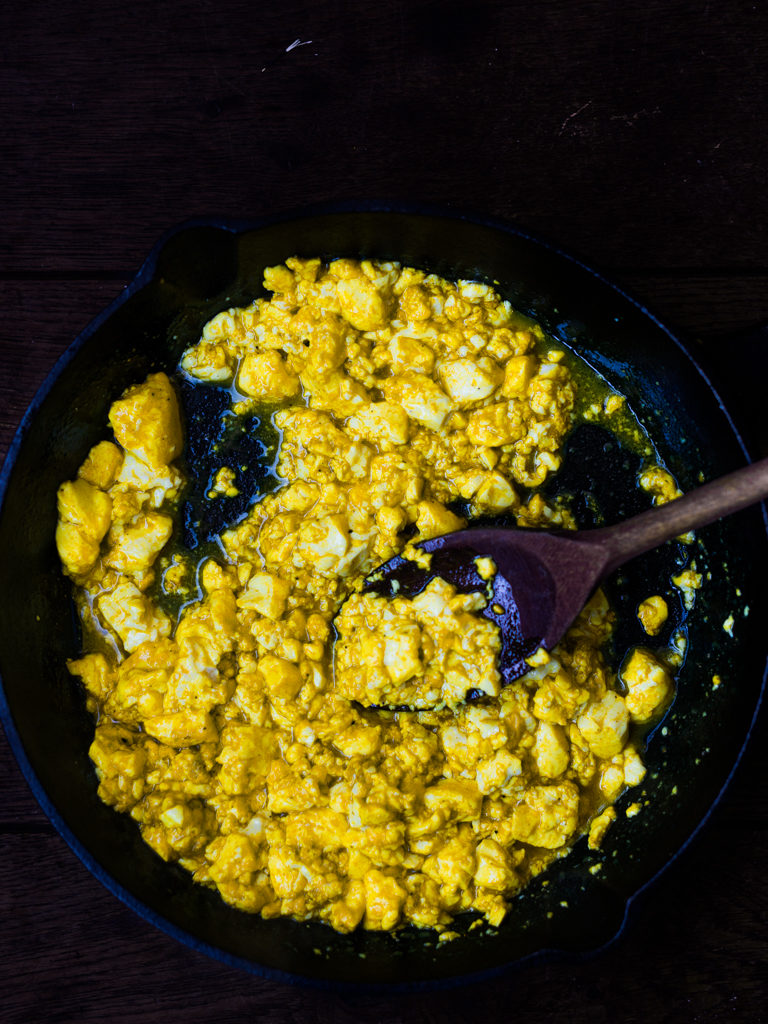 ---
BESTE EIVRIJE SCRAMBLED
We hebben je eerder al een oplossing voor vegan omelet en pavlova gegeven. Maar! Er zijn nog zoveel meer manieren om alles ei te veganizeren! Houd je zo van scrambled eggs, maar voel je dat 2019 het jaar moet worden waarin je volledig eivrij gaat? Oh yeah! Goeie keuze en wij gaan je helpen! Dit recept durft zich namelijk aan je ontbijtklassieker te wagen. Door gebruik te maken van zijden tofu krijg je dezelfde romige, zijdeachtige textuur. En door het toevoegen van kala namak, een sterk aromatisch, zwavelhoudend zwart zout, zullen je tafelgenoten niet eens opmerken dat je geen kippenei hebt gebruikt!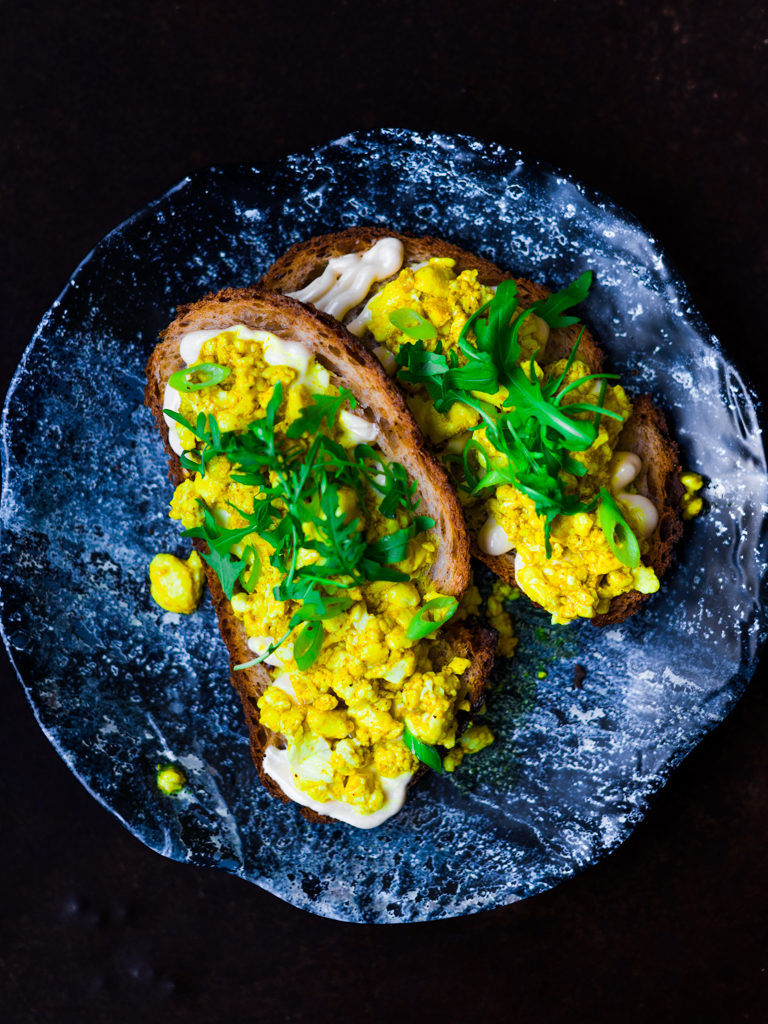 Voor 2 personen
INGREDIËNTEN
1 pak silken tofu van ca. 300-350 g
2 el vegan boter om in te bakken
1/4 tl kurkuma
1/2 tl kala namak, plus wat extra naar smaak
veel versgemalen zwarte peper
goede kwaliteit zuurdesembrood, 2 grote of 4 kleinere sneetjes
3 el vegan mayo
wat bosui of bieslook om mee te garneren, fijngehakt
een handvol bladsla, zoals rucola of veldsla
INSTRUCTIES
Neem tofu uit het pak en laat voorzichtig uitlekken. Verwarm boter in een anti-aanbak koekenpan op middelhoog vuur. Dit keer hoef je de pan niet tot extreme temperaturen te verhitten. Doe het blok tofu in de pan. Druk het blok in wat kleinere stukken met een houten of siliconen spatel terwijl je de tofu zachtjes bakt. Voeg kurkuma, kala namak en zwarte peper toe. Spatel voorzichtig door de tofublokjes. De hitte en het spatelen zal de tofu in kleinere ei-achtige stukjes veranderen. Bewerk en verhit de tofu niet te veel, dit zal de zijde-achtige textuur teniet doen. Besmeer de boterhammen met vegan mayo, doe de scrambled tofu er boven op. Garneer met wat extra kala namak, zwarte peper, bosuitjes en slablaadjes.