Fab what? Fab yolk. We just made up this new word to describe the fabulous dressing that brings this dish together, inspired by egg yolks, but made from butter bean aquafaba. It's freakingly scrumptious, especially with asparagus! Give it a try and find out yourself :).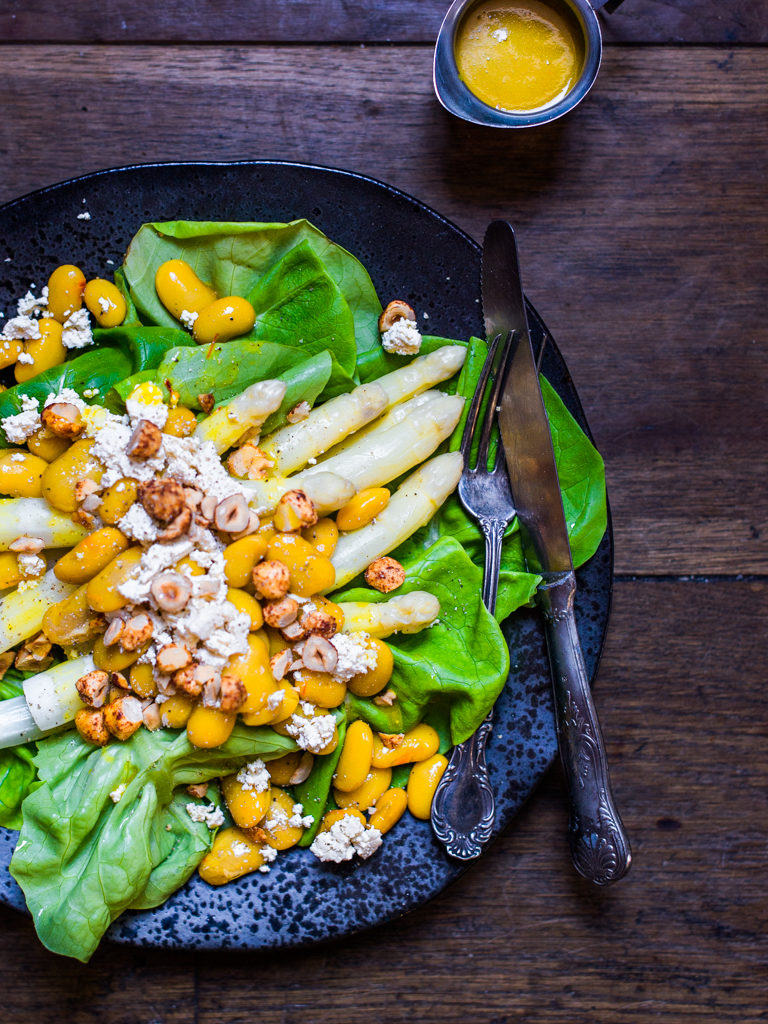 Serves 4
INGREDIENTS
1 can 400 g butter beans
1 pinch saffron
1 bunch white (or green) asparagus (ca. 600 g)
1 pinch kala namak
freshly crushed black pepper to taste
1 tsp mustard
3 tbsp olive oil
75 g hazelnuts or almonds
1/2 tsp smoked paprika powder
1 tsp soy sauce
1 head lettuce
200 g feto
INSTRUCTIONS
Put butter beans with liquid in saucepan. Add saffron and let simmer for a few minutes.
In the meantime, peel asparagus (only the white ones) and cook in large pan in salted water until just tender, green asparagus a bit shorter. You what to keep that crunchy bite.
Drain beans and catch liquid. Add to the liquid kala namak, black pepper, mustard and 1 tbsp olive oil. Mix with a whisker until emulsified.
Roast nuts in a skillet until toasted. Turn off heat and add 1 tbsp olive oil, paprika powder and soy sauce. Place nuts on a cutting bord and chop roughly.
Clean lettuce leaves and pat dry. Tear into coarse pieces.
Make plates: start with some lettuce, add asparagus, then beans, drizzle over some of the fab yolk, crumble over the feto and add nuts on top. Drizzle over another spoon of olive oil and you're ready to serve.
---
ASPERGE MEDLEY MET FAB YOLK
Say what? Fab Yolk? Yup! We hebben zojuist dit nieuwe woord verzonnen om de fantastische dressing te beschrijven die dit gerecht samenbrengt, geïnspireerd op eierdooiers, maar gemaakt van boterboon aquafaba. Het is briljant verrukkelijk, vooral met asperges! Probeer het en ontdek het zelf :).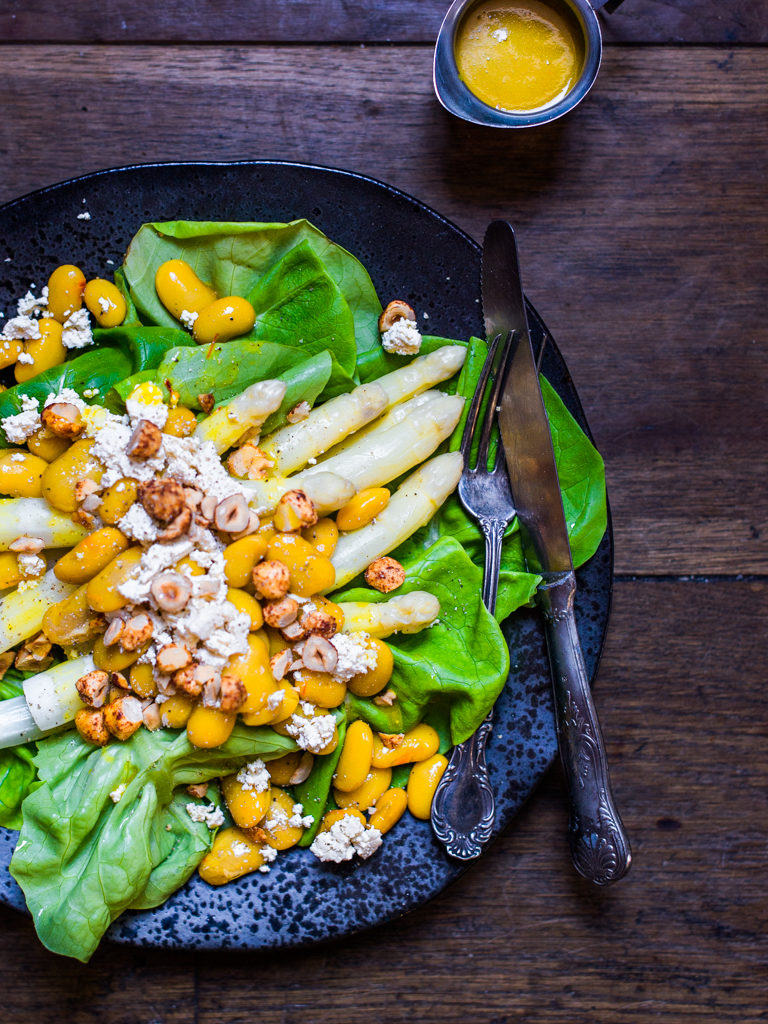 Voor 4 personen
INGREDIËNTEN
1 blik a 400 g boterbonen
1 snuf saffraan
1 bos witte (of groene) asperge (ca. 600 g)
1 snuf kala namak
vers geplette zwarte peper naar smaak
1 tl mosterd
3 el olijfolie
75 g hazelnoten of amandelen
1/2 tl gerookt paprikapoeder
1 tl sojasaus
1 krop sla
200 g feto

INSTRUCTIES
Doe boterbonen met vocht in de pan. Voeg saffraan toe en laat een paar minuten sudderen.

Schil in de tussentijd asperges (alleen de witte) en kook in grote pan in gezouten water tot beetgaar, groene asperges een beetje korter.
Je wilt echt een crunchy bite, dus blijf alert.
Giet de bonen af en vang het vloeistof op.
Voeg hieraan kala namak, zwarte peper, mosterd en 1 el olijfolie toe.
Meng met een garde tot er een mooie glanzende emulsie ontstaat.
Rooster de noten in een koekenpan.
Zet het vuur uit en voeg 1 el olijfolie, paprikapoeder en sojasaus toe.
Leg de noten op een snijplank en hak grof.
Maak de bladeren van de sla los, was en dep droog.
Scheur in grove stukken.



Maak de borden op: begin met wat sla, voeg asperges toe, dan bonen, besprenkel wat van die briljante dooiersaus, verkruimel feto erover en verdeel de noten erover.

Bes

prenkel met nog 1 el olijfolie en je bent klaar om te serveren.