You can literally veganise everything. EVERYTHING. Even a fancy omelette. Like this fluffy shroomed up basterd. Try it out and behold the miracle. Perfect for breakfast, lunch, on a sandwich, for dinner or snack. The key to a real eggy flavour is kala namak, a sulfur-containing black rock salt. You can also use ordinary sea salt, then the egginess will be a bit less. Whatever floats your boat.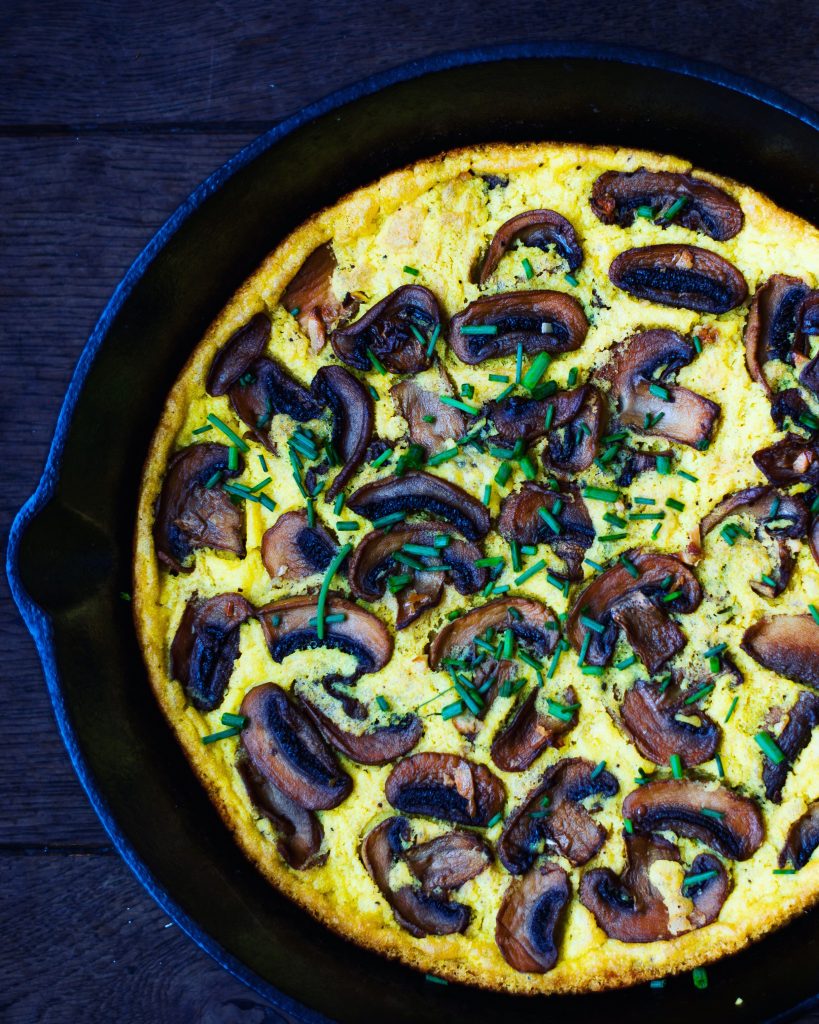 Serves 2-4
INGREDIENTS
250 g button mushrooms, sliced
50 ml (1/4 cup) good quality olive oil, plus extra for frying
1 garlic clove, peeled and finely chopped
black pepper and sea salt to taste
200 g chickpea flour
1 tsp baking powder
1,5 tsp kala namak
500 ml water (2 cups)
fresh chives
INSTRUCTIONS
Preheat the oven to 225 C (435 F).
Heat a frying pan on high fire. Add a generous splash of olive oil and toss in the mushrooms. Fry until they are golden brown. Add garlic and immediately turn off heat. Season to taste with black pepper and salt.
In a large mixing bowl, mix chickpea flour with baking powder, kala namak, 1/4 cup of olive oil, water and pepper to taste. Heat a big splash of olive oil in a skillet or oven-proof frying pan. (You can also use a normal pan and transfer the omelette to a baking tray before sliding it into the oven.) Add the batter. Arrange the mushrooms in the batter. Turn the heat low, and fry for ca. 5 min. Transfer the pan to the oven to make sure the omelette gets fully cooked. Bake for ca. 10 minutes. Serve with freshly chopped chives.
---
VEGAN SHROOM OMELETTE
Je kunt écht alles veganiseren. Zelfs een omelet! Stoere praatjes? Nope. Probeer zelf maar. Heerlijk als weekendontbijt, brunch, op een broodje of bij het avondeten. Voor een onmiskenbare eismaak gebruik je kala namak, een zwavelhoudend zwart steenzout. Je kunt ook gewoon zout gebruiken, dan smaakt het wat minder eiig. Whatever floats your boat.
Voor 2-4 personen
INGREDIENTEN
250 g champignons, schoongemaakt en in plakjes
50 ml goede kwaliteit olijfolie + extra om in te bakken
1 teen knoflook, gepeld en fijngehakt
zwarte peper en zeezout naar smaak
200 g kikkererwtenmeel
1 tl bakpoeder
1,5 tl kala namak
500 ml water
verse bieslook
BEREIDING
Verwarm de oven voor op 225 graden C.
Bak de champignons in een hete pan met een flinke scheut olie goudbruin. Voeg de knoflook toe en draai het vuur vervolgens meteen uit. Breng op smaak met zwarte peper en zeezout.
Meng in een kom kikkererwtenmeel met bakpoeder, kala namak en zwarte peper naar smaak. Voeg water en 50 ml olijfolie toe. Mix met een garde. Verhit een flinke scheut olie in een skillet of koekenpan die in de oven kan. (Je kunt ook een normale koekenpan gebruiken en de omelet overdoen op een bakplaat voordat je hem de oven in schuift.) Voeg als de pan heet is het beslag toe. Schik de champignonplakjes in het beslag. Draai het vuur lager en bak de omelet ca. 5 minuten. Haal de pan van het vuur en zet nog 10 minuten in de oven om helemaal gaar te worden. Bestrooi voor het serveren met wat versgehakte bieslook.