These super cool tartlets filled with a festive salad (think 'tuna' salad) will indulge you with a lot of flavour and interesting textures. A festive way to start the Christmas meal!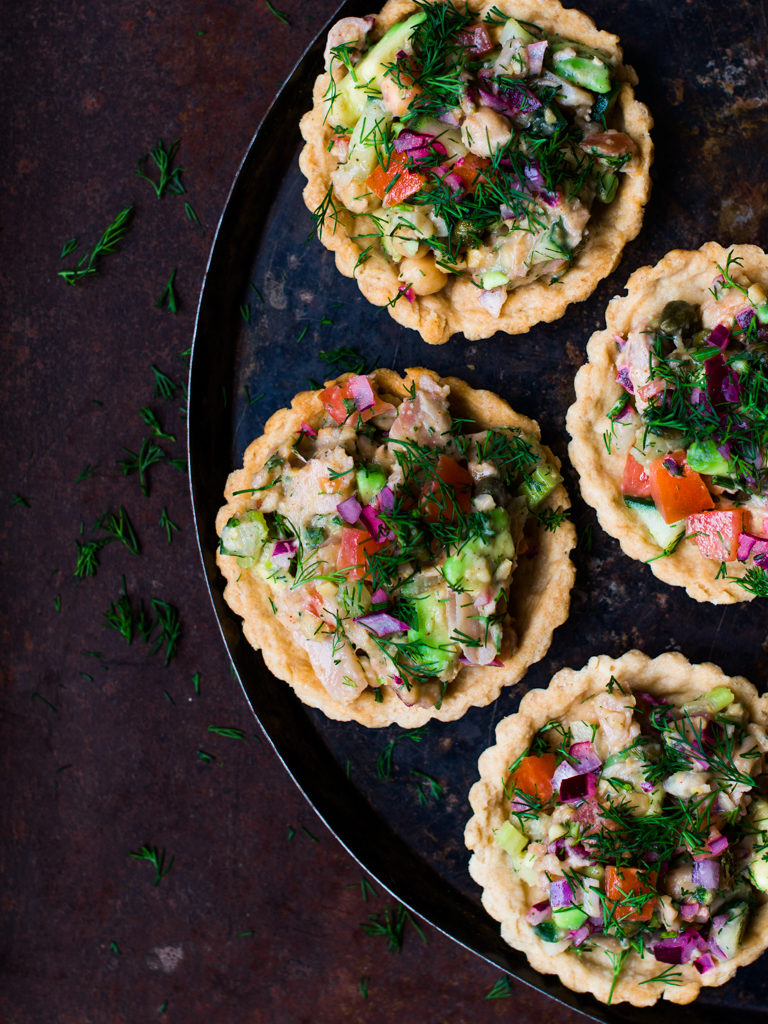 Serves 6
INGREDIENTS
Tartlets

200 g (1 1/3 cup) flour
100 g plant based butter for baking
pinch of salt (ca. 1/4 tsp)
2-3 tbsp water
Salad filling
150 g chickpeas, rinsed and drained
2 celery stalks, cubed
1 avocado, peeled, deseeded and cubed
1 tomato, cubed
1 tbsp capers
1/2 red onion, peeled and very finely diced
1/2 bunch fresh dill, chopped
2 tbsp soy yogurt
2 tbsp vegan mayo
1/2 tsp vegan Worcestershire sauce
1/4 tsp smoked paprika powder
freshly ground black pepper and sea salt to taste
Extra
individual pie molds or muffin tin
INSTRUCTIONS
Tartlets

Grease the molds, if needed, with some plant based butter and dust with some flour.
Add flour to a large bowl. Crumble in the butter. Rub butter through flour with fingertips, without really kneading it. Add salt and 2 to 3 tbsp of water and mix to create a dough. Don't knead! Kneading will develop too many gluten strand which makes pastry tough. Divide the dough in at least 6 pieces and clad every pie mold or muffin tin with a piece. Pierce each bottom a few times with a fork (this helps the dough to bake evenly without creating air pockets). Put molds in freezer for at least 15 min (or 30 min in refrigerator, or outdoors if it's cold). Preheat oven to 175 C/350 F. Bake the tartlets for ca. 20-25 min, or until crispy and golden. Let cool down before releasing from the mold (this will prevent the tartlets from breaking into pieces).
Salad filling
Mash up the chickpeas a bit. Just a little bit, don't make a puree! Mix the chickpeas with all the other ingredients. Taste and adjust with seasoning if needed. Add some salad to each tartlet and serve right away.
Serving suggestion
Make it even more special by serving this dish with a simple plant based bouillon (miso for example) in a champagne glass.
---
STOERE NO-TUNA TARTELETTEN

Deze stoere taartjes gevuld met een feestelijke salade (denk 'tonijn'salade), zullen je verwennen met een scala aan interessante smaken en texturen. Een feestelijke manier om het kerstmaal te starten!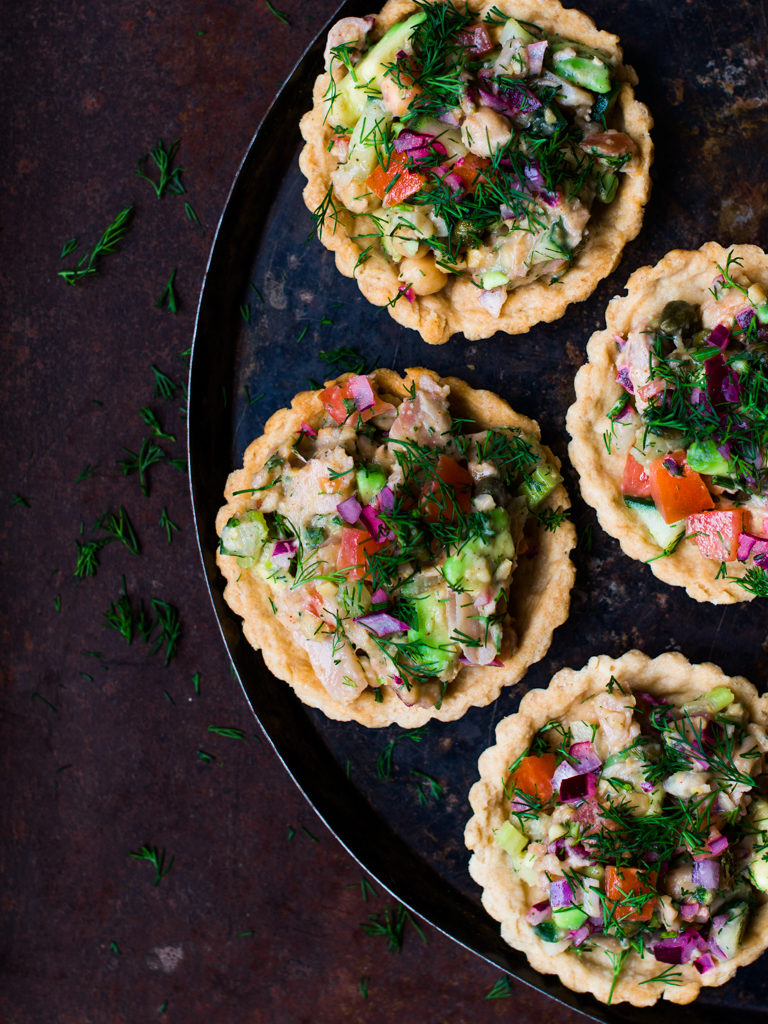 Voor 6 personen
INGREDIËNTEN
Taartvormpjes
200 g bloem
100 g plantaardige bakboter
snuf zout
2-3 el water
Salade vulling
150 g kikkererwten
2 stengels bleekselderij, in kleine blokjes
1 avocado, gepeld en in blokjes
1 tomaat, in blokjes
1 el kappertjes, uitgelekt
1/2 rode ui, geschild en heel fijn gesneden
1/2 bosje dille, fijngehakt
2 el soja yoghurt
2 el vegan mayo
1/2 tl vegan Worcestershiresaus
1/4 tl gerookt paprika poeder
versgemalen zwarte peper en zeezout naar smaak
Extra
losse taartvormpjes of een muffin tray
INSTRUCTIES
Taartvormpjes
Vet indien nodig de taartvormpjes of tray in met wat plantaardige boter en bestuif met wat bloem.
Doe vervolgens alle bloem in een grote kom. Verkruimel de boter erboven. Wrijf de boter met je vingertoppen door het bloem (niet kneden). Voeg zout toe en vervolgens 2-3 el water. Breng het mengsel bij elkaar tot een deeg. Niet kneden! Kneden maakt het deeg taai en je wilt juist een een brosse bodem die heerlijk weg eet. Verdeel het deeg in minstens 6 stukken. Druk de stukken deeg uit in de taartvormpjes (bekleed eventueel meer dan 6 vormpjes als je deeg overhoudt). Prik de bodems hier en daar in met een vork, zo bakt het deeg egaler zonder grote luchtbubbels. Zet de vormpjes even in de vriezer (ca. 15 min), in de koelkast of buiten, als het koud genoeg is (dan ca. 30 min). Verwarm de oven voor op 175 graden C. Bak de taartjes in 20-25 min gaar, knapperig en goudbruin. Laat wat afkoelen alvorens ze uit de vormpjes te halen. Dit zorgt ervoor dat de taartbodems minder snel stuk gaan.
Salade vulling
Stamp de kikkererwten grof met een pureestamper. Maak er niet een puree van, het gaat er vooral om dat de kikkererwten een beetje opgebroken worden. Meng alle overige ingrediënten erdoor. Proef of je tevreden bent met de smaak. Kruid zo nodig bij. Vul de taartvormpjes met de salade en serveer meteen.
Serveersuggestie
Serveer voor een extra feestelijk effect een simpele, heldere bouillon (bijvoorbeeld een mooie miso bouillon) in een champagne glas naast het taartje.