This roast platter rocks big time! A large baking tray generously loaded with wintery vegetables deeply roasted until yum AF. The celeriac is stuffed like a traditional roast and pierced with cloves for dramatic effect and ultra flavour. So much fun to make and eat!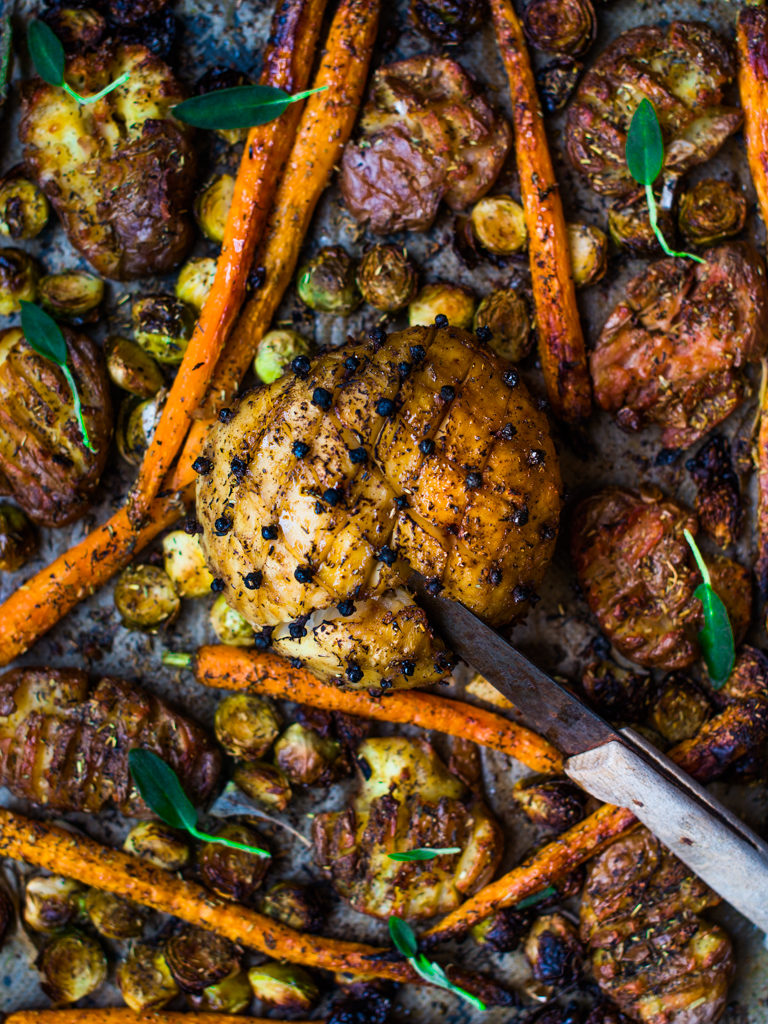 Serves 4-6
INGREDIENTS
Stuffed celeriac
1 large celeriac
1 1/2 (6 cups) water
2 tbsp course sea salt
3 garlic cloves, peeled of which 1 crushed and 2 minced
2 tbsp olive oil, plus extra
1 onion, peeled and finely chopped
100 g shiitake, thinly sliced
100 g cooked chestnuts (weight without peel, if using fresh ones), chopped
50 g panko
1 tbsp miso
1 tbsp water
whole cloves (quite a lot)
1 tbsp maple syrup
Veg roast
10 medium to large potatoes, cleaned (not peeled!)
200 g Brussels sprouts, halved, outer damaged or dirty leafs removed
10 medium sized Dutch carrots, peeled or brushed clean with water
7 garlic cloves, slightly crushed, not peeled!
fresh woody herbs like sage, rosemary and/or thyme
salt and freshly ground black pepper to taste
5 tbsp good quality olive oil
INSTRUCTIONS
Stuffed celeriac
Clean celeriac (use a veggie brush to make life easier). Cut away frizzy roots and stems. With the aid of a corer, pierce a hole in the middle (from where the stems were, to the roots, all the way through). Make the hole a bit bigger by scraping away some extra 'flesh', so there is room for lots of stuffing. In the meantime, bring the water to a boil with salt and 1 crushed garlic clove. Cook celeriac for ca. 20 min in the salted water. Turn of heat, gently remove celeriac out of the pan and let cool a bit.
To prepare the stuffing start by frying onion in olive oil. When translucent, add shiitake and fry along. After a minute or so, also add chopped chestnuts and fry until all ingredients are cooked and nicely browned. Add 2 minced cloves of garlic, panko, miso and water. Turn off heat. Stuff the hollowed celeriac with the shiitake-chestnut stuffing. Pack it tight. Make criss cross shallow incisions in celeriac. Nail a clove at every crossing. Brush the beast with 1 tbsp of maple syrup. Drizzle with some olive oil and place horizontally on a baking tray lined with parchment paper.
Veg roast
Preheat oven to 225 C/435 F.
Cook potatoes in salted water until fully cooked. Drain and let cool a bit. With a hand masher, crush potatoes one by one, so they are flattened and ridged. Place them on the same tray as the celeriac. Also add sprouts, carrots, garlic and herbs to tray. Drizzle all with olive oil and season to taste with salt and pepper. Place in the oven for 30-45 min until veggies are deeply roasted.
Serving suggestion
This dish goes perfectly with the red wine porcini from the MAN.EAT.PLANT. book! (See recipe for the seitan wellington on page 099.) Place the baking tray on the table and eat from it together. Also tasty with some good vegan mayo and/or the cranberry-port compote from the Smoky Menu.
---
ROCKENDE GROENTE ROAST MET GEVULD KNOLSELDERIJBEEST
Dit is een rockende groente roast! Een grote bakplaat royaal beladen met heerlijke winterse groenten, welke diep geroosterd worden. De knolselderij wordt gevuld zoals een traditioneel braadstuk, en door hem vol te prikken met kruidnagelen creëer je een dramatisch effect en extra veel smaak (en geur!). Fantastisch om te maken én op te eten.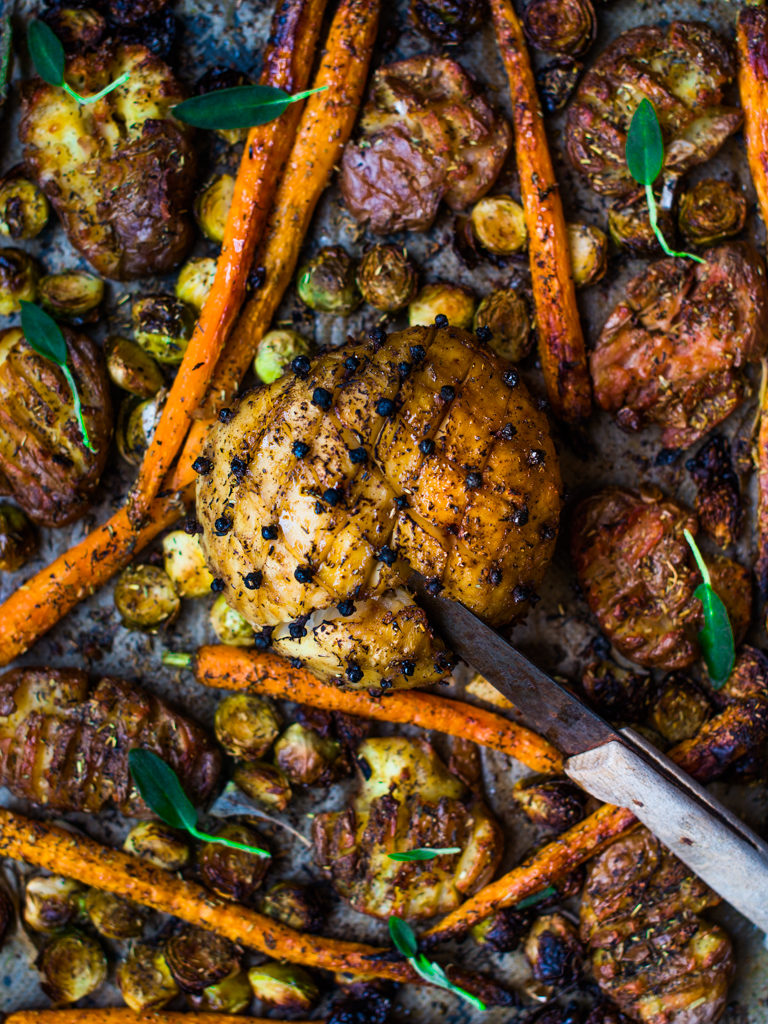 Voor 4-6 personen
INGREDIËNTEN
Gevulde knolselderij

1 grote knolselderij
1 1/2 l water
2 el grof zeezout
3 tenen knoflook, gepeld, waarvan 1 geplet en 2 fijngehakt
2 el olijfolie, plus extra
1 ui, gepeld en fijngehakt
100 g shiitake, in dunne plakjes
100 g gekookte tamme kastanjes (gewicht zonder schil, mocht je verse gebruiken), grof gehakt
50 g panko
1 el miso
1 el water
hele kruidnagelen (vrij veel)
1 el ahornsiroop
Groente roast
10 middelgrote tot grote aardappels, schoongemaakt (niet schillen!)
200 g spruiten, schoongemaakt en gehalveerd
10 bospenen, geschrobd onder kraan met borsteltje of geschild
7 tenen knoflook met schilletje, licht geplet
verse houtige kruiden als rozemarijn, salie en/of tijm
zout en versgemalen zwarte peper naar smaak
5 el goede kwaliteit olijfolie
INSTRUCTIES
Gevulde knolselderij
Maak de knolselderij schoon (gebruik hiervoor bijv. een groenteborstel). Snijd de worteltjes weg, evenals de stengels mochten die er nog aanzitten. Snijd lelijke plekjes ook weg. Maak met behulp van een appelboor een gat vanaf het punt waar de stengels zaten helemaal naar de wortels toe. Maak het gat wat groter met behulp van de boor en hol het gat nog een beetje uit zodat er extra veel ruimte ontstaat voor de vulling. Breng het water aan de kook met het zeezout en een geplette teen knoflook. Kook de selderij ca. 20 min in het water. Neem hem daarna voorzichtig uit de pan, zet het vuur uit en laat de knol wat uitdampen.
Maak de vulling door de ui glazig te fruiten in 2 el olijfolie. Voeg shiitakes toe en bak even mee. Voeg, na ongeveer een minuut, gehakte kastanjes toe. Bak even flink tot alles mooi goudbruin gebakken is. Voeg gehakte knoflook, panko, miso en water toe. Draai het vuur uit. Vul knolselderij met het shiitake-kastanjemengsel. Druk de vulling stevig aan (maar zorg ervoor dat de knolselderij niet stuk gaat). Maak kruislings inkervingen van een paar mm diep in de knolselderij. Steek een kruidnagel op elk kruispunt. Kwast 1 el ahornsiroop over het gebraad, druppel er wat olijfolie over, en leg hem horizontaal op een met bakpapier beklede bakplaat.
Groente roast
Verwarm oven voor op 225 graden C.
Kook de aardappels in hun geheel en in hun schil gaar in gezouten water. Giet vervolgens af en laat wat afkoelen. Plet ze met een pureestamper een voor een, tot geribbelde plakken. Leg ze bij de knolselderij op de bakplaat. Voeg ook de spruiten, wortels, knoflook en kruiden toe. Besprenkel alles met olijfolie en breng op smaak met zout en peper. Plaats 30-45 min in de oven tot alles diep geroosterd is.
Serveer suggestie
Dit gerecht smaakt heerlijk met de rodewijn-porcini jus uit het MAN.EAT.PLANT. boek! (Zie daarvoor het recept van de seitan wellington op pagina 099.) Zet de bakplaat op tafel en eet er met z'n allen van. Ook lekker met een goede vegan mayo en/of de cranberry-port compote van het Rokerige Menu.