There are so many versatile ways to veganise eggs these days. Have you already tried to make meringue out of 'aquafaba' aka the liquid in a can of chickpeas? It's like magic. And a really good exercise to grow those biceps is by whisking the liquid like crazy (although we have to be honest, a hand mixer guaranties the best results). Keep in mind that this is some next level sh*t. Read the recipe carefully and follow all the instructions and ingredients to make sure these bastards turn out perfect.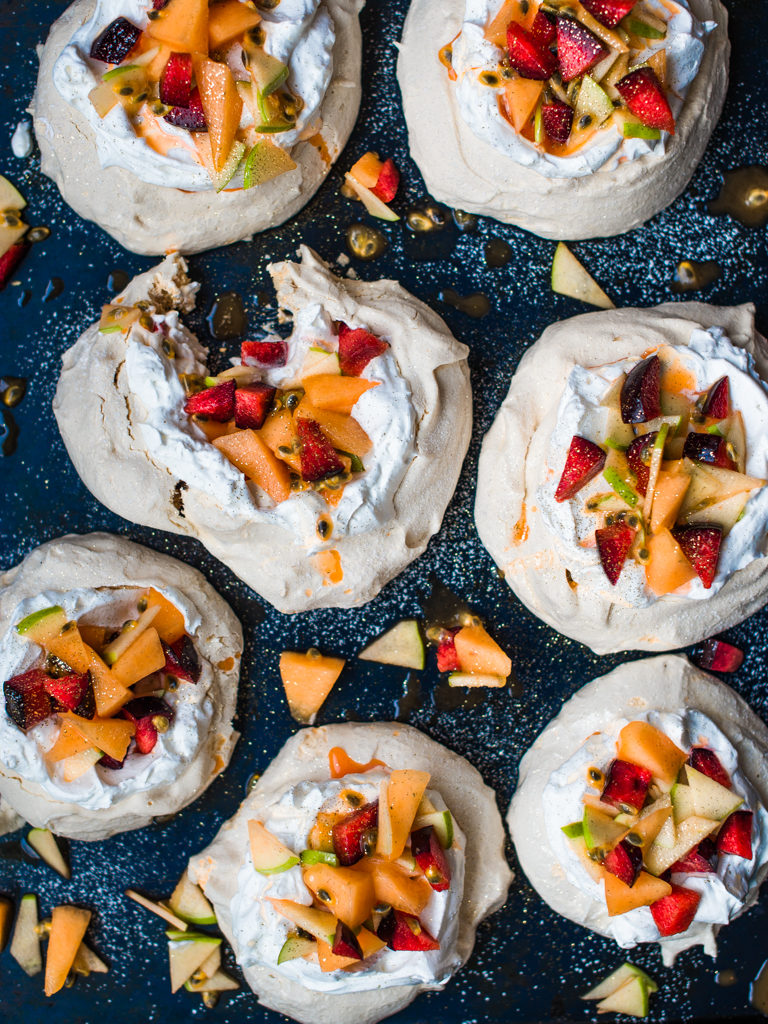 Serves at least 10 mini pavlovas
INGREDIENTS
Meringues
1 x 400 g can chickpeas
ca. 150-200 g sugar (read recipe for exact measurements)
2 tsp rose water
1 tsp vanilla extract
Toppings
1 carton vegan whipping cream
1 tbsp sugar
zest and juice of 1/2 lemon
ca. 500 g of all kinds of fruit of choice, preferably soft fruit with quite some acidity like tangerine, kiwifruit, passionfruit, plum, berry, pear, etc.
2 tbsp maple syrup
75 g vegan dark chocolate, melted (au bain marie)
1 tbsp icing sugar
INSTRUCTIONS
Meringues
Preheat the oven (quite low) to 125 C/250 F.
First step is draining and sieving the liquid from the chickpea can. Measure weight of liquid and measure same amount of sugar. Transfer the liquid to a large mixing bowl. Make absolutely sure that the bowl is super clean, greasy bits will corrupt the meringue! Start whisking, until peaks form. (Best is to use a hand mixer.) Then, gradually, add the sugar. Spoon by spoon. Keep on whisking. The meringue peaks will get firmer and firmer. While still whisking, add the rose water. When the sugar is totally dissolved (no grains in the mixture), stop the whisking and fold in the vanilla extract.
Apply dollops of the fluffy white goodness onto a baking sheet lined with parchment paper. Make sure to keep some space in between each meringue. Bake for 1,5 hour and stick something small between your oven door, like a wooden spoon, so moisture can escape easily. But, do not open the door any further than that during baking! When the meringues are done, remove baking tray from the oven and let the meringues cool completely before adding the toppings.
Toppings
Whisk the whipping cream with sugar and lemon zest and juice until stiff peaks form.
Cut and/or peel the fruits and mix them in a bowl with the maple syrup.
Build the pavlova's by decorating them with whipped cream, fruits and some melted chocolate. Also dust with some icing powder. Eat straight away, as the meringue will melt quickly after applying the toppings!
Tip
Here you can also find a giant vegan pavlova. For this recipe you divide the aquafaba batter into two big meringues and build them into a tower of glory.
---
FEESTELIJKE MINI PAVLOVA'S
Er zijn tegenwoordig zoveel manieren om eieren te 'veganizeren'! Neem nou het vocht van een blik kikkererwten waar je op magische wijze fabuleuze meringues van kan maken. Meteen een goede biceps training ook, al dat kloppen! Hoewel, om eerlijk te zijn werkt een handmixer of standmixer toch het best voor dit recept. Houd in gedachten dat dit recept 'next level sh*t' is, dus niet het aller makkelijkst! Lees daarom het recept aandachtig door, volg de receptuur exact op en ga planmatig te werk voor een optimaal resultaat.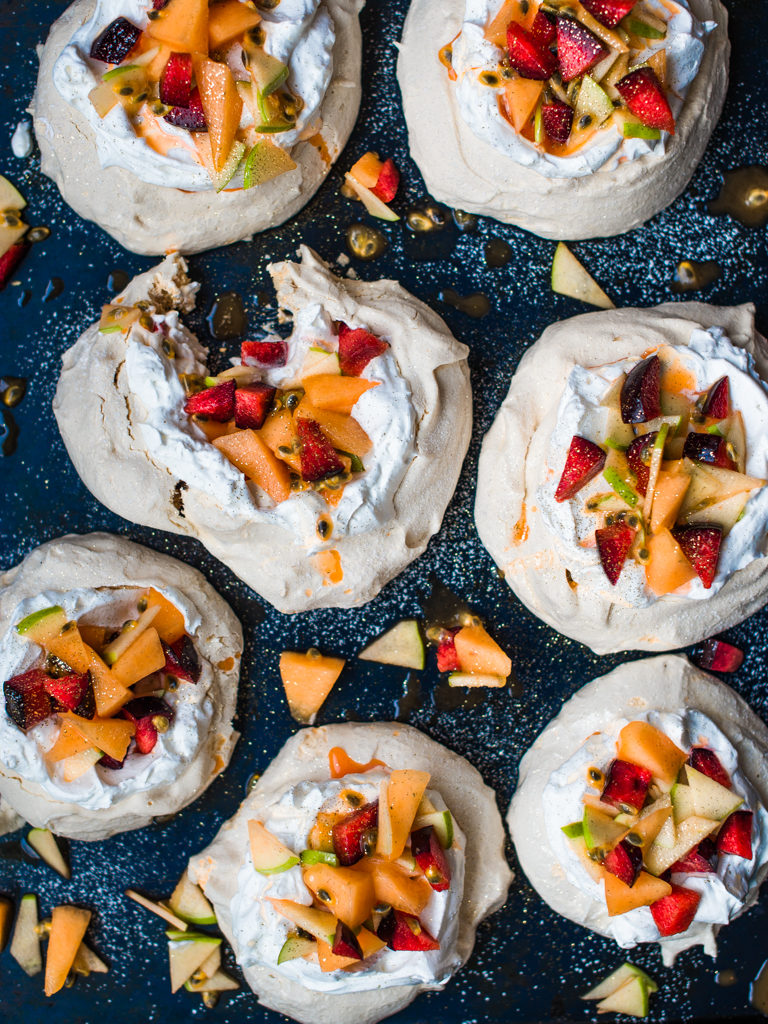 Voor zeker 10 mini pavlova's
INGREDIËNTEN
Meringues
1x 400 g blik kikkererwten
150-200 g fijne kristalsuiker (lees recept voor exacte hoeveelheid)
2 tl rozenwater
1 zakje vanille suiker
Toppings

1 pakje Alpro of Soyatoo slagroom (om op te kloppen)
1 el suiker
geraspte schil en sap van 1/2 citroen
ca. 500 g fruit naar keuze, bij voorkeur zacht en vrij zuur fruit zoals mandarijn, kiwi, passievrucht, pruim, bes, peer, etc
2 el ahornsiroop
75 g vegan pure chocolade, gesmolten (au bain marie)
1 el poedersuiker
INSTRUCTIES
Meringues

Verwarm de oven (vrij laag) voor op 125 graden.
Giet het vocht van het blik kikkererwten af, vang op, en zeef het vocht. Weeg het vocht. Weeg dezelfde hoeveelheid suiker af. Doe het vocht over in een brandschone! en droge! kom van een mixer. Een vleugje vettigheid kan er al voor zorgen dat het recept niet goed lukt. Begin met kloppen, en ga door tot pieken beginnen te vormen. Dan kun je beginnen met het toevoegen van de suiker, lepel voor lepel. Wacht steeds tot de suiker redelijk is opgenomen alvorens meer toe te voegen. De pieken zullen steeds stijver worden. Voeg ook het rozenwater toe tijdens het kloppen. Ga door met kloppen tot al de suiker is opgenomen en opgelost. Stop dan met kloppen en spatel de vanillesuiker erdoor met een spatel.
Bekleed een bakplaat met bakpapier en schep of spuit nestjes meringue op de bakplaat, met steeds wat ruimte ertussen. Bak ze ca. 1 1/2 uur met een houten lepel tussen de ovendeur (zo kan vocht ontsnappen). Het is van groot belang dat de deur vervolgens niet verder wordt geopend. Laat geheel met rust tot de meringues klaar zijn. Verwijder dan vervolgens de bakplaat met meringues uit de oven en laat na het bakken helemaal afkoelen alvorens op te maken met de toppings.
Toppings
Klop de slagroom met de suiker en het citroenrasp en -sap zo stijf mogelijk.
Was, snijd en schil (indien nodig) het fruit en meng in een kom met het ahornsiroop.
Bouw de pavlova's op door iedere meringue met slagroom te bestrijken en te decoreren met wat fruit en gesmolten chocolade. Maak af door er wat poedersuiker erover te sneeuwen met behulp van een theezeefje.
Tip
Vind hier een gigantische vegan pavlova. In dit recept wordt het aquafaba beslag niet opgesplitst in kleine meringues, maar maak je twee grote en die bouw je op tot een toren van heerlijkheid.