This scrumptious Hungarian stew is perfect when you're hungry and craving for something comfy, hearty and meaty. And so easy to veganize, by protein bombing this dish with tasty, chewy and juicy seitan! You need to know how to work seitan and learn about its noumerous possibilities to get the best out of it. Fortunately we have 30 years combined of experience with this protein beast, so we're safe to say, we know the drill.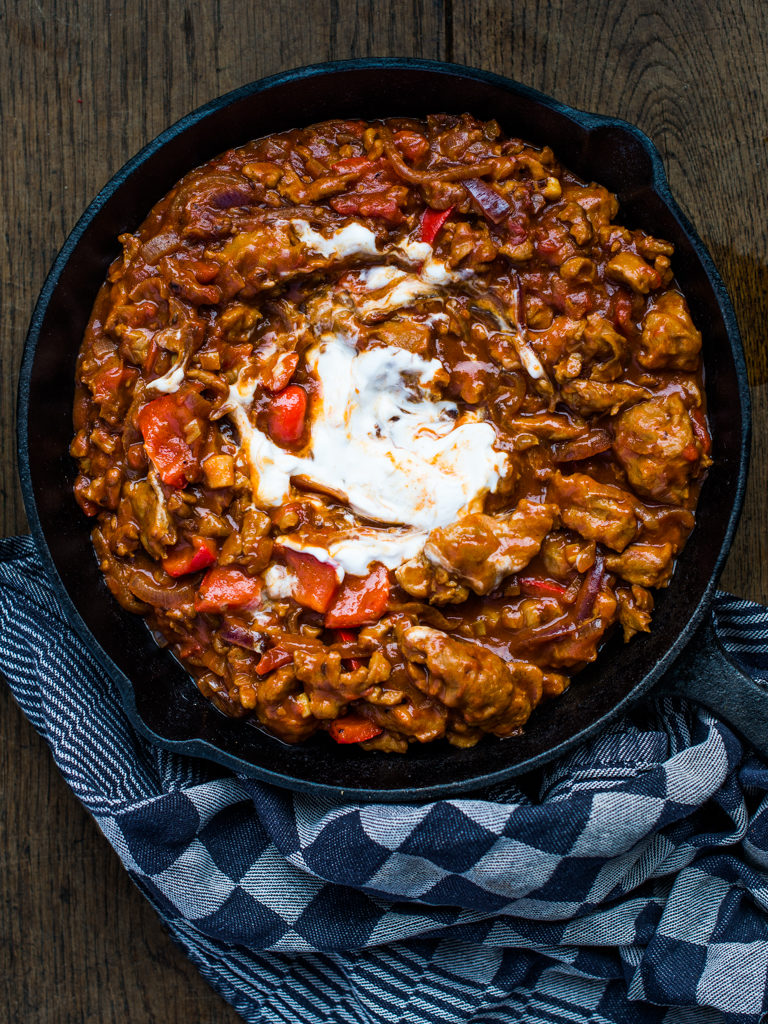 Serves 4 (or 2 really hungry ones)
INGREDIENTS
1 large jar seitan (700 g)
a small hand of flour
3 tbsp olive oil
2 red bell peppers, seeds removed and cut into chunks
2 large onions, peelend, halved and sliced
1 tsp caraway seeds
1 ½ tsp spicy smoked paprika powder
2 garlic cloves, peeled and minced
1 tin canned tomatoes
black pepper and salt to taste
4 tbsp thick vegan coconut yoghurt
INSTRUCTIONS
Put the seitan in a colander and collect the juice. Keep seitan juice on the side. Tear big pieces into small ones. Dust the seitan pieces with some flour, so the pieces are coated (about 1-2 tbsp). Heat olive oil in large frying pan or skillet. Add seitan and fry a bit on high heat. Add bell pepper and onions. Fry all until veggies start to brown. Create a bit of space in the pan, put the caraway seeds there and roast them a bit. Also add smoked paprika powder and garlic. Fry for a minute or so. Add canned tomatoes (squeeze whole ones into pulpy bits) and seitan juice. Let the stew simmer for at least half an hour, so the bell pepper becomes super tender and velvety. Season to taste with black pepper (muchas!) and salt and serve with a nice dollop of thick coconut yoghurt on the plate. Serve with some good old sourdough bread or rice.
---
SPICY GOULASH STEW
Deze smaakbom van een Hongaarse stoof is terug van weggeweest! En wel helemaal in M.E.P. stilo met onze vertrouwde kruidenguerilla's. Perfect als je maag knaagt en je weet dat een stevig maal je goed zal doen. De seitan zal de leegtes goed opvullen en je lijf eens even laten weten hoe een proteïnerijk maal proeft. Karwijzaad en gerookt paprikapoeder geven een heerlijk aromatische twist aan dit gerecht.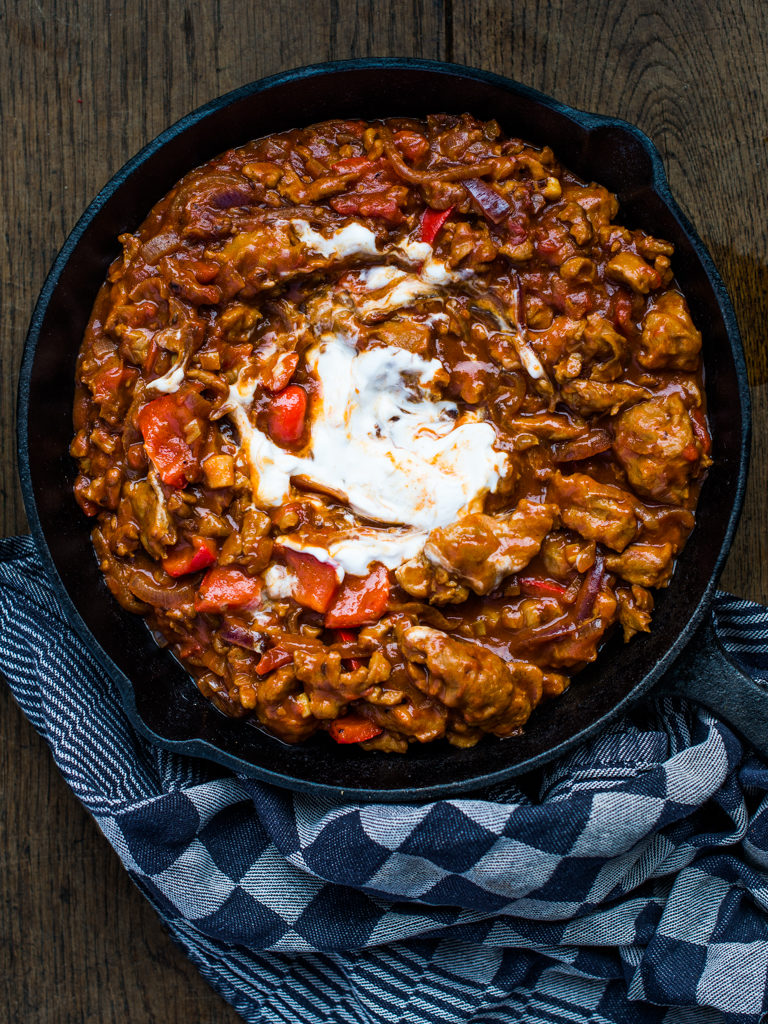 Voor 4 personen (of 2 hele hongerige)
INGREDIENTS
1 grote pot seitan
handje bloem
3 el olijfolie
2 rode paprika's, zaden verwijderd en in grove stukken gesneden
2 grote uien, gepeld en in halve ringen
1 tl karwijzaad
1 ½ tl pittig gerookt paprikapoeder
2 tenen knoflook, gepeld en fijngehakt
1 blik tomaten op sap (400 g)
zwarte peper en zout naar smaak
4 el dikke kokosyoghurt
INSTRUCTIONS
Doe de seitan in een zeef en vang het vocht uit de pot op en zet apart. Scheur grote stukken seitan in kleinere. Bepoeder de seitan met wat bloem zodat er een dun laagje omheen zit. Verhit olijfolie in grote koekenpan of skillet. Bak seitan rondom aan. Voeg paprika en ui toe en bak mee tot groentes beginnen te bruinen. Schuif ingrediënten naar elkaar zodat er wat ruimte in de pan ontstaat. Strooi het karwijzaad op dit plekje en rooster de zaadjes. Voeg gerookt paprikapoeder en knoflook toe en bak alles een minuutje. Voeg achtergehouden seitanvocht en tomaten toe (knijp hele tomaten fijn). Laat zachtjes sudderen, minstens een half uur, zodat paprika boterzacht is geworden en zich een mooie smaak heeft kunnen ontwikkelen. Proef en breng zo nodig op smaak met peper (veel!) en zout. Serveer met een eetlepel dikke kokosyoghurt per bord. Serveer met goed zuurdesembrood of rijst.