Old Dutch scrumptious fatty walnut paste stuffed cookies. Oh yes. Tuck them into your mouth and wash away with a splash of strong coffee or black tea. Life can be that simple and delicious.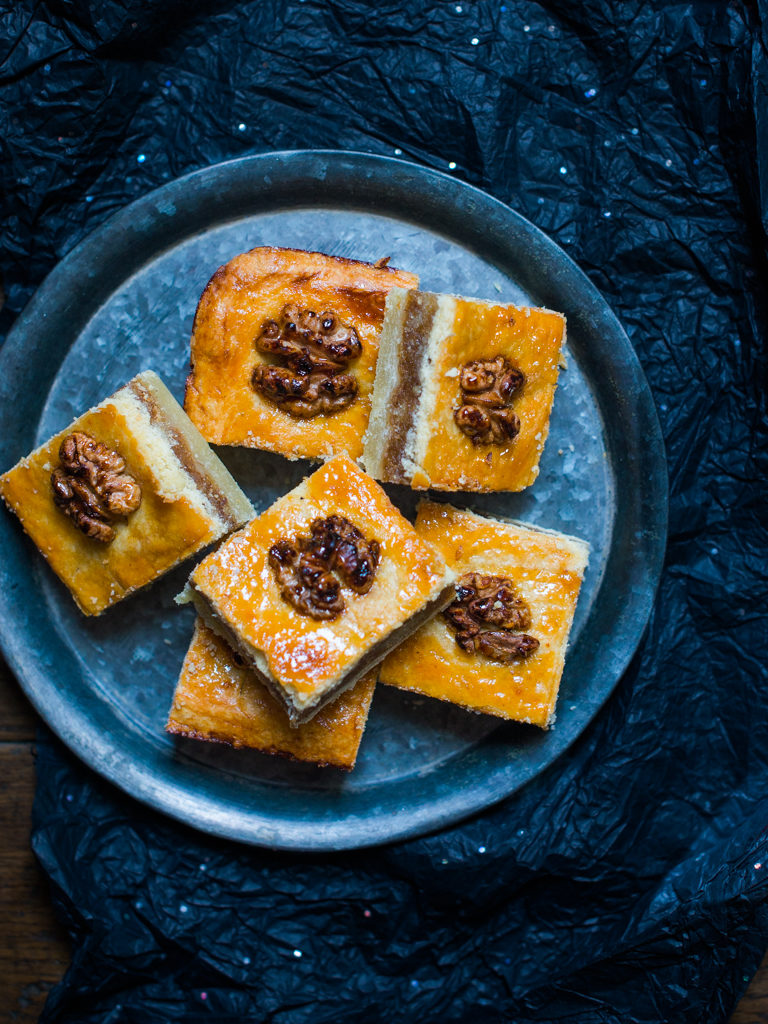 Serves 16 pieces
INGREDIENTS
Pastry
400 g (3 cups) all purpose flour
½ tsp salt
100 g (½ cup) light brown sugar
1 tsp vanilla extract
250 g (2 sticks )vegan butter, into small cubes
4 tbsp water
Walnut paste
250 g (2 cups) shelled walnuts + extra shelled walnuts for decoration
250 g (1 packed cup) light brown sugar
1 tsp vanilla extract
4 tbsp maple syrup, golden syrup or treacle
Final touch
1 tbsp syrup of choice
1 tbsp water
INSTRUCTIONS
Start by making the dough. Mix flour with salt and sugar. Add vanilla extract and butter. Rub the butter with your fingers into the flour mixture, without over processing. Add 4 tbsp water and knead shortly until a dough forms. Cover dough and let sit in fridge whilst making the walnut stuffing.
For the stuffing: in a foodprocessor grind the walnuts into a powder. Add sugar, vanilla extract and 4 tbsp maple syrup. Mix and knead a bit. It should form a thick doughy paste. If it's dry and crumbly, add a bit more maple syrup, but be careful not to add too much! The paste should be pliable, not spreadable.
Next preheat the oven to 170 C (340 F).
Line a baking tray with parchment paper (we used a baking tray of 21 x 21 cm (ca. 8 x 8 inch)). Divide chilled dough in two equal portions. Line the bottom of the tray with one piece of dough (roll or press, whatever you prefer). Crumble walnut paste onto the dough and press down to form a uniform layer. Roll out the second piece of dough and put it on top of the walnut paste. Tuck sides and decorate with some walnuts. Bake for 25 minutes, or until golden brown (but don't overbake!). Make a shiny wash by mixing 1 tbsp syrup with 1 tbsp water. Brush on top of the piping hot dough. Let cool down before cutting into 16 pieces.
---
ECHTE HOLLANDSE WALNOTEN PENSEES
Ouderwets lekkere, dikke, rijke, zoete koeken, vet gevuld met smeuïg walnotenspijs. Spoel weg met een slok sterke koffie of zwarte thee. Zo simpel en lekker kan het leven zijn.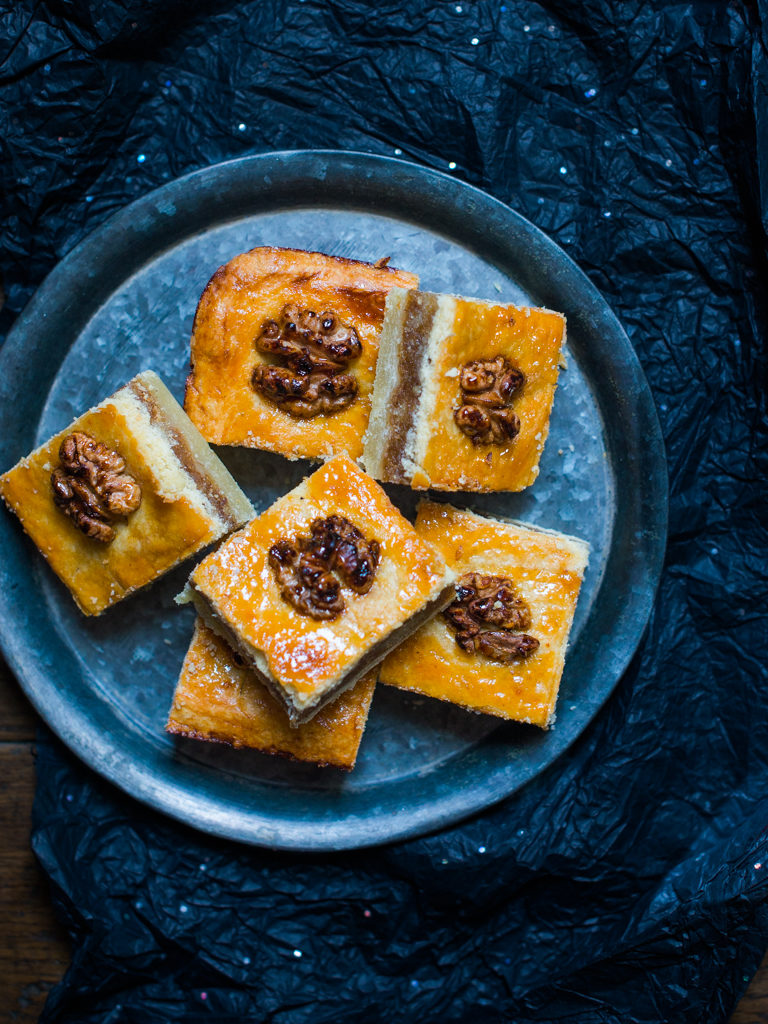 Voor ongeveer 16 stuks
INGREDIENTEN
Deeg
400 g bloem
½ tl zout
100 g lichtbruine suiker (bijvoorbeeld basterd-, riet- of lichtbruine kristal-)
1 zakje (bourbon) vanillesuiker
250 g plantaardige bakboter
4 el water
Walnotenspijs
250 g walnoten + extra voor decoratie
250 g lichtbruine suiker
1 zakje (bourbon) vanillesuiker
4 el ahornsiroop, keukenstroop of golden syrup
Om af te maken
1 el siroop of stroop naar keuze
1 el water
BEREIDING
Start met het maken van het deeg. Meng hiervoor het bloem met zout en de suikers. Doe de boter erbij en wrijf door elkaar met je vingers tot een zanderig mengsel. Voeg 4 el water toe en vorm er een deeg van. Kneed niet meer dan nodig is om een deeg te vormen! Dek het deeg af en zet in de koelkast. Maak ondertussen de vulling.
Maal voor de vulling de walnoten fijn in foodprocessor/keukenmachine. Voeg de suikers en 4 el ahornsiroop toe. Meng en kneed tot er een spijsachtig deeg vormt. Voeg meer siroop toe als het mengsel te droog en kruimelig is, maar let op dat je niet teveel siroop toevoegt. De textuur moet een vormbaar deeg zijn, geen smeerbare spread.
Verwarm vervolgens de oven voor op 170 graden C.
Bekleed een bakvorm met bakpapier (bijvoorbeeld 21 x 21 cm). Rol of druk de helft van het deeg uit de koelkast uit en bedek de bodem van de bakvorm hiermee. Verkruimel walnotenspijs hierover en druk aan tot een egale laag. Rol de tweede helft van het deeg uit en leg dit over het spijs. Druk de randen netjes aan. Decoreerd met de extra walnoten. Bak in ca. 25 minuten goudbruin en gaar. Meng 1 el siroop met 1 el water en strijk dit meteen met een bakkwast over het hete baksel voor een mooi glanslaagje. Laat afkoelen en snijd in 16 blokjes.