We are doing a vegan tour around the world in flavours and textures. This time we are diving in the fine realm of Indian curry's. And honestly, although there are many of them and most of them equally delicious we have a preference for Saag Aloo which is loaded with muscle enhancing spinach, chunky potato bits and delicious spices. How we wish scentgram would be a think right now so we could let you smell all the delicious aroma's filling the MAN.EAT.PLANT. kitchen while cooking this dish.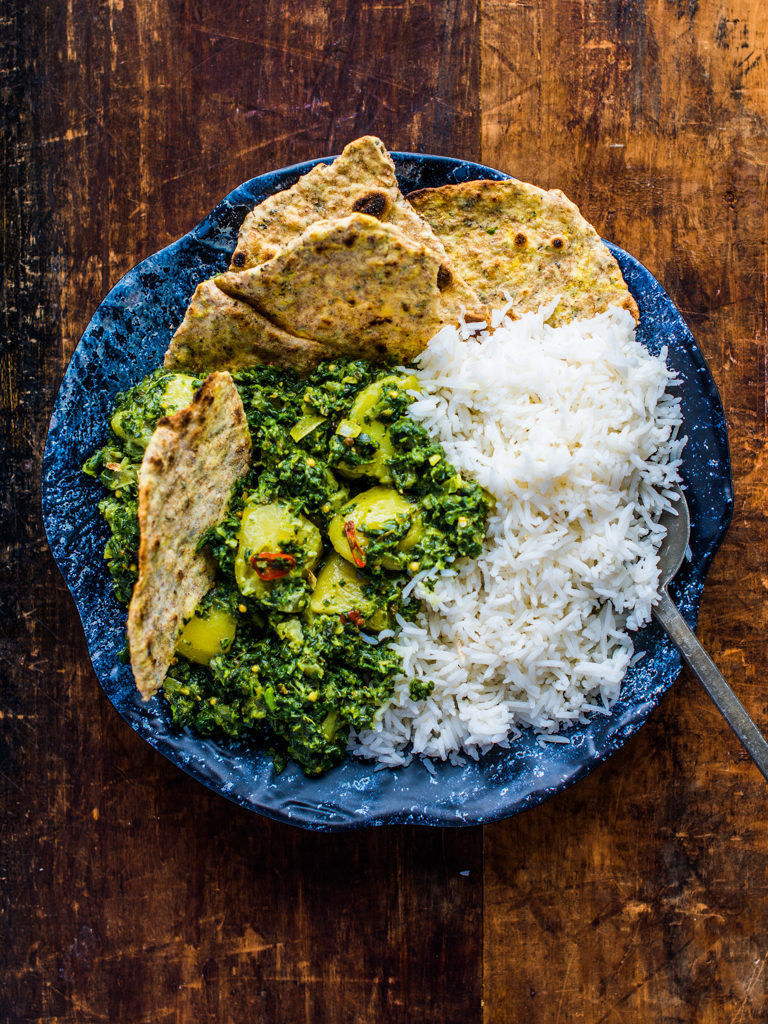 Serves 4-6
INGREDIENTS
Saag Aloo
4 medium potatoes
800 g spinach
3 tbsp oil
1 large onion, peeled and finely chopped
1 chilli pepper, seeds removed and cut into small rings
1 tsp mustard seeds
1 tsp coriander seeds
1 thumb size piece of ginger, grated
1 small piece of fresh turmeric, grated
2 garlic cloves, peeled and finely chopped
2 tbsp dried fenugreek leaves
salt
5 tbsp full fat coconut milk
Paratha
2 cups of whole wheat flour
½ tsp baking powder
½ tsp salt
¾ cup water
3 tbsp oil
2 tbsp dried fenugriek leaves
INSTRUCTIONS
Saag Aloo
Peel the potatoes and cook in salted water until just cooked. In the meantime wash spinach and cook down in a large pan (no oil needed). This takes just 2 minutes or so. Transfer spinach to a cutting board and chop finely. Heat oil in a frying pan and fry onion and pepper for a minute. Add mustard, coriander, ginger and turmeric and fry along. It will smell heavenly. Add the garlic and cook only for a few seconds (otherwise it gets bitter), and then add spinach, potatoes and fenugreek leaves. Season with salt to taste. Let simmer for ca. 5 minutes. Stir in 5 tbsp of coconutmilk. Serve with rice and flatbread (f.e. this paratha).
Paratha
Mix the flour in a large bowl with the salt, baking powder and fenugreek. Make a well in the middle of the mixture and add water and oil into the well. Knead untill a dough forms. Divide in 4 to 6 pieces. Roll the pieces out very thinly. Heat a frying or griddle pan on high heat. Add flatbreads to the pan and bake for a minute on each side, or until nicely coloured and cooked, but not too crispy (should be soft on the inside).
---
SAAG ALOO PARATHA
We doen een vegan tour over de wereld in smaken en texturen. Deze keer duiken we in het fijne rijk van Indiase curry's. En eerlijk gezegd, hoewel er veel zijn, waarvan de meeste even lekker, hebben we een voorkeur voor Saag Aloo. Een curry die chock vol zit met spinazie, grove stukken aardappel en heerlijke kruiden. Wat zouden we nu graag willen dat scentgram een ding was, dan konden we je alle heerlijke aroma's laten ruiken die de MAN.EAT.PLANT. keuken vullen door dit gerecht.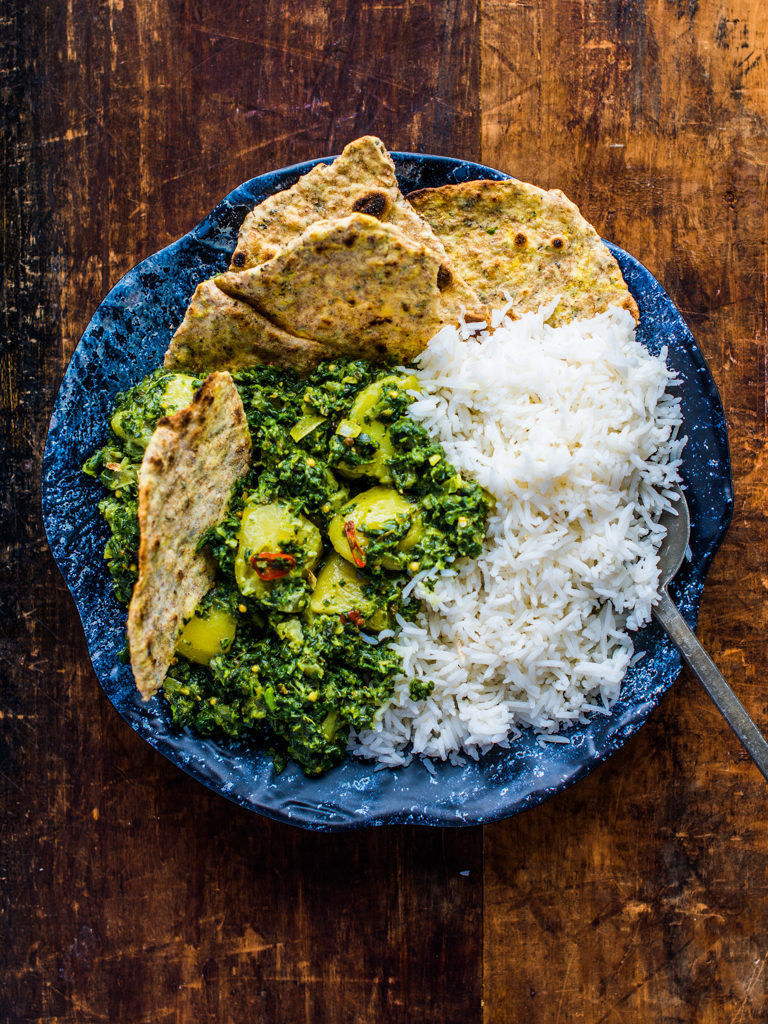 Voor 4-6 personen
INGREDIENTEN
Saag Aloo
4 middelgrote aardappels
800 g spinazie
3 el olie
1 grote ui, gepeld en fijngehakt
1 chilipeper, zaadjes verwijderd en in dunne ringen
2 knoflooktenen, gepeld en fijngehakt
1 tl mosterdzaad
1 tl korianderzaad
1 stukje gember ter grote van een duim, geraspt
1 klein stukje verse kurkuma, geraspt
2 el gedroogd fenegriekblad (verkrijgbaar bij kruidenwinkels en aziatische toko's)
zwarte peper en zout
5 el volvette kokosmelk
½ bosje koriander, fijngehakt
Paratha
250 g volkorenmeel
½ tl bakpoeder
½ tl zout
175 ml water
3 el olie
2 el gedroogd fenegriekblad
INSTRUCTIES
Saag Aloo
Schil de aardappels en kook beetgaar in lichtgezouten water. Verhit ondertussen een ruime pan. Was spinazie en doe met aanhangend water over in de pan. Kook zeer kort tot net geslonken. Neem uit de pan, laat uitlekken en hak fijn met een koksmes op een snijplank. Verhit olie in koekenpan of hapjespan. Bak ui met chilipeper aan. Voeg mosterdzaad, korianderzaad, gember en kurkuma toe en bak even mee. Het zal hemels ruiken. Voeg knoflook toe en bak maar een paar seconden mee (anders wordt hij bitter). Voeg vervolgens de spinazie, aardappel en fenegriek toe. Breng op smaak met peper en zout, en laat ca. 5 minuten sudderen. Roer er dan 5 el kokosmelk en het korianderblad door. Serveer met rijst en paratha.
Paratha
Meng bloem in ruime kom met zout, bakpoeder en fenegriek. Maak een kuil in het midden en voeg hier water en olie aan toe. Meng en kneed tot een soepel deegje. Verdeel in 4 tot 6 stukken. Rol heel dun uit. Verhit een grilpan of koekenpan loeiheet op hoog vuur. Bak de flatbreads in de pan, ca. 1 minuut per kant (afhankelijk van hoe dik je ze maakt), of tot mooi gekleurd en niet té krokant. Het hoort zacht van binnen te zijn.