This Green Cabbage Roulade is a showstopper for sure. This mighty green guy shows that you only have to hunt for a cabbage on the land to put an epic roast on the Christmas table. Serve the roulade with fried mushrooms and accompany with a delicious sweet mashed potato and a tasty green salad. We served it with fresh spinach, baked in a generous dash of olive oil with lots of garlic, sea salt, freshly ground black pepper and roasted pine nuts, but this salade would be lovely as well.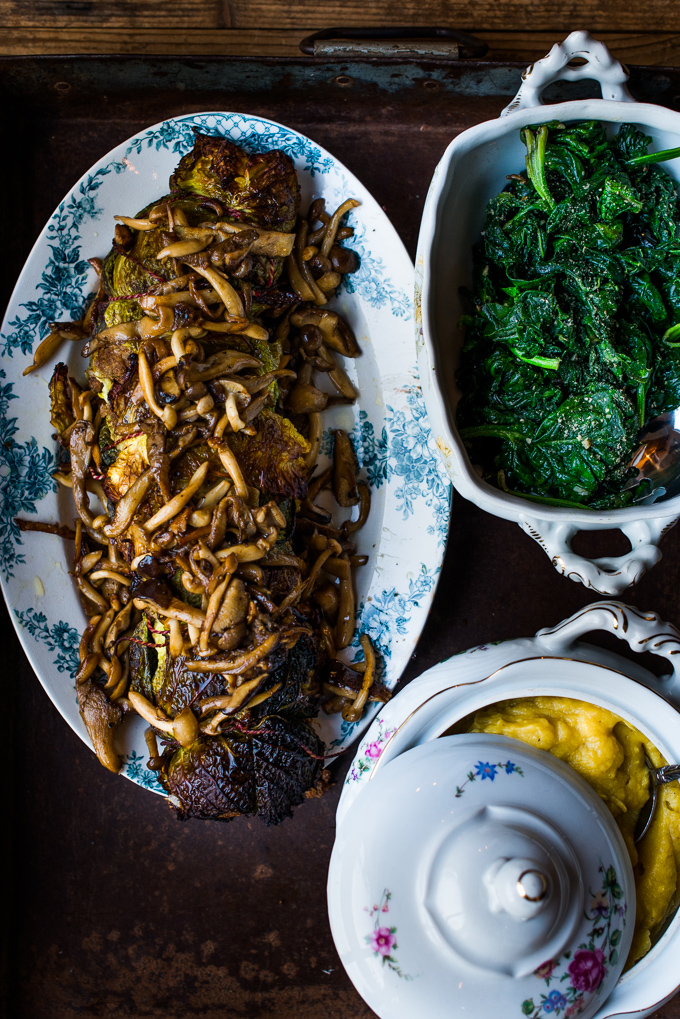 Serves 8
INGREDIENTS
Green Cabbage Roulade
1 green cabbage/savoy cabbage
sea salt
600 g seitan (drained weight), drained
1 large onion, peeled and chopped into large pieces
3 cloves of garlic, 1 crushed and 2 peeled
freshly ground nutmeg
freshly ground black pepper
olive oil
shoyu/soy sauce
6 tbsp flour
9 tbsp panko bread crumbs
kitchen rope for cooking
200 g cranberry compote (fresh or from a jar)
300 g mixed mushrooms
white wine
Sweet Potato Puree With Ginger
1-1.5 kg sweet potato, peeled and cut into pieces
1 tbsp fresh ginger, finely grated
sea salt and freshly ground black pepper
INSTRUCTIONS
Green Cabbage Roulade
Preheat the oven to 200 degrees C.
Bring a large pot of water to boil with some sea salt. Blanch 9 beautiful large cabbage leaves for about 1 minute. Remove the cabbage leaves from the water and transfer them to a bowl of cold water. Drain well and dry if necessary.
Finely grind the seitan together with the onion, peeled garlic, lots of freshly grated nutmeg and black pepper, a dash of olive oil and a generous dash of soy sauce in a food processor. Add flour and breadcrumbs, so that you get a mince-like mixture. Taste well and season to taste if desired with more soy sauce, nutmeg and black pepper.
Trim the underside of the cabbage leaves a little, especially if the veins are very thick (they will obstruct the rolling later). Arrange the leaves 3 x 3 on top of each other, so that they form a long "rag" of cabbage. Lay 5 long kitchen rope wires under the cabbage leaves. Spread the seitan mixture over the cabbage, leaving the edges free. Spread on this the cranberry compote. Fold the two sides a little inwards. Now carefully roll the cabbage leaves tightly and secure them with the rope. It can be useful to do this together, or with the help of a sheet of baking paper or kitchen foil that you place under the cabbage leaves. Transfer the roulade to a baking dish and coat the outside with a small dash of olive oil. Bake the roulade in about 30 minutes until golden brown.
At the end of the baking time, heat a frying pan over high heat. Fry the mushrooms together with the crushed clove of garlic in a dash of olive oil until golden brown. Season with sea salt and black pepper and add a dash of white wine. Serve the mushrooms over the roulade.
Sweet Potato Puree With Ginger
Cook the sweet potato in some salted water until tender. Drain and add the ginger. Puree into a smooth puree. Season with salt and pepper.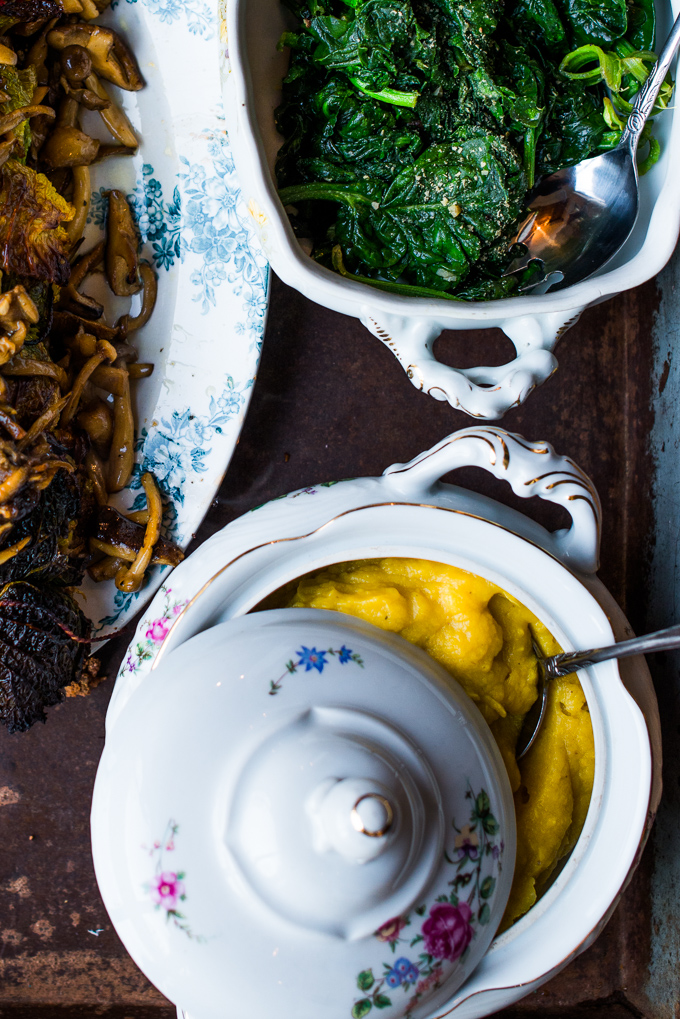 ---
GROENE KOOLROLLADE & ZALVENDE ZOETE AARDAPPELPUREE

De Groene koolrollade is een showstopper pure sang. Deze groene kerel laat zien dat je voor een machtig gebraad op tafel met kerst alleen maar op het land naar een kool hoeft te jagen. Dien de rollade op met gebakken paddenstoelen en vergezel met een zalvende zoete aardappelpuree en een lekkere groene salade. Wij serveerden er verse spinazie bij, gebakken in een flinke scheut olijfolie met veel knoflook, zeezout, versgemalen zwarte peper en geroosterde pijnboompitten, maar deze salade is ook heel goed!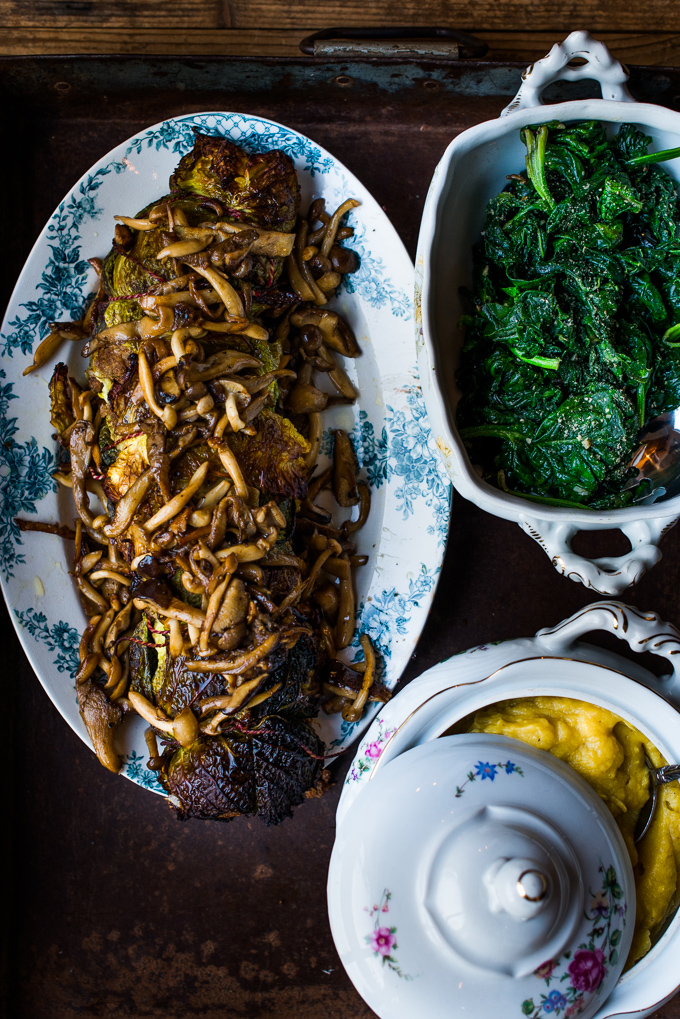 Voor 8 personen
INGREDIËNTEN
Groene Koolrollade
1 groene kool/savooie kool
zeezout
600 g seitan (uitlekgewicht), uitgelekt
1 grote ui, gepeld en in grove stukken gesneden
3 tenen knoflook, waarvan 1 geplet en 2 gepeld
versgemalen nootmuskaat
versgemalen zwarte peper
olijfolie
shoyu/sojasaus
6 el meel of bloem
9 el broodkruim of paneermeel (bijvoorbeeld van Joannusmolen)
keukentouw om mee te koken
200 g cranberry compote (vers of uit en potje)
300 g gemengde paddenstoelen
witte wijn
Zoete aardappelpuree met gember
1-1,5 kg zoete aardappel, geschild en in stukken gesneden
1 el verse gember, fijngeraspt
zeezout en versgemalen zwarte peper
INSTRUCTIES
Groene Koolrollade
Verwarm de oven voor op 200 graden C.
Breng een grote pan water aan de kook met wat zeezout. Blancheer 9 mooie grote koolbladeren voor ongeveer 1 minuut. Haal de koolbladeren uit het water en doe ze over in een kom met koud water. Laat ze goed uitlekken en dep droog indien nodig.
Maal de seitan fijn samen met de ui, gepelde knoflook, veel versgeraspte nootmuskaat en zwarte peper, een scheut olijfolie en een flinke scheut sojasaus in een hakmolen of keukenmachine. Voeg meel en broodkruim toe, zodat je een gehakt-achtig mengsel krijgt. Proef goed en kruid eventueel naar wens op smaak met meer sojasaus, nootmuskaat en zwarte peper.
Trim de onderkant van de koolbladeren een beetje bij, vooral als de nerven heel dik zijn (die belemmeren later het oprollen). Schik de bladeren 3×3 dakpansgewijs over elkaar, zodat ze een lange 'lap' kool vormen. Leg 5 lange draden keukentouw in de lengte onder de koolbladeren. Spreid het seitangehakt over de de kool uit, laat de randen vrij. Smeer hierover de cranberry compote uit. Vouw de twee zijkanten een klein stukje naar binnen toe. Rol de koolbladeren nu voorzichtig strak op, en zet ze vast met het touw. Het kan handig zijn om dit met zijn tweeën te doen, of met behulp van een vel bakpapier of keukenfolie die je onder de koolbladeren legt. Doe de rollade over in een ovenschaal en smeer de buitenkant in met een klein scheutje olijfolie. Bak de rollade in ongeveer 30 minuten gaar en goudbruin.
Verhit tegen het einde van de baktijd een koekenpan op hoog vuur. Bak de paddenstoelen samen met het geplette teentje knoflook in een scheutje olijfolie goudbruin. Breng op smaak met zeezout en zwarte peper en blus af met een scheutje witte wijn. Serveer de paddenstoelen over de rollade.
Zoete aardappelpuree met gember
Kook de zoete aardappel in wat gezouten water gaar. Giet af en voeg de gember toe. Pureer tot een mooie zalvige puree. Breng verder op smaak met zout en peper.