This Golden Christmas Soup surpasses the average bisque and with its rich palette of flavors and beautiful colors, your guests will certainly feel warmly welcomed.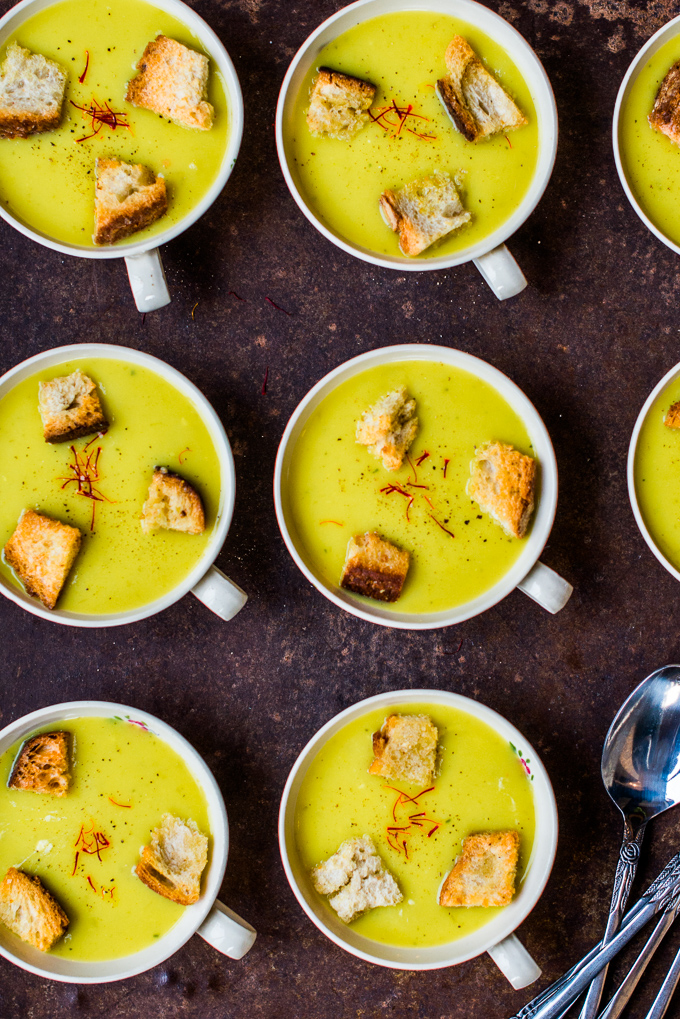 Serves 8
INGREDIENTS
+/- 4 slices of white sourdough bread, diced
olive oil
1 small white onion, peeled and roughly chopped
pinch of saffron + extra for decoration
700 g potato, coarsely cut into pieces
1.5 fennel, coarsely cut into pieces
3 cloves of garlic, peeled and of which 2 coarsely chopped and 1 crushed
vegetable broth powder
piece of ginger, grated
oat cream
sea salt and freshly ground black pepper
1 spring onion, finely cut into rings
INSTRUCTIONS
For the croutons mix the cubes of bread with a generous dash of olive oil and a crushed clove of garlic. Roast for approx. 10 minutes or until crispy in an oven preheated to 200 degrees C.
Heat a dash of olive oil in a large pan and gently fry the onion. Add the saffron and bake briefly. Add the potato, fennel and garlic and fry very briefly. Then add stock powder and ginger to taste. Add water so that everything is just under. Let the vegetables cook gently in the stock until they are tender. Add a generous dash of oat cream and puree until smooth with a blender. Taste whether the soup has a desired taste and, if necessary, season to taste with sea salt and black pepper. Spoon the soup into pretty bowls and garnish with the croutons, the spring onion rings and a small pinch of saffron.
---
GOUDEN KERSTSOEP

Deze Gouden Kerstsoep overtreft de gemiddelde bisque en met zijn rijke palet van smaken en prachtige kleuren, zullen je gasten zich zeker warm welkom voelen.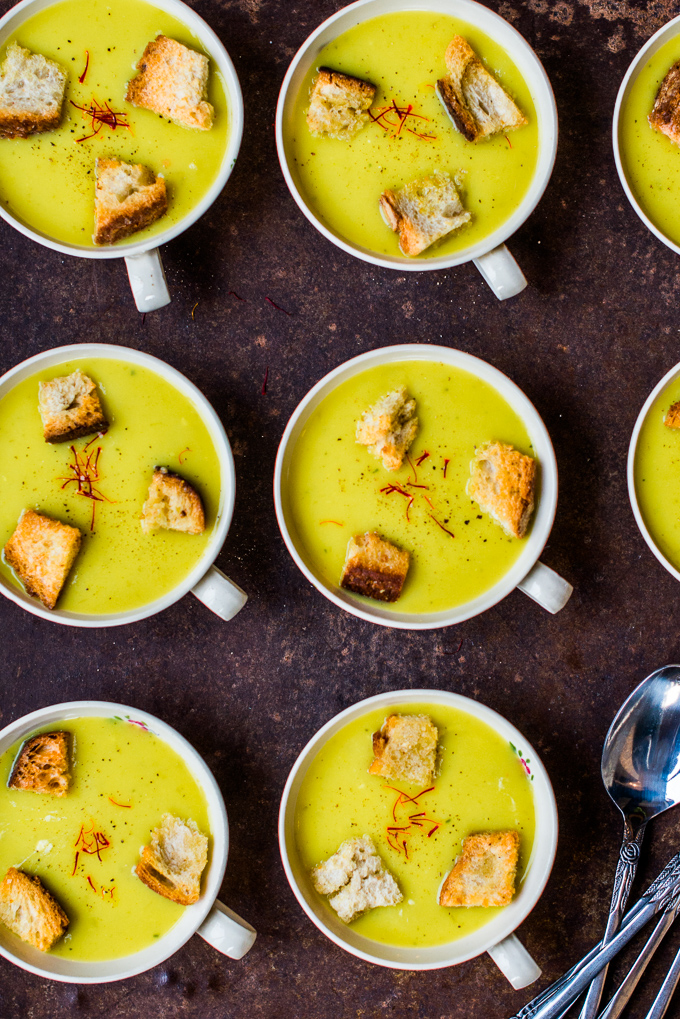 Voor 8 personen
INGREDIËNTEN
+/- 4 sneden wit desembrood, in blokjes gesneden
olijfolie
1 kleine witte ui, gepeld en grof gehakt
plukje saffraan + extra voor decoratie
700 g aardappel, grof in stukken gesneden
1,5 venkelknol, grof in stukken gesneden
3 tenen knoflook, gepeld en waarvan 2 grof gehakt en 1 geplet
groentebouillonpoeder
stukje gember, geraspt
haverroom
zeezout en versgemalen zwarte peper
1 bosui, in schuine ringetjes gesneden
INSTRUCTIES
Meng de blokjes brood met een flinke scheut olijfolie en een geplette teen knoflook voor de croutons. Rooster ze ca. 10 minuten of tot krokant in een op 200 graden C voorverwarmde oven.
Verhit een scheut olijfolie in een grote pan en fruit hierin de ui zachtjes aan. Voeg de saffraan toe en bak kort even mee. Voeg de aardappel, venkel en knoflook toe en en bak heel kort. Voeg vervolgens bouillonpoeder en gember naar smaak toe. Voeg water toe zodat alles net onder staat. Laat de groenten zachtjes in de bouillon koken tot ze gaar zijn. Voeg een flinke scheut haverroom toe en pureer tot een gladde massa met een staafmixer. Proef of de soep goed op smaak is, en kruid zo nodig bij met zeezout en zwarte peper. Schep de soep in mooie kommen en garneer met de croutons, de ringetjes bosuitje en een klein plukje saffraan.