This cake holds the middle between pumpkin pie, cheese cake and pecan pie. Super-duper tasty. Serve with vegan whipped cream and maple-butter sauce for extra indulgence.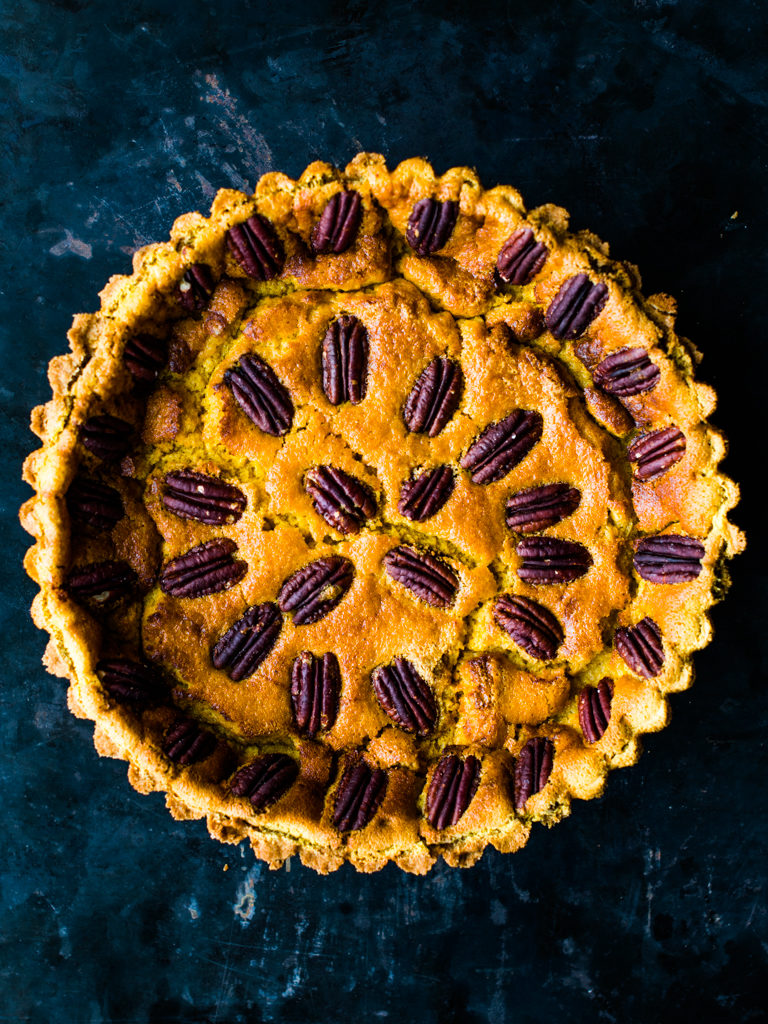 INGREDIENTS
Pumpkin pecan pie
300 g graham crackers or digestive biscuits
125 g plant based butter for baking
450 g pumpkin (hokkaido or butternut), peeled and cubed
21 cm Ø pie mold with high edge or a 'normal' 24 cm Ø pie mold – use one with a loose bottom
250 ml vegan whipping cream (very important that you use vegan whipping cream that can form stiff peaks)
150 g sugar
juice of 1/2 lemon
2 tsp vanilla extract
85 g cornstarch or vegan custard powder
1 tsp baking powder
1 tsp pumpkin spice or mixed cookie spices
1 cup coconut, soy or oat milk
50 g coconut oil, melted
100 g pecans
Sauce
50 ml maple syrup
50 g plant based butter (take the most buttery one you can find!)
Whipped cream
250 ml whipping cream
2 tsp lemon juice
zest of 1/2 lemon
1 tbsp sugar
1 tsp vanilla extract
INSTRUCTIONS
Pumpkin pecan pie
Preheat oven to 165 C / 330 F.
Cook or steam pumpkin until soft ca. 15 minutes. Drain and cool down a bit.
In the meantime crumble cookies into fine crumbs with the aid of a roller pin, glass, or food processor. Melt butter and mix with crumbs. Press into a pie a mold and make sure you also press the cookies onto the edges of the mold. Keep in fridge until you're ready to fill up.
Prepare the whipped cream. Use a stand mixer or hand mixer to whisk the cream and whisk it with 50 g sugar, lemon juice and vanilla extract until stiff peaks form.
Puree pumpkin and add rest of the sugar, cornstarch, baking powder, spice mix, coconut milk and coconut oil until a smooth consistency. Fold in the whipped cream. Put mixture in the prepared cookie crust. Arrange pecans on top. Bake for ca. 1 hour. Let cool down.
Sauce
On low heat, melt butter into maple syrup while constantly whisking, until it's just melted and combined. If you're doing it right the sauce will emulsify.
Whipped cream
Put all the ingredients in a bowl and mix with a hand mixer or stand mixer until stiff peaks form.
To serve
Remove the pie from the mold. When using a loose bottom you don't have to remove this part. Cut into pieces. Serve a piece with maple caramel sauce and whipped cream.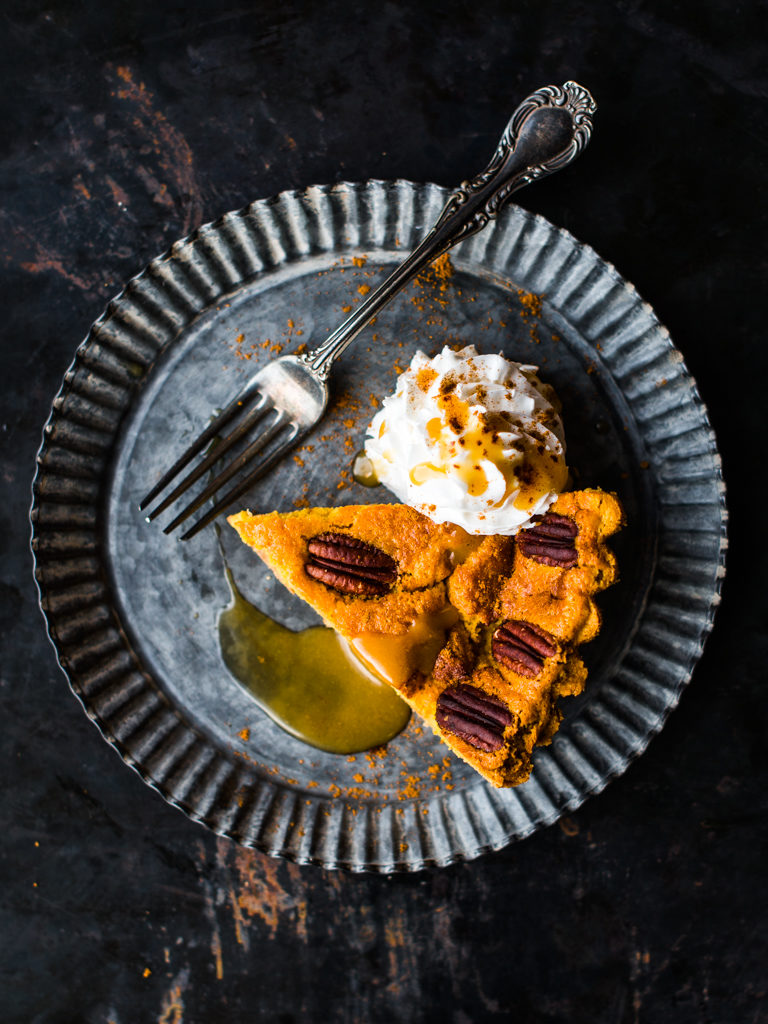 ---
POMPOEN & PECAN TAART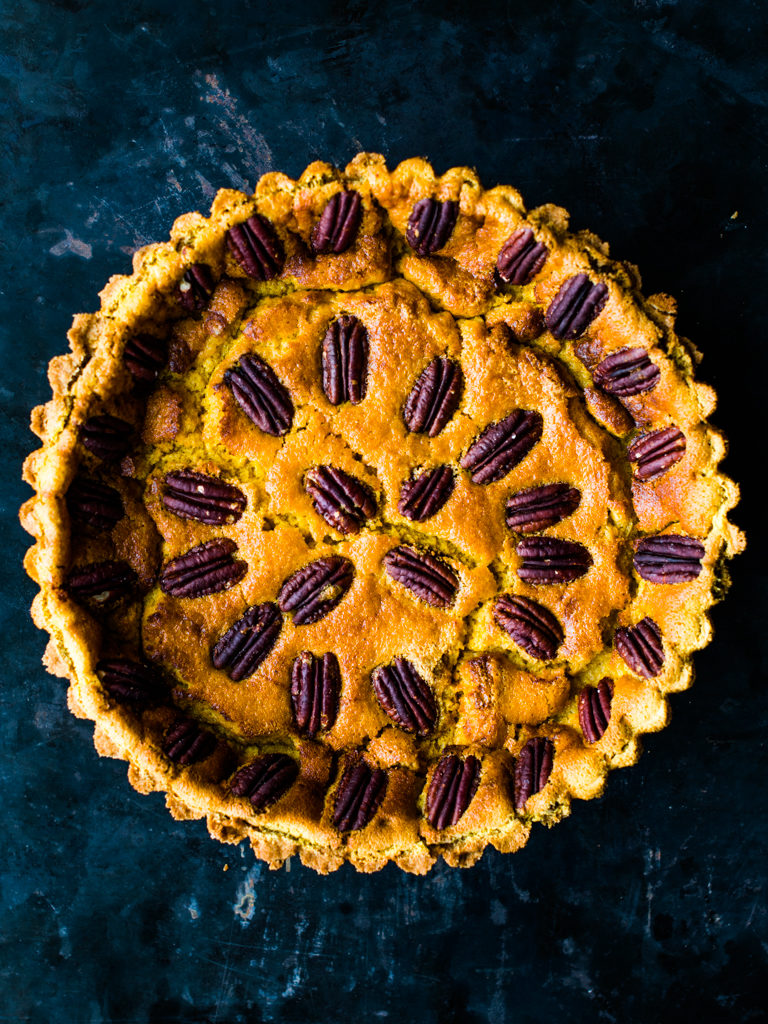 Deze taart houdt het midden tussen pumpkin pie, cheese cake en pecan pie. Mega lekker. Serveer m decadent met ahorn-karamelsaus en vegan slagroom.
INGREDIENTEN
Pompoen & pecan taart
300 g digestive koekjes
125 g plantaardige bakboter
450 g pompoen (hokkaido of flespompoen), geschild en in blokjes
taartvorm met losse bodem van 21 cm Ø  met hoge rand of een 'normale' van 24 cm Ø
250 ml vegan slagroom (beste werkt Alpro, een van de weinige vegan slagrooms die echt stijve pieken kan vormen wat belangrijk is in dit recept)
150 g suiker
sap van 1/2 citroen
1 zakje bourbon vanillesuiker
85 g maizena of custardpoeder
1/2 tl bakpoeder
1 tl speculaaskruiden
250 ml kokos- haver- of sojamelk
50 g kokosolie, gesmolten
100 g pecannoten
Saus
50 ml ahornsiroop
50 g plantaardige boter (neem de lekkerste boterigste vegan boter die je kunt vinden!)
Slagroom
250 ml slagroom
2 tl citroensap
zest van 1/2 citroen
1 el suiker
1 zakje bourbon vanillesuiker
BEREIDINGSWIJZE
Pompoen & pecan taart
Verwarm de oven op 165 graden C.
Kook of stoom pompoen gaar in ongeveer 15 minuten. Laat uitlekken en wat afkoelen.
Maal ondertussen koekjes fijn. Smelt boter en voeg aan de koekjes toe. Druk het mengsel in taarvorm en zet tot gebruik in koelkast.
Klop vervolgens slagroom stijf met 50 g suiker, citroensap en vanillesuiker.
Pureer de pompoen en voeg maizena, bakpoeder, speculaaskruiden, kokosmelk en -olie toe. Zorg dat er mooi glad beslag ontstaat. Spatel de slagroom door het pompoenmengsel, probeer daarbij zoveel mogelijk luchtigheid te bewaren. Giet het mengsel over de koekjes bodem en schik de pecans erop. Bak ca. 1 uur. Haal uit de oven en laat afkoelen.
Saus
Smelt boter in ahornsiroop op zeer laag vuur, onder voortdurend kloppen met een garde. Als je het goed doet ontstaat er een mooie emulsie.
Slagroom
Doe alle ingrediënten in een kom en klop op tot stijve pieken.
Om te serveren
Verwijder de taart uit de vorm. Wanneer je een losse bodem hebt, hoef je de bodem niet te verwijderen. Snijd de taart in punten. Serveer een stuk taart met de ahorn-karamel saus en slagroom.