Pine, the symbol of light. Rosemary, a fire starter for the body. Both can dance a tango with chocolate. Make this recipe with one of these two spicy evergreens, spike it with some rum and feel the magical and tingling effect of this special Fairtrade chocolate milk.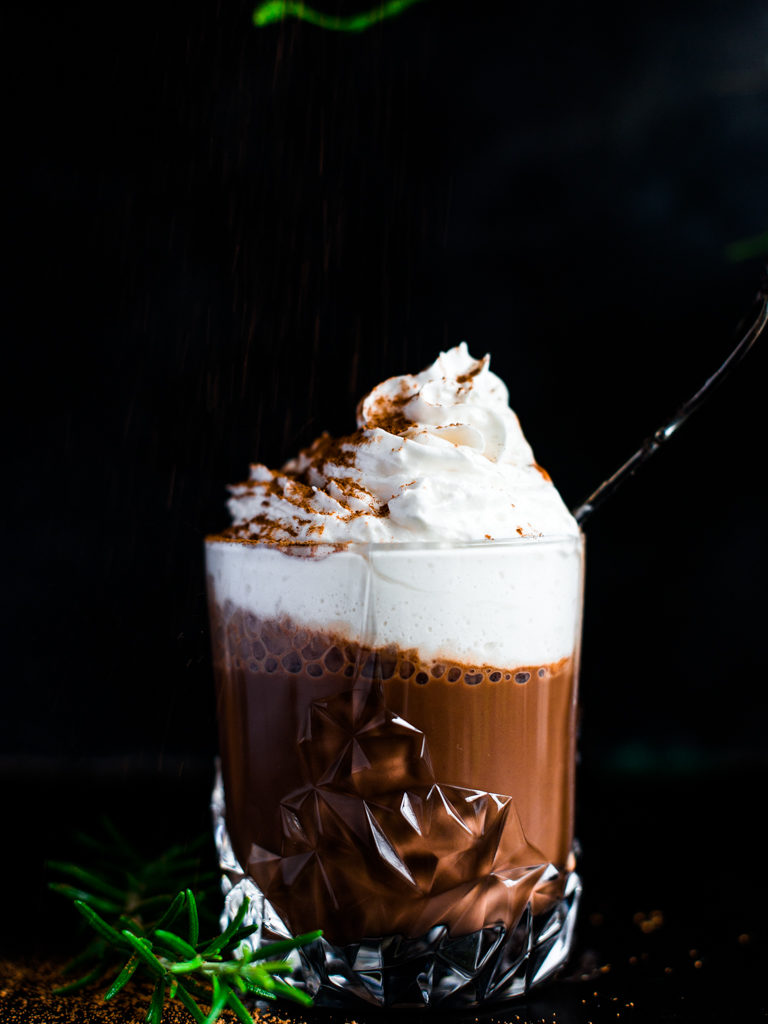 Serves 2
INGREDIENTS
Evergreen syrup
300 g Fairtrade & organic raw cane sugar
300 ml water
a little piece of pine branch (with needles) or a few branches or rosemary
Chocolate milk
400 ml oat or soy milk
3 tsp Fairtrade cacao powder
1 vanilla pod, marrow scraped out
1 tsp cornstarch, stirred with some cold oat milk
4 cubes of vegan Fairtrade dark chocolate
vegan whipping cream, whipped up or an aerosol can from, for example, Soyatoo
a dash of rum or whisky, optional

Extra
some vegan Fairtrade chocolate or cocao powder
INSTRUCTIONS
Evergreen syrup
Put sugar and water in a pan together with pine branch or rosemary. Bring mixture to a boil so that sugar dissolves completely. Leave to simmer for about 20 min on low heat. Put mixture (with branches) in a clean pot or bottle. Allow to cool.
Chocolate milk
Put plant milk, cacao powder, vanilla marrow and loosened cornstarch in a pan together and mix. Add 2 tbsp of pine or rosemary syrup. Bring mixture to a boil while stirring constantly. Cook briefly and turn off the heat. Melt the chocolate cubes in the milk and stir until they are completely melted. Put the chocolate milk in beautiful cups or heat resistant glasses. For an extra kick you can add a dash of rum or whisky. Serve with a generous amount of vegan whipped cream and garnish with some grated chocolate or a pinch of cacao powder.
---
EVERGREEN CHOCOLATE DELIGHT
De den, symbool van het licht. Rozemarijn, een kacheltje voor het lichaam. Beiden kunnen ze een tango dansen met chocolade. Maak dit recept met een van deze twee kruidige evergreens, spike it met wat rum en voel het magische tintelende effect van deze bijzondere eerlijke chocolademelk.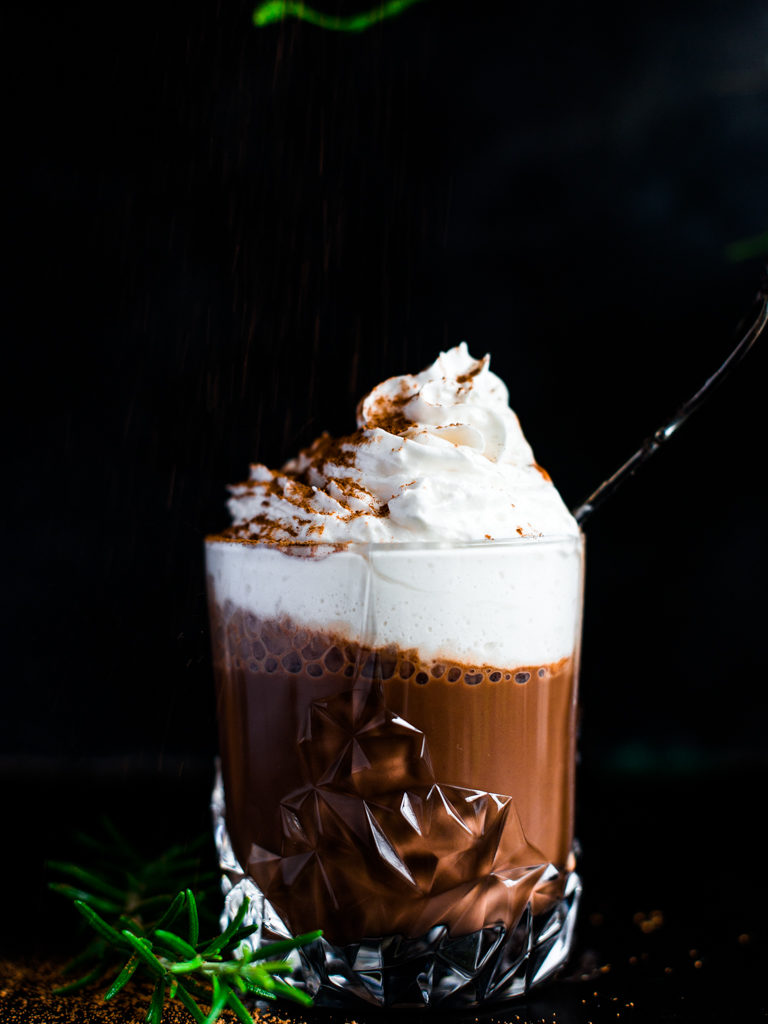 Voor 2 personen
INGREDIËNTEN
Evergreensiroop
300 g Fairtrade ruwe rietsuiker
300 ml water
een stuks dennentak of een paar takken rozemarijn
Chocolademelk
400 ml haver- of sojamelk
3 tl Fairtrade cacaopoeder
1 vanille peul, merg eruit geschraapt
1 tl maizena, losgeroerd met wat koude havermelk
4 blokjes vegan Fairtrade pure chocolade
vegan slagroom, zelf opgeklopt (van Alpro of Nature's Charm bijvoorbeeld) of een spuitbus van bijvoorbeeld Soyatoo
een scheutje rum of whisky, optioneel
Extra
wat vegan Fairtrade chocoladerasp of cacaopoeder
INSTRUCTIES
Evergreensiroop
Begin met het maken van de aromatische siroop. Doe hiervoor de suiker en het water in een pan samen met de dennentak of rozemarijn. Breng het mengsel aan de kook zodat de suiker helemaal oplost. Laat nog ca. 20 minuten op laag vuur pruttelen. Doe het mengsel (mét de takken) in een schone pot of fles. Laat afkoelen.
Chocolademelk
Meng plantaardige melk met cacaopoeder, vanillemerg en losgeroerde maizena in een pannetje. Voeg hier 2 el dennen- of rozemarijnsiroop aan toe. Breng het mengsel aan de kook onder voortdurend roeren. Laat kort doorkoken en draai het vuur uit. Smelt de chocoladeblokjes in de melk en roer tot ze volledig gesmolten zijn. Doe de chocolademelk in mooie bekers of hittebestendige glazen. Voor een extra kick kun je er een scheutje rum of whisky doorroeren. Serveer met een flinke toef plantaardige slagroom en garneer met wat chocoladerasp of een snuf cacao.
Noot: Deze recepten vloeien voort uit een bijzondere campagne van Stichting Max Havelaar:
Genieten van eerlijke chocolade tijdens de Feestdagen
Chocolade, wie houdt er niet van? In Nederland eten we jaarlijks wel 4,7 kilo chocolade per persoon. Ook tijdens de feestdagen genieten we van dit bruine 'goud'. Maar wist je ook dat cacao van miljoenen kleinschalige boeren komt? Ze leven vaak in extreme armoede en verdienen soms minder dan 0,67 euro per dag. Daardoor staan deze boeren voor grote uitdagingen. 'Hoe zorg ik voor voldoende eten?' 'Wie van mijn kinderen kan ik naar school sturen?' Om maar eens wat zorgen te noemen. En dan hebben we het nog niet eens over de impact van klimaatverandering op hun cacaoproductie.
Fairtrade werkt er hard aan om de positie van cacaoboeren te verbeteren. Cacaocoöperaties krijgen voor de cacao die ze onder Fairtrade voorwaarden verkopen ten minste de Fairtrade minimumprijs en een vaste premie. Dit geld investeren de boeren in productiemiddelen en trainingen, maar ook in betere gezondheidszorg en onderwijs voor hun kinderen. Stap voor stap kunnen zij zo werken aan een betere toekomst.
Let op bijgaand Fairtrade keurmerk tijdens het kopen van chocolade en dus ook bij de vegan chocolade in deze recepten. Dan weet je dat je een eerlijke keuze hebt gemaakt die bijdraagt aan het geluk van een ander. Op www.maxhavelaar.nl/eerlijkechocolade lees je welke eerlijke chocolade je waar kunt kopen. Voor deze recepten hebben wij gebruikt gemaakt van deze eerlijke chocolade, de vegan versies uiteraard.