This recipe is a MAN.EAT.PLANT. classic inspired by our friends at Wicked Healthy. The guys' Wicked Kitchen line of ready-made plant-based meals at Tesco's in the UK is a fabulous step forward for affordable and accessible vegan options for all. What a time to be alive as a vegan! To celebrate, we're revisiting this old favorite. Note that this recipe is super versatile. We're all about making it work! Not into mushrooms? We suspect that jackfruit would work stunningly though you need to bake a bit longer. No star anise on hand for the quick pickled cabbage? It makes for a nice addition, but feel free to try cloves, cinnamon sticks or any other whole, warm spice (or nothing at all — it'll definitely be delicious regardless).  No poultry seasoning? DIY some quickly with sage, thyme, rosemary and marjoram or some combination of these. Without further ado: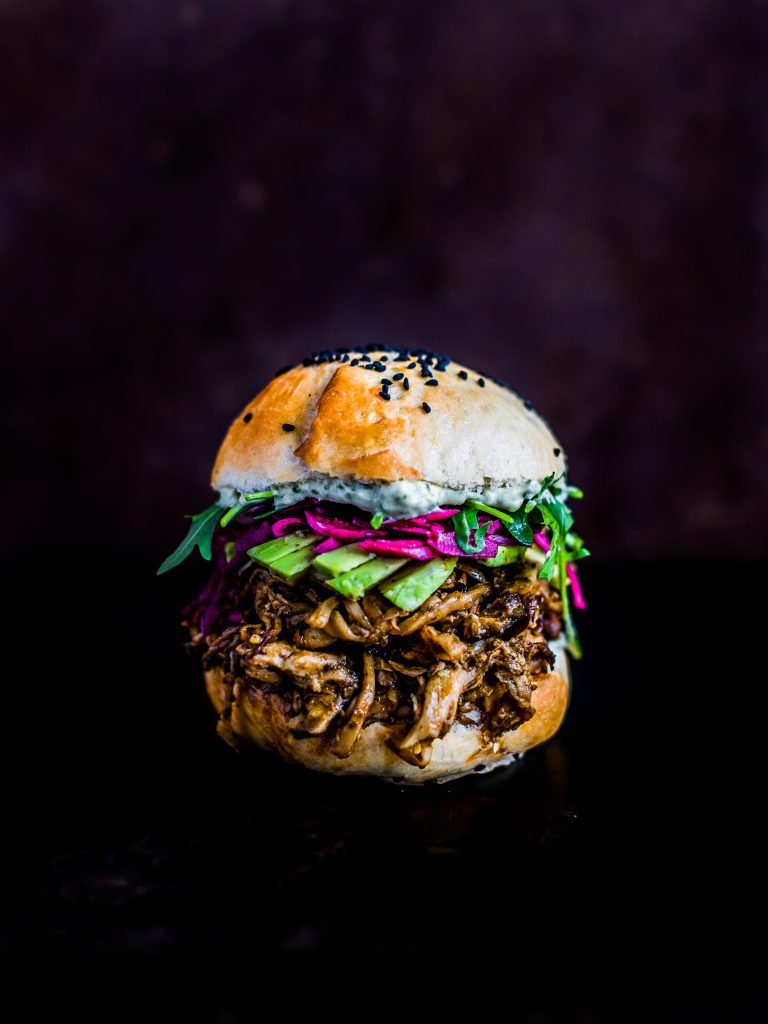 Serves 4
INGREDIENTS
500 g king oyster mushrooms
3 tbsp poultry seasoning, without salt
2 tsp garlic powder
a generous amount of freshly ground black pepper
7 tbsp light shoyu or soy sauce
5 tbsp oil
1/4 red cabbage
75 ml vinegar
25 ml water
25 g sugar
3 pieces of star anise
8 tbsp vegan mayo
fresh basil
4 round sandwich buns
1 avocado in thin slices
a handful of rocket lettuce leaves
INSTRUCTIONS
Preheat the oven to 435 degrees F/225 °C. Line a baking sheet with baking paper. Use a fork to gently shred the mushroom stems, starting at the ends (like combing them out). Mix with the poultry seasoning, garlic powder and freshly-ground pepper. Add the soy sauce and spread the mushrooms over the baking sheet. Sprinkle generously with oil and bake approximately 25 minutes until golden brown.
In the meantime, slice the red cabbage razor thin and place it in a bowl. In a pan on low temperature, gently heat the water, vinegar, star anise and sugar until the sugar dissolves. Pour the vinegar mixture over the cabbage and let it marinate until it's needed – the longer, the yummier.
For the sauce, chop the basil leaves fine and mix with the mayo. Warm the sandwich buns in the oven for about a minute. Cut the buns in half and spread some basil mayo on the bases. Pile high with a generous helping of mushrooms, then one quarter of the avocado, some marinated red cabbage and a few sprigs of rocket. Cover with the top of the bun and serve immediately.
---
WICKED SHROOM BUNS
Dit recept is te bizar! Koningsoesterzwam transformeert in iets wat zelfs meester-koks verwarren met pulled chicken. Een broodje Free. From. Animals. Geïnspireerd door de briljante chef Derek Sarno van Wicked Healthy.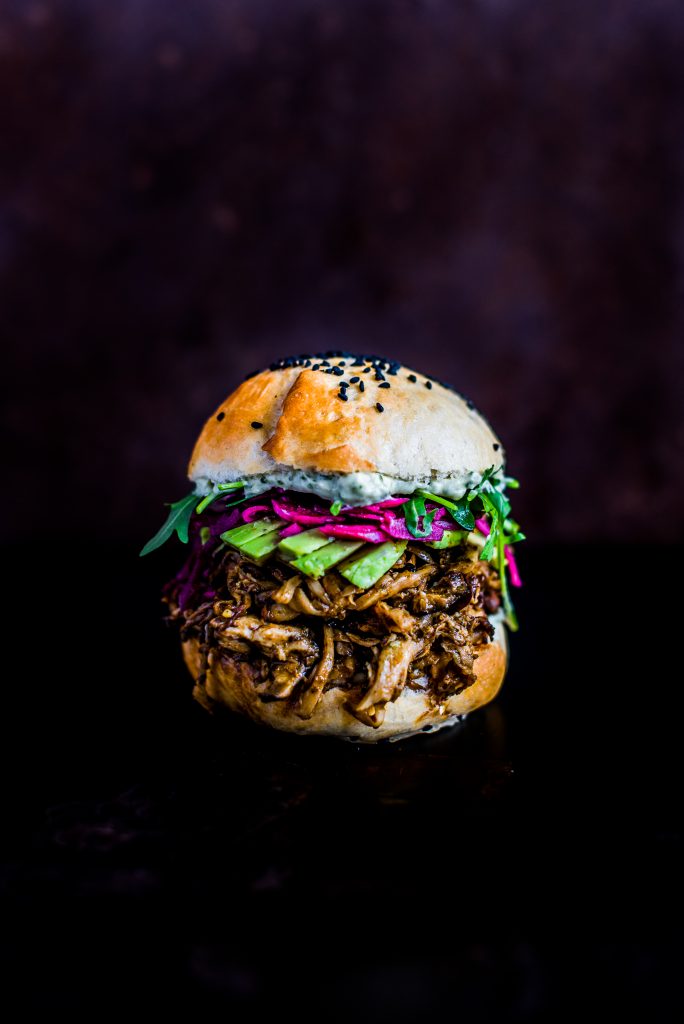 Voor 4 personen
INGREDIENTEN
500 g koningsoesterzwammen
3 el kipkruiden zonder zout
2 tl knoflookpoeder
flink wat versgemalen zwarte peper
7 el lichte sojasaus of shoyu
5 el olie
¼ rodekool
75 ml azijn
25 ml water
25 g suiker
3 stuks steranijs
vers basilicum
8 el vegan mayo
4 ronde broodjes
1 avocado, in dunne plakjes
een hand rucola
BEREIDINGSWIJZE
Verwarm de oven voor tot 225 °C. Bekleed een bakplaat met bakpapier.
Trek de koningsoesterzwammen vanaf de uiteinden met een vork uit elkaar, alsof je ze 'uitkamt'. Meng de kipkruiden, het knoflookpoeder en de peper erdoor. Voeg de sojasaus toe en spreid de paddenstoelen uit over de bakplaat. Besprenkel ze royaal met olie en bak ze in circa 25 min. gaar en goudbruin in de oven.
Snijd ondertussen de rodekool in zo dun mogelijke reepjes en doe ze in een kom. Verhit in een pannetje op laag vuur de azijn met het water, de suiker en steranijs tot de suiker is opgelost. Giet het azijnmengsel over de kool en laat de kool tot gebruik marineren – hoe langer, hoe lekkerder.
Hak voor de saus de basilicumblaadjes ragfijn en meng ze door de mayo. Verwarm de broodjes een minuutje mee in de oven. Snijd ze open en bestrijk de onderkanten met wat basilicummayo. Schep er flink wat van de paddenstoelen op, gevolgd door een kwart van de avocado, wat ingelegde rodekool en een pluk rucola. Dek de broodjes af met de bovenkanten en serveer ze meteen.