Oh lala these tacos just rock and definitely have some latin temperament! Intensely seasoned and slow roasted jackfruit (young and ripe, that's the secret to perfect tasting 'pulled jackfruit meat') makes this dish taste absolutely sensational. A crowd pleaser for sure. THE go-to Friday night dinner for a great start of the weekend.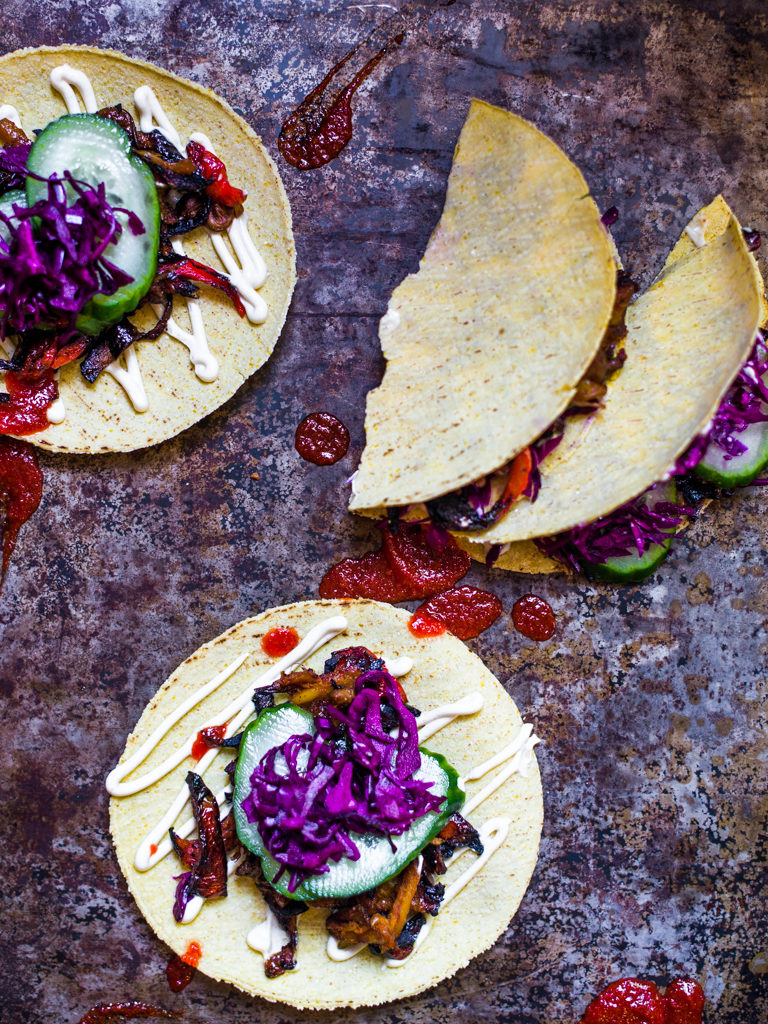 Serves 8 taco's
INGREDIENTS
BBQ Jackfruit
1 tin (560 g) young jackfruit, rinsed, drained and squeezed to thready bits
1 tin (560 g) ripe jackfruit, drained and squeezed to thready bits
1 red bell pepper, seeds removed and sliced
1 red onion, peeled and sliced
1 tsp chicken seasoning
1 tsp smoked paprika powder
1/2 tsp garlic powder
2 tsp sriracha
1 tbsp soy sauce
1 tbsp molasses
2 tbsp rice bran oil
Red Cabbage Pickle
1/4 red cabbage
75 ml vinegar
25 ml water
25 g sugar
3 pieces of star anise
Taco's

8 soft small corn tortilla's/taco sheets
4 tbsp vegan mayonaise
ca. 1/2 cucumber
INSTRUCTIONS
Preheat oven to 180 C/350 F.
BBQ Jackfruit
Mix all ingredients on/in a baking tray. Roast for ca. 15 min. Toss ingredients and roast for another 15 min. Toss again and if not roasty yet, roast for another 15 min. (be careful though not to burn the mixture. This really depends on your oven). Taste and if needed add some seasoning to balance out flavour.
Red Cabbage Pickle
Cut cabbage in razor thin slices and place the slices in a bowl. Gently heat the water, vinegar, sugar and star anise in a saucepan and let the sugar dissolve. Pour the vinegar mixture over the cabbage slices and let marinate until your ready – the longer, the yummier.
Taco's
Heat tortilla's in a dry skillet. Add some mayo, jackfruit roast, cucumber and red cabbage pickle on each tortilla. Share, serve with an extremely good salad with lots of lime juice, hot and spicy baked potatoes and… devour.
---
BBQ JACKFRUIT TACO'S
Deze taco kanjers rocken absoluut, hebben een heerlijk latino temperament en een sensationeel smaakprofiel. Door het jackfruit diep te roosteren met specerijen krijgt het een even heerlijke smaak als textuur, perfect voor dit gerecht waar traditioneel gezien vlees met een zelfde soort textuur en smaak gebruikt wordt. Een perfecte vrijdagavond maaltijd voor een heerlijke start van het weekend.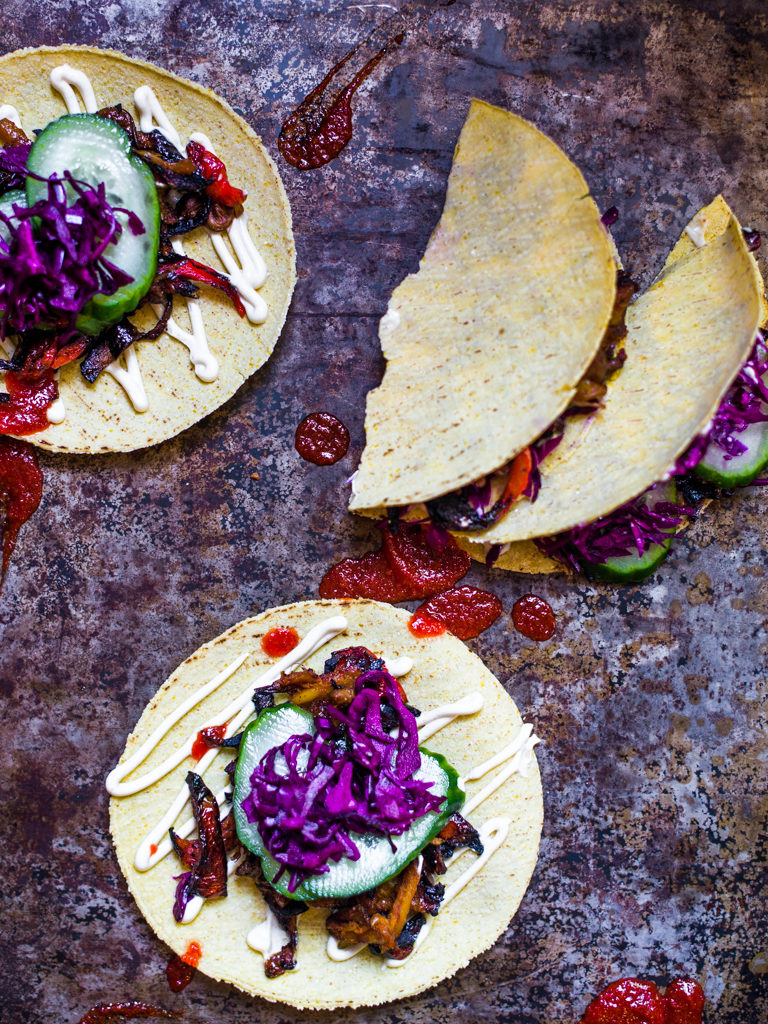 Voor 8 taco's
INGREDIËNTEN
BBQ Jackfruit
1 blik (560 g) jonge jackfruit, afgespoeld, uitgelekt en in draderige stukjes geknepen
1 blik (560 g) rijpe jackfruit, uitgelekt en in draderige stukjes geknepen
1 rode paprika, zaadjes verwijderd en in reepjes
1 rode ui, gepeld en in dunne partjes
1 tl kipkruiden
1 tl gerookt paprika poeder
1/2 tl knoflookpoeder
2 tl sriracha
1 el soja saus
1 el keukenstroop
2 el rijstolie
Rode Kool Pickle
1/4 rode kool
75 ml azijn
25 ml water
25 g suiker
3 stuks steranijs
Taco's

8 zachte kleine maistorilla's
4 el vegan mayonaise
ca. 1/2 komkommer
INSTRUCTIES
BBQ Jackfruit
Meng alle ingrediënten in een baktray of op een bakplaat and rooster ca. 15 min. Schep om en rooster nogmaals 15 min. Check in hoeverre het mengsel geroosterd is. Je wilt geen natte kledder maar een lekkere diep geroosterde textuur en smaak (pas wel op voor verbranding, afhankelijk van hoe heet je oven wordt). Als het mengsel nog weinig gekleurd is, rooster dan nogmaals 15 min.
Rode Kool Pickle
Snijd de rode kool in ragfijne reepjes. Doe de reepjes over in een ruime kom. Verwarm water, azijn, suiker en steranijs zachtjes in steelpan tot de suiker is oplost. Giet dit mengsel over de geschaafde kool en laat marineren – hoe langer hoe lekkerder.
Taco's
Rooster de tortilla's heel kort in droge koekenpan. Beleg met vegan mayo, geroosterde jackfruit, plakjes komkommer en rode kool pickle. Deel, serveer met een frisse groene salade met veel limoensap en pittige, gebakken aardappelen en… verorber!