Deep into January, or shall we say
Veganuary
?! Yes it is a thing and how are you guys rocking this vegan month so far?! Like it is nothing or having a total plant powered food feast? We are doing our best to fill up the
MAN.EAT.PLANT. recipe index
with hot, roasted, grilled and  juicy vegan recipes. And for all you lumberjacks out there we have something special, a JALAPEÑO BEER BREAD. This bread is made with beer, 'cheese' and jalapeño peppers, so yeah what's not to like? This is just the best snack and a perfect one to eat your way through the greyest month of all.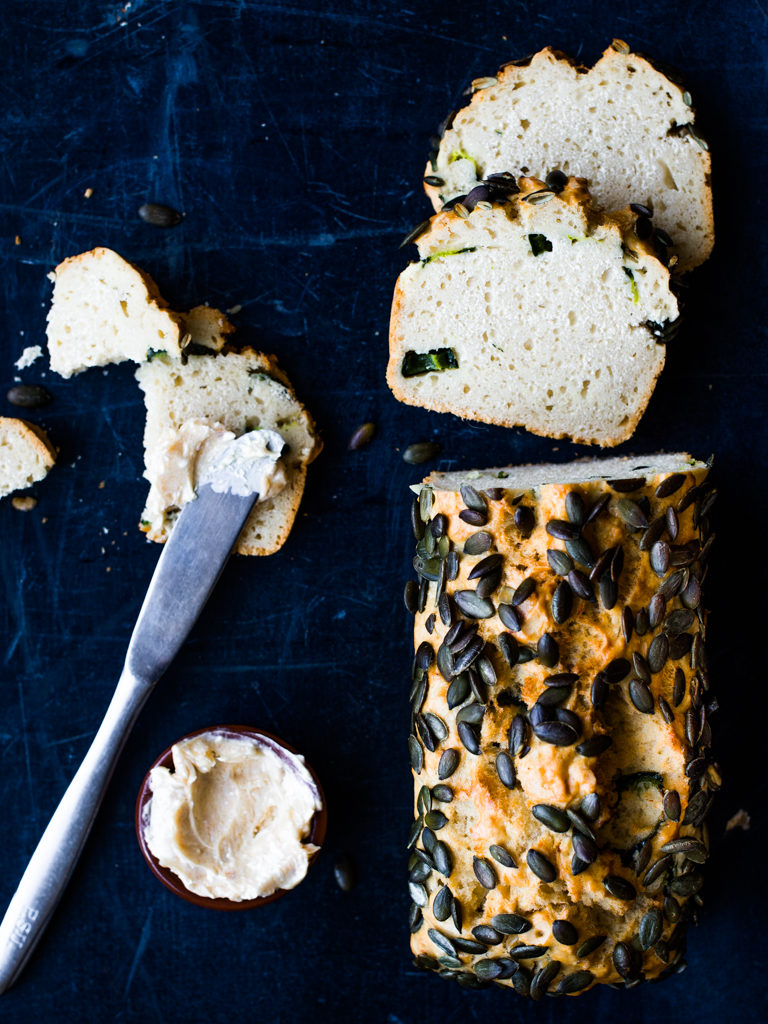 Serves 1 loaf (ca. 12 slices)
INGREDIENTS
Beer bread
450 g a.p. flour
16 g (1 tbsp) baking powder
1,5 tsp salt
5 tbsp nutritional yeast flakes
1 tbsp agave syrup
350 ml beer of your choice
5 tbsp olive oil
1-3 fresh jalapeños, sliced (3 only for ultimate dare devils!)
1 garlic glove, peeled and finely chopped
3 tbsp pumpkin seeds
Miso butter

4 tbsp good quality vegan butter, room temperature
3 tsp light miso
1 garlic glove, peeled and finely chopped
INSTRUCTIONS
Preheat oven to 185 C / 365 F.
In large bowl mix flour, baking powder, salt and yeast flakes. Make a well in the middle. Add syrup, beer and 2 tbsp olive oil to the well. Mix with dry ingredients until combined. Stir in jalapeños and garlic. Grease a loaf tin with 2 tbsp olive oil. Add batter. Scatter with pumpkin seeds. Drizzle over the last 1 tbsp of olive oil. Bake for ca. 40 min, or until a skewer poked in the center comes out clean.
In the meantime make miso butter by mixing all ingredients together.
Serve bread when still a bit warm, and spread some miso butter on each slice.
---
JALAPEÑO BIER BROOD
Diep in januari of zullen we zeggen Veganuary. Het is een ding. Hoe gaat het bij jullie? Alsof het niets is en lekker aan de planten? Of nog even een beetje onwennig en zoekend naar smakelijke plantaardigheden. We doen in ieder geval ons best om de MAN.EAT.PLANT. index voor jullie te vullen.Voor nu hebben we speciaal voor alle stoere waaghalzen een bijzonder recept! Brood van bier, 'kaas' en jalapeño's. Dit is gewoon de perfecte stoere snack voor op de borrelplank en de manier om je door de meest grijze maand van allen heen te eten.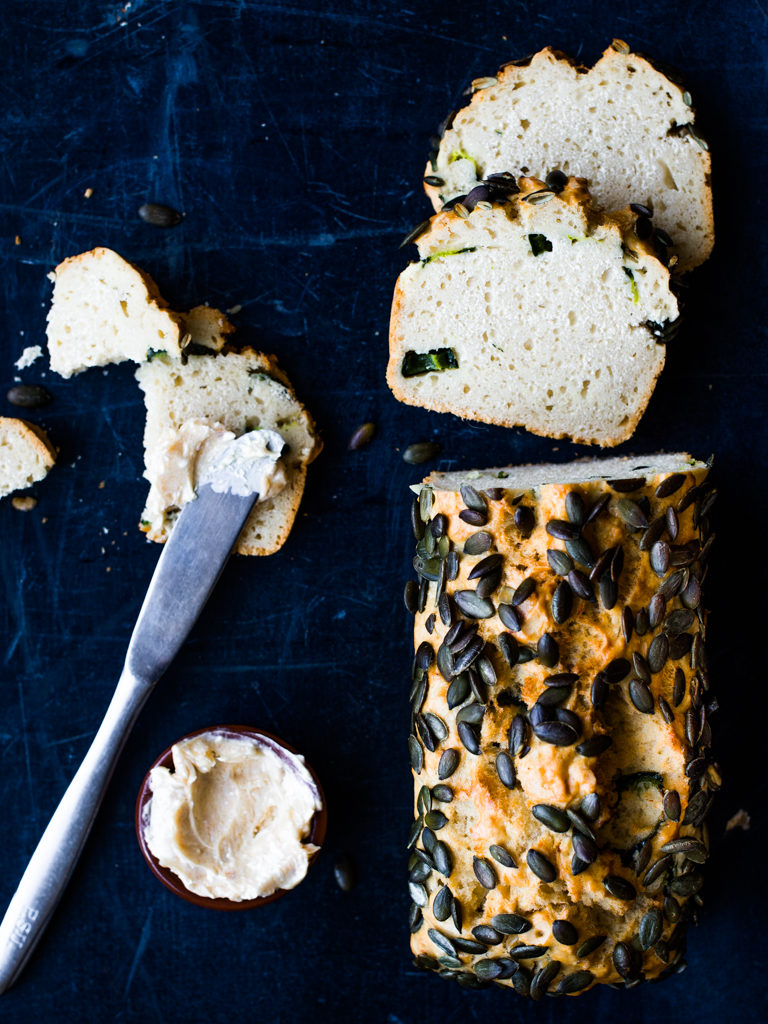 Voor 1 brood (ca. 12 plakken)
INGREDIËNTEN
Bierbrood
450 g bloem
1 zakje bakpoeder
1,5 tl zout
5 el edelgistvlokken
1 el agave siroop
350 ml bier naar keuze
5 el olijfolie
1-3 verse jalapeños (alleen 3 stuks als je heeeel stoer bent!)
1 teen knoflook, gepeld en fijngehakt
3 el pompoenpitten
Misoboter

4 el goede kwaliteit vegan boter, kamertemperatuur
3 tl lichte miso
1 teen knoflook, gepeld en fijngehakt
INSTRUCTIES
Verwarm oven voor op 185 graden C.
Mix in een grote kom bloem, bakpoeder, zout en gistvlokken. Maak een kuil in het midden. Doe siroop, bier en 2 el olijfolie in de kuil. Mix met droge ingrediënten tot net gemengd. Spatel jalapeños en knoflook erdoor. Vet een cakeblik in met 2 el olijfolie en doe vervolgens het beslag in de vorm. Strooi de zaden erover en besprenkel met de laatste el olijfolie. Bak ca. 40 min, of tot een prikker die in het het midden prikt, er schoon uit komt.
Maak ondertussen de misoboter door alle ingrediënten te mengen.
Serveer het brood wanneer het nog een beetje warm is, en smeer wat misoboter op elke plak.