Wrap that kale up! This recipe will satisfy your savoury taste buds. There's a nice textural thing going on, and the flavours are complex. Perfect for lunch or a quick dinner!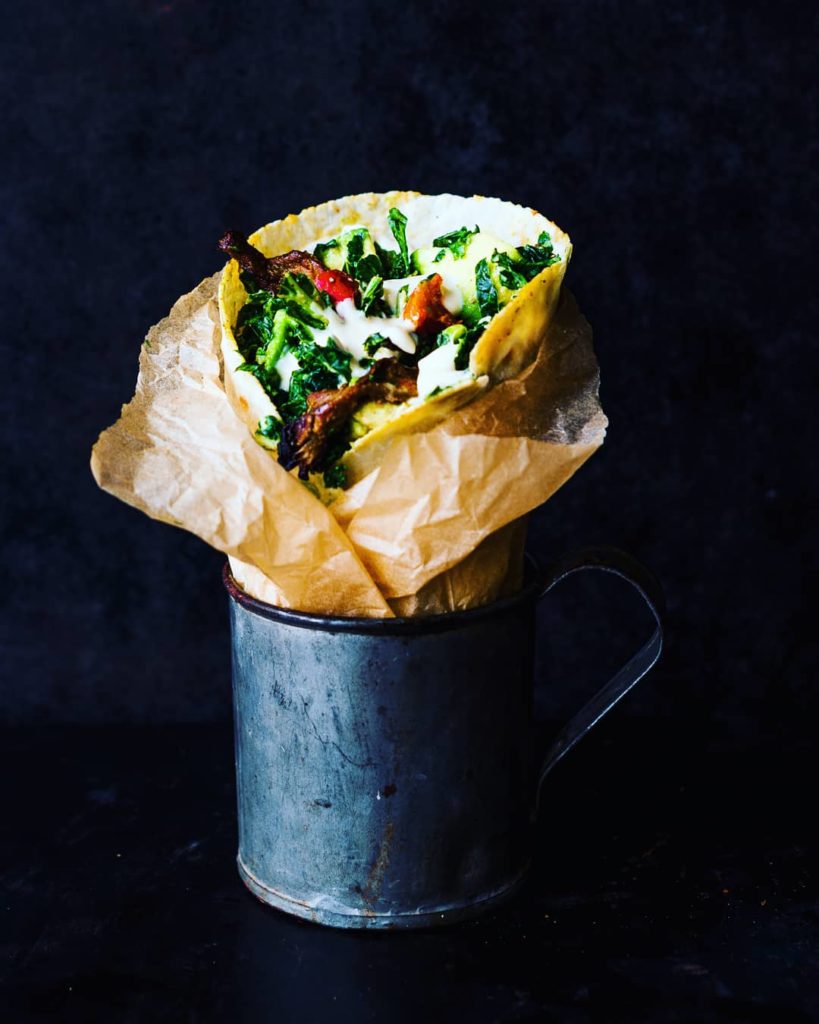 Makes 4 wraps
INGREDIENTS
2 tbsp frying oil
200 g oyster mushrooms, torn in strips
1 tbsp soy sauce
1 garlic clove
black pepper to taste
200 g sliced kale
3 tbsp vegan mayo
3 level tsp miso (Dark, light brown or white miso can be used. Dark miso has a deep, more yeasty aroma, while light miso has a more sweet and cheesy flavour. Light brown miso will give you a bit of both. Just try and taste what you prefer!)
4 vegan wraps
1 avocado, peeled and sliced
1 handful of semi-dried or sun-dried tomatoes (ca. 6 large ones or 16 small strips)
INSTRUCTIONS
Heat oil in a frying pan. Add oyster mushrooms and fry until nicely golden brown. Lower heat and add soy sauce and garlic clove. Turn heat off and season to taste with pepper. Put the kale into a big bowl. Add mayo and miso, and 'massage' into the kale. Really use those muscles. The better you massage the more tender the kale gets. You want that! Divide massaged kale over wraps. Add to each wrap the oyster mushrooms, some avocado slices and some semi-dried tomatoes. Roll up like a burrito (fold the sides inward). Heat a frying pan over medium heat and seal the wraps, seam side down. Turn them around and sear for half a minute or so. That's all!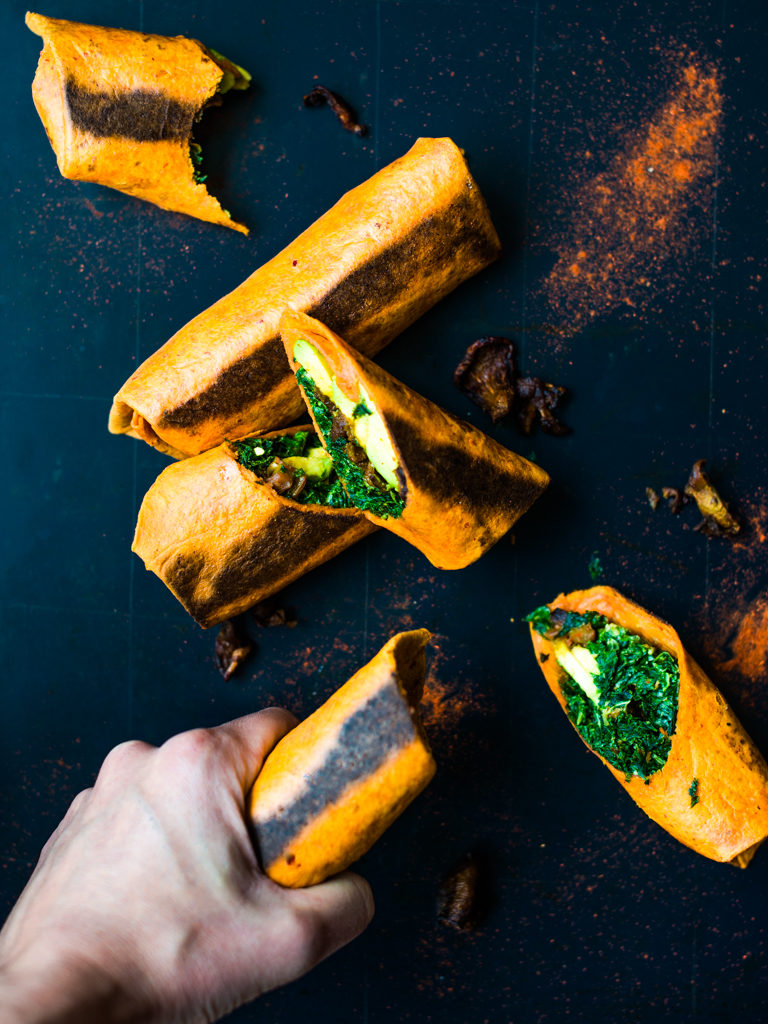 ---
MIGHTY KALE WRAP
Wrap that kale up! Dit recept verwent je hartige smaakpapillen. De texturen zijn verrassend en aangenaam, en de smaken complex. Perfect voor de lunch of een snel avondmaal.
Voor 4 wraps
INGREDIENTEN
2 el olie om in te bakken
200 g oesterzwammen, in reepjes gescheurd
1 el sojasaus
1 teen knoflook
zwarte peper naar smaak
200 g gesneden boerenkool
3 el vegan mayo
3 afgestreken tl miso (Donkere, licht bruine en lichte miso zijn allen mogelijk. Donkere miso zal voor een diepe, meer gistige smaak zorgen, terwijl lichte miso een zoet en kazig aroma heeft. Licht bruine miso valt er een beetje tussenin. Probeer vooral zelf!)
4 vegan wraps
1 avocado, geschild en in reepjes
1 handje semi gedroogde of zongedroode tomataatjes (+/- 6 grote or 16 kleine strips)
BEREIDING
Verhit olie in een koekenpan op hoog vuur. Bak reepjes oesterzwam fink aan tot ze goudbruin zijn. Zet het vuur wat lager en voeg de sojasaus en knoflook toe. Draai het vuur uit en breng op smaak met peper. Doe boerenkool in een ruime kom. Voeg mayo en miso toe, en masseer dit in de boerenkool. Gebruik je spieren goed! Hoe beter je masseert, hoe malser de boerenkool wordt. Zo wil je het! Verdeel de gemasseerde boerenkool over de 4 wraps. Verdeel ook de oesterzwammen, avocado en zongedroogde tomaten over de wraps. Vouw de zijkanten naar binnen en rol de wraps op. Verhit een koekenpan op middelhoog vuur en verzegel de naden van de wraps door ze even in de hete pan te leggen. Draai ze, als de naden vastzitten, om en laat nog een half minuutje op de bovenkant in de hete pan liggen. Verorberen maar!