Mac & cheese, an all time favorite. No animal cheese of course, that's soooo last season. Plant cheese is da sjit. We made this version with a rich and cheesy walnut and cauliflower sauce. The guerilla shiitake 'bacon' hidden between two layers of creamy pasta goodness will release a flavor attack as soon as they hit your mouth. Soak the walnuts overnight for the best result. You can use rejuvelac, bread drink or vinegar diluted with water as soaking liquid for extra pungent flavor. 
Enjoy!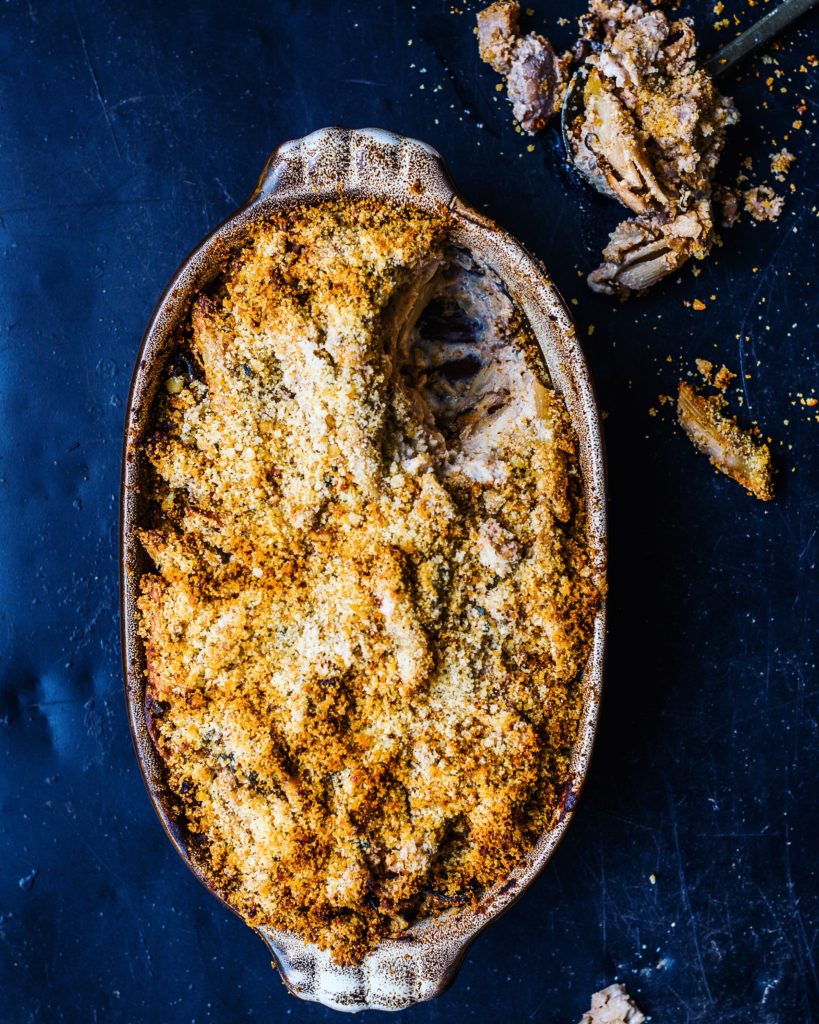 Serves 6
INGREDIENTS
200 g (1 cup) walnuts
125 ml (1/2 cup) bread drink, rejuvelac or 2 tbsp apple cider vinegar diluted with water to 125 ml
1 head cauliflower
6 garlic cloves
1 bunch of fresh sage
freshly ground salt and pepper
500 g pasta
200 g shiitake mushrooms, sliced
2 tbsp frying oil
1/2 tsp smoked paprika powder
4 tbsp olive oil
60 g (1/2 cup) panko or bread crumbs
10 tbsp nutritional yeast flakes
4 tsp (yellow) miso
2 tsp tapioca starch
INSTRUCTIONS
Soak 100 g (1/2 cup) of walnuts in 125 ml bread drink overnight, or at least for 2 hours.
Preheat the oven to 225 C/435 F.
Clean the cauliflower and cut into 8 parts. Bring a large quantity of water to a boil in a spacious pot. Squeeze a glove of garlic and add to the water. Also add a sprig of sage and quite some salt. Some Italians say that pasta cooking water should be as salt as the Mediterranean Sea. The pasta will absorb all this delicious flavors in a way you can never achieve with seasoning after cooking. Add pasta and cauliflower, and cook according to the directions on the packaging of the pasta.
In the meantime, heat a frying pan on high heat. Add the frying oil and fry the shiitakes with another crushed garlic glove until nicely browned. Season with smoked paprika powder, and salt and pepper to taste. Turn off heat, get rid of the garlic glove and save the mushrooms for later.
Then prepare the crumb topping by adding the other 100 g walnuts (1/2 cup), 2 garlic gloves and 10 sage leafs to a blender or food processor. Grind it all up. Add to a bowl along with the bread crumbs and olive oil, and mix.
Save 1 cup of pasta cooking liquid before draining the pasta and cauliflower. Take out 2 parts of cauliflower and save for later. Crush pasta and rest of the cauliflower a bit with a fork or masher. Put the saved pasta cooking liquid, soaked walnuts including soaking liquid, the saved 2 parts of cauliflower, 2 garlic gloves, yeast flakes, miso, olive oil and tapioca starch in a blender. Blend into a creamy sauce. Add sauce to the crushed pasta and cauliflower and mix. Put half of it in an oven proof dish. Divide the shiitake 'bacon' over the pasta. Add the other half of the pasta mixture on top. Then add the crumb topping and bake for ca. 25 minutes until golden brown.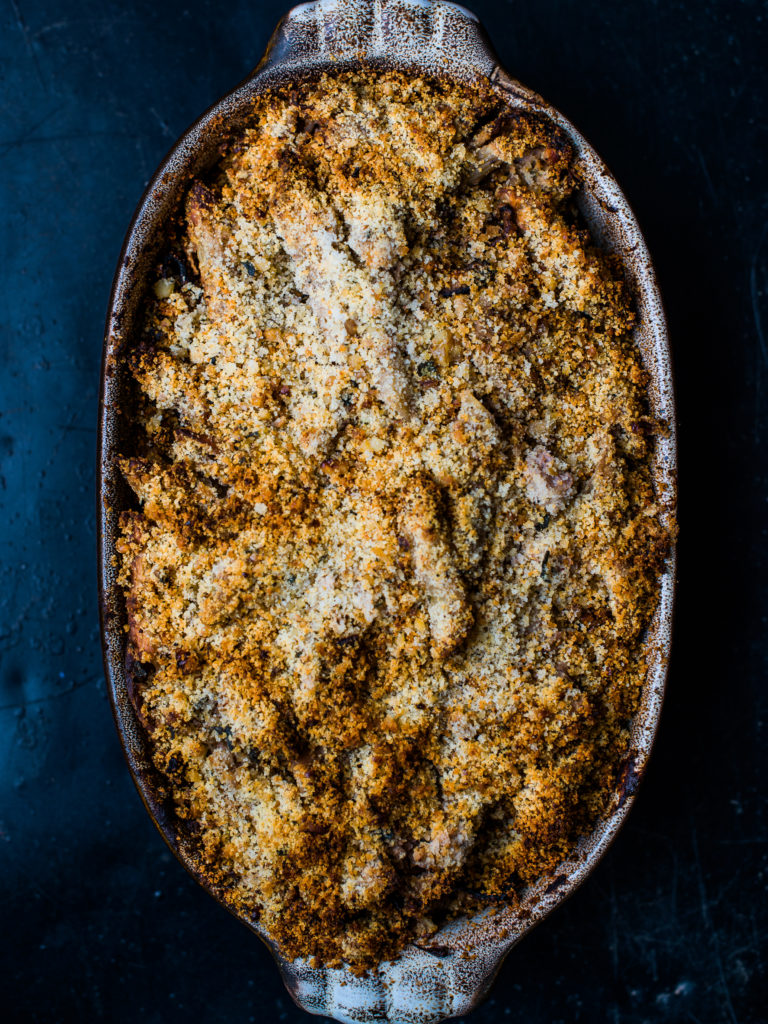 ---
CAULI BOMBED MAC
Mac & cheese, een heerlijke klassieker. Deze versie is gemaakt met een rijke, kazige saus op basis van walnoten en bloemkool. Guerilla shiitake spekjes houden zich schuil tussen twee romige lagen pasta, welke een smaakoffensief zullen starten zodra je een hap neemt. Week de walnoten een nachtje van tevoren in brooddrank (gefermenteerde friszure drank, verkrijgbaar bij de biowinkel), of een mengsel van water en appelazijn voor het beste resultaat.
Voor 6 personen
INGREDIENTEN
200 g walnoten
125 ml brooddrank, rejuvelac of 2 el appelazijn aangelengd met water tot 125 ml water
1 bloemkool (800-1000 g)
6 tenen knoflook
1 bosje verse salie
zeezout en versgemalen peper
500 g pasta
200 g shiitakes, in plakjes
 gesneden
2 el bakolie (bijvoorbeeld rijstolie)
1/2 tl gerookt paprikapoeder
4 el olijfolie
60 g paneermeel/broodkruimels
10 el gistvlokken
4 tl (gele) miso
2 tl tapioca zetmeel
BEREIDING
Week 100 g walnoten in 125 ml brooddrank overnacht of voor minimaal 2 uur.
Verwarm de oven voor op 225 graden C.
Maak de bloemkool schoon en snijd in 8 parten. Breng in een grote pan een flinke hoeveelheid water aan de kook. Plet een teen knoflook en voeg toe aan het kookwater. Voeg ook een takje salie toe en zout het water flink. Sommige Italianen zeggen dat pasta kookwater zo zout als de Middellandse Zee moet zijn. De smaak die je zo aan de pasta geeft, krijg je er later nooit meer in. Voeg pasta en bloemkool aan het kokende water toe. Kook zo lang als op de verpakking van de pasta staat aangegeven, of tot de pasta gaar is.
Verhit ondertussen de bakolie op hoog vuur in een koekenpan en bak hierin de shiitake goudbruin met een geplette teen knoflook erbij. Voeg vervolgens het gerookt paprika toe en breng op smaak met zout en peper. Draai het vuur uit, vis de knoflook eruit en houd de plakjes apart.
Maak ondertussen ook de kruimige topping door 100 g walnoten samen met 2 tenen knoflook en 10 blaadjes salie te vermalen in een blender of keukenmachine. Doe over in een kom en meng met paneermeel en 2 el olijfolie.
Vang 250 ml pastawater op alvorens de pasta en bloemkool af te gieten. Vis er dan 2 parten bloemkool uit en houd apart. Stamp de pasta en overige bloemkool in wat kleinere stukken met een pureestamper of vork. Doe opgevangen pastawater, geweekte walnoten met vocht, 2 parten achtergehouden bloemkool, 2 tenen knoflook, gistvlokken, miso, olijfolie en tapiocazetmeel in een blender. Blend alles tot een romige saus. Meng de saus door de fijngestampte pasta en bloemkool. Doe de helft van het pastamengsel in een ovenschaal en leg de plakjes shiitake 'bacon' hierop. Verdeel hier vervolgens de rest van de pasta over. Strooi de kruimige topping bovenop en bak in 25 minuten goudbruin.