No animal slaughter is needed for a roasty rack or for anything for that matter. You can make racks by butchering a pumpkin instead. Do it nicely though ;-). Serve with a green (arugula) salad and a grain/bean stew or just some good old mashed potatoes.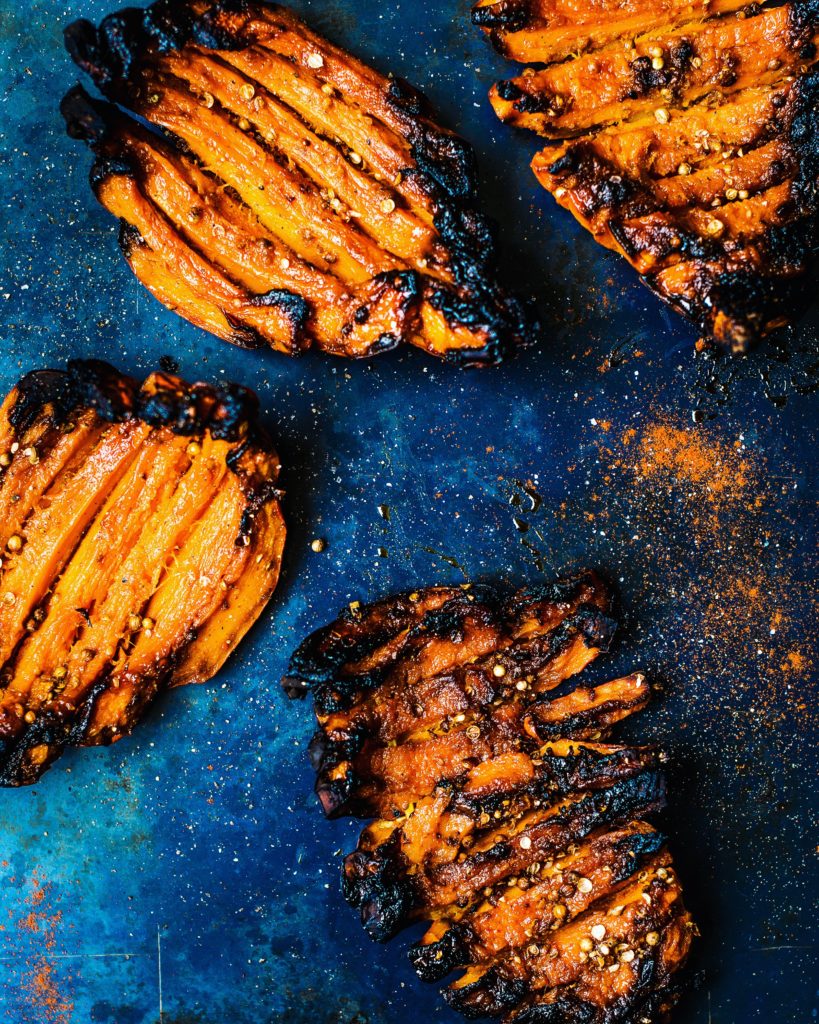 Serves 4
INGREDIENTS
1 big Hokkaido pumpkin
4 tbsp maple syrup
2 tbsp soy sauce or shoyu
2 tbsp olive oil
2 tsp balsamic vinegar
1 tsp garlic powder
1 tsp onion powder
1/2 tsp curry powder
as much chili powder as you can handle
course salt and freshly grated pepper to taste
1 tbsp slightly crushed coriander seeds
INSTRUCTIONS
Preheat the oven to 225 C/435 F. Wash the pumpkin. Put the whole pumpkin in the oven for ca. 15 minutes. This will soften the pumpkin just a bit which will make the carving easier later on.
 In the meantime, make the glaze by mixing maple syrup, soy sauce, olive oil, vinegar, garlic powder, onion powder, curry powder and chili. 
Take the pumpkin out of the oven and cut into 4 pieces. Get rid of the seeds and seed lists. Carve 1 cm ribbons into each pumpkin part. Do not cut through the skin, the skin will hold the piece together. Brush some of the glaze onto the pumpkin pieces and put in the oven. Bake for ca. 10 minutes. Then repeat the glazing and put back into the oven again. After 10 minutes, repeat this step plus scatter some salt, pepper and the coriander seeds onto the 'racks' before placing the racks into the oven for the last time. When they look nicely roasted and sticky they are done!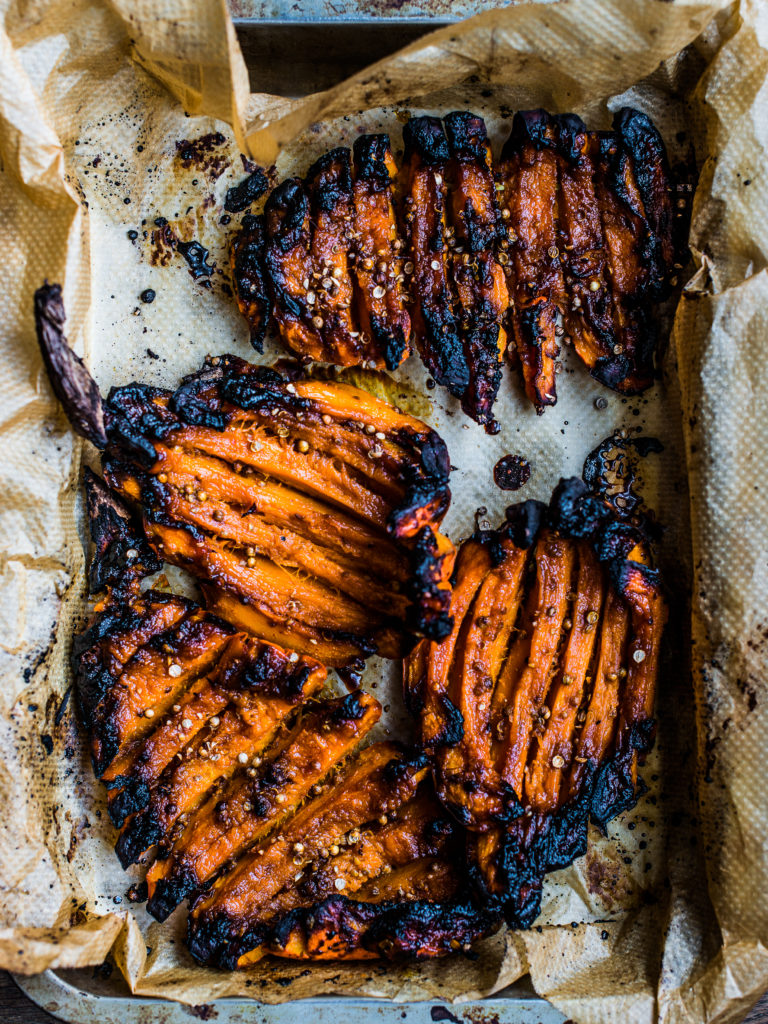 ---
PUMPKIN RACK ROAST
Het is onzin om een dier te slachten als je een 'rack' op je bord wilt of voor wat dan ook. Hak gewoon een pompoen aan gort – liefdevol dat wel ;-). Door de snijtechniek verander je deze groente zo in een ribbige hap. Serveer bijvoorbeeld met een (rucola) salade en granen- of bonengerecht of aardappelstamppot voor een volwaardige maaltijd.
Voor 4 personen
INGREDIENTEN
1 grote Hokkaido pompoen
4 el ahornsiroop
2 el sojasaus of shoyu
2 el olijfolie
2 tl balsamico azijn
1 tl knoflookpoeder
1 tl uienpoeder
1/2 tl kerriepoeder
zoveel chilipoeder als je aankunt
grof zout en versgemalen peper naar smaak
1 el gebroken korianderzaad
BEREIDING
Verwarm de oven voor op 225 graden C. Boen de pompoen schoon. Leg hem kort in zijn geheel in de oven (ca. 15 minuten), zodat hij wat zachter wordt. Dit maakt het snijden straks makkelijker.
 Maak ondertussen een 'glaceersaus' door ahornsiroop, sojasaus, olijfolie, balsamico, knoflookpoeder, uienpoeder, kerriepoeder en chilipoeder door elkaar te kloppen. 
Haal de pompoen uit de oven. Snijd in kwarten. Haal de zaden en zaadlijsten eruit. Snijd elk stuk in met 'ribben' van ca. 1 cm breed, maar snijd niet helemaal door de schil heen. Zo blijven de stukken een geheel. Kwast de stukken in met de saus (bewaar de rest van de saus voor later). Rooster ca. 10 minuten. Haal de pompoenstukken uit de oven en kwast ze nogmaals in met de saus. Rooster weer 10 minuten. Herhaal dit proces nog een keer en bestrooi nu ook zout, peper en korianderzaad. Als het goed is heb je na deze laatste 10 minuten lekkere chewy 'racks' met een flinke 'char'.