Celebrate fall with this irresistible pumpkin drink. It will certainly please you with creamy goodness and warming spices. To make it extra festive and badass, add a splash of dark rum or bourbon whiskey!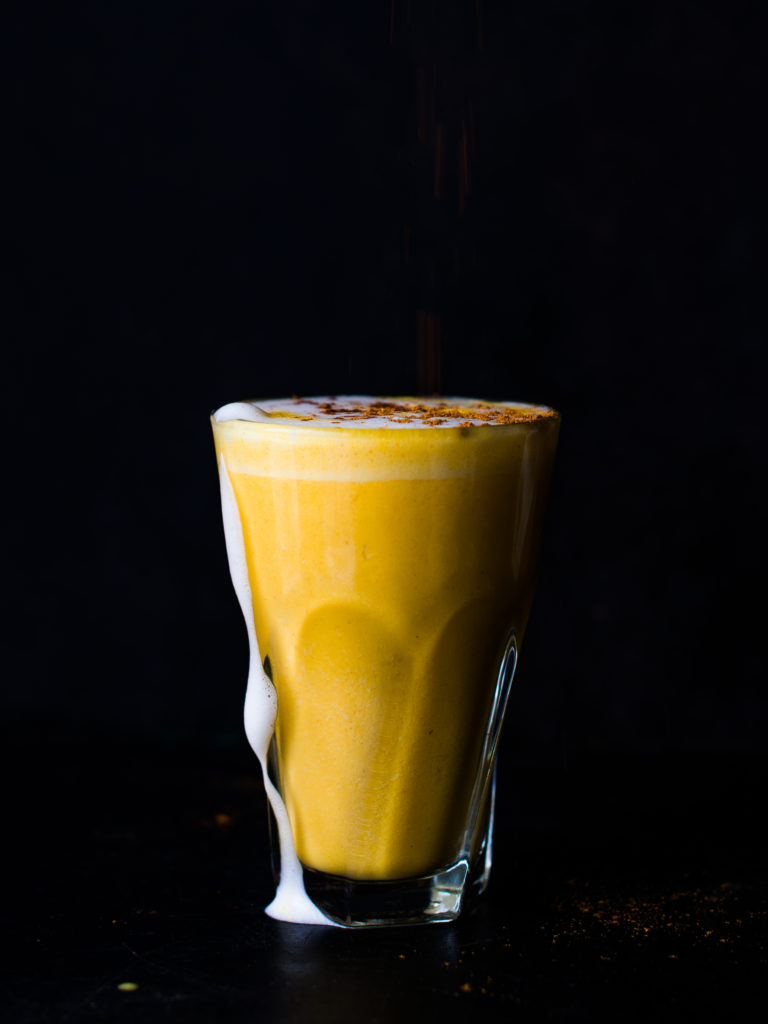 Serves 2
INGREDIENTS
250 g pumpkin, diced and cooked (e.g. butternut squash – this has to be peeled first or Hokkaido which does not have to be peeled)
100 ml (1/3 cup) oat cream (Oatly is highly recommended)
150 ml (2/3 cup) oat drink (Oatly Whole (fresh) or Oatly Barista is recommended)
1 tsp mixed spice
1 cm freshly grated ginger
4 tbsp maple syrup
6 ice cubes
optional for all you badasses: a splash of dark rum or bourbon whiskey
optional for serving: vegan whipped cream or foamed oat milk
INSTRUCTIONS
Put the pumpkin in a blender with oat cream, oat drink, mixed spice, ginger and maple syrup. Blend on high speed until nice and smooth. Divide over two tumbler or long drink glasses and serve with the ice cubes, and optionally booze it up with the liquor of your choice. For a really decadent drink add some vegan whipped cream or foamed oat milk and some extra mixed spice.
---
PUMPKIN SPICE NOG
Heerlijk die herfst! Dit recept jaagt de rijke smaken van dit seizoen op in een dikke, romige drank. Maak hem extra badass door een scheut bruine rum of bourbon whiskey toe te voegen.
Voor 2 personen
INGREDIENTEN
250 g pompoen, in blokjes en gekookt (bijv. Hokkaido, deze kan ongeschild. Flespompoen kan ook, deze moet wel geschild worden)
100 ml haverroom (tip: voor beste resultaat kies Oatly)
150 ml haverdrink (tip: voor beste resultaat kies Oatly Whole of Barista)
1 tl speculaaskruiden
1 cm verse gember, geraspt
4 el ahornsiroop
6 ijsblokjes
optioneel voor de badasses: een scheut donkere rum of bourbon whiskey
optioneel voor serveren: vegan slagroom of opgeklopte warme havermelk en wat extra speculaaskruiden
BEREIDING
Doe de pompoen met haverroom, haverdrink, speculaaskruiden, gember en ahornsiroop in een blender. Blend op hoge snelheid tot een gladde smoothie-achtige substantie. Verdeel over 2 grote glazen en serveer met de ijsblokjes en eventueel met een scheut drank, slagroom en wat extra kruiden.