Although we are still in the middle of the winter, it feels like spring every other day and that is why we felt a craving for a light and crispy curry stuffed with leafy greens and fresh flavours. And yes, we know we promised over at MAN.EAT.PLANT. never to do a bowl of green food on a white background. But given the fact that we aren't crazy about (even our own) rules and conventions we did a delicious bowl full of green food on a light background anyway. The comfort food box is checked though, we made sure of that.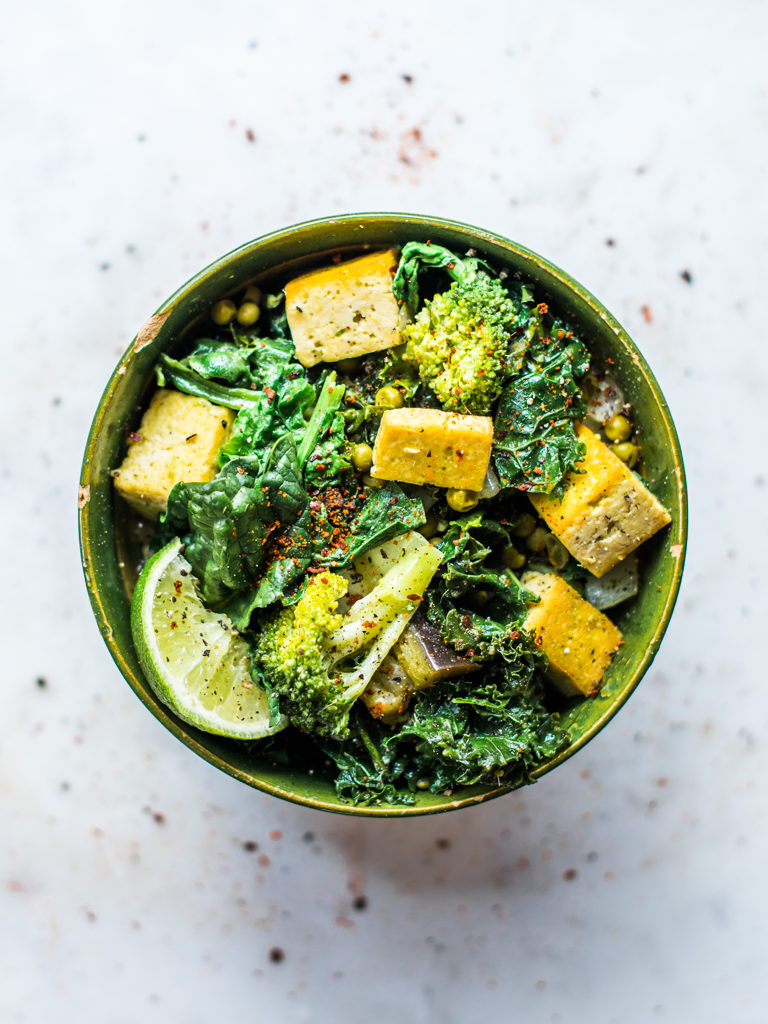 Serves 4
INGREDIENTS
3 garlic cloves, peeled
a piece of ginger, ca. 3 cm
1 bunch of thai basil (or coriander or normal basil + a pinch of star anise powder)
1 tsp salt
4 tbsp wok oil
500 g tofu, cut into cubes
1 eggplant, cut into cubes
2 shallots, peeled and sliced
5 broccoli florets, quartered
4 stems curly kale, cut into strips (rough parts (stems) removed)
1 stick lemongrass
400 ml coconut milk
4 stems bok choy, cut into strips
2 handfuls of garden peas
200 g spinach
salt and black or chili pepper to taste
optional: lime
INSTRUCTIONS
Puree for the curry paste garlic, ginger, basil and salt together in a blender. Set aside.
Heat 2 tbsp of oil in a wok or frying pan. Fry the tofu until cubes start to brown slightly. Take the cubes out of the pan. Add 2 tbsp oil and fry eggplant cubes until they start to colour. Add shallots and fry along until translucent. Add broccoli and curly kale as well as the curry paste. Next split the lemongress and add together with the tofu cubes and coconut milk to the veggies and let simmer for a few minutes. Then add bok choy, garden peas and spinach and let simmer very shortly until the spinach has shrunken. Taste and season with salt and pepper (black or chili pepper, whatever you like most). Serve with white rice. If you like some acidity, it's nice to serve this curry with a wedge of lime so you can squeeze the juice onto your food.
---
VEG BOMBED GREEN CURRY
Hoewel we nog midden in de winter zitten, voelt het om de andere dag als lente en daarom hadden we zo'n zin in een lichte, knapperige curry volgestopt met bladgroenten en frisse smaken. En jaja, we hebben beloofd dat we met MAN.EAT.PLANT. nooit een bowl groenvoer op een witte achtergrond zouden doen. Maar wars dat we zijn van (zelfs onze eigen) regels en conventies hierbij toch een heerlijke kom vol groenvoer op een lichte achtergrond. Echter weer net zo vol van smaak, textuur en comfort als je van ons gewend bent!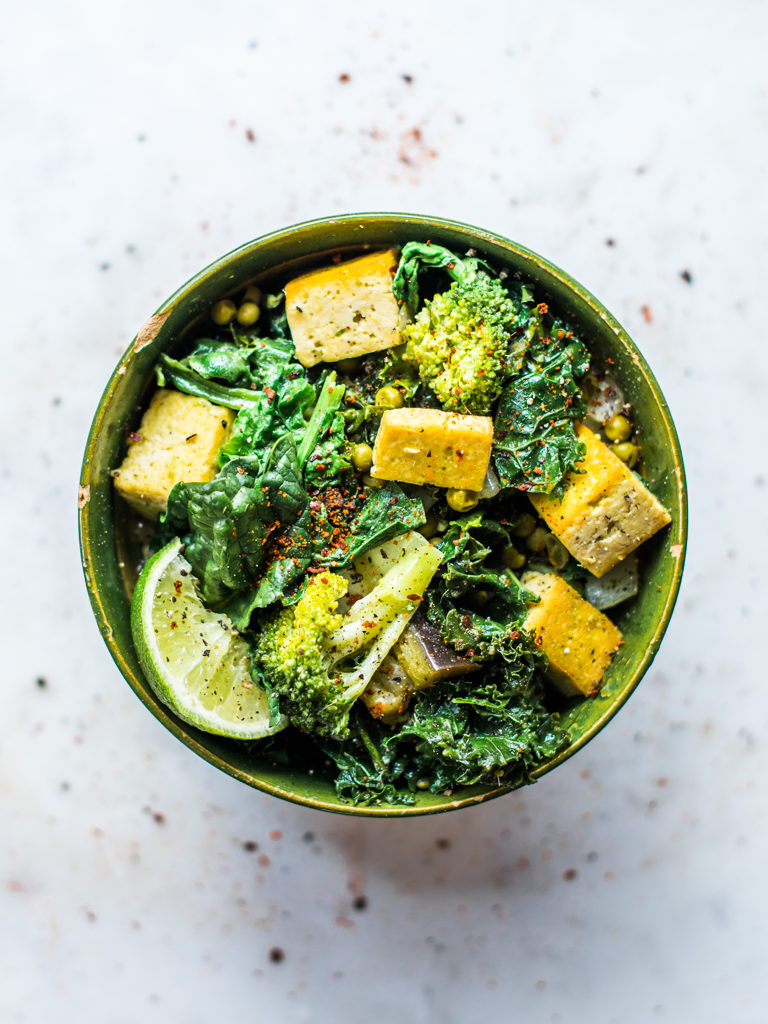 Voor 4 personen
INGREDIENTEN
3 tenen knoflook, gepeld
een stukje gember, ca. 3 cm
1 bosje Thaise basilicum (of koriander of normale basilicum + een snufje steranijs poeder)
1 tl zout
4 el wokolie
500 g tofu, in blokjes gesneden
1 aubergine, in blokjes gesneden
2 sjalotten, geschild en in dunne ringen
5 broccoliroosjes, in vieren
4 stengels boerenkool, in reepjes gesneden (harde delen (stengels) verwijderd)
1 stengel citroengras
400 ml kokosmelk
4 stengels paksoi, in reepjes gesneden
2 handenvol doperwten
200 g spinazie
zout en zwarte of chili peper naar smaak
optioneel: limoen
BEREIDING
Begin met het maken van een currypasta. Pureer hiervoor de knoflook, gember, basilicum en zout samen in een blender.
Verhit 2 el olie in een wok of koekenpan. Bak de tofu tot de blokjes een beetje bruin beginnen te worden. Haal de blokjes uit de pan. Voeg 2 el olie toe en bak de aubergine blokjes tot ze beginnen te kleuren. Voeg sjalotten toe en bak mee tot ze doorzichtig zijn. Voeg broccoli en boerenkool toe, evenals de currypasta. Split vervolgens de citroengras en voeg samen met de tofublokjes en kokosmelk toe aan de groente en laat enkele minuten sudderen. Voeg dan de paksoi, doperwten en spinazie toe en laat kort sudderen totdat de spinazie is geslonken. Proef en breng op smaak met zout en peper (zwarte of chili peper, wat je het lekkerst vindt). Serveer met witte rijst. Als je wat zuur wilt toevoegen, kun je deze curry serveren met een schijfje limoen zodat je het sap over het gerecht kunt sprenkelen.