Get starstrucked and a bit tipsy with this shining chocolate cake with home made golden advocaat (sort of a Dutch egg nog). Expect intense, sophisticated and cosmic flavours and a wel deserved chocolate overdose.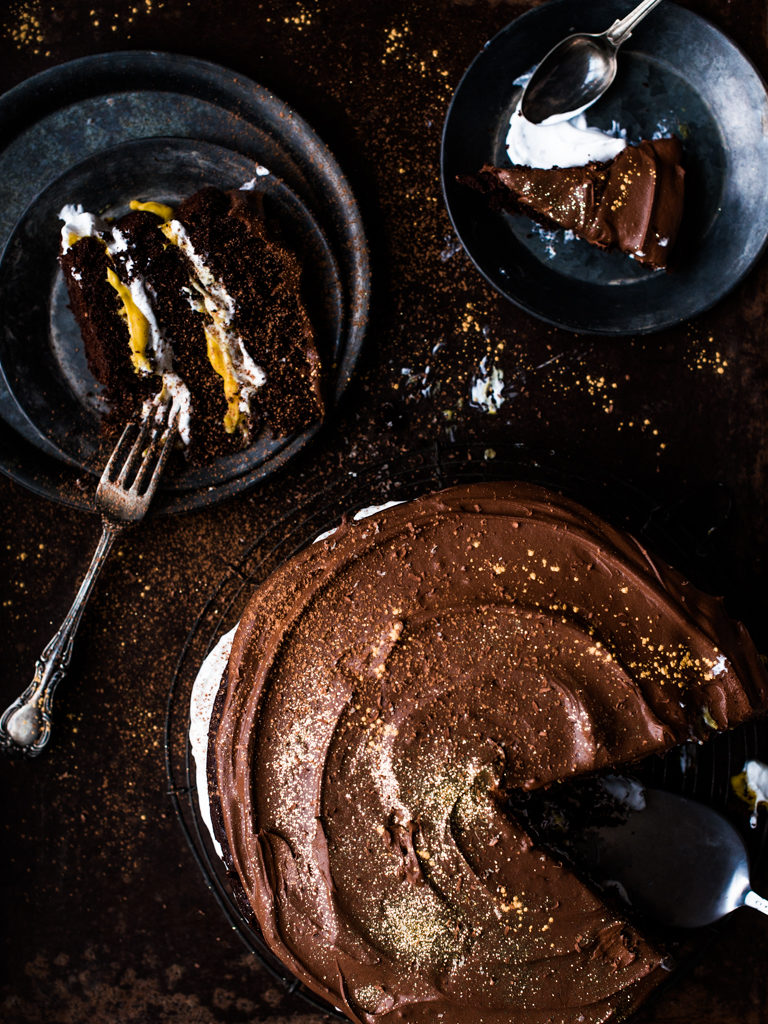 For 1 large cake!
INGREDIENTS
Cake
350 g (2 1/2 cups) all purpose flour
125 g (1 cup) Fairtrade cacao powder
250 g (1 cup) Fairtrade raw cane sugar
1 tsp vanilla extract
1/2 tsp salt
20 g (4 levelled tsp) baking powder
150 ml strong coffee
175 ml rice oil
375 ml rice milk
Golden milk advocaat
400 ml Fairtrade coconut milk
1 cm fresh turmeric, sliced (or 1/4 tsp turmeric powder)
2 cm fresh ginger, sliced
1 star anise
1 cinnamon stick
3 cardamom pods, crushed
zest of 1/2 organic orange
1 vanilla pod, marrow scraped out
40 g (1/3 cup) cornstarch, plus some cold water
25 g (2 tbsp) sugar
75 ml (1/3) cup rum
Whipped cream
250 ml vegan whipping cream
2 tbsp sugar
1 tbsp lemon juice
Ganache
100 g Fairtrade vegan dark chocolate
150 ml Fairtrade coconut milk
Decoration
edible gold powder or luster dust
edible golden glitter
INSTRUCTIONS
Cake
Preheat oven to 175 C/350 F. Prepare 3 shallow cake molds (ca. 23 cm diameter), with baking parchment, or grease them with some plant based butter. Mix dry ingredients in big bowl. Mix all wet ones in another bowl or jar. Add wet ingredients to dry ones and fold in with spatula. Don't over mix. Divide batter over 3 molds and bake in 25 min or until a skewer poked in the center comes out clean.
Golden milk advocaat
Put coconut milk, turmeric, ginger, star anise, cinnamon, cardamom, zest and vanilla (seeds and pod) in sauce pan and bring a the boil. Turn heat low and let simmer for ca. 15 min, lid on. You don't want the milk to evaporate. Sieve milk and put back in pan. Dissolve cornstarch in some cold water with sugar. Add to milk in the pan whilst stirring. The mixture will start to thicken now. Cook on low heat for a few minutes whilst constantly stirring. Let mixture cool down. When cooled down, add rum. Puree with a stick blender into a smooth substance.
Whipped cream
Whip whipping cream with sugar and lemon juice to stiff peaks.
Ganache
Chop chocolate in small pieces and put in heat proof bowl. Bring coconut milk to a boil on low heat and pour over chocolate. Stir every now and then until chocolate has melted into the milk. Let cool down a bit so it gets a bit thicker, but don't let it cool down completely because it gets too stiff to spread.
To serve
Remove cakes from molds and place one cake on a beautiful plate. Spread with 1/2 part of golden milk advocaat. Add half of the whipped cream. Cover with another layer of cake and repeat steps. Cover with last layer of cake and spread ganache on top. Decorate with luster dust, dusted with the aid of a small sieve and add some glitter too.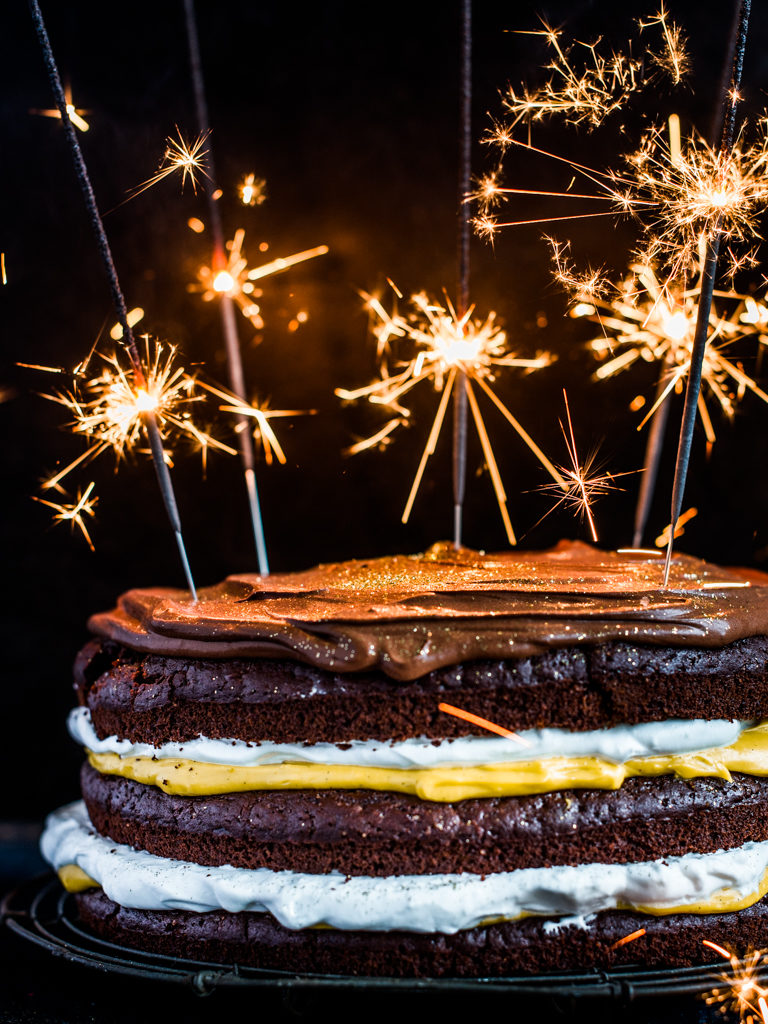 ---
GOLD DUST CHOCOLATE CAKE
Warm gele crème verrijkt met kurkuma, diep donkere chocolade taart en glinsterende gouden sprinkles maken deze bijzondere drie-laagse vegan taart een wel heel sprankelend spektakel op een feestelijke desserttafel.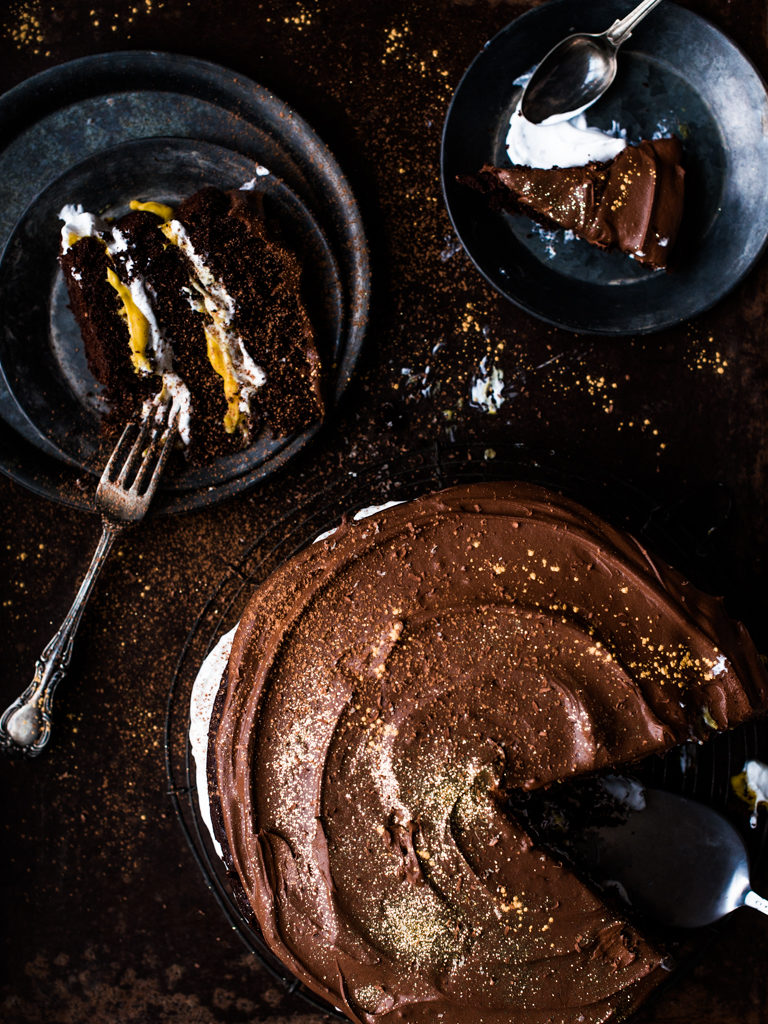 Voor 1 grote taart
INGREDIËNTEN
Taart
350 g bloem
125 g Fairtrade cacaopoeder
250 g Fairtrade ruwe rietsuiker
1 zakje bourbon vanillesuiker
1/2 tl zout
20 g bakpoeder (ca 2,5 tl)
150 ml sterke koffie of espresso
175 ml rijstolie
375 ml rijstmelk
Golden milk advocaat
400 ml Fairtrade kokosmelk
verse kurkuma van ca. 1 cm, in schijfjes (of 1/4 tl gedroogde kurkuma)
verse gember van ca. 2 cm, in schijfjes
1 steranijs
1 kaneelpijpje
3 kardemom peulen, licht gekneusd
schil van een halve biologische sinaasappel, alleen het oranje gedeelte
1 vanille peul, merg eruit geschraapt
40 g maizena + een scheutje koud water
25 g suiker
75 ml rum
Slagroom
1 pakje Alpro slagroom
2 el suiker
1 el citroensap
Ganache
100 g Fairtrade vegan pure chocolade
150 ml Fairtrade kokosmelk
Decoratie (verkrijgbaar bij bakwinkels of online)
eetbaar goudpoeder
eetbare gouden glitters
INSTRUCTIES
Taart
Verwarm de oven voor op 175 graden C. Bekleed 3 lage taartvormen van ca. 23 cm doorsnede met bakpapier, of vet ze in met plantaardige boter. Meng alle droge ingrediënten in een ruime beslagkom. Meng alle natte ingrediënten in een andere kom of maatbeker. Voeg de natte en droge ingrediënten samen en meng kort en goed door tot een egaal mengsel. Roer niet te veel, anders rijst de taart minder mooi. Verdeel het mengsel over de drie taartvormen en bak in ca. 25 minuten gaar. Laat de taarten afkoelen alvorens op te maken.
Golden milk advocaat
Doe kokosmelk, kurkuma, gember, steranijs, kaneel, kardemom, sinaasappelschil, vanillemerg en lege vanillepeul in een pan en breng zachtjes aan de kook. Zet een deksel op de pan en laat op laag vuur ca. 15 minuten zachtjes trekken. Zorg ervoor dat de melk niet verdampt. Zeef de melk en doe terug in de pan. Roer de maizena los met een scheutje water en de suiker. Voeg dit papje al roerend toe aan de kruidige kokosmelk. Het mengsel gaat nu binden. Kook nog enkele minuten zachtjes door onder voortdurend roeren. Doe het mengsel over in een bakje, dek af met huishoudfolie en laat afkoelen. Doe het mengsel vervolgens over in een mengbeker en voeg de rum toe. Pureer met een staafmixer tot een gladde, vla-achtige massa.
Slagroom
Klopt de slagroom stijf samen met de suiker en het citroensap.
Ganache
Hak de chocolade in kleine stukjes en doe over in een hittebestendige kom. Breng de kokosmelk aan de kook en giet zodra het kookt over de chocolade. Roer af en toe kort door tot de chocolade helemaal gesmolten is. Laat een klein beetje afkoelen (maar niet helemaal koud en stijf worden), zodat de ganache wat dikker wordt en makkelijk smeerbaar is.
Opmaak
Haal de taarten uit hun vorm en plaats een taart op een mooi bord. Besmeer deze taart met 1/2 van de golden milk advocaat. Breng vervolgens de helft van de slagroom hierop aan. Dek af met de tweede chocoladetaart en weer 1/2 deel van de advocaat en de slagroom. Dek vervolgens af met de laatste chocoladetaart en besmeer de bovenkant met de ganache. Decoreer de taart door er met een zeefje een mespuntje goudpoeder over te verdelen en verdeel er nog wat eetbare glitters over.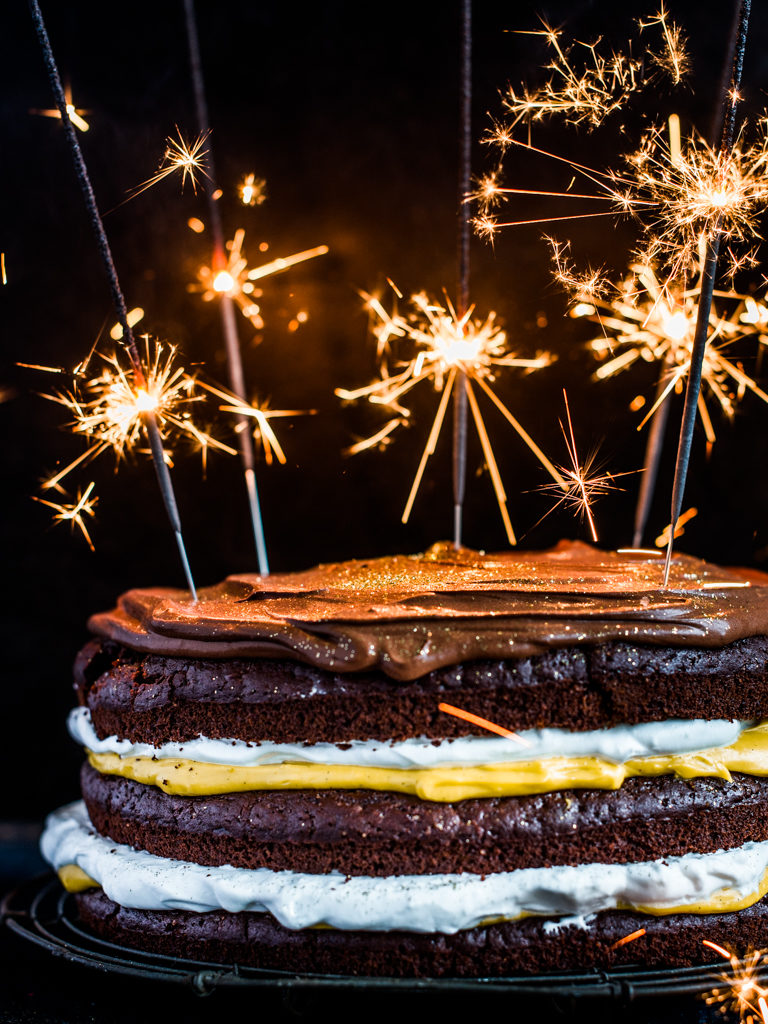 Noot: Deze recepten vloeien voort uit een bijzondere campagne van Stichting Max Havelaar:
Genieten van eerlijke chocolade tijdens de Feestdagen
Chocolade, wie houdt er niet van? In Nederland eten we jaarlijks wel 4,7 kilo chocolade per persoon. Ook tijdens de feestdagen genieten we van dit bruine 'goud'. Maar wist je ook dat cacao van miljoenen kleinschalige boeren komt? Ze leven vaak in extreme armoede en verdienen soms minder dan 0,67 euro per dag. Daardoor staan deze boeren voor grote uitdagingen. 'Hoe zorg ik voor voldoende eten?' 'Wie van mijn kinderen kan ik naar school sturen?' Om maar eens wat zorgen te noemen. En dan hebben we het nog niet eens over de impact van klimaatverandering op hun cacaoproductie.
Fairtrade werkt er hard aan om de positie van cacaoboeren te verbeteren. Cacaocoöperaties krijgen voor de cacao die ze onder Fairtrade voorwaarden verkopen ten minste de Fairtrade minimumprijs en een vaste premie. Dit geld investeren de boeren in productiemiddelen en trainingen, maar ook in betere gezondheidszorg en onderwijs voor hun kinderen. Stap voor stap kunnen zij zo werken aan een betere toekomst.
Let op bijgaand Fairtrade keurmerk tijdens het kopen van chocolade en dus ook bij de vegan chocolade in deze recepten. Dan weet je dat je een eerlijke keuze hebt gemaakt die bijdraagt aan het geluk van een ander. Op www.maxhavelaar.nl/eerlijkechocolade lees je welke eerlijke chocolade je waar kunt kopen. Voor deze recepten hebben wij gebruikt gemaakt van deze eerlijke chocolade, de vegan versies uiteraard.