Oliebollen are sort of a Dutch version of the American donut holes. The Dutch traditionally eat oliebollen at New Year's Eve. This special and epic version is made with sparkly apple cider. You may find yourself eating them by the dozen, so beware. Use a nice artisan yeasty cider for extra flavour.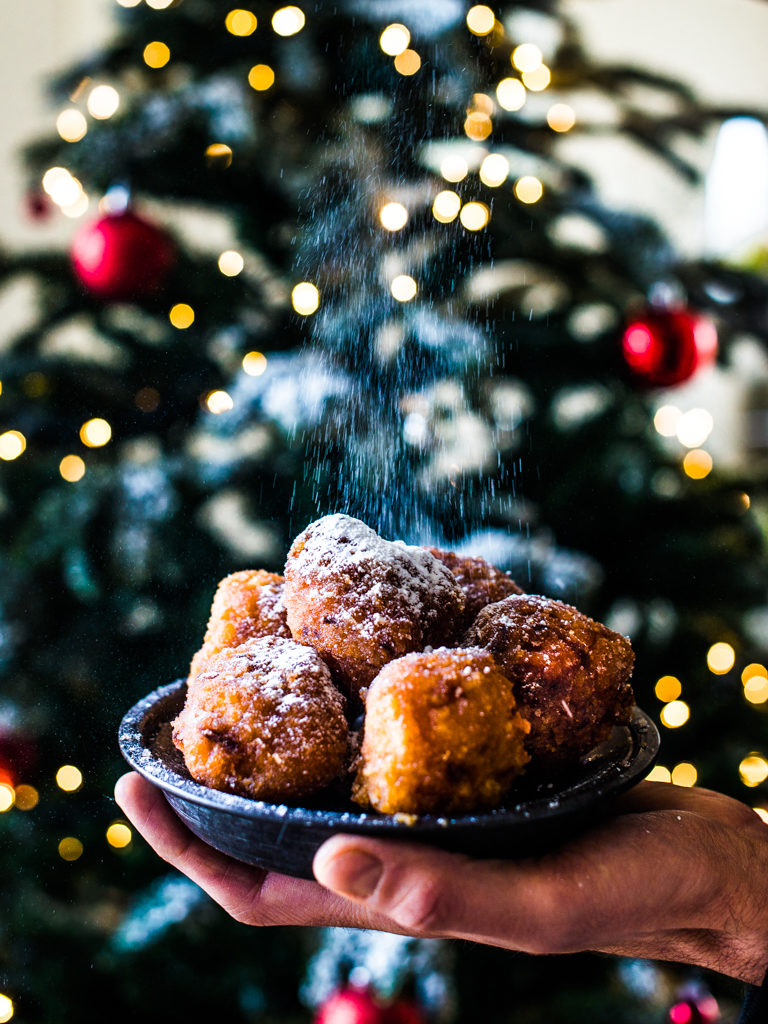 Makes ca. 20 balls
INGREDIENTS
oil for deep frying
400 g all purpose flour
40 g custard powder (or corn starch + 2 tsp vanilla extract)
1 tsp salt
1 tsp baking powder
1/2 tsp baking soda
70 g plant based butter, melted
300 ml apple cider
2 apples, peeled and grated (Dutch Goudrenet apples are delicious)
200 g fine sugar
1/2 tsp cinnamon
INSTRUCTIONS
Heat oil in a deep frying pan. Mix flour, custard, salt, baking powder and baking soda in a large bowl. Make a well in the center and add butter and cider to the well. Mix (with a wooden spoon) into a smooth batter. Stir in grated apple. Scoop an ice cream scoop in the hot oil and then in the batter. Scoop a ball of batter into the hot oil, fry until golden from the outside and fully cooked on the inside. Test. Adjust temperature of oil if needed. If batter browns too quickly and dough inside is still raw, lower temperature. If the ball is light in colour and oily, raise temperature. Scoop all the dough balls into the oil, but don't crowd them. Fry in batches. In the meantime mix sugar with cinnamon. When a batch is done, remove from oil and drain on paper towels. Coat drained balls with cinnamon sugar when still hot. Serve straight away.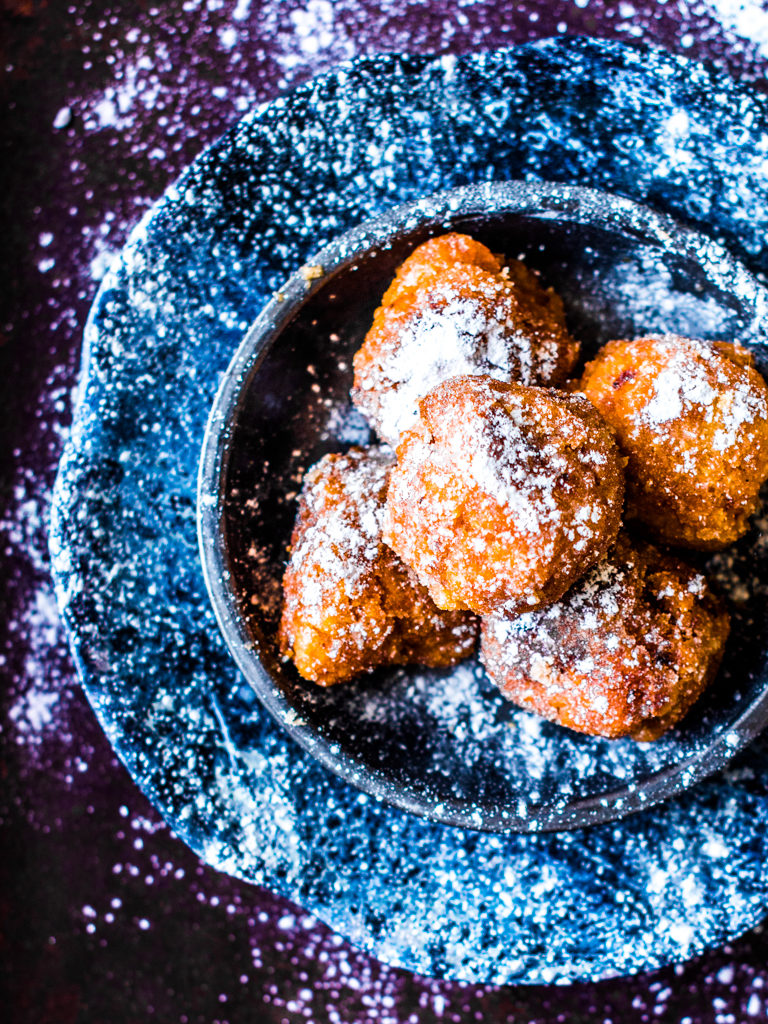 ---
APPELCIDER OLIEBOLLEN

Weer eens wat anders dan de standaard oliebol, en niet te versmaden! Hiervan schrok je zo een hele schaal op. Dus je bent gewaarschuwd! Neem een lekkere 'yeasty' appelcider voor een diepere smaak.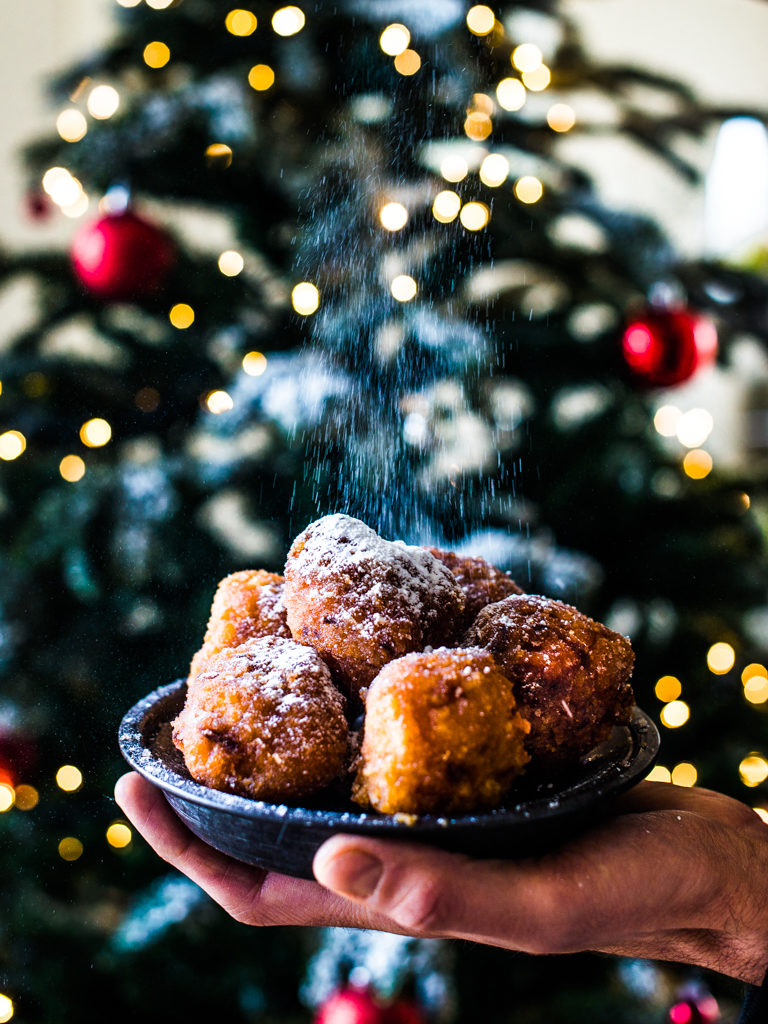 Voor ca. 20 stuks
INGREDIËNTEN
olie om in te frituren
400 g bloem
40 g custardpoeder
1 tl zout
1 tl bakpoeder
1/2 tl baksoda
70 g plantaardige boter, gesmolten
300 ml appelcider (bij voorkeur een ambachtelijke 'yeasty' cider, neem liever geen zoete troep!)
2 Goudrenetten, geschild en grof geraspt op een blokrasp
200 g fijne suiker
1/2 tl kaneel
INSTRUCTIES
Verhit olie in een frituurpan. Meng bloem, custard, zout, bakpoeder en -soda in een ruime kom. Maak een kuil in het midden en voeg de boter en cider toe. Roer tot een redelijk glad beslag. Voeg geraspte appel toe en meng erdoor. Schep een ijsschep in de hete olie en schep vervolgens in het beslag. Schep 1 ijsschep vol beslag in de hete olie en frituur aan beide zijden goudbruin en gaar van binnen. Test de eerste bol op gaarheid en pas de temperatuur zo nodig aan (wat lager als de bol snel bruint en niet gaar van binnen is en wat hoger als de bol licht blijft en veel olie opneemt). Bak vervolgens het beslag op, maar in batches zodat de oliebollen elkaar niet verdrukken. Meng ondertussen suiker met kaneel. Verwijder de bollen uit de olie zodra ze klaar zijn en laat even uitlekken op keukenpapier. Rol de nog warme bollen door de kaneelsuiker. Verorber direct!
*Vind hier nog een heerlijk en simpel recept voor vegan oliebollen.