HAPPY HALLOWEEN! Looking for a treat to scare the hell out of your friends and family? Try these creepy fingers, which are actually delicious almond cookies. They're easy to make but the presentation is dramatically gruesome. Try them . . IF YOU DARE.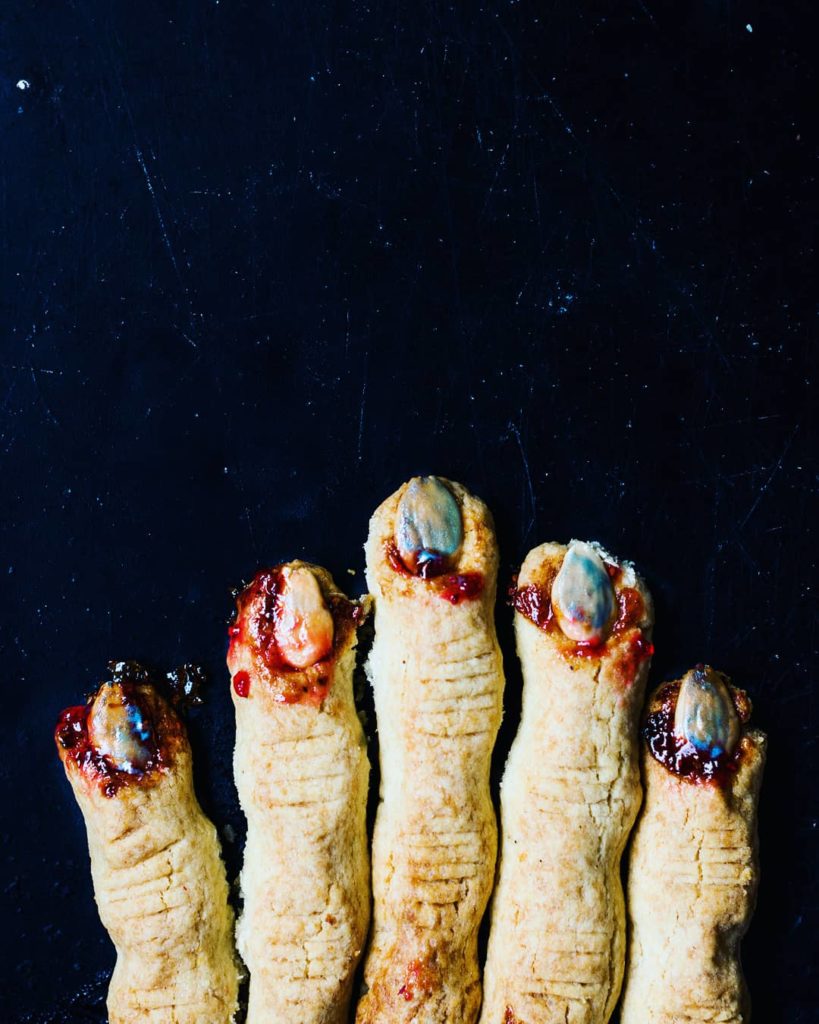 For ca. 25 fingers
INGREDIENTS
300 g (2 cups) plain flour
100 g (1 cup) almond flour
100 g (1 cup) fine granulated sugar
1/2 tsp salt
200 g ( 7/8 cup or 2 sticks) vegan margarine, cut in small cubes
1 tsp real vanilla extract
1 tsp real almond extract
1-2 tbsp water
ca. 25 blanched almonds or almond halves
raspberry jam
for extra dramatic effect: a dash of blue spirulina powder
INSTRUCTIONS
Preheat the oven to 175 C / 350 F.
Mix flour, almond flour, sugar and salt in a bowl. Add margarine and rub into the flour mixture with your fingertips. Add extracts and mix. DO NOT KNEAD! Kneading will develop too many gluten 'strands', which can make the cookies too tough. Add 1 tablespoon of water and if the dough is too dry, add a bit more water. The trick is to create a dough using your fingertips without really taking the dough into your hands and knead it. This will make all the difference and create beautiful shortbread like and brittle cookies.
Shape the dough into ca. 25 finger-shaped cookies. Dip the almonds in jam and place them onto the fingers like nails. Also add some jam around the almonds. Bake for 15-20 minutes or until golden brown and crispy.
For extra dramatic effect: mix a dash of blue spirulina powder with water and brush onto the almond nails while still hot.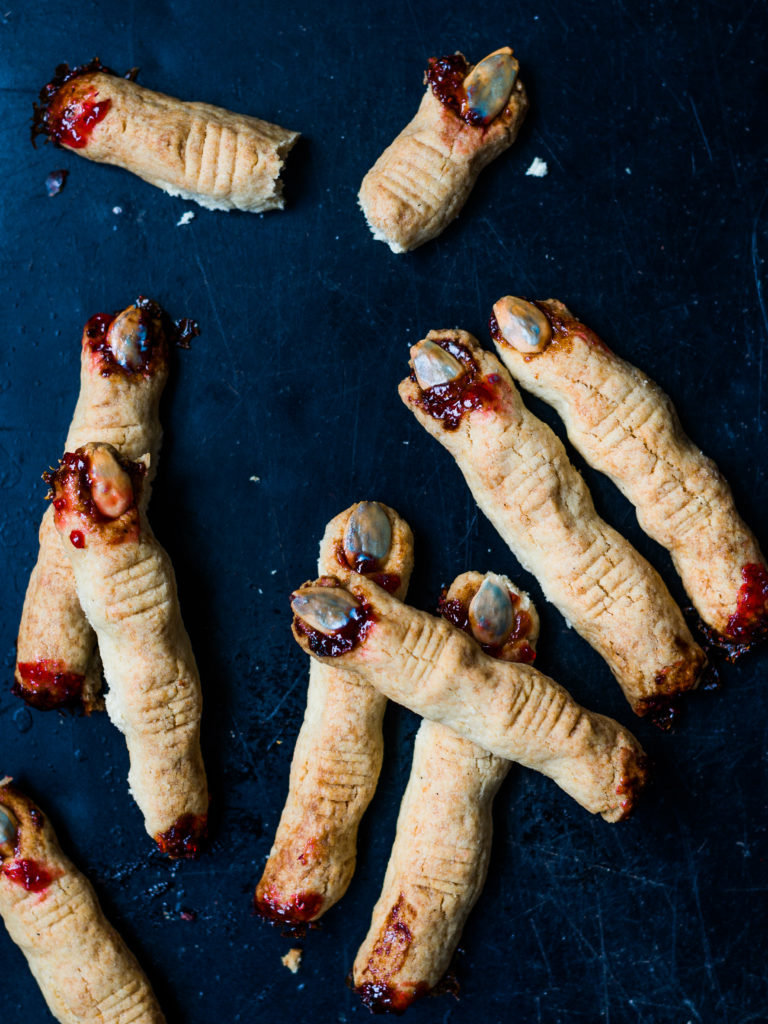 ---
HUIVERINGWEKKENDE HEKSENVINGERS
HAPPY HALLOWEEN! Ben je op zoek naar een gruwelijke traktatie om je familie en vrienden de stuipen op het lijf mee te jagen? Probeer dan deze griezelige heksenvingers, welke eigenlijk super lekkere en vredige amandelkoekjes zijn. Super eenvoudig te maken en dramatisch effect gegarandeerd!
Voor +/- 25 vingers
INGREDIENTEN
300 g tarwebloem
100 g amandelmeel
100 g fijne lichtbruine suiker
1/2 tl zout
1 zakje bourbon vanille suiker
200 g plantaardige bakboter, in blokjes
1 tl echte bitteramandelextract
1-2 el water
ca. 25 blanke amandelen of amandelhelften
frambozenjam
voor exta dramatisch effect: wat blauwe spirulinapoeder
BEREIDING
Verwarm de oven voor op 175 C.
Meng bloem, amandelmeel, suiker, zout en vanillesuiker in een kom. Voeg boter toe en wrijf met je vingertoppen door het mengsel. Voeg amandelextract en meng tot het een deeg vormt. NIET KNEDEN! Kneden zal teveel glutenstrengen ontwikkelen waardoor de koekjes taai kunnen worden. Voeg vervolgens 1 el water toe en als het deeg te droog blijft nog wat water. De trick is om een deeg te vormen met je vingertoppen zonder echt te kneden met je handen. Dit zal alle verschil maken en zorgen voor heerlijke, shortbread-achtige en brossige koekjes.
Vorm uit het deeg ca. 25 'vingers'. Dip de amandelen in frambozenjam en plaats ze op de vingers als nagels. Smeer ook wat jam rondom de amandelen. Bak de vingers 15-20 minuten, of tot ze goudbruin en gaar zijn.
Voor extra dramatisch effect: meng spirulinapoeder met een klein scheutje water en strijk over de amandelnagels als de vingers nog warm zijn.