A rich, delicious, gourmet chocolate cake with a raspberry sauce, lush vanilla cream and . . . seaweed! This gem of a recipe, from Lisette's cookbook Ocean Greens, gets a nutrition and flavor boost from its secret ingredient. Perfect for special occasions like birthdays, our FESTIVE CHOCOLATE CAKE takes a bit of effort, but we promise it's worth it!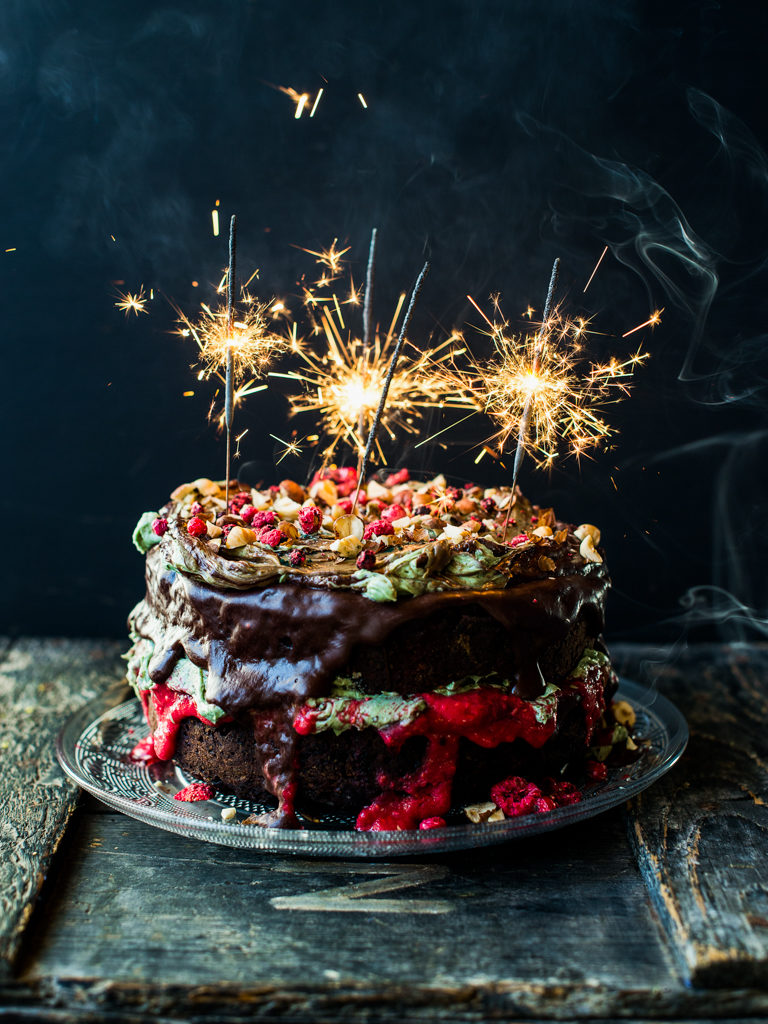 Serves 12
INGREDIENTS
Ganache
7 ounces (200 g) dark chocolate
1/2 cup (120 ml) almond or soy creamer
2 tbsp plant-based margarine, at room temperature
1 tbsp maple syrup
Chocolate Cake
1 tbsp ground flaxseeds
1/4 cup + 1 tbsp boiling water
3/4 cup (200 ml) soy yogurt
1/3 cup (100 ml) apple sauce
3 tbsp maple syrup
2 1/4 cup (275 g) spelt flour
1 cup (100 g) cocoa powder
1/2 cup (50 g) hazelnut flour (see tip)
1 tbsp baking powder
2 tbsp vanilla powder (or vanilla seeds from 2 beans)
1/2 tsp fine sea salt
zest of 1/2 lemon
1 sheet nori, crumbled in small pieces or 1 tbsp dried sea lettuce flakes
7 tbsp (200 g) plantbased margarine, at room temperature
1 cup (200 g) unrefined cane sugar
2 tbsp hot water
Vanilla Chlorella Crème
1 cup + 1 tbsp (225 g) plant-based margarine, at room temperature
2 cups (250 g) powdered sugar
2 tbsp almond, oat, rice or soy milk
2 tsp vanilla powder (or vanilla seeds from 2 beans)
zest of 1/4 lemon
1 heaping teaspoon chlorella powder
Raspberry Sauce
3/4 cup (100 g) fresh raspberries
Extra
1 1/4 cup (150 g) fresh raspberries
1/4 cup (35 g) unsalted raw hazelnuts
1/2 sheet nori, crumbled into small pieces or 1 heaping tsp dried sea lettuce flakes
coarse sea salt, for garnish
INSTRUCTIONS
Ganache
To make the ganache, break the chocolate into small pieces. Heat the creamer, margarine, and maple
syrup in a double boiler. Once the margarine has melted, remove the bowl from the pot of boiling water
to stop heating it. Add the chocolate pieces and stir until the chocolate has completely melted. Allow to
cool completely and stir before serving to loosen.
Chocolate Cake
Preheat the oven to 350°F (180°C). Grease a cake pan with margarine and dust with flour.
Put the flaxseeds in a cup or small bowl and mix with the boiling water. Let soak for 5 minutes.
Mix the soy yogurt, applesauce, and maple syrup in a bowl. In another bowl, combine the spelt flour,
cocoa powder, hazelnut flour, baking powder, vanilla powder, salt, lemon zest, and crumbled nori or flakes of sea lettuce.
Whisk the margarine in a bowl with a fork. Cream the margarine and sugar by beating with a mixer for
about 4 minutes until fluffy (you can also use a food processor). Add the applesauce mixture to the flour mixture and then add in the creamed margarine. Add the flaxseeds and hot water and stir until any lumps have dissolved but not any longer. It should be a firm batter. Pour into the greased pan and bake for 50 to 60 minutes, or until a knife slid into the middle comes out clean.
Remove the cake from the oven and allow to cool for about 10 minutes. Loosen the cake around the
edges with a knife and then carefully remove it from the pan. Let cool completely. Then carefully slice
the cake into two layers. Meanwhile, to make the chlorella
Vanilla Chlorella Crème
Beat the margarine in a bowl with a mixer at medium speed. Beat in the powdered sugar little by little. Increase the mixing speed and beat the margarine for about 2 minutes. Add the almond milk, vanilla, and lemon zest. Beat at high speed for 4 minutes until the sugar is completely blended into the margarine and the crème is light and creamy (you can also do this in a food processor).
Raspberry Sauce
Puree the raspberries into a smooth red sauce.
To assemble the cake
Toast the hazelnuts in a skillet until golden brown. The skin may stay on. Chop coarsely.
You now have three beautiful sauces to decorate the cake with: the ganache, the chlorella crème,
and the raspberry sauce. It's up to you to make it beautiful. One method is to spread one half of the
cake with raspberry sauce and scoop a thick layer of ganache on top. Swirl some of the chlorella crème
on top. Place the other half of the cake on top. Spread the remaining ganache over the entire cake.
Swirl some chlorella crème on top and garnish with roasted hazelnuts, the remaining raspberries, and
crumbled nori or sea lettuce. Sprinkle with a little bit of coarse sea salt.
TIP: You can make your own hazelnut flour by finely grinding unsalted, raw hazelnuts in a food processor.
NOTE: This recipe is from the book Ocean Greens, a beautifully photographed, innovative guide to edible seaweed and sea vegetables with vegan recipes—for your health and the planet's. So brush up on your knowledge on seaweed and learn how to cook with this green pearl of the sea.
---
FEESTELIJKE CHOCOLADE & ZEEWIER TAART
Een rijke, heerlijke, gastronomische chocoladetaart met een frambozensaus, weelderige vanilleroom en. . . zeewier! Dit juweeltje van een recept, uit Lisette's kookboek Groente uit Zee, krijgt een voedings- en smaakboost van zijn geheime ingrediënt. Perfect voor speciale gelegenheden zoals verjaardagen, onze FEESTELIJKE CHOCOLADE & ZEEWIER TAART kost wat moeite, maar we beloven dat het het waard is!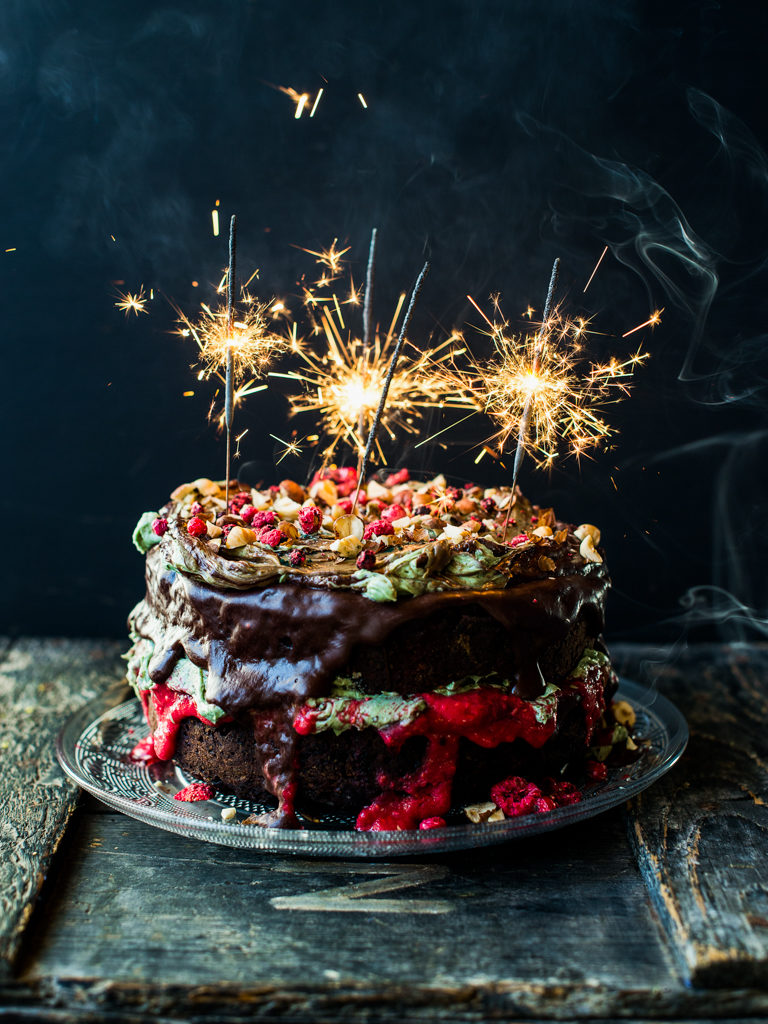 Voor +/- 12 punten
INGREDIENTEN
Ganache
200 g pure chocolade
120 ml amandel- of sojaroom
1 el ahornsiroop
2 el plantaardige margarine, op kamertemperatuur
Chocoladetaart
2 el gebroken lijnzaad
5 el kokend water
50 ml ahornsiroop
200 ml sojayoghurt
100 ml appelmoes
100 g cacaopoeder
275 g speltbloem
1 zakje bakpoeder
50 g hazelnootmeel*
rasp van ½ biologische citroen
2 tl vanillepoeder (of vanillemerg uit 2 peulen)
½ tl fijn zeezout
1 vel nori, verkruimeld in fijne vlokjes of 1 el gedroogde zeesla vlokken
200 g plantaardige margarine, op kamertemperatuur
200 g ongeraffineerde rietsuiker
2 el heet water
Vanille-chlorellacrème
225 g plantaardige margarine, op kamertemperatuur
250 g poedersuiker
2 el amandel-, haver-, rijstof sojamelk
2 tl vanillepoeder (of vanillemerg uit 2 peulen)
rasp van ¼ biologische citroen
1 flinke tl chlorellapoeder
Frambozensaus
100 g verse frambozen
Extra
150 g verse frambozen
35 g ongezouten en ongepelde hazelnoten
½ vel nori, verkruimeld in grove stukjes of 1 tl gedroogde zeesla vlokken
grof zeezout
BEREIDING
Ganache
Bereid om te beginnen de ganache. Breek hiervoor de chocolade in kleine stukjes. Verwarm amandelroom, ahornsiroop en margarine au bain-marie. Haal, wanneer de margarine is gesmolten, de schaal van de pan met kokend water. Voeg de stukjes chocolade toe en roer goed door, totdat de chocolade helemaal is gesmolten. Laat volledig afkoelen en roer los voor serveren.
Chocoladetaart
Verwarm de oven voor op 180 °C.
Vet een taartvorm in met plantaardige margarine en besprenkel met wat bloem.
Doe het lijnzaad in een kopje of kommetje en mix met het gekookte water. Laat 5 minuten wellen.
Meng ahornsiroop met sojayoghurt en appelmoes in een kom. Meng in een andere kom cacaopoeder met speltbloem, bakpoeder, hazelnootmeel, citroenrasp, vanillepoeder, zout en de verkruimelde nori of vlokjes zeesla.
Roer de margarine in een kom fijn met een vork. Doe hier de suiker bij en klop met een mixer ongeveer 4 minuten tot een luchtig geheel (dit kan ook in een keukenmachine). Roer het appelmoesmengsel door het bloemmengsel en roer hier het margarinemengsel doorheen. Voeg vervolgens het lijnzaadpapje en hete water toe en roer goed door totdat eventuele klontjes verdwenen zijn, maar roer niet te lang door. Het moet een stevig beslag zijn. Giet het beslag in de ingevette vorm en bak in 50 à 60 minuten gaar, of tot een mes in het midden gestoken er weer schoon uitkomt. Zet de oven uit, verwijder de taart uit de oven en laat ongeveer 10 minuten afkoelen. Maak de taart los van de randen met een mes en verwijder vervolgens voorzichtig uit de vorm. Laat volledig afkoelen. Snijd vervolgens de taart voorzichtig in de breedte doormidden.
Vanille-chlorellacrème
Klop met een mixer de margarine los in een kom. Klop daar voorzichtig beetje bij beetje de poedersuiker door. Zet de mixer vervolgens op een hogere stand en klop de crème ongeveer 2 minuten. Voeg amandelmelk, vanille en citroenrasp toe. Klop nogmaals op hoge snelheid, dit keer 4 minuten tot de suiker volledig is opgenomen door de margarine en de crème luchtig en romig is (dit alles kan ook in de keukenmachine).
Frambozensaus
Pureer de frambozen tot een gladde rode saus.
Maak op
Rooster de hazelnoten in de koekenpan tot goudbruin. De velletjes mogen eraan blijven zitten. Hak grof.
Je hebt nu 3 mooie sauzen om de taart mee te versieren: de ganache, de chlorellacrème en de frambozensaus. Maak er wat moois van. Besmeer bijvoorbeeld 1 deel taart met de frambozensaus en schep daarop een flinke laag ganache. Swirl hierin wat van de chlorellacrème. Plaats hierop de tweede laag. Besmeer de gehele taart met de overgebleven ganache. Swirl hier nog wat chlorellacrème overheen en maak af met de geroosterde hazelnoten, overige frambozen en snippers nori of zeesla. Bestrooi met een heel klein beetje grof zeezout.
* Tip: maak zelf hazelnootmeel door ongezouten, rauwe hazelnoten zeer fijn te malen in de
keukenmachine.
Noot: Dit recept komt uit het boek Groente uit Zee. In Groente uit Zee lees je alles over zeewier: over groei, de soorten en de samenstelling, tot informatie over voedingswaarde en bereidings- en aankoopadviezen. En natuurlijk kun je zelf aan de slag met 50 heerlijke plantaardige recepten. Dus schaaf nu je kennis bij over en leer koken met dat wonderderlijke groene goud uit de zee.