From the most elaborate centerpiece dishes to those comfort food classics that make you feel like home, anything you love to cook, we can do vegan. Our new SCRUMPTIOUS UNCHICKEN SOUP is the perfect example of this. Everyone needs a good chicken soup recipe, even vegans. And this one is the real deal, people! The flavor and texture are just like granny's old fashioned version. Perfect for brisk autumn weather and to boost your immune system! PS – we curated a special collection of fall recipes to enjoy this season. You can find them here.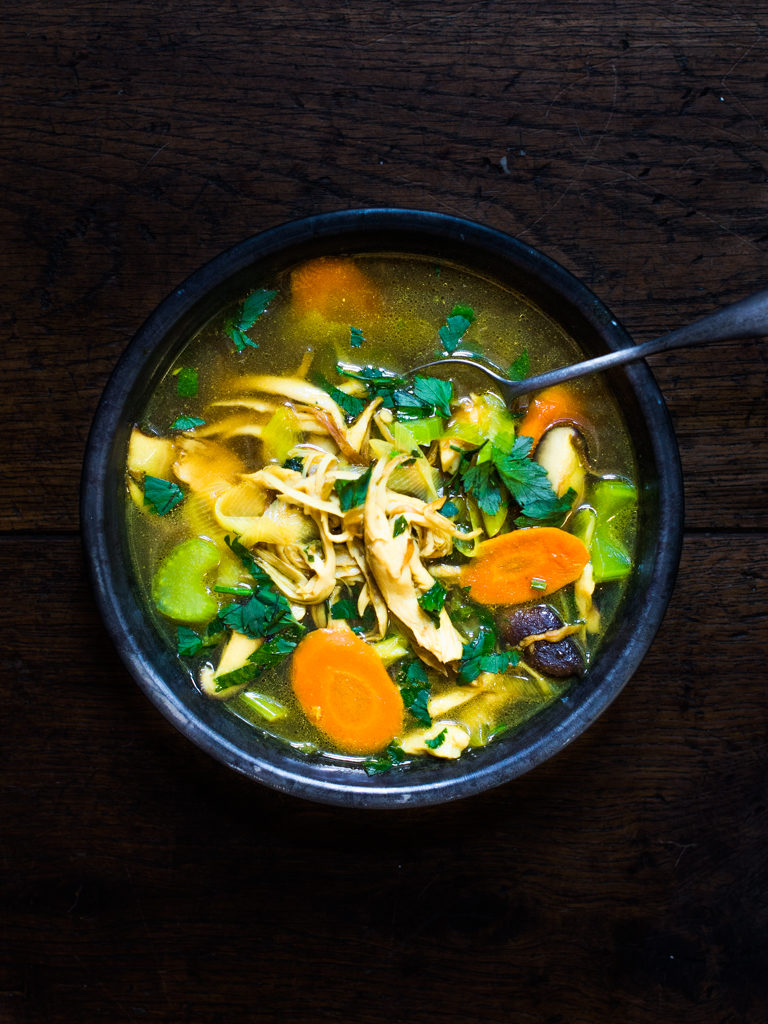 Yield: about 6 portions
INGREDIENTS
5 king oyster mushrooms
4 tbsp oil, preferably aromatic wok oil or extra virgin coconut oil (for maximum chickeny flavour!)
150 g (about 1.5 cups) shiitake mushrooms, sliced
1 level tsp curry powder
2 celery stalks, cleaned and sliced
2 medium carrots, peeled and sliced
1 large leek, cleaned and sliced
1 garlic clove, peeled and finely chopped
2 litres (8 cups) vegetable stock (homemade, quick miso broth or broth from organic bouillon cube/powder all are fine!)
INSTRUCTIONS
Shred mushrooms by 'combing' stems with a fork so it looks like pulled chicken. Heat oil in large pan. Add pulled mushrooms and fry on high heat. When they start to brown after a few minutes, add shiitakes and fry together. When all mushrooms have turned golden brown and slightly crispy, add curry powder and continue frying for a minute or so. Add all veggies and vegetable stock. Cook for about 15 minutes or until veggies are tender. Super easy, super delish and nutrient-dense!
---
SCRUMPTIOUS UNCHICKEN SOUP
Van de meest uitgebreide centerpiece gerechten tot de meest klassieke recepten, alles wat je graag kookt, kunnen wij veganiseren. Onze nieuwe SCRUMPTIOUS UNCHICKEN SOEP is hier het perfecte voorbeeld van. Iedereen heeft een goed kippensoeprecept nodig, zelfs vegans. En deze is echt de bomb, mensen! Smaak en textuur zijn net als oma's ouderwetse versie. Perfect voor stevig herfstweer en om je immuunsysteem te stimuleren! PS – we hebben een speciale verzameling herfstrecepten samengesteld om dit seizoen van te genieten. Deze vind je hier.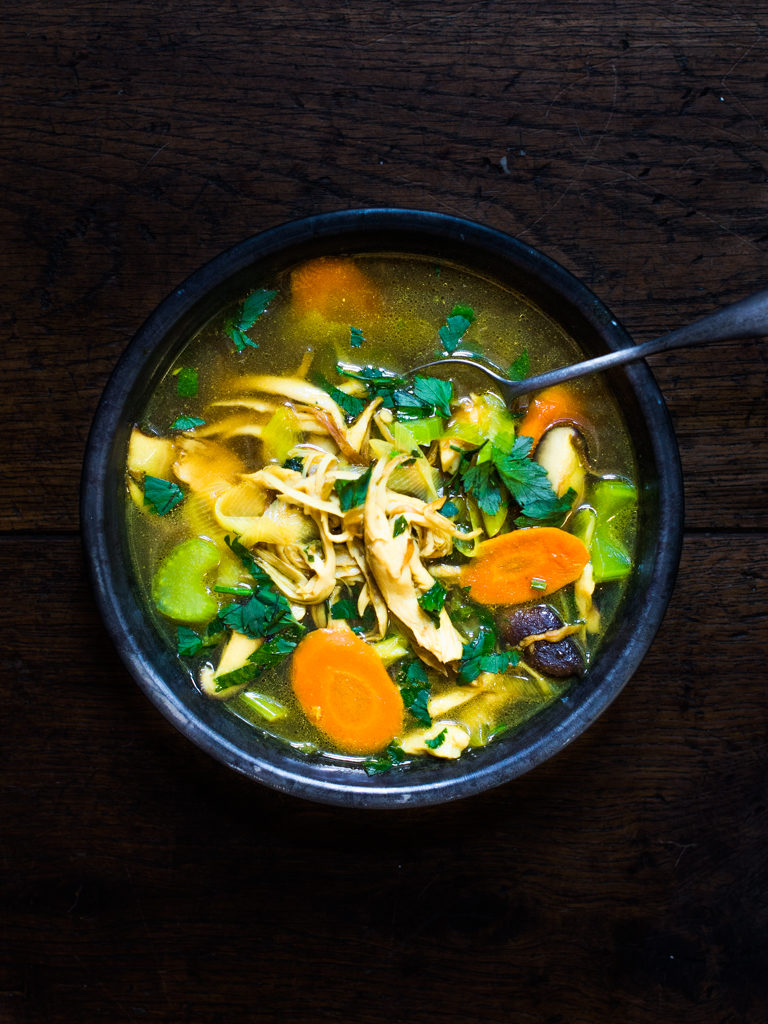 Voor ca. 6 porties
INGREDIENTEN
5 koningsoesterzwammen
4 el olie, bij voorkeur aromatische wokolie of extra virgin kokosolie (voor veel smaak!)
150 g shiitake paddenstoelen, in plakjes
1 afgestreken tl kerriepoeder
2 selderij stengels, schoongemaakt en in smalle reepjes
2 middelgrote winterpenen, geschild en in dunne plakjes
1 grote prei, schoongemaakt en in dunne reepjes
1 teen knoflook, gepeld en fijngehakt
2 liter groentebouillon (zelfgemaakt, een snelle miso bouillon of groentebouillon van tablet werken allemaal prima)
BEREIDINGSWIJZE
'Kam' koningsoesterzwammen uit met een vork zodat je een 'pulled chicken'-achtig product krijgt. Verhit olie in grote pan. Voeg gekamde paddenstoelen toe en bak op hoog vuur. Als ze beginnen te bruinen na een paar minuten, voeg dan shiitakes erbij en roerbak samen. Voeg zodra alle paddenstoelen goudbruin en knapperig zijn kerriepoeder toe en bak even mee. Voeg vervolgens alle groenten en bouillon toe. Kook voor ca. 15 minuten of tot groenten beetgaar zijn. Super makkelijk, super lekker en rijk aan goede voedingsstoffen!