These spring rolls are loaded with crunchy plant goodness, like cabbage, carrot, leek, mung bean noodles and shiitake mushrooms. Perfect with a homemade mango-chili sauce. Eat as a snack or as part of an asian style dinner like this super simple but very tasty Nasi Goreng.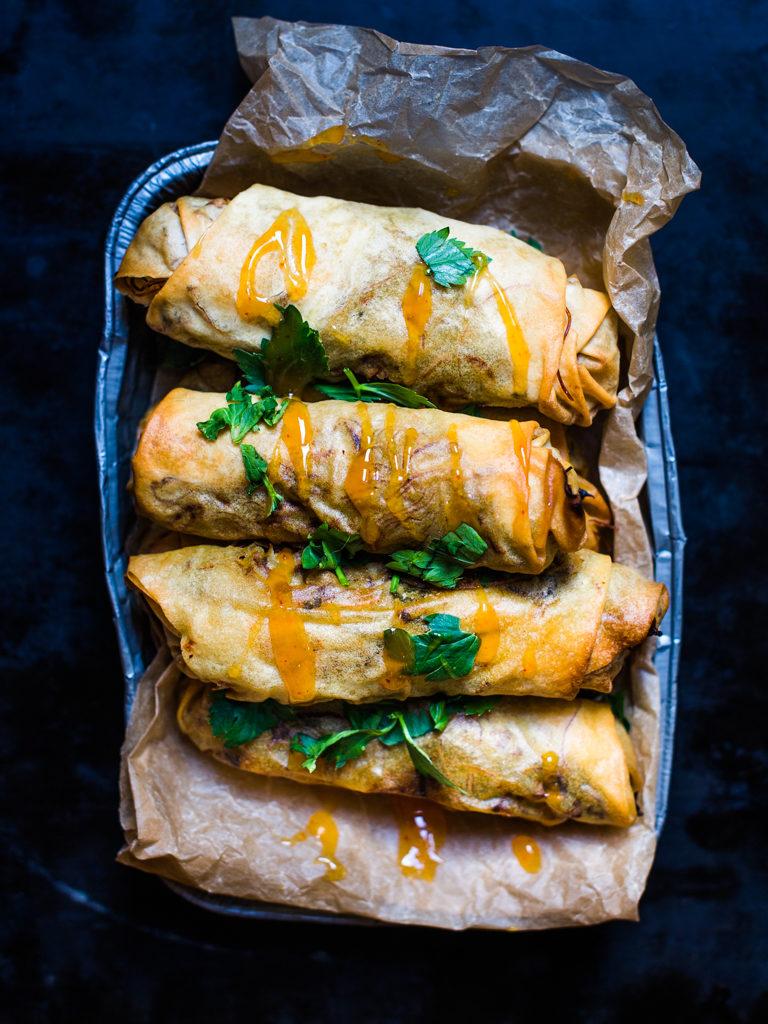 Serves 8 spring rolls
INGREDIENTS
Spring rolls 
100 g glass noodles (translucent mung bean noodles)
3 tbsp wok oil + extra for brushing
150 g shiitake mushrooms, sliced
¼ head cabbage (red or white), finely sliced
1 medium sized carrot, cut into small strips (julienne)
1 small leek, finely sliced
2 garlic cloves, peeled and finely chopped
1 tsp curry powder
4-5 tbsp soy sauce
8 spring roll sheets or phyllo pastry sheets
Sauce
1 cup mango juice
3 tbsp vinegar
2 tbsp sugar
15 g (1 tbsp) cornstarch, mixed with a few tbsp of the cold mango juice
1 tbsp sriracha
INSTRUCTIONS
Spring rolls
Cook noodles accordingly instructions on package. Drain when they are cooked properly. In the mean time, heat oil in large frying pan or wok. Add shiitake and fry until browned. Add cabbage, carrot and leek and fry along. Add garlic, curry powder and soy sauce. Turn off heat. Add noodles. Taste and adjust seasoning if needed.
Preheat oven to 200 C/400 F. Brush spring roll sheets or phyllo with some oil. Add ca. 3 tbsp of veg mix onto the oiled side. Roll into cigars (fold edges inwards), arrange them on an oven tray lined with parchment paper. Brush outside with oil too. Bake for ca. 25 min., or until golden and crispy. Serve with sauce.
Sauce
Heat mango juice with vinegar and sugar in a saucepan, bring to a boil. Mix cornstarch/mango juice mixture thoroughly and add to the hot juice whilst constantly whisking. Turn heat lower and let boil while constantly whisking until fully cooked (this takes one to three min.). Turn off heat and add sriracha. Let cool completely before serving.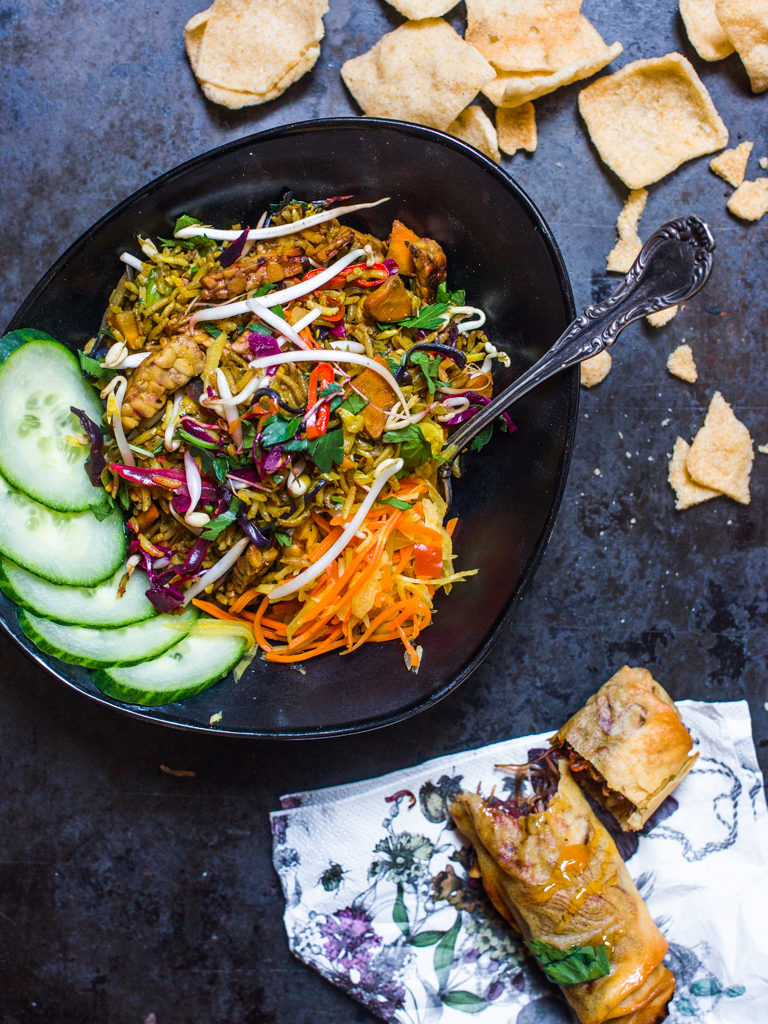 ---
VEG & SHROOM LOEMPIA
Vietnamese loempia's, wie houdt daar nou niet van! Hartstikke leuk om eens zelf te maken. Deze zitten tjokvol smaakvolle groenten, shiitakes en glasnoedels. Lekker met een zelfgemaakt pittig sausje erbij. Eet als snack of als onderdeel van een Aziatisch gerecht zoals deze heerlijke Nasi Goreng.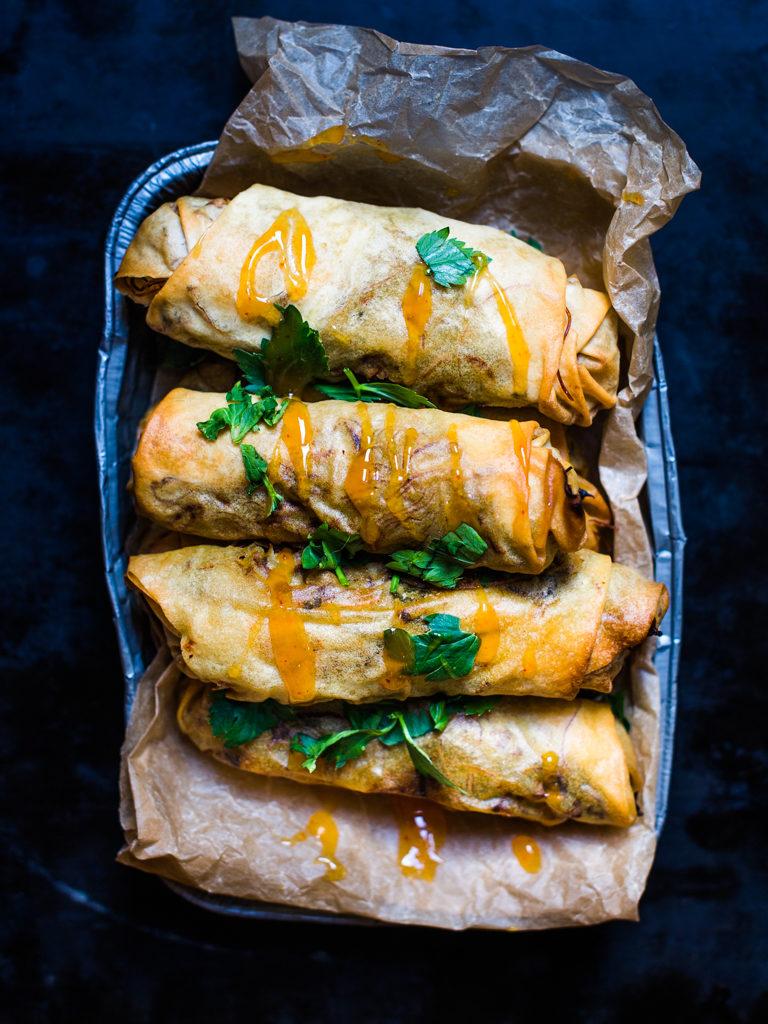 Voor 8 loempia's
INGREDIËNTEN
Loempia's
100 g glasnoedels (transparante mungbonen noedels, te vinden in het Aziatische schap v/d supermarkt)
3 el wokolie + extra voor bestrijken
150 g shiitakes, in plakjes
¼ kool (rood of wit naar keuze), in zeer dunne reepjes
1 middelgrote wortel, in fijne reepjes gesneden (julienne)
1 kleine prei, in fijne ringen
2 knoflooktenen, gepeld en fijngehakt
1 tl kerriepoeder
4-5 el sojasaus of shoyu (geen zoete sojasaus of ketjap!)
8 loempiavellen of filodeeg
Saus
250 ml mangosap
3 el azijn
2 el suiker
15 g maizena, gemengd met een paar el van het nog koude mangosap
INSTRUCTIES
Spring rolls
Kook noedels volgens aanwijzingen op verpakking. Giet af wanneer gaar. Verhit intussen olie in grote koekenpan of wok. Bak shiitakes aan. Voeg kool, wortel en prei toe en bak even mee. Voeg knoflook, kerriepoeder en sojasaus toe. Meng noedels erdoor. Proef en breng zo nodig goed op smaak.
Verwarm oven voor op 200 graden C. Kwast wat olie op de loempiavellen. Leg er ca. 3 el van de groentevulling op. Rol op tot mooie sigaren (vouw de eindjes naar binnen). Kwast nog wat olie op de buitenkant van elke loempia. Arrangeer ze op een met bakpapier beklede bakplaat. Bak in ca. 25 min. of tot goudbruin en knapperig. Serveer met saus.
Saus
Breng mangosap in sauspan aan de kook met azijn en suiker. Meng maizena papje goed en voeg al roerend toe wanneer sap kookt. Laat even doorkoken tot helemaal gaar. Draai vuur uit en voeg sriracha toe. Laat afkoelen alvorens te serveren.