Remember those old school jacket potatoes? Well we freshened the recipe up a bit. This version is made with sweet potatoes and delish as F*CK. Healthy and porn food at the same time. They take some time to bake in the oven, but the actual making time is hardly 10 minutes. Perfect for those old school lazy days. Eat as a snack or serve as a meal with panfried garlic broccoli or a luscious green salad, like this one.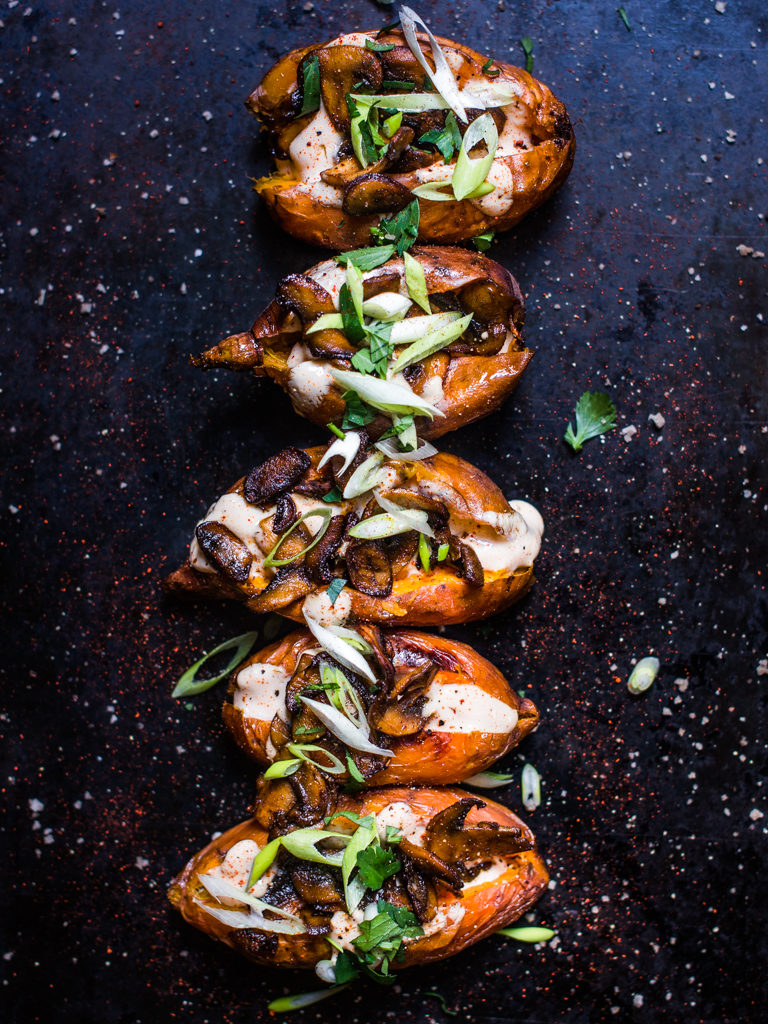 Serves 6 jacket potatoes
INGREDIENTS
6 sweet potatoes, washed and bad spots removed
250 g button mushrooms, sliced
3 tbsp frying oil
3 tbsp soy sauce (not the sweet one!)
¼ tsp smoked paprika powder
¾ tsp garlic powder
1 cup thick soy yoghurt (curd style)
2 spring onions, finely sliced
¼ bunch parsley, chopped
salt and black pepper to taste
extra: recycled aluminium foil
INSTRUCTIONS
Preheat oven to 200 C (390 F). Wrap sweet potatoes in recycled aluminum foil. Roast them for ca. 45 (small to medium ones) to 60 (medium to large ones) min.
In the meantime make mushrooms and sauce. Heat oil in frying pan and fry mushrooms on medium to high heat until nicely browned. Add smoked paprika and ¼ tsp garlic powder. Also add 1 tbsp soy sauce and immediately turn off heat.
Make the sauce by mixing yoghurt with 2 tbsp soy sauce and ½ tsp garlic powder.
Unwrap sweet potatoes once they are done and cut open lengthwise. Season inside with some salt and pepper. Add sauce and fried mushrooms into cavity and sprinkle with spring onions and parsley. Devour at once.
---
SWEET JACKET POTATOES
Weet je nog, gepofte aardappelen? Deze opgefriste versie is gemaakt met zoete aardappel en echt mega goed. Lekker voor je lijf, maar ook scruffy foodporn met saus in je snor, het beste van beide werelden dus. Het kost wat tijd ze te roosteren, maar je hoeft er maar weinig van je actieve tijd aan te besteden. Perfect voor luie dagen en perfect voer om zo achterover te schuiven. Eet als een snack of als maaltijd met pan geroosterde knoflook broccoli of een lekkere groene salade, zoals deze.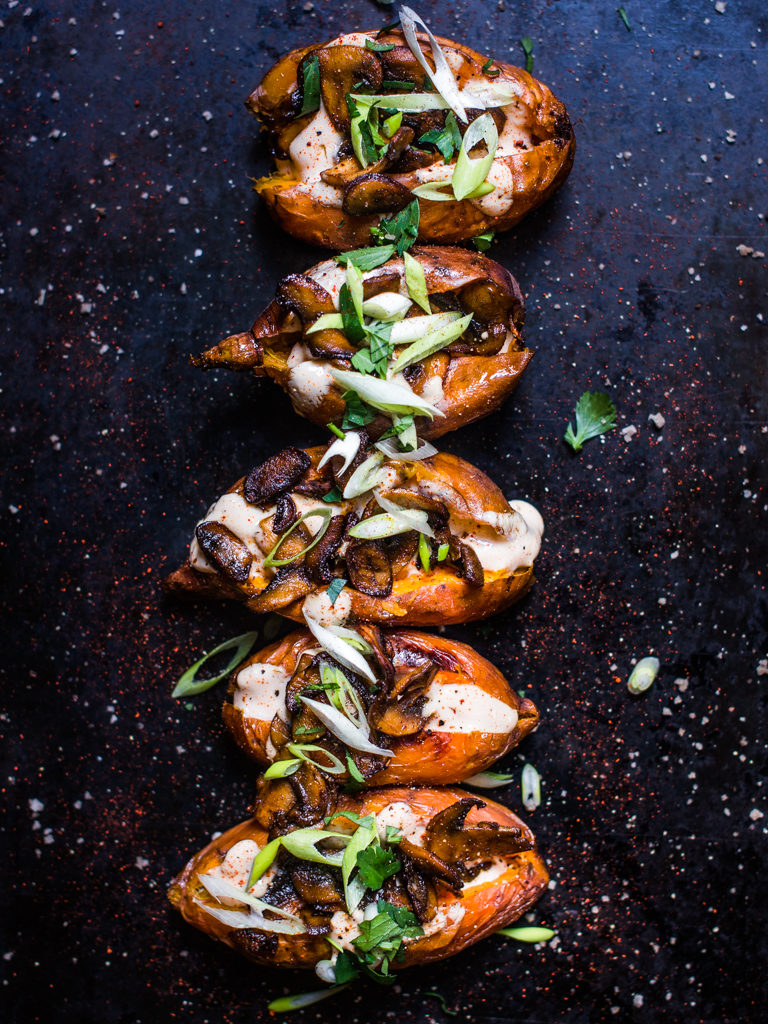 Voor 6 jacket potatoes
INGREDIËNTEN
6 zoete aardappels, gewassen en slechte plekjes verwijderd
250 g champignons, in plakjes
3 el olie om in te bakken
3 el sojasaus (geen ketjap of zoete sojasaus!)
¼ tl gerookt paprikapoeder
¾ tl knoflookpoeder
250 ml soja kwark (provamel kwark alternatief of alpro go on)
2 bosuitjes, in dunne plakjes
¼ bosje peterselie, gehakt
zout en zwarte peper
extra: gerecyclede aluminium folie
INSTRUCTIES
Verwarm de oven voor op 200 graden C. Verpak de zoete aardappels in de folie. Rooster ze ca. 45 (kleine tot middelgrote) tot 60 (middelgrote tot grote) min.
Maak ondertussen de champignons en saus. Verwarm olie in een koekenpan en bak champignons op middelhoog tot hoog vuur goudbruin. Voeg gerookt paprikapoeder en knoflookpoeder toe. Voeg vervolgens 1 el sojasaus toe en draai meteen het vuur uit.
Meng voor de saus soja kwark met 2 el sojasaus en ½ tl knoflookpoeder.
Haal zoete aardappels uit de folie wanneer ze volledig gaar zijn en maak in de lengte een incisie. Kruid met zout en peper. Doe saus en champignons in aardappels en besprenkel met bosuitjes en peterselie. Verslind meteen.