Indulge your sweet tooth with the abundance of Indian Summer. Get some real good full fatty plums at your local farmer's market or if you are lucky collect them from your own tree. Make, bake and devour these divine beasts.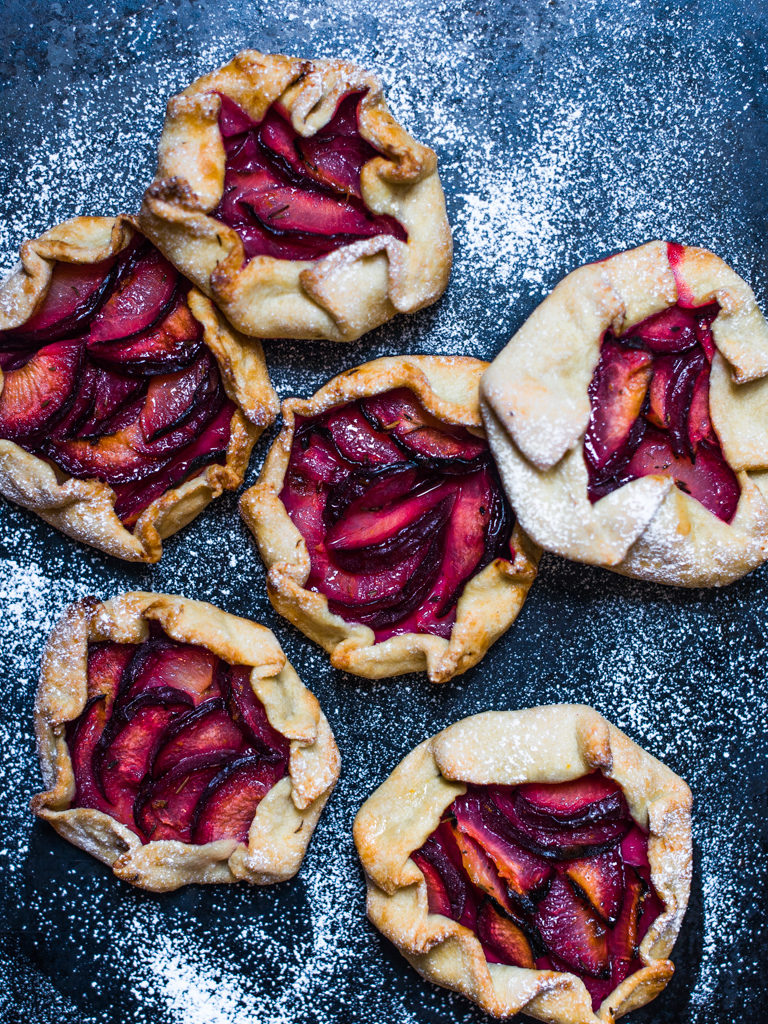 Serves ca. 10 tarts
INGREDIENTS
1 kg plums
4 tbsp + 100 g fine brown sugar
pinch of thyme
zest of 1 orange
500 g flour
½ tsp salt
250 g vegan butter (suitable for baking)
1 tsp vanilla extract
4 tbsp cold water
INSTRUCTIONS
Preheat oven to 180 degrees C. Wash plums, cut in halves, get rid of the pits and cut halves in parts and put in a large bowl. Mix with 4 tbsp sugar, thyme and orange zest. Let macerate while making the dough. Add flour to another large bowl and mix in the 100 g of sugar and salt. Rub butter through flour with your fingertips. Add vanilla extract and water. Bring dough together without really kneading it. Divide dough in ca. 10 pieces. Roll the pieces into disks with a diameter of ca. 20 cm. Add some plums to the middle of a disk. Fold edges over plums and transfer tart to a baking sheet lined with baking parchment. Repeat with the rest of the dough and plums. Place the tray in the oven and bake ca. 30 min. or until they are golden brown.
---
ZESTY PRUIMEN TAARTJES
Verwen je zoete verslaving met de overvloed van Indian Summer. Haal heerlijke dikke, vette pruimen bij de bio boer of als je geluk hebt bij je eigen boom. Maak, bak en verslind deze heerlijke beesten.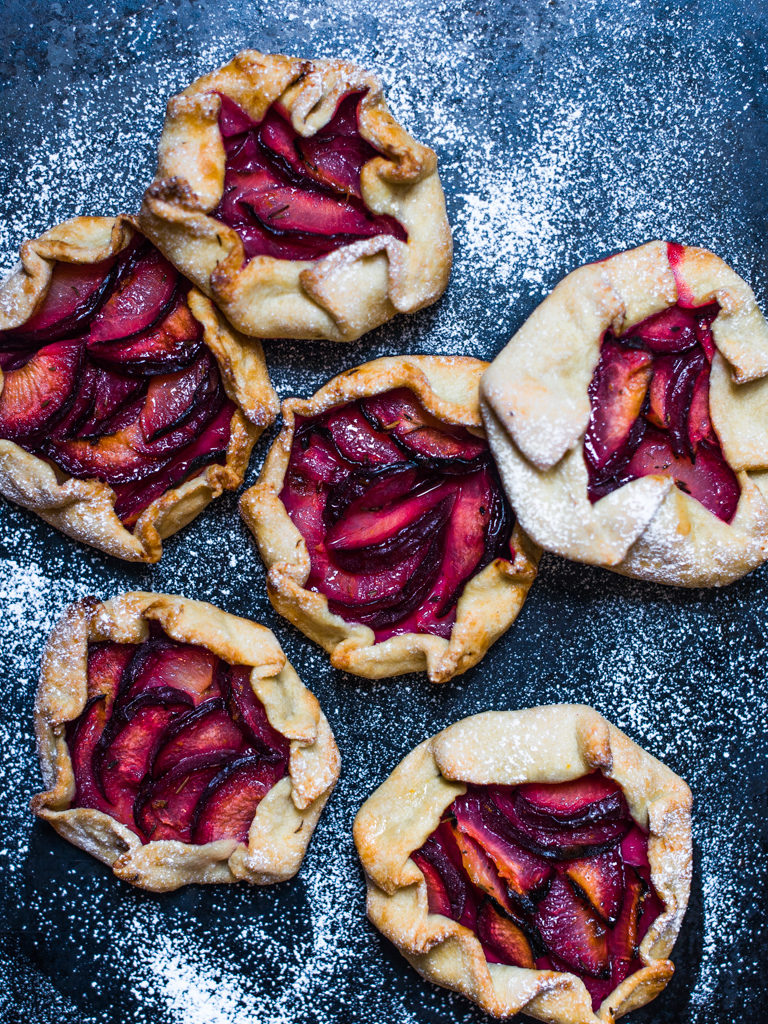 Voor ca. 10 taartjes
INGREDIËNTEN
1 kg pruimen
4 el + 100 g fijne gouden suiker
snuf tijm
geraspte schil van 1 biologische sinaasappel
500 g bloem
1 zakje bourbon vanillesuiker
½ tl zout
250 g vegan bakboter
4 el koud water
INSTRUCTIES
Verwarm oven voor op 180 graden C. Was pruimen, halveer ze, verwijder pit, snijd in kleinere partjes en doe in een grote kom. Voeg 4 el suiker, tijm en sinaasappelrasp toe. Laat macereren terwijl je het deeg maakt. Doe bloem in andere ruime kom. Voeg de 100 g suiker, vanillesuiker en zout toe en meng. Wrijf boter door bloemmengsel. Voeg de 4 el water toe en vorm deeg zonder echt te kneden. Verdeel het deeg in ca. 10 bollen en rol iedere bol uit tot een ronde lap met een diameter van ca. 20 cm. Schep een hoopje pruimen in het midden van een stuk deeg en vouw de randen over de pruimen heen. Herhaal met al het deeg en leg de taartjes vervolgens op een met bakpapier beklede bakplaat. Bak in ca. 30 min. of tot goudbruin en gaar.