Who doesn't like a good nasi? You can buy easy pre-cut veggies in your supermarket, but it's much more fun and flavourful to cut the veggies yourself. This dish will be amaaaaaazing with the saté sauce from our MAN.EAT.PLANT. book. Did you get your hands on a copy already?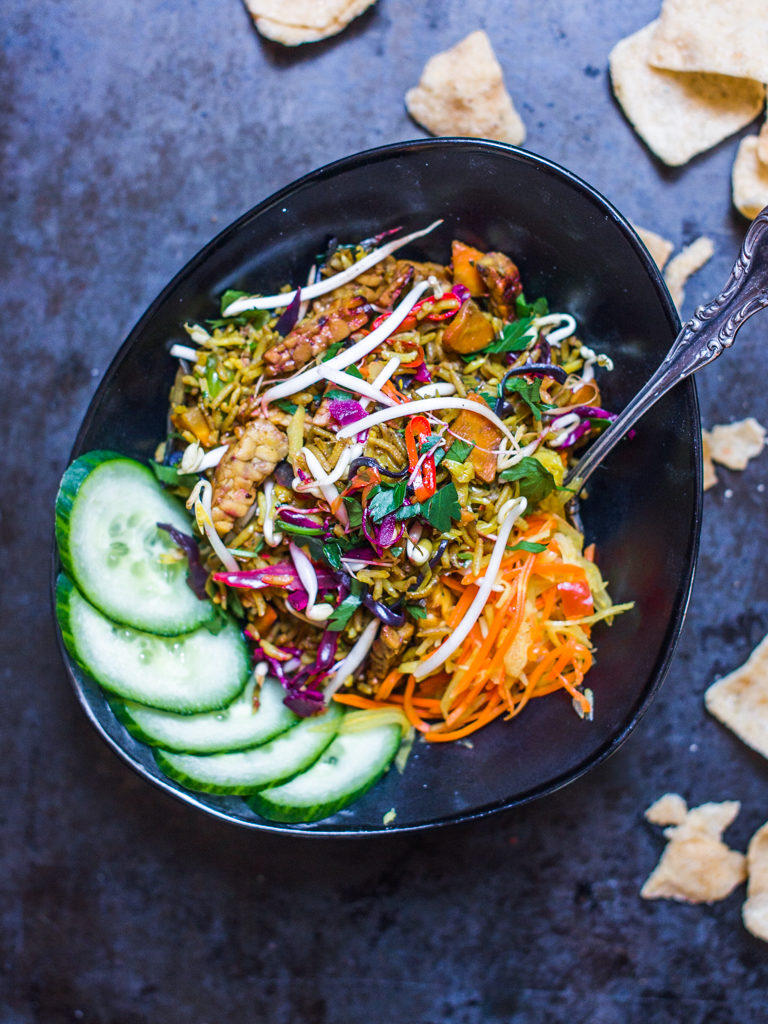 Serves 4-6
INGREDIENTS
2 cups of rice (white or whole grain, it's up to you)
3 cups water
150 g green beans, ends trimmed and halved
6 tbsp wok oil
300 g tempeh, cubed
¼ head red or white cabbage, finely sliced (really fine!)
1 medium leek, sliced and rinsed
1 large carrot, peeled and cut into fine strips
1 small chili pepper, sliced (remove seeds if you prefer a mellow heat)
2 tbsp nasi seasoning (or use another fragrant Asian spice blend, like curry powder)
3 cm piece fresh ginger, grated
4 tbsp salty (normal) soy sauce or shoyu
4 tbsp ketjap manis (a.k.a. sweet soy sauce)
4 garlic cloves, peeled and chopped
150 g taugé (mung bean sprouts)
½ bunch celery leaves, finely chopped
Condiments/extra's
slices cucumber
atjar tjampoer (indonesian pickled veggies)
cassava krupuk
emping (melinjo chips)
peanut sauce
sambal oelek
INSTRUCTIONS
Bring water with rice to a boil. Turn heat low as soon as it cooks. Let cook until all water is absorbed and the rice is nice and fluffy.
In the meantime, heat water in a small pan. Cook the green beans for ca. 5 min. Drain and rinse with cold water.
In a large wok or frying pan, heat 3 tbsp of oil on high heat. When hot, add tempeh cubes and fry until golden brown and crispy. Turn heat off and immediately add 1 tbsp soy sauce and 1 tbsp ketjap manis to tempeh in pan, and let tempeh absorb sauces. Transfer to a bowl or plate and clean pan.
Heat pan again with rest of oil, and when hot add, add green beans, cabbage, leek, carrot and pepper, and fry for a few min. Add nasi seasoning and ginger and fry along. Then add rice and mix with veggies, still on high heat. Season with sauces and garlic. Taste and adjust seasoning if desired (it might need some extra soy sauce, depending on the flavour and strength of your brand). When you're content with the flavour, turn heat off and immediately 'fold' in taugé and sprinkle with celery leaves. Serve with the tempeh cubes, slices of cucumber, atjar, krupuk, peanut sauce and sambal.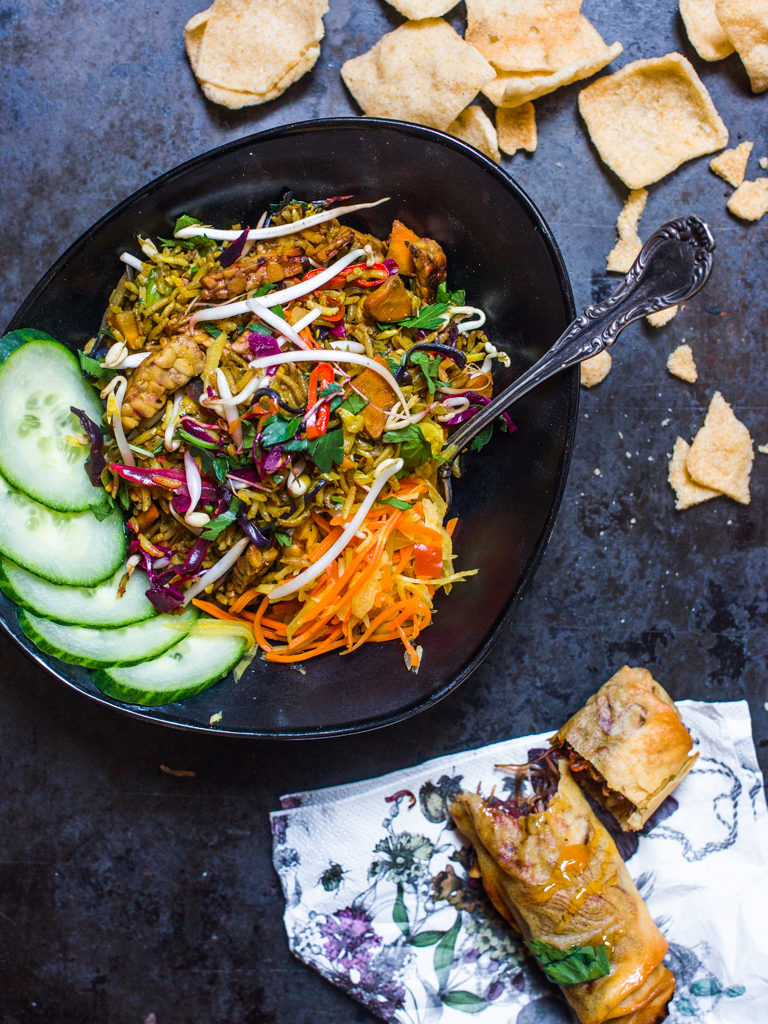 ---
GOOD OLD NASI GORENG

Wie houd er nou niet van een goeie nasi? Je kan natuurlijk zo'n makkelijk voorgesneden groente pakket in de supermarkt kopen, maar het is ook leuk en lekkerder om dit gerecht zelf from scratch te maken. Heerlijk met de satésaus uit ons boek MAN.EAT.PLANT. erbij. Heb jij al een exemplaar bemachtigd?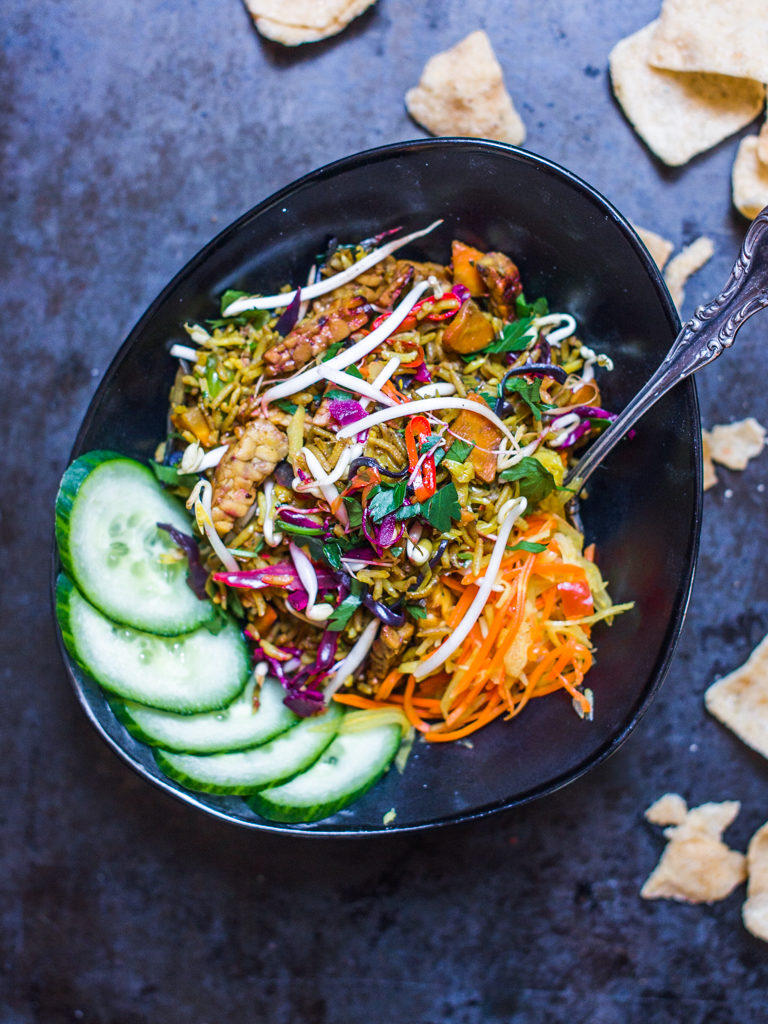 Voor 4-6 personen
INGREDIËNTEN
2 koppen (500 g) rijst (zilvervlies of witte rijst naar keuze)
3 koppen (ca. 750 ml) water
150 g sperziebonen, punten getrimd en gehalveerd
6 el wokolie
300 g tempeh, in blokjes
¼ rode of witte kool, zo fijn mogelijk gesneden (echt heel fijn!)
1 middelgrote prei, in ringen en eventuele modder afgespoeld
1 grote winterpeen, gewassen en in kleine strips gesneden
1 kleine chilipeper, in ringetjes (verwijder zaden voor milder effect)
2 el nasikruiden (kerriepoeder kan ook)
3 cm verse gember, geraspt
3 el zoute sojasaus of shoyu
3 el ketjap manis ofwel zoete sojasaus
4 tenen knoflook, gepeld en fijngehakt
150 g taugé
½ bosje selderij blad, fijngehakt
Condimenten/extra's voor erbij
atjar tjampoer
cassave kroepoek
emping (soort kroepoek van melindjonoot)
plakjes komkommer
pindasaus
sambal oelek
INSTRUCTIES
Breng rijst met water aan de kook. Zet vuur laag zodra het kookt. Laat zachtjes doorkoken tot al het water is opgenomen en rijst mooi gaar en luchtig is.
Zet ondertussen andere kleine pan water op het vuur en breng aan de kook. Voeg zodra het water kookt sperziebonen toe en laat ca. 5 min. koken. Haal vervolgens uit pan en spoel af met koud water om doorgaren te voorkomen.
Verhit 3 el olie in grote wok of bakpan op hoog vuur. Zodra heet, voeg tempeh blokjes toe en bak rondom goudbruin en knapperig. Zet het vuur uit en voeg meteen 1 el sojasaus en 1 el ketjap toe, en laat absorberen door tempeh. Doe blokjes in een schaaltje en zet apart. Maak de pan schoon en zet weer op hoog vuur. Verhit de rest van de olie tot heet. Voeg sperziebonen, kool, prei, wortel en peper toe, en bak een paar min. Voeg nasikruiden en gember toe en bak even mee. Voeg rijst toe en meng, nog steeds op hoog vuur. Breng op smaak met sojasauzen en knoflook. Proef en breng eventueel meer op smaak met een van de sojasauzen, gezien de sterkte en smaak erg kan verschillen per merk. Draai als je tevreden bent het vuur uit, spatel taugé door de nasi en strooi selderijblad erover. Serveer met de blokjes tempeh, plakjes komkommer, atjar tjampoer, cassave kroepoek en emping, en eventueel pindasaus en sambal.