In our book we already gave you a version of a badass cauliflower roast. We are such big fans of this dish, that we had to give you another recipe. If you still eat animal products, remember there is always a better veg option around. Like this one. This cauli roast is as versatile as roast chicken, and there are just as many possibilities when it comes to seasoning. This one is a sort of mediterranean version. Perfect with roasted potatoes, garlicky button mushrooms and haricots verts or a nice salad. Also wonderful by itself with some tahini sauce. Tips for this recipe were given to us by a wonderful neighbour from Tel Aviv. He used to eat this dish on the streets of his home town.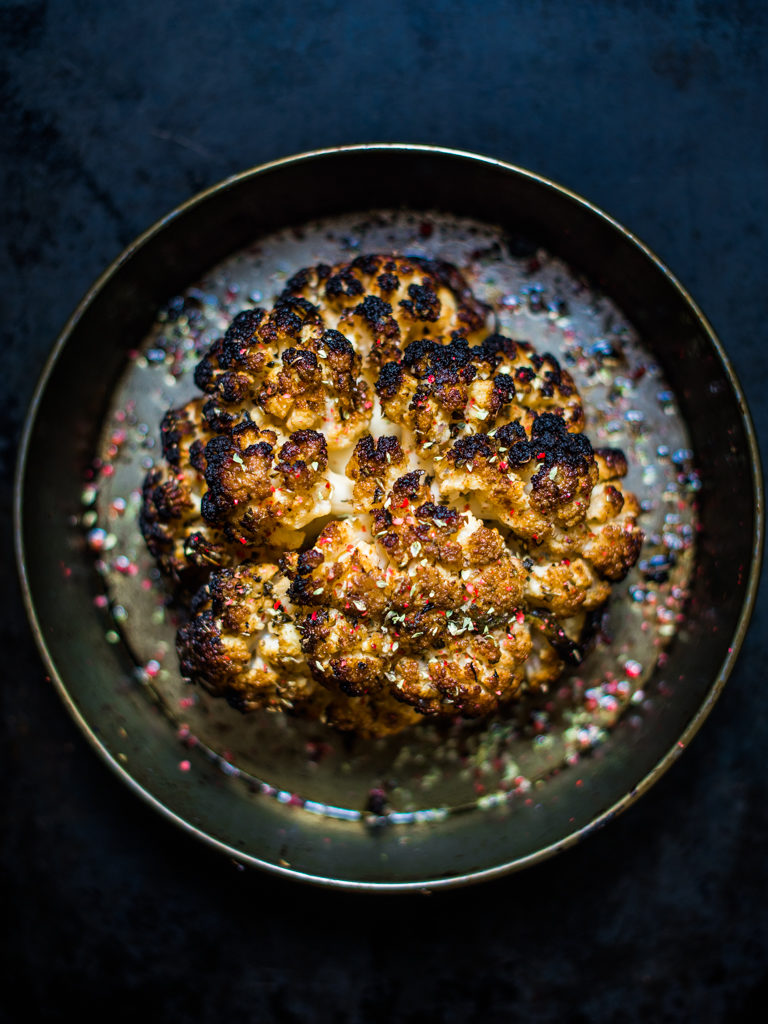 Serves ca. 2-4
INGREDIENTS
2500 ml water
60 g salt (to be accurate, please measure with a digital scale!)
1 whole cauliflower, outer leaves removed and stem cut neatly
6 tbsp olive oil
3 tbsp soy sauce or shoyu (the light and salty one, NO ketjap)
1 garlic clove, peeled and crushed
½ tsp chicken seasoning spice mix
pinch of oregano
INSTRUCTIONS
Preheat oven to 200 C.
Bring water with salt to a boil. Water will be heavily salty, don't worry about this. We want the cauliflower to be seasoned really well. There won't be as much salt in the end result if you follow the recipe.
When water is boiling, add cauliflower top side down, stem side up, so water can penetrate every little cavity. Bring back to a boil and cook for 6 min. After 6 min, get cauliflower out of liquid and let drain in colander, top side up.
Transfer cauliflower to a baking tray. Put olive oil, soy sauce, garlic clove and chicken seasoning in small bowl and mix. Brush mixture onto cauliflower, use all of the mixture. Sprinkle with a pinch of oregano. Roast cauliflower for at least 25 min. If your cauliflower is small and your oven strong, it won't take much longer. If you have bought yourself a beast of a cauliflower, it might take up to 20 min. longer. You want the cauliflower to be a bit charred and deeply roasted.
---
CAULI ROAST CHICK'N STYLE
In ons boek gaven we je al inspiratie voor een heerlijke cauliflower roast. We zijn zulke fans van dit gerecht dat we je ook nog een andere versie wilden geven. Indien je nog steeds dierlijke producten eet, onthoud dan er is altijd ergens een betere groente versie bestaat. Net als geroosterde kip, zijn er voor de geroosterde hele bloemkool legio mogelijkheden wat betreft bereidingswijze en kruiden. Deze versie is een soort Mediterrane variant. Perfect met geroosterde aardappeltjes, knoflook champignons, haricots verts of een frisse salade. Ook heerlijk op zichzelf met een tahini dressing erbij. De tip voor deze versie komt van een buurman uit Tel Aviv. Hij at dit gerecht regelmatig als streetfood in zijn geboorteplaats.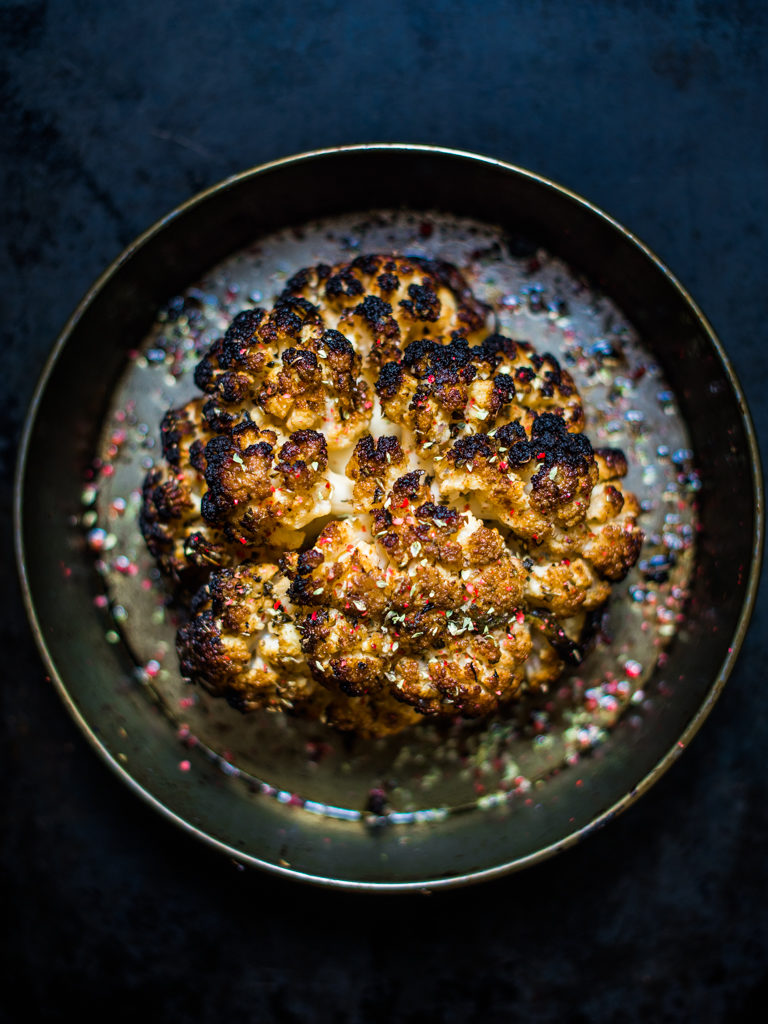 Voor ca. 2-4 personen
INGREDIËNTEN
2500 ml water
60 g zout
1 hele bloemkool, buitenste bladeren verwijderd en steel netjes afgesneden
6 el olijfolie
3 el sojasaus of shoyu (gebruik GEEN ketjap of zoete sojasaus, maar de lichte, zoute, Japanse variant)
1 teen knoflook, gepeld en geplet
½ tl kipkruiden
snufje oregano
INSTRUCTIES
Verwarm oven voor op 200 graden C.
Breng water met zout aan de kook. Water zal erg zout zijn, maak je geen zorgen hierover. Je wilt de bloemkool veel smaak geven. Het grootste gedeelte van het zout belandt niet in het eindresultaat als je het recept volgt.
Leg bloemkool in het water zodra het kookt, kop naar beneden, steel omhoog. Zo dringt het zoute water goed door in alle hoeken van de bloemkoolstelen. Kook bloemkool 6 min. Neem bloemkool daarna voorzichtig uit de pan en laat uitlekken in zeef of vergiet, kop naar boven en steel naar onder.
Leg de bloemkool op een bakplaat. Meng olijfolie, sojasaus, knoflookteen en kipkruiden in een kommetje. Kwast dit mengsel geheel over de bloemkool. Strooi er wat oregano over. Rooster de bloemkool zeker 25 min. Check daarna even hoe het ervoor staat. Heb je een krachtige oven en een klein bloemkooltje? Dan zal hij min of meer klaar zijn. Heb je een knoepert van een bloemkool en/of een minder krachtige oven, dan zul je de oventijd wat moeten opschroeven, ergens tussen 5 tot 20 min. extra. De bloemkool is klaar wanneer hij er diep geroosterd en enigszins charry uitziet.