Do you remember empanadas? Those lovely South American hand pies stuffed with savoury goodness? Only we made a better version by choosing the plant based ingredients that are just as savory and satisfying as the 'classic' ones, but much kinder for you, the world and all animals. The stuffing consists of green olives, apple, bell pepper and a vegan bechamel sauce which binds the ingredients surprisingly well. And the dough… oh la la…it's so flaky and buttery and super easy to make! They are best eaten just after frying them (let cool down for a bit so you don't burn your mouth ;)).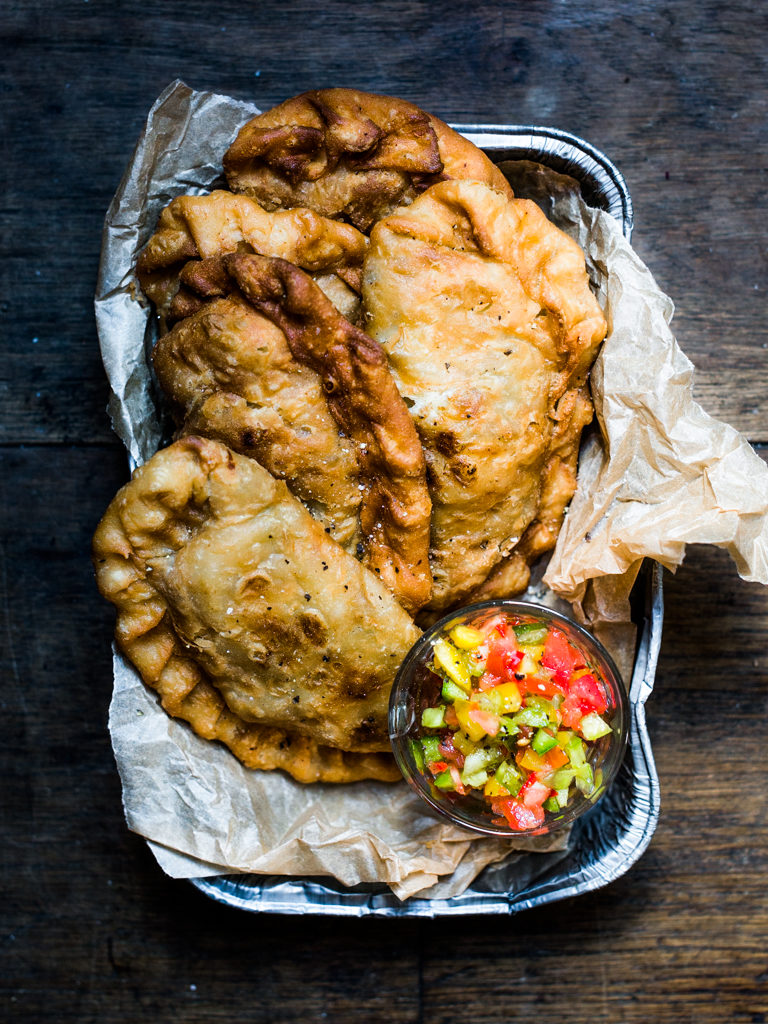 Serves ca. 12 quite large empanadas
INGREDIENTS
Dough
500 g flour
200 g vegan butter
½ tsp salt
¾ cup (175 ml)  cold water
Stuffing
50 g vegan butter
5 tbsp flour
¾ cup (200 ml) + 2 tbsp cold oat milk
⅛ tsp salt
1 apple, peeled, seeds removed and diced in 0,5 mm cubes
6 heaped tbsp green chopped olives (pits removed)
1 yellow bell pepper, seeds removed and diced in 0,5 mm cubes
salt and black pepper
Salsa
1 bell pepper, seeds removed and finely chopped
1 large tomato, cored removed and finely chopped
1 chili pepper, seeds removed and minced
juice of 1 lemon
salt and black pepper
4 cups (1 l) oil for deep frying (rice, sunflower, or peanut oil)
INSTRUCTIONS
Prepare the dough by rubbing butter into flour with the tips of your fingers in a large bowl. However don't overwork the dough. Add salt. Mix in water and bring dough together, but again don't knead too much. Cover bowl with lid or cling film. Let rest in fridge for ca. 30 min.
In meantime, make the stuffing. Start with the bechamel sauce by melting the butter in a saucepan. Add flour, and fry flour in butter to 'cook' it. Don't let the flour brown too much though. After a minute or two, add oat milk at once and whisk thoroughly. Bring sauce to a boil and let thicken and cook thoroughly while constantly stirring/whisking. Let cool down a bit. Next mix in apple, chopped olives and bell pepper. Season to taste with salt and pepper.
Prepare salsa by mixing all the ingredients. Set aside.
Divide dough into ping pong sized balls. Roll out into thin circles. Add stuffing onto one half of the circle. Leave edges free from stuffing. Fold empty half over stuffing and secure edges. Decorate edges by folding them or simply press with a vork. Make sure it's secured tightly and that there are no gaps, because we don't want oily pastries!
Heat oil in a deep frying pan. Make sure temperature is high enough, check this with a small knob of dough. It should be bubbly and brown a bit when you put it into the oil. Fry empanadas in batches of 3 or 4. Serve fresh and hot (don't burn your mouth!) with a good amount of salsa.
---
THE KIND EMPANADA
Heb je wel eens empanadas gegeten? Die heerlijke Zuid-Amerikaanse pasteitjes gevuld met een zalige, hartige vulling? Jammer genoeg bestaat de vulling vaak uit vlees of kaas, daarom ontwikkelden wij een meer vriendelijke empanada, gevuld met een romige bechamelsaus en verrassende combinatie van appel, groene olijf en paprika. Het deeg is heerlijk bladerig en boterig, en zeer eenvoudig om te maken. De empanada's zijn het lekkerst om meteen na het bakken te eten (niet je mond branden!) met een flinke schep salsa.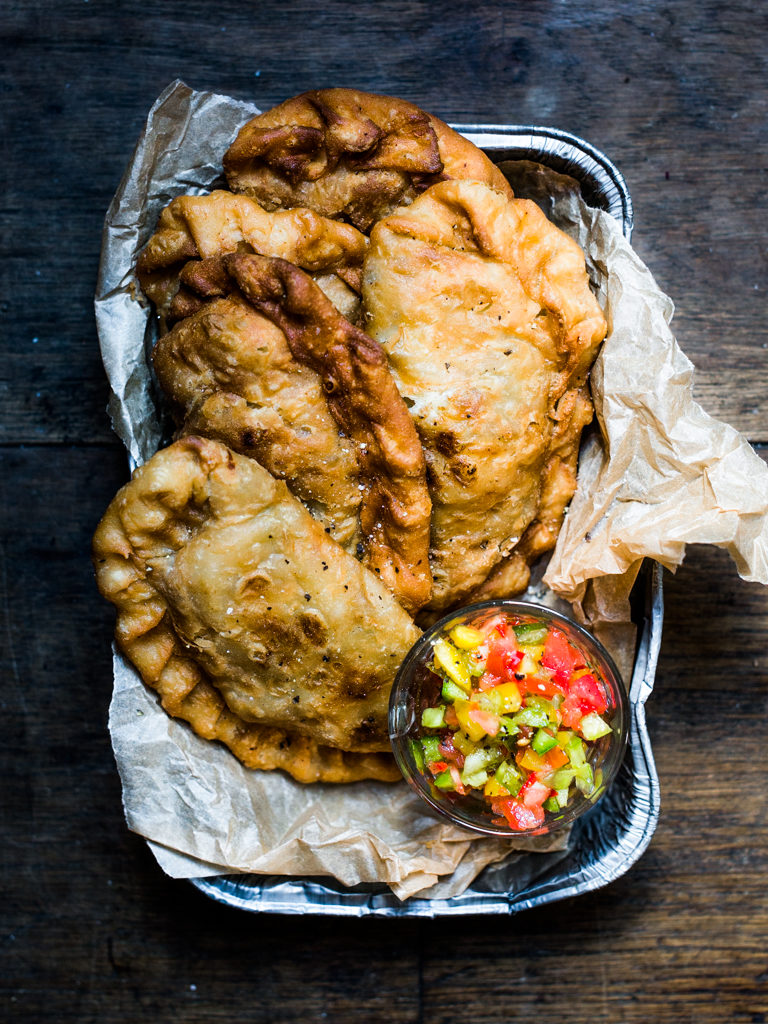 Voor ca. 12 grote empanadas
INGREDIËNTEN
Deeg
500 g bloem
200 g vegan boter
½ tl zout
175 ml koud water
Vulling
50 g vegan boter
5 el bloem
200 ml koude havermelk (oatly)
⅛ tl zout
1 appel, geschild, zaadjes verwijderd en in kleine blokjes van ca. 0,5 mm
6 volle el gehakte groene olijven (ontpit)
1 gele paprika, zaadjes verwijderd en in kleine blokjes van ca. 0,5 mm
zout en zwarte peper
Salsa
1 paprika, zaadjes verwijderd en in zeer kleine blokjes
1 grote tomaat, kern verwijderd en in zeer kleine blokjes
1 chilipeper, zaadjes verwijderd en fijngehakt
sap van 1 citroen
zout en zwarte peper
1 l frituurolie (zonnebloem, rijst of pinda)
INSTRUCTIES
Bereid het deeg door in een kom de boter met je vingertoppen door het meel te wrijven. Bewerk niet teveel. Voeg zout toe en meng. Voeg water toe en breng samen tot een soepel deeg. Kneed niet teveel, net genoeg om van het mengsel een deeg te vormen. Bedek de kom met een deksel of folie en laat ca. 30 min in de koelkast rusten.
Maak ondertussen de vulling. Verhit voor de bechamelsaus de boter in een steelpan. Bak bloem even mee in de boter, maar laat niet teveel bruinen. Voeg in een keer havermelk toe en roer goed met een garde. Breng aan de kook en laat al roerend even doorkoken tot volledig gegaard en mooi gebonden. Laat wat afkoelen. Voeg vervolgens appel, olijven en paprika toe en breng op smaak met zout en peper.
Maak de salsa door alle ingrediënten te mengen. Dek af tot gebruik.
Verdeel deeg in het formaat van pingpong ballen. Rol ballen uit tot dunne cirkels. Schep 1 volle eetlepel vulling op een helft van de cirkel, laat randen vrij. Vouw de lege helft over vulling en druk randen aan. Maar een sierrand door de rand steeds een stukje te vouwen, of druk simpelweg vast met een vork. Zorg dat randen goed dicht zitten en dat er geen gaten in het deeg zitten, we willen geen met olie gevulde empanada!
Verhit frituurolie in daarvoor geschikte pan. Test temperatuur met klein stukje deeg. Deeg moet meteen gaan bubbelen en wat bruiner worden. Bak empanadas in batches van 3 of 4 tegelijk. Serveer ze vers en heet (niet je mond branden!), met een flinke schep salsa.