Who wants to be in a hot kitchen above steaming pans during this kind of heat? We'd rather be outside in the shadows, grilling the hell out of all the wonderful plant stuff we can grill. No dead bodies for us! So yeah whilst enjoying a cold beer and a refreshing breeze try these eggplant dogs. They are tasty AF and a real crowd pleaser!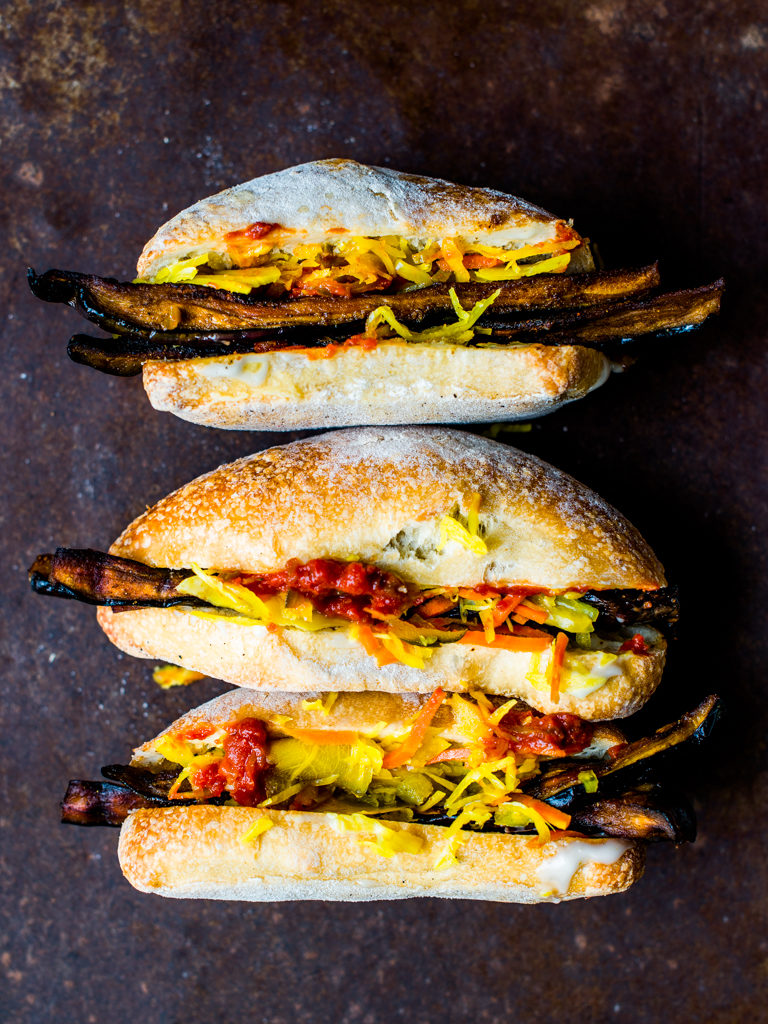 Serves 4
INGREDIENTS
Rub
3 tbsp celery salt (or 3 tbsp salt with some ground celery seeds)
3 tbsp brown sugar
1 tsp smoked paprika powder
2 tsp sweet paprika powder
3 tsp curry powder
2 tsp garlic powder
1 tsp onion powder
Dog
2 large eggplants
3 tbsp rub
4 tbsp olive oil
4 rustic hotdog buns
4 tbsp vegan mayo
4 tbsp country ketchup or red bbq sauce
6 tbsp atjar tjampoer (Indonesian style pickled veggies with cabbage, carrots, turmeric etc. You can swap this for any vegan pickled veg mix that you can find)
INSTRUCTIONS
Rub
Mix all ingredients and keep in an airtight jar.
Dog
Cut eggplants lengthwise in strips. Season with rub and add olive oil. Massage rub and oil into the strips. Let sit to marinate for at least 20 min, or overnight. Fire up the BBQ. Grill eggplants on all sides until cooked thoroughly and slightly charred. Don't be afraid to char them, we want heaps of grill flavour!

Cut sandwiches in half lengthwise and grill them cut side down for a minute or so on the BBQ. Add mayo and ketchup to sandwiches, arrange eggplants on top and finish with some atjar tjampoer.
---
GEBLAKERDE BBQ AUBERGINE DOG
Wie wil er met dit weer in een hete keuken staan te zwoegen boven hete pannen? Ons niet gezien! Gooi gewoon lekker een berg (eco friendly!) briketten of kolen in de bbq en gril er lekker op los in de schaduw onder het genot van een ijskoud biertje en verfrissend briesje. Geen lijken natuurlijk. Wel lekker veel plant spul. In ons boek MAN.EAT.PLANT. doen we wat suggesties. Deze komt er ook uit. Dus blaker die aubergine maar flink aan, hij kan wel wat pit gebruiken! Dit is een crowdpleaser.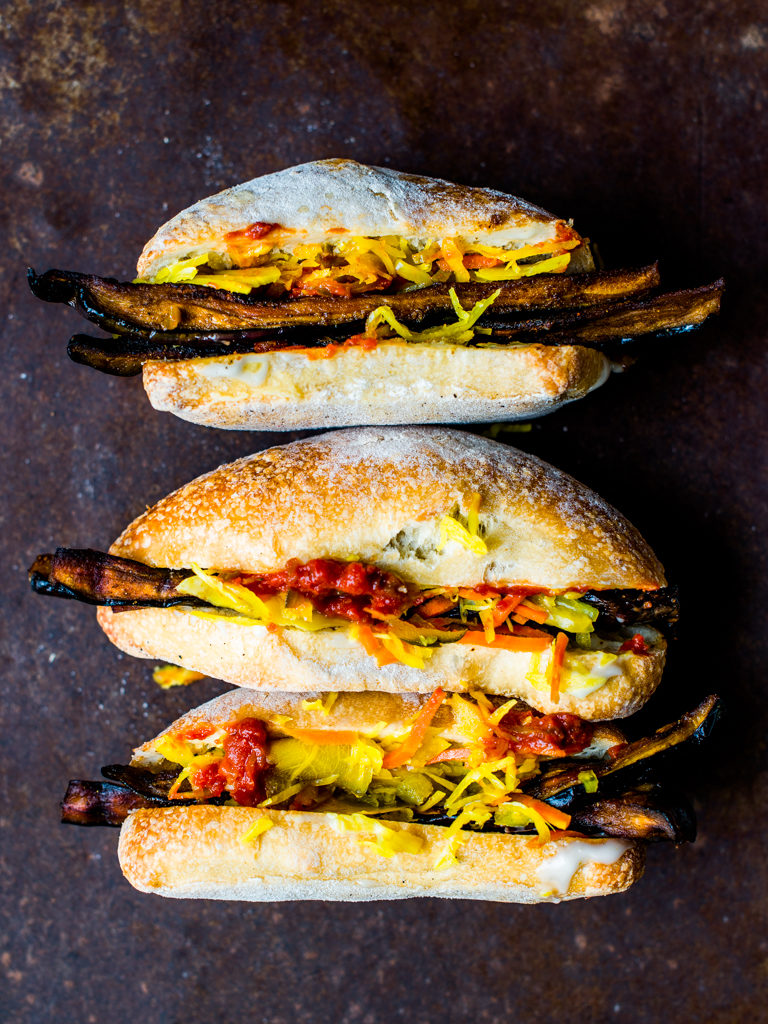 Voor 4 personen
INGREDIËNTEN
Rub
3 el selderijzout (of 3 el zout met wat selderijzaad)
3 el bruine suiker (bijvoorbeeld kokosbloesem, oerzoet of ruwe rietsuiker)
1 tl gerookt paprikapoeder
2 tl gewoon paprikapoeder
3 tl kerriepoeder
2 tl knoflookpoeder
1 tl uienpoeder
Dog
2 grote aubergines
2 el rub
4 el olijfolie
4 rustieke vegan hotdogbroodjes
4 el vegan mayo
4 el country ketchup (uit ons boek) of een lekkere rode bbq saus of ketchup uit de winkel
6 el atjar tjampoer (ingelegde
groenten, te vinden in het
Aziatische schap in de supermarkt)
INSTRUCTIES
Rub
Meng het zout met alle kruiden en bewaar in een luchtdichte pot.
Dog
Snijd de aubergines in de lengte in repen. Strooi de rub over de repen en voeg de olijfolie toe. Masseer de rub met olie in de repen. Laat ze zo een poosje staan, minstens 20 minuten tot een hele nacht. Steek de BBQ aan. Gril de repen aubergine tot ze rondom gaar en licht geblakerd zijn; de charry bits geven de meeste smaak.
Snijd de hotdogbroodjes open en gril ze kort met de snijkant naar beneden op de BBQ. Besmeer ze met wat mayo en Country Ketchup. Leg er een paar repen aubergine op en maak af met de atjar tjampoer.