Are you more into creamy or sorbet ice cream? The good news is, you don't have to decide with this scrumptious avocado & lime based ice cream WITH home made cone! Avocado and coconut make for a creamy texture and flavour, whilst lime zest and juice add a super refreshing, fruity and tropical note. The other good news is that this ice cream is relatively healthy, without an excessive amount of fat or sugar and made from just a few simple wholesome ingredients. Therefor also perfect for all of you fit guys and girls out there, or just anybody who wants to cool down on a hot summer's day.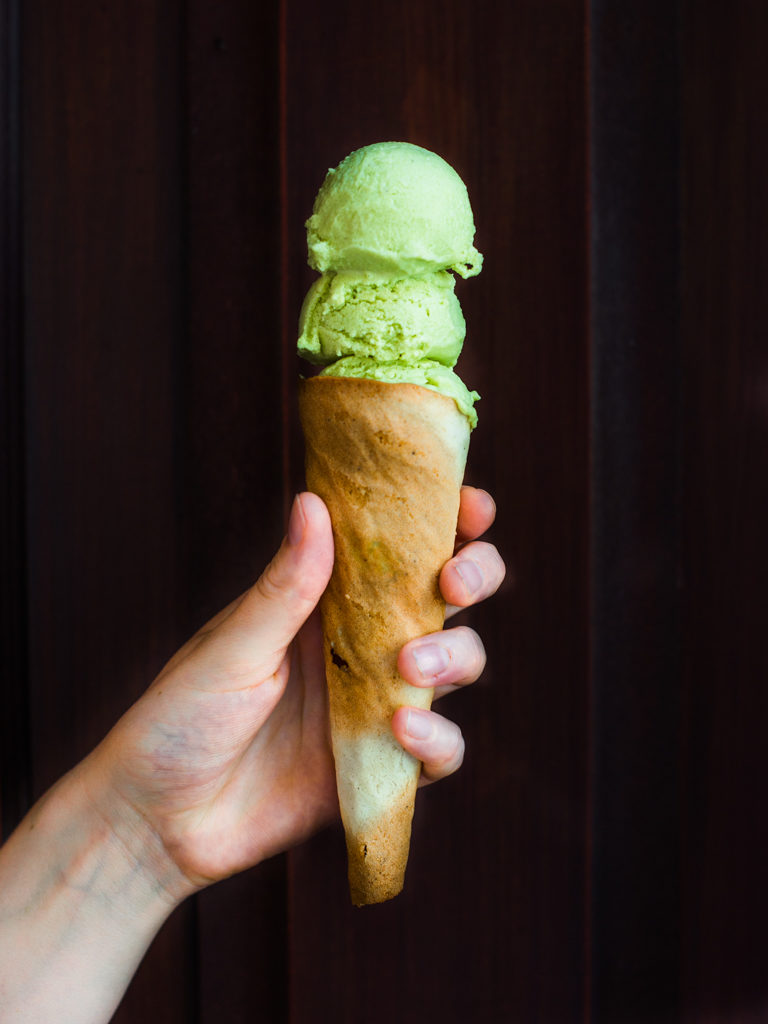 Serves 4-6 portions
INGREDIENTS
Ice cream

2 ripe avocados, peeled and deseeded
zest of 1 lime
juice of 2 limes
3/4 cup (200 ml) full fat coconut milk, room temperature
4 tbsp agave syrup
1 tsp vanilla extract
Cone
3 tbsp almond flour
3 tbsp wheat flour
3 tbsp fine golden caster sugar
pinch of salt
1/8 tsp baking powder
1 tbsp rice oil
3 tbsp cold water
INSTRUCTIONS

Ice cream
Puree avocados, lime zest and juice, coconut milk, agave and vanilla extract together in a blender until very smooth. Put mixture in an ice cream maker and process until it has ice cream consistency. If you don't have an ice cream maker put the mixture in a freezer proof container and chill in freezer for at least 4 hours or until completely frozen (depending on your freezer). When completely frozen, put the ice cream block on a chopping board and cut with a sharp knife in small cubes (it makes cutting a bit easier if the knife is placed in hot water first). Add cubes to a blender (preferably a high speed blender) and blend into a creamy mixture. Add mixture to freezer box again and freeze a bit more (30-60 min) to set it into nice firm yet creamy ice cream.
Cones
Preheat the oven to 180 C/350 F. Line a baking sheet with parchment paper. You will need a 15 cm/6 inch circle per cone on your baking sheet, leave some space between them. F.e. we fitted 4 circles on a 44 x 37 cm/17 x 14 inch baking sheet.
Mix dry ingredients. Add wet ingredients to the dry mixture all at once and mix into a batter. Add 1 tbsp of the batter to each imaginary circle and spread into a 15 cm/6 inch circle. Batter should be spread very thinly. Bake for ca. 8 min. Check out the colour. If still very pale, bake for another 1 or 2 min, but stay present because the circles burn very quickly. Remove from oven and whilst still piping hot roll the circles into cones (just shape them by hand, or use a cone mould to do this). Be quick because they will cool down and set immediately, so you got just a few seconds to shape them. Let the cones cool down completely, before filling them with some decent scoops of your home made green ice cream.
---
GREEN ICE CREAM CONE
Houd je meer van roomijs of sorbetijs? Het goede nieuws is dat je niet hoeft te kiezen met dit verrukkelijke avocado-limoen ijs in een zelfgemaakte hoorn. Avocado en kokosmelk zorgen voor een zalvige, romige textuur en smaak, terwijl limoen een verfrissende, fruitige twist aan het ijs geeft. Het andere goede nieuws is dat dit recept relatief gezond is, zonder een excessieve hoeveelheid vet en suiker en gemaakt van simple ingrediënten. Dus ook perfect voor alle fit guys en girls onder ons, of gewoon iedereen die op een smakelijke manier wil afkoelen op een hete zomerdag!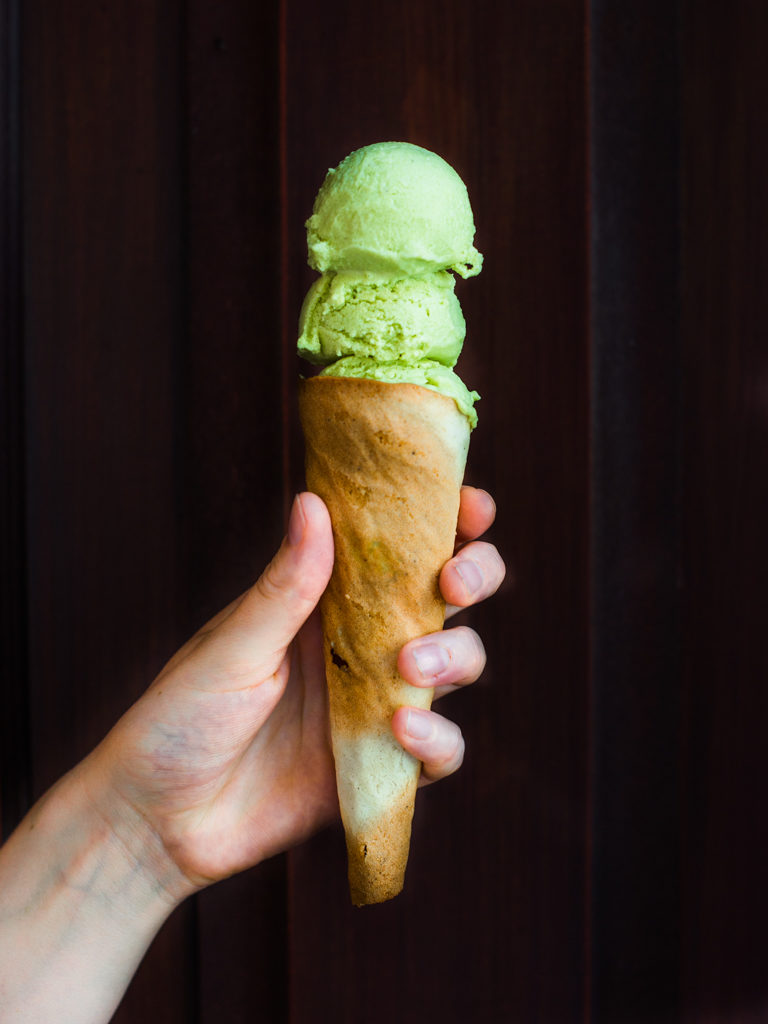 Voor 4-6 porties
INGREDIËNTEN
IJs
2 rijpe avocado's, gepeld en ontpit
zest van 1 limoen
sap van 2 limoenen
200 ml volvette kokosmelk
4 el agave siroop
1 tl bourbon vanille suiker
Hoorntje
3 el amandelmeel
3 el tarwebloem
3 el fijne gouden lichtbruine suiker
1 snuf zout
1/8 tl bakpoeder
1 el rijstolie
3 el koud water
INSTRUCTIES
IJs
Pureer avocado's, limoenrasp en -sap, kokosmelk, agave en vanillesuiker samen in blender en blend tot een gladde substantie. Doe dit mengsel in een ijsmaker en zet de maker aan totdat er mooi romig ijs is ontstaan. Heb je geen ijsmaker doe dan het mengsel in een diepvriesbak en zet minstens 4 uur in de vriezer, of tot helemaal bevroren (hangt van je vriezer en vorm bak af hoe lang dit exact duurt, hoe platter en breder je bak, hoe sneller bevroren). Doe vervolgens het blok bevroren ijs over op een snijplank en hak met een scherp koksmes in kleine blokjes (dit gaat makkelijker als je voor het snijden de mes even onder heet water houdt). Doe de blokjes in een blender (bij voorkeur high speed) en blend tot een romige massa. Doe het mengsel vervolgens terug in de diepvriesbak en plaats nog ca. 30 tot 60 min in de vriezer, zodat je mooie stevige bollen ijs kunt scheppen.
Hoorntje
Verwarm oven voor op 180 graden C. Bekleed een bakplaat met bakpapier. Meet of schat hoeveel cirkels van ca. Ø 15 cm er op de bakplaat passen (wij maakten 4 cirkels op een bakplaat van 44 x 37 cm).
Meng alle droge ingrediënten. Voeg vervolgens alle natte ingrediënten in een keer toe en roer tot een gladde substantie. Schep 1 el beslag in het midden van elke denkbeeldige cirkel en spreid deze uit naar de randen van de cirkel. Het beslag moet vrij dun uitgesmeerd worden om een mooie dunne, knapperige hoorn te vormen. Bak de cirkels ca. 8 min. Check de kleur. Als ze nog erg bleek zijn, voeg dan enkele min aan de baktijd toe, maar houd het goed in de gaten, want het beslag brandt snel aan. Haal de bakplaat uit de oven en vorm zo snel mogelijk met de hand hoorntjes van de cirkels (of gebruik een hoornpen). Je hebt maar een paar seconden om ze goed te vormen. De cirkels koelen ontzettend snel af en dan worden ze hard en onvormbaar. Laat vervolgens volledig afkoelen voordat je ze met een paar flinke bollen van je zelfgemaakte ijs vult.