This 'café brûlée' is easy to make yet so indulgent to eat. Anyone can whip this up with just a few ingredients. Perfect to make when you're expecting guests and don't have a lot of time to make an elaborate dessert. When it comes to the sugary crust, it's easiest to burn it with a kitchen blow torch, though you could also use your oven's grill function.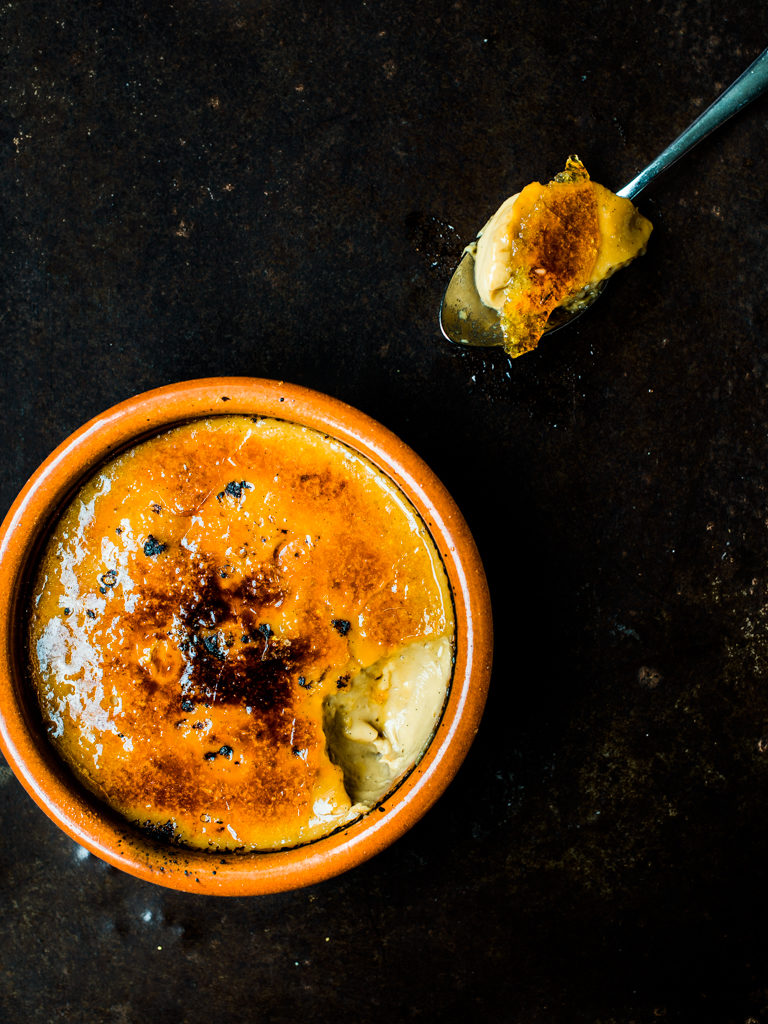 Serves 6
INGREDIENTS
65 g custard powder (or cornstarch + 1 tsp vanilla extract)
50 g brown sugar
1 l oat drink (we prefer Oatly Barista or Oatly Whole)
2 espresso's or 2 sachets instant espresso
ca. 3 tbsp fine white sugar
ramekins of 1 large heat proof pudding mould
INSTRUCTIONS
Mix custard and sugar in a bowl. Add a decent splash of cold oat drink and mix thoroughly. Bring rest of oat drink to a boil in a pan. When milk is cooking, add the starchy custard mixture whilst constantly stirring. Cook on low heat for a few min. until the mixtures has thickened and looks shiny. Add espresso (powder) and whisk. When fully cooked, pour mixture into indiviual ramekins or a large pudding mould and leave to cool at room temperature. When cooled completely, put in the fridge to set. When ready to serve, sprinkle a thin layer of fine white sugar on top of the cream and burn with a torch, or put onder hot grill for a minute or so, until sugar is browned and caramelised. Be careful not to burn the sugar too much though. Break sugary crust with the back of a spoon and make sure there's a piece of caramel in every bite of the indulgent cream.
---
BURNT COFFEE CREAM
Deze 'café brûlée' is eenvoudig te maken en toch zo'n heerlijk verwendessert. Iedere gek kan dit recept maken met slechts een paar eenvoudige ingrediënten. Perfect dessert om te maken als je gasten verwacht en geen zin of weinig tijd hebt voor een ingewikkeld recept. Voor het karamellaagje kun je het best een keukenbrander gebruiken, maar de grillstand van je oven biedt ook een uitkomst.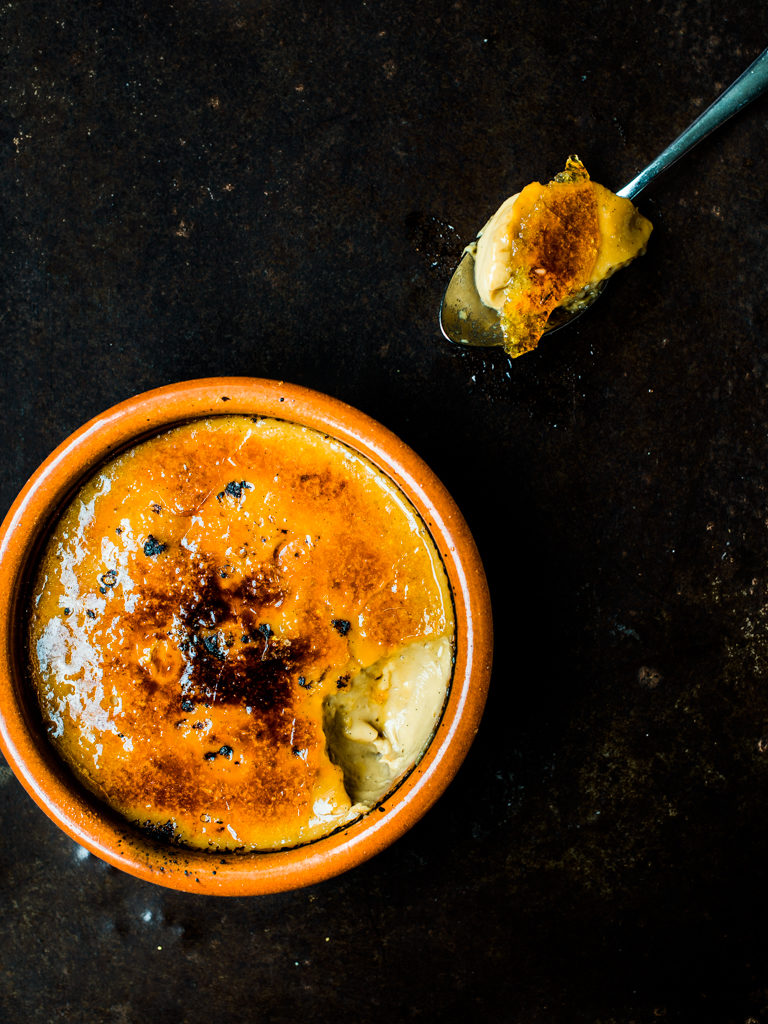 Voor 6 personen
INGREDIËNTEN
65 g custard poeder (of maizena + 1 zakje bourbon vanillesuiker)
50 g bruine suiker
1 l haverdrank (wij gebruiken Oatly Barista of Oatly Whole)
2 espresso's (ca. 40 ml) of 2 zakjes instant espresso
ca. 3 el fijne witte suiker
ramekins (stenen dessertbakjes) of 1 grote hittebestendige pudding/ovenschaal
INSTRUCTIES
Meng custard en suiker in een kom. Voeg een flinke scheut koude haverdrank toe en mix tot het poeder helemaal is opgelost (om later klontjes te voorkomen). Breng de rest van de haverdrank aan de kook in een pan. Voeg, zodra de melk kookt, het maizena papje toe onder voortdurend roeren. Laat een paar min. zacht en goed doorkoken (de custard zal er nu dik en glanzend uitzien). Voeg espresso (poeder) toe. Doe het mengsel over in individuele ramekins of een grote pudding/ovenschaal. Laat afkoelen op kamertemperatuur. Zet de pudding zodra deze volledig is afgekoeld in de koelkast om verder op te stijven. Strooi, wanneer je klaar bent om het dessert te serveren, een dun laagje fijne suiker op de pudding. Brand met de brander tot gekarameliseerd of zet een minuutje of wat onder de hete grill (houd goed in de gaten, de suiker verbrand snel!). Breek het krokante suikerlaagje zoals het hoort met een lepeltje en eet de goddelijke crème met steeds een stukje van de knisperende karamelkorst.